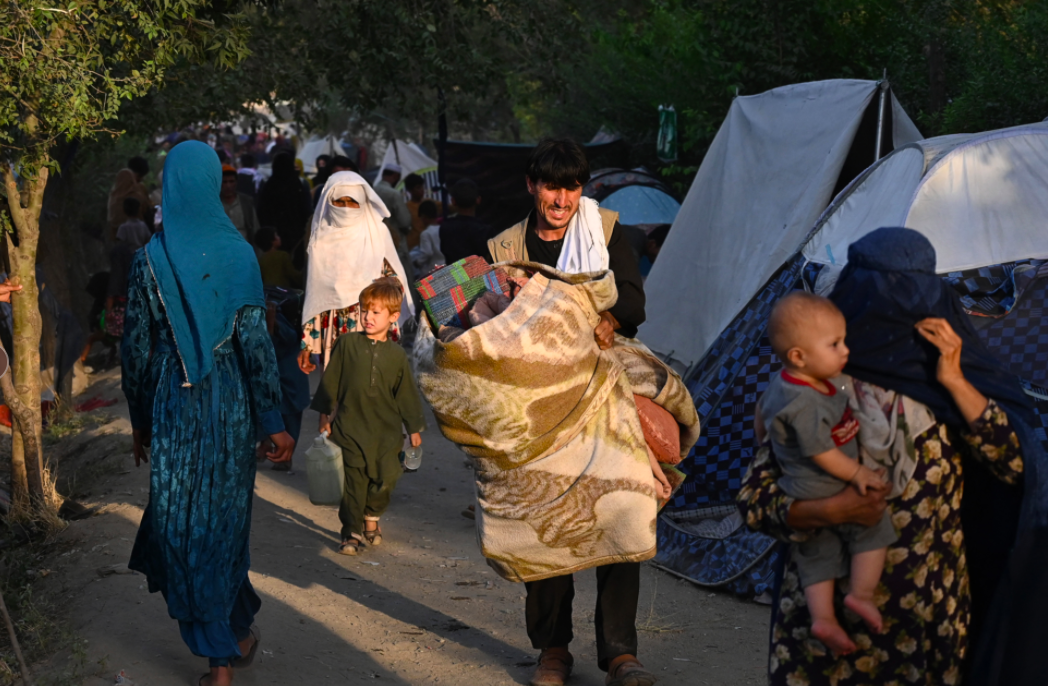 Photo from @ajplus on Twitter
"Whatever it takes, for as long as it takes."
That is the commitment to Afghanistan that humanitarian organisation Hagar Singapore stands by.
Even as the world watches the Afghanistan crisis unfold day after day, many aid organisations are continuing operations to provide critical assistance on the ground.
"We know where you are and what you are doing": Taliban warn house church leaders
"Given our important humanitarian agenda, we have assurances that our important life-changing work (in Afghanistan) will continue," said Hagar Singapore in a statement issued on their Instagram account (@HagarSingapore) on August 18. 
Many internally displaced people are women and children who are in acute need of assistance. 
An estimated 17,600 internally displaced people (IDPs) are in Kabul at the moment, with even more in rural areas, said Hagar Singapore.
IDPs are amongst the world's most vulnerable people, according to the United Nations Refugee Agency (UNHCR). While IDPs remain within their country of residence, they have fled for similar reasons as refugees – armed conflict, generalised violence and human rights violations. Many of these are women and children who are in acute need of assistance. 
From as early as May this year, people were abandoning homes and livelihoods to seek shelter in Kabul when the Taliban attacked major cities like Kandahar, Herat and Mazar-i-Sharif.
While IDPs already face a myriad challenges in getting access to basic human rights such as shelter, sanitation and food, the current instability has amplified matters. 
While IDPs already face a myriad challenges in getting access to basic human rights, the current instability has amplified matters.
The well-being of women is of particular concern given the Taliban's track record.
"We know your heart will be hurting for those precious people in Afghanistan who are displaced, stressed and worried about their futures," said Hagar Singapore, which has done work there since 2008. They have affirmed that they are "in regular contact" with staff and their families and they are all "currently safe".
"Over the next few weeks, we will be looking at ways in which we can reach out to those most affected, as Hagar's work is needed even more than ever at this difficult time.
"We are committed to doing all that we can to provide relief to displaced families and children during this critical time."
"We don't have to wonder what they're going to do. We've seen it": What a Taliban takeover in Afghanistan means for Christians
At the moment, the team is focusing on these four key interventions in their response plan for Afghanistan:
Provide primary healthcare to internally displaced peoples (IDP): This includes creating and running a mobile medical clinic (to be led by Hagar's in-house doctor);
Set up emergency shelters for displaced persons: The focus is on homeless girls and young women as they are most at risk;
Provide food aid and basic essentials to destitute families and existing clients: The unfolding situation has made some of their clients even more vulnerable, especially those who live in abject poverty;
Set up safe spaces for displaced young children: This will be done through creating classrooms within the IDP shelters where girls can continue to learn, play and feel safe.
Here's what you can do
1) Help provide shelter, food & safe spaces
At this point, Hagar does not yet have the extra funding to deal with this unexpected situation on top of their existing programmes.
If you are motivated to respond by helping Hagar Singapore raise the funds they need to provide critical assistance to displaced families, women and children, you can give by following the link here: https://hagar.org.sg/support-for-afghanistan/
2) Pray earnestly
Pray for the people of the land
To experience the protection of God in terms of physical safety.
For open borders, the provision of visas and safe journeys to those who are looking to leave the country.
That God will hold back the plans of those who seek to do evil.
For all to receive God's provision of the daily necessities.
For God's deliverance from the suffering through the many wars and atrocities committed over the centuries.
Pray for foreign workers still in the country
Safe passage for those trapped and the Spirit's empowering for those who have chosen to stay.
For physical protection from those out to do evil.
For the strength and resources to do God's work where they have been called.
For them to be powerful testimonies of God's love. 
Pray for local believers
"Be not silent, O God of my praise! For wicked and deceitful mouths are opened against me, speaking against me with lying tongues. They encircle me with words of hate, and attack me without cause." (Psalm 109:1-2)
For physical safety as they seek shelter. 
For comfort and peace in a time of intense uncertainty.
To be strengthened with bold faith.
Pray for the Taliban
"You have heard that it was said, 'You shall love your neighbour and hate your enemy.' But I say to you, Love your enemies and pray for those who persecute you, so that you may be sons of your Father who is in heaven." (Matthew 5:43-45)
That the zeal of the Taliban fighters will be turned into a zeal for Jesus Christ.
Pray that the hope of the Gospel will be made known to many
"For it is for this we labor and strive, because we have fixed our hope on the living God, who is the Savior of all men, especially of believers." (1 Timothy 4:10)
In a time of seeming hopelessness, the light and truth of Christ will shine through.
That as worldly governments fail, hearts will turn to Christ and find their hope and salvation in Him.
If you have enjoyed reading Salt&Light...
We are an independent, non-profit organisation that relies on the generosity of our readers, such as yourself, to continue serving the kingdom. Every dollar donated goes directly back into our editorial coverage.
Would you consider partnering with us in our kingdom work by supporting us financially, either as a one-off donation, or a recurring pledge?
Support Salt&Light