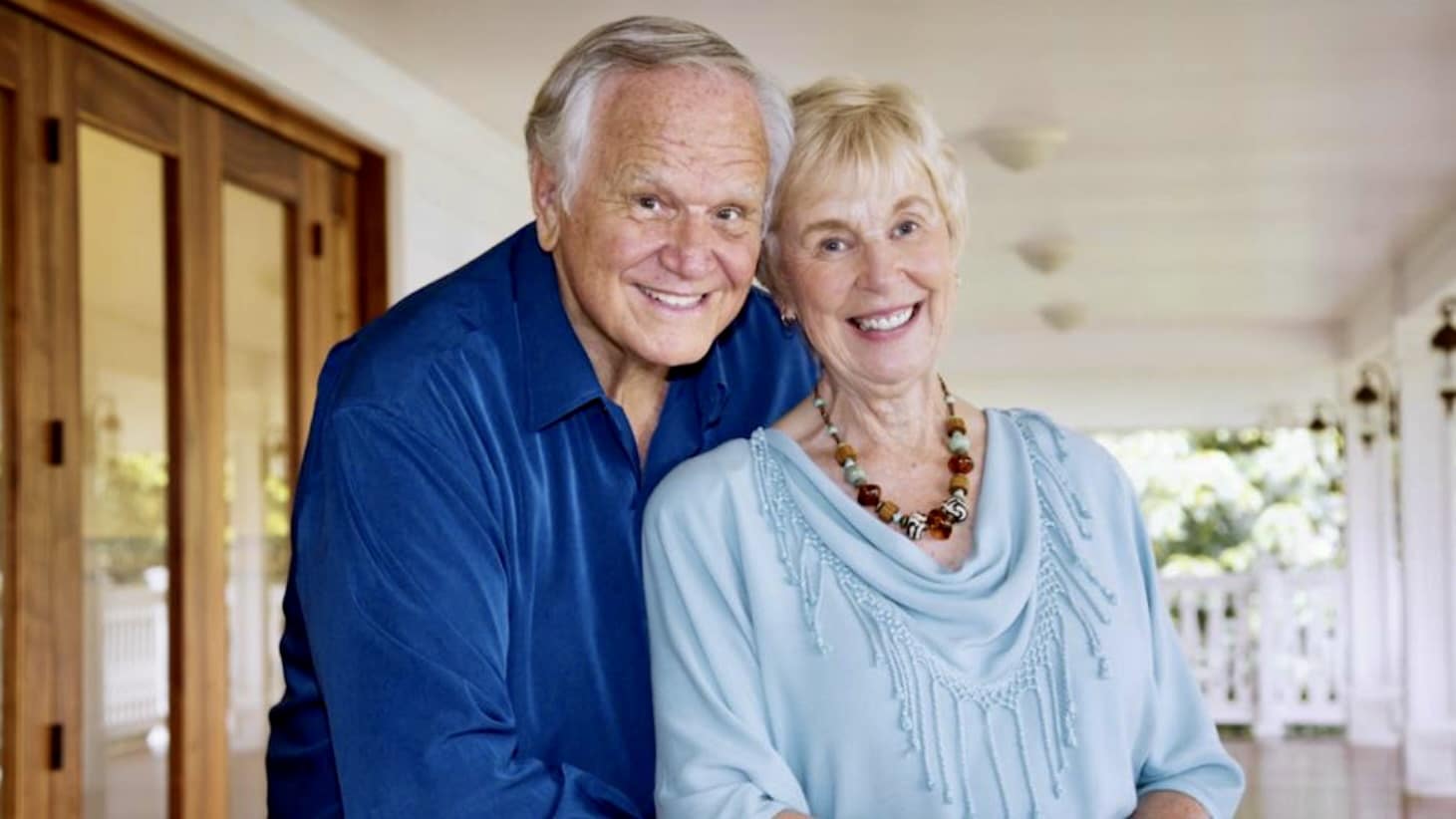 YWAM founder Loren Cunningham has been diagnosed with Stage 4 cancer, his wife Darlene announced on Friday, March 3, 2023. Photo from CBN News.
Youth With A Mission (YWAM) founder Loren Cunningham once famously said: "You never get bored with God in action."
And perhaps it is with that perspective that he and his wife, Darlene, have responded to his diagnosis of stage 4 cancer by turning down chemotherapy "or other treatments that could reduce his energy and productiveness".
Instead, their priority is his quality of life, as Darlene shared on the YWAM Facebook page last Friday (March 3).
"Revelation has been flowing for Loren like never before."
Announcing that cancer has spread to Loren's lungs, bones and lymphatic system, Darlene's post was not sombre in any way, but bore grateful witness to at least two wonders they have thus far experienced: "One miracle is, the cancer cells have not spread to his brain.
"Another is that Loren is able to be quite active at this time!"
She also shared that a Brazilian YWAMer praying for Loren, who will be 87 in June, had been impressed by God: "Don't pray for health – pray for what I'm going to do through him that's even greater than the start of YWAM!"
"Revelation has been flowing for Loren like never before," Darlene added. More than 60 years since launching YWAM, he continues to be fuelled by the passion of fulfilling "God's dream of getting the Bible orally into every mother tongue on earth".
Without sidestepping the uncertainty of his prognosis, she continued: "What we do know is that he is in God's hands.
"He has Jesus, family, friends and vision. Who could ask for more?"
It started with a vision
It was in 1960 that Loren launched YWAM, following a vision he'd received four years before of a map of the world that was "alive and moving".
"I could see all the continents, and waves were crashing onto their shores," he testifies on one of the YWAM websites. "Each wave went onto a continent, then receded, then came up further until it covered the continent completely.
"They were going from house to house and preaching the Gospel."
"The waves became young people – kids my age and even younger, covering all the continents of the globe. They were talking to people on the street corners and outside bars. They were going from house to house and preaching the Gospel."
Those waves would someday come to include Joseph Chean, who recently stepped down from his post of National Director of YWAM Singapore and was appointed Strategic Coordinator of Antioch 21. His own journey of faith has been impacted by Loren significantly at least twice, he told Salt&Light.
Tarrying before heading into the departure lounge at Changi Airport after a 2006 conference, Loren had "put his hand on me and said, 'Joe, whatever decision you make, think in terms of three generations'," he related.
For Joe, the memory is as vivid as if it happened yesterday. "When he put his hand on my shoulder, gosh, the weight of his hand – both physically and the weight of the words that he spoke … 
"It had never occurred to me!"
He laughs in retrospect: "My first response was, how do I even think of 100 years ahead of me? How would I know?"
Nonetheless, he affirms the watershed moment: "YWAM Singapore is what it is today because I constantly think: How will this impact the next generation who will come after me?"
A faith that acts
That same year, while Joe was in the difficult throes of organising GoFest Asia, Loren challenged him to start a publishing arm.
"The conference could hold 4,000 people and I only had 500 registrations. It was so scary. My mind couldn't think of anything else except this whole registration thing."
"How on earth did Loren even get my home number? Usually, it's easier for us to hear from God than to hear from him!"
A month before the conference, Joe was praying at home with his wife, crying at the prospect of the conference being a failure, when his home phone rang.
It was Loren on the line. With mock incredulity, Joe says: "How on earth did Loren even get my home number? Usually, it's easier for us to hear from God than to hear from him!"
Loren asked if his books would be available at the conference, to which Joe answered "No", because the shipping costs were too high.
"I wanted to print the books in Singapore but was never given permission to do so. He said, 'Why not?' I said, 'The publisher won't give us the rights.' "
Loren's immediate response was: "I have the rights. I'll give it to you over the phone right now."
The next thing Joe knew, Loren had hung up and sent him all the manuscripts.
Joe's private thoughts were: "How on earth am I going to get this done in a month? It's impossible. And I don't even have the money."
Never say "no"
"But in YWAM, we never say 'no'. We always go back to God to cry and ask God if this is what He desires.
"God said, 'Yes.' I was not happy. I was so upset!"
To Joe's amazement, within a week, someone gave $60,000 towards the printing project. Then, he discovered that one person among his team of volunteers was in the printing business.
"His words pushed me to have faith for bigger projects, to never say 'no' to God."
"On the day of the conference, 20,000 books were delivered. When Loren came, I showed it to him. He was so shocked. He said, 'You mean you did it?' 
"I looked at him and said, 'Did you not ask me to do it?' He said, 'I was pushing your faith.' "
At the conference, Loren announced publicly that YWAM Singapore had begun a publishing arm.
"He launched the ministry like that!" Joe recalls, reflecting, "His words pushed me to have faith for bigger projects, to never say 'no' to God.
"Even though you don't have the resources, the means, or the energy, you can say 'yes' to God.
"I was shaped by all these various projects. It gave me courage to take on things that I had not dared to do before. And that would be Loren's legacy in YWAM Singapore and in my life."
Paradigm shift
YWAM Singapore Country Leader Hudson Kim tells Salt&Light: "Young people were not considered candidates for missions in the mid-20th century. It was simply not something that was done at the time Loren saw this vision.
"He stirs us to have faith in what God is able to do."
"The waves of young people covered every nation in all the continents. Each wave builds on that which has gone before. Each one makes fresh impact in new ways, reaching heights not previously achieved. It's never static. It's always dynamic, focused on going where we are not.
"That (vision) captivated me and I said, 'I want to be a part of those waves.' "
Recounting a conversation with an elder who asked him: "Hudson, do you know why even at 85-plus years old, Loren can still relate and be stirred on by young people?
"Because he speaks visions and dreams that are so big and beyond ourselves and stirs us to have faith in what God is able to do."
Even in the face, medically, of death, Loren continues to do just that.
Affirms Lawrence Tong, International Director of Operation Mobilisation (OM), which has partnered YWAM in many gospel outreaches all over the world for five decades: "Loren's vision for the work still to be done, to reach all nations with the gospel, is truly remarkable.
"His contribution to global mission is immense, and we at OM are saddened to hear of his diagnosis. We are indeed praying for Loren and Darlene as they face this challenge with faith and focus."
---
MORE STORIES ON YWAM:
"Make God's greatest concern our greatest concern": Missions movement Antioch21 relaunched
"Singapore was once an unreached people group too. He is a God who longs to be known": YWAM Singapore's Joseph Chean
"Don't take little steps of obedience lightly": How this ships ministry realised their roadblocks were but stepping stones to something greater
If you have enjoyed reading Salt&Light...
We are an independent, non-profit organisation that relies on the generosity of our readers, such as yourself, to continue serving the kingdom. Every dollar donated goes directly back into our editorial coverage.
Would you consider partnering with us in our kingdom work by supporting us financially, either as a one-off donation, or a recurring pledge?
Support Salt&Light