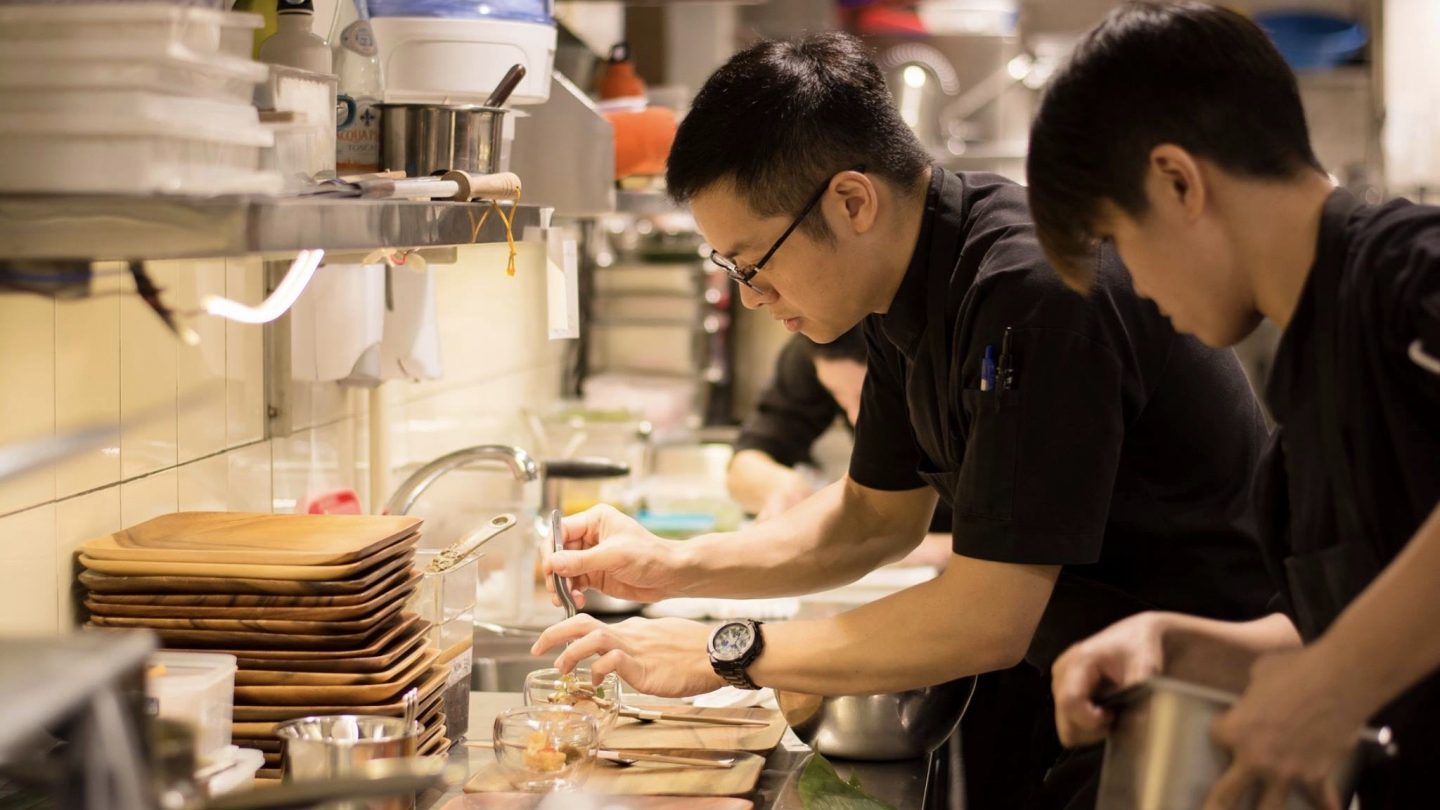 The road to a Michelin star was not an easy one, but as Malcolm Lee, head chef and founder of Candlenut, looks back on his journey, he sees God's fingerprint on every stage of his life. All photos from Candlenut's Facebook page unless otherwise stated.
Unknown to many, Candlenut almost didn't make it to Dempsey, almost didn't get a Michelin star, and almost didn't put Singapore on the culinary map as the world's first Michelin-starred Peranakan restaurant.
Chef Malcolm Lee was on the brink of quitting about a year before Candlenut, the Peranakan restaurant he started with his mother, was awarded a Michelin star in July 2016.
"I was at my wit's end then and I wanted to give up already," recalls the 35-year-old head chef and owner. He had been slaving in the kitchen for more than five years and had felt increasingly frustrated as he was unable to get diners to try new dishes in the Peranakan restaurant.
"But God sent people along the way to inspire me and it reached a point where I decided to just scrap the à la carte menu and do only a tasting menu for dinner. It was a very risky move as this has never been done in a Peranakan restaurant."
The change required Lee to put everything on the line­ – including the future of the restaurant.
Although he had regulars visiting Candlenut by then, the move could have ended up turning them away at a time when the restaurant's financial health was wavering.
That decision in July 2015 paid off, helping Candlenut to become the world's only Michelin-starred Peranakan restaurant. It has maintained its star for four years running.
As Lee sits outside his restaurant located along Dempsey Road – a location he had once only dreamed of – he readily admits: "I could never have planned for any of this."
Last to know
"I didn't change the menu because I knew Michelin was coming. In fact, we were probably the last restaurant to know!" he says with a laugh.
It was apparently an open secret among industry insiders even before the November 30, 2015, press conference announcing the renowned food guide's arrival in Singapore.
"I changed the menu because God dropped signs to push me and encouraged me to go towards this. It was not to gain an award.
"And the timing was just 'too nice' already," adds Lee, a third-generation Peranakan chef. The decision to start the Ah-ma-kase menu meant that he and his team had only about six months to fine tune their offerings. Ah-ma-kase, a nod to the food he grew up eating at home, is Candlenut's cheeky play on the Japanese word "omakase", meaning to entrust yourself to the chef.
If the change had happened any later, Candlenut would have missed the boat because the Michelin inspectors began reviewing restaurants almost immediately, says Lee.
Winning a Michelin star is one of the most coveted awards to most chefs; attaining it turned Candlenut's fortune around.
Unexpectedly, however, the award left him feeling empty and saw him slip into depression.
Painful lessons
"I lost a lot of things to reach here," says Lee, his voice turning quiet. "I was working so much that I was neglecting time with my family, friends, cell group, loved ones."
"When you neglect your relationship with God, you go into a place that is very terrible."
He recalled how everything frustrated him as he was relying on his own human strength and wisdom during those days.
"That was a bad season of my life, in terms of business, in terms of relationships. I was so focused on work that I neglected my foundation – basically what we do or don't do in our faith. When you neglect your relationship with God, then you go into a place that is very terrible," explains Lee.
"I was really in a terrible mess. I was losing weight like crazy and I was taking sleeping pills every night because my thoughts kept me awake. To focus at work, I drank so much coffee that I couldn't sleep … it was a vicious cycle."
Though he neglected those closest to him, they did not neglect him. His family, friends, cell group friends and even his staff checked in on him frequently.
"God sent people to encourage and support me. It was a breakthrough and I'm so thankful up till today." 
He recounted how his friends would rush down to meet him wherever he was and how his cell group visited him at his house during that period of his life.
"Even my staff. I was not in the right state of mind but they really pulled me up, they really made sure this business powered forward," says Lee with emotion.
"All these little things that happened made me realise that they were always there for me. God sent people to encourage and support me. It was a breakthrough and I'm so thankful up till today." 
At the heart of it all
It was then that God reminded him why he wanted to be a chef. He had loved food and cooking since young but it was his experience at Frujch, the student-run café during his Singapore Management University days, that cemented his decision.
When he and his friends announced the café's impending closure (they were about to graduate), the student body turned out in droves to support its final day. Lee, who was busy manning the kitchen, overheard fellow students saying: "Thank you for creating this. As busy as school was, this was a place where we could relax and feel different."
He realised the reason he enjoyed cooking was not because he wanted to simply serve good food, but because food can impact people's lives.
But six years into starting Candlenut, the stress of managing a restaurant and perfecting his craft caused him to lose sight of his original intention, which had to do with people.
Lee started to ask God what His plan and purposes for him were, and how he was supposed to fulfil them. He heard: "It is not just your guests, it is also the staff that you work with."
As he sought God, God showed him how to lead the team, how to be a better boss, son and friend.
My Candlenut 'cell group'
From its humble beginnings in 2010, when the entire staff consisted of Lee, his mum and three retired housewives, Candlenut today has grown to a staff of 40.
"I always tell my church cell group that I have a 'cell group' here in Candlenut too because I have 40 people working with me," grins Lee, who grew up in an Anglican church and remains active in his cell ministry.
"They each have their own life, their family, their worries, their struggles. And with me being their leader, I can also be there for them to a certain extent, to encourage and support them. That's why I say the impact can be tremendous."
The tough times he went through taught him not to prioritise work above relationships. And it is something he hopes to instil in his staff. This was the primary reason he made the decision to change how Candlenut was being run.
"I've always believed the Michelin star is a gift from God and I need to use it wisely."
Besides implementing a shorter work week than most restaurants (employees work four- to four-and-a-half days a week), he also has an open-door policy where employees can tell him anything – be it problems they are facing at work or at home.
He frequently asks his church friends to keep him in prayer: "I always share during my cell group that I need them to pray for me for wisdom because I am just one person, I don't know what 40 people are thinking."
He believes that happy staff make for happy guests, which naturally helps Candlenut retain its Michelin star.
Gift from above
His management philosophy is based on the Bible verses he lives by: Matthew 22:36-39.
"If you love God with all your heart, all your soul and all your mind, everything will click because in everything you do, you will be following His principles. As you obey, it will be your worship to Him.
"God has done many, many things in my life that I could never have planned for."
"But it is a very tough verse to live out," he adds soberly.
"If you love your neighbour as yourself, you will know how you deal with people, you will pray for them, you will have compassion, you will have everything. Because you love your neighbour as yourself.
"I've always believed the Michelin star is a gift from God and I need to use it wisely. God is always reminding me to use this connection to reach out, to connect with people," says Lee.
"I have to be a good steward of what has been given to me and just try to manage it well. And truth be told, I still make mistakes. So, I have to learn the lessons and just keep moving forward."
"We are all broken vessels … but He will still use me."
One thing's for sure, his faith in God has only grown with each passing year.
"As I look back, God has been faithful and He's always shown me a way that I can never imagine. Over the years, I've learned to trust the Lord more and more," reveals Lee.
"God has done many, many things in my life that I can never plan for. Not every lesson is beautiful, some are painful. If it is painful, you learn. We are all broken vessels, just like that song. But He will still use me."
If you have enjoyed reading Salt&Light...
We are an independent, non-profit organisation that relies on the generosity of our readers, such as yourself, to continue serving the kingdom. Every dollar donated goes directly back into our editorial coverage.
Would you consider partnering with us in our kingdom work by supporting us financially, either as a one-off donation, or a recurring pledge?
Support Salt&Light