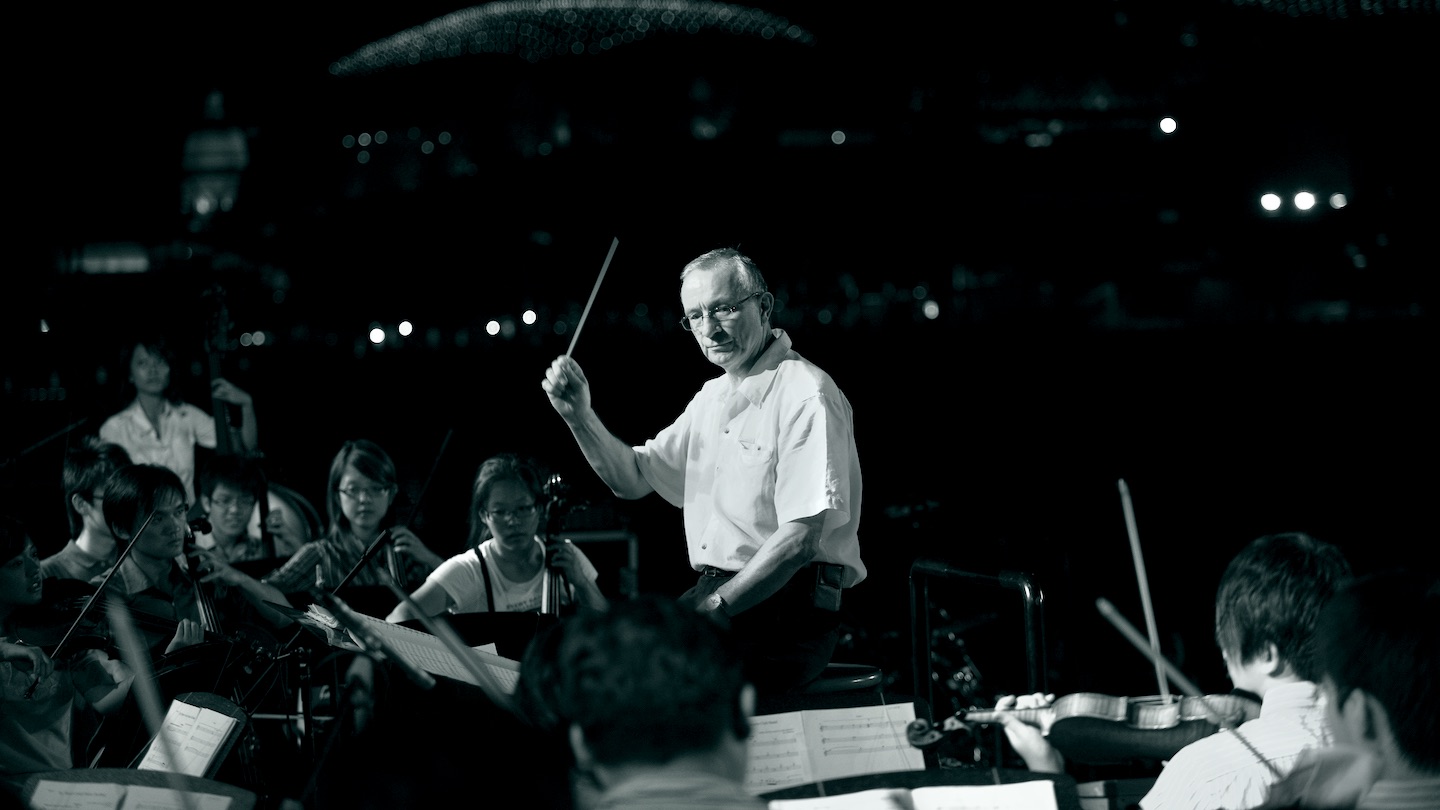 Cultural Medallion recipient Eric Watson believes that God moved him to Singapore 28 years ago to give him opportunities. Yet, the journey to Singapore was a somewhat treacherous one. All photos courtesy of Eric Watson unless otherwise stated.
Cultural Medallion recipient Eric Watson never imagined life would turn out the way it did for him. Already an accomplished musician in the UK, a confluence of events led him to sunny Singapore nearly 30 years ago.
"I think God wanted to give me opportunities," the 73-year-old composer, conductor, music technologist and educator said with a smile. "He wanted to open up a world to me, not just musically but culturally as well – other people's outlooks, their way of thinking about things, the way they sometimes present things."
"I think God wanted to give me opportunities."
The interactions Watson has had in multicultural Singapore gave him a better understanding of Chinese, Indian and Malay ethnic instruments, allowing him to write music that fuses these diverse elements together. It was this melding of Singapore's rich musical traditions and cultures that helped him clinch the Cultural Medallion this year.
Widely recognised as Singapore's pinnacle arts award, the Cultural Medallion recognises individuals whose artistic excellence, as well as contribution and commitment to the arts, have enriched and distinguished Singapore's arts and cultural landscape.
"Since relocating to Singapore, he has embraced our multi-culturalism and beautifully infused the different music and cultures into his works. Some of this notable works include writing and arranging orchestral music for our National Day Parade," wrote President Halimah Yacob in a Facebook post after conferring the award on Watson. He's the 126th recipient of the award since it was instituted in 1979.
But what he treasures most in the move from the UK to Singapore is rediscovering God.
Held hostage in Kuwait
Born into a Christian family in Wales, Watson grew up in church. But his faith took a backseat when he moved to London to study at Trinity College of Music. Upon graduation, he started teaching music but with his love of performing and theatre, he was soon working as a répétiteur (rehearsal pianist) in opera and a music director for musicals in the West End and on tours around the UK.
"I feared what would happen to my family as there were bombs dropping."
It was on one of those tours that he met Penang-born Wendy. They fell in love and eventually got married. Wendy, who is also a skilled pianist, joined him on tour but, at her parents' request, the couple would spend two months a year in Malaysia.
"But after a while, there was an economic crisis in the UK and work was getting few and far in between. So at that point we thought, why not move to Singapore?" recalled Watson.
With more opportunities here and the proximity to her parents, they made preparations to move. Wendy went ahead of him and he followed after. However, his plane stopped over in Kuwait just as Saddam Hussein invaded the country in the wee hours of August 2, 1990.
He, along with other passengers and crew on British Airways flight 149, were taken hostage by Iraqi forces.
Finding God in the pit of despair
"It was during that time that I began to reconnect with God – it happens to so many of us – out of fear initially," admitted Watson.
"Not so much fear for myself, although that was present at times because there were bombs dropping at various points, but out of fear about what would happen to my wife, my family, if anything happened to me," he said.
"His hand was over me and many other people too. Even if they weren't unaware, He was there."
He was held hostage for four and a half months in an oil refinery and, later on, in a bomb factory. Iraq used the hostages as human shields to deter offensive operations by the coalition forces during the Gulf War.
Watson cried out to God and found comfort and peace (Psalm 43:5). He also used his gift of music to minister to other hostages when the opportunity arose. A fellow hostage, SK Cheong, shared on Facebook that Watson kept them entertained in the early days when they were held in a hotel.
Watson was among the last of the hostages to be released by Iraq, arriving back in the UK only in mid-December 1990. "His hand was over me, that's for certain, and many other people too. Even if they weren't unaware, He was there," said Watson, referencing Colossians 1:17.
Land of opportunities
After about 10 days in the UK, Watson made his second attempt to move to Singapore. That was in early 1991. Since then, he has gone on to teach in all the major arts institutions and composed pieces for musical theatre, film and television. He even wrote jingles, including one for a McDonald's TV ad!
"There's been some difficult times but Singapore has been the land of opportunities for me."
Watson also wrote and arranged orchestral music for Singapore's National Day Parade in 2001 and 2007. For the first one, he worked with the Singapore Symphony Orchestra (SSO). And for the second, it was a collaboration with the SSO, Singapore Chinese Orchestra, an Indian ensemble and a Malay ensemble.
"There's been some difficult times but Singapore has been the land of opportunities for me. And for that, I'm truly grateful and thankful every day," said the Singapore permanent resident, recounting that the music scene then was not as vibrant as it is today.
The opportunities to learn about the different cultures here have developed him both personally and professionally. He explained: "Once you understand where people are coming from, it's often easier to be able to work with them. For me, collaboration and tolerance are important principles (Ephesians 4:2).
"I've grown to enjoy all kinds of music from different cultures. Some of which, on my first hearing, I thought, 'How am I going to deal with that?' And I found that by listening more frequently – which takes effort – I often come to an understanding and liking to the music, which I didn't have before. So I'm enriched."
He began to adopt the same principles of collaboration and toleration in the music that he writes such that it allows a musician some room to improvise within an orchestra piece.
"When you give musicians freedom, ask them to improvise within a piece, sometimes they produce really surprising things. For me, it enriches and enhances the whole thing."
Being fine-tuned
While Watson may not wear his faith on his sleeve, it is always at the back of his mind and guiding him in his work and how he interacts with others, especially those who may hold different views from him.
On one occasion, he worked with a musician who was a traditionalist in the way an instrument was played. Watson wanted to try something new but that was met with some resistance.
"It was a real artistic conundrum that was not easy to overcome," he recounted.
He knew it was an artistic principle that he shouldn't go against. But out of that emerged an understanding that it was possible to accommodate it. As they shared their viewpoints, they were able to reach a mutual decision (Matthew 5:9, Philippians 2:4).
"I was able to achieve most of what I wanted to but I did it in a way that honoured his musical tradition and the end result was better.
"Resolving conflict like that is the way I would like to try and approach most of these things."
These are some of the life lessons he hopes to impart to his students as he continues to push boundaries in music.
In the last few years, Watson has been writing more sacred music, including the lyrics. This has led him to explore the Bible in new ways as he seeks to put words and music together in a "harmonious way that reflects faith".
As he walks with the Master Conductor, it is is his prayer that his music will live on in the minds and hearts of those whose lives he's touched.