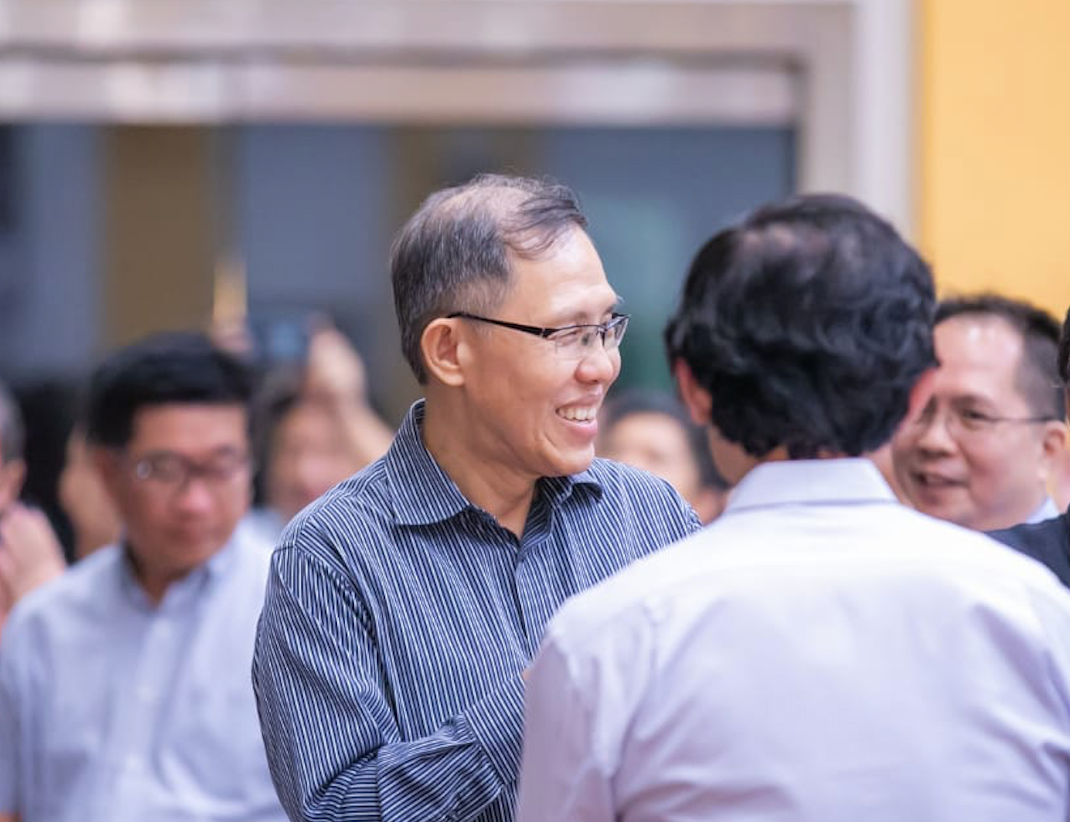 Queensway Secondary School principal, Peter Tan, who has seen multiple cohorts of students, is still visited by his "old boys". "It is a privilege to pray for them," he says. Photo courtesy of Darren Huang.
His door is always open.
Boys would enter with equal measure of trepidation and anticipation, knowing the man within the office would be firm but kind.
There would be no escaping the truths they'd have to tell, but there would be comfort in the confession, for there would grace.
It is no secret that Peter Tan Chong Tze is first a Christ-follower before he is a school principal – a servant of God who just happens to have been called to the field of education.
From 1999 to 2017, he oversaw 18 cohorts of graduating boys from two Anglo-Chinese School (ACS) schools, first at ACS (Junior) then at ACS (Barker Road), whom he prayed over during assembly devotion every Monday morning.
Behind closed doors, he hears them out and offers counsel. Always, he prays for them.
Alumni still seek him out. Now grown men, their stories are often replete with regret at moral lapses. Behind closed doors, he hears them out and offers counsel. Always, he prays for them.
"It is a privilege to pray," Tan says plainly. It comes so naturally to him that not being able to pray openly was a significant adjustment when he became principal at Queensway Secondary School (QSS) a little under two years ago.
The move changed nothing, however, about his habit of personal prayer. His days begin before God in the quiet of dawn, every earthly challenge a divine opportunity to inquire of God and behold His beauty (Psalm 27:4).
The perspective from that place, while often dark, has been resplendent with the miraculous.
Run home!
On a Tuesday in mid-January this year, Tan, 59, found his sense of balance slipping away as he stood up from his chair in his QSS office. He was rushed to the National University Hospital where a CT scan of his brain showed a lesion indicative of a stroke.
Two days later, the results of an MRI begged to differ and he was discharged with the all-clear.
"How this can be, I do not know except that we worship a great and mighty God," he said in a "thank you" text sent to the army of kindred spirits who had gathered in cyber space to intercede for him.
It is not the only miracle he has experienced in his life.
Four years before, on the same date, his wife, Stacey, experienced acute chest pains while he was at a Father's Prayer Group meeting on the ACS(BR) campus. After her phone call to him that Saturday morning, "I sensed God telling me to 'run home!'" and he did, said Tan in a letter of appreciation to the ACS community later.
While they were registering at the Accident and Emergency department at Tan Tock Seng Hospital, Stacey had a massive heart attack. A stent was inserted two days later when it was diagnosed that the neck of one of her main arteries was 90% blocked over a 4cm length.
Tan recalls asking a cardiologist friend: "What would have happened if it had closed?" The reply: "Then you'd be a widower lor."
The amulet
Ironically, when he was first introduced to the faith as a primary school student of ACS, he had a distinct distaste for the word "Jesus".
"The hymns always sang about Christ," he says. Steeped in another religion then, "I really resented it. I found the words very offensive, so I would refuse to sing".
In Secondary 2 he enrolled in the Boys' Brigade (BB) – being "very impressed with the BB uniform and everything" – but more so to be better informed so that he could prove Christianity a false religion.
Little did he expect God to get the better of him during a Gospel outreach.
"I just felt I had to go and get myself right with this God called Jesus Christ."
"During the altar call I just felt that warmth in the heart to say I need to respond to this. And it was strange, because I was wearing (an amulet). I was asking God, 'How can I go up? I have this.'
"And then I just felt I had to go and get myself right with this God called Jesus Christ."
That night, he removed all the religious ornaments he had worn since childhood. Mark 1:35 was instructive, and he began to wake up early to read his Bible "for what it was", by torchlight in the one room his immediate family shared in his grandparents' house.
He avoided the religious rituals he'd once spearheaded as the eldest grandson of a traditional Chinese family and, over time, his once-hot temper simmered away.
These developments did not go unnoticed, and when he finally broached the subject of baptism with his formidable grandmother, she surprised him by saying "okay", adding: "Maybe you should bring your cousins to church, too."
Just in time
After serving his National Service, Tan saw himself with a future in the mission field.
But following a mountaintop experience in Sarawak grooming young Iban Christians as leaders, he found himself in a valley with Luke 14:28-31: "Make sure you have enough resources before you build your tower. Don't go into battle with your enemy if you don't have enough resources."
"If You open that door, I will become a teacher and be salt and light to the schools in Singapore."
"I remember I was driving along East Coast Parkway – I'd borrowed my grandparents' car – and those words came to me," says Tan. "I pulled up along the road shoulder and read (the passage), and God really spoke and said, 'You are not ready.' "
Tan had also considered being a teacher, and so he applied to the then-Institute of Education (IE), pledging to God: "If You open that door, I will become a teacher and be salt and light (Matthew 5:13-16) to the schools in Singapore until such time as You call me for mission work again."
The IE programme in the early 1980s was a teacher-in-training scheme, and Tan was assigned to his alma mater. He set his sights on a university degree and applied to study physical education and fitness management overseas.
It was an "audacious" move on his part, he says, because he had neither scholarship nor independent funding, and a teacher's pay was then only $600 a month.
He supplemented his income by giving private tuition, and also applied for the TW Hinch scholarship administered by ACS Old Boys' Association (ACSOBA), which amounted to $1,000 a year.
How he managed to pool together enough money to attend the University of Texas in Austin eludes him. "I have no idea," he shakes his head, laughing. 
"Honestly. If I were to do the sums, it wouldn't add up. But I prayed and I had the peace to do all that I did."
The Ministry of Education's (MOE) take on his bid to go overseas was a definitive "no".
"If I were to do the sums, it wouldn't add up. But I prayed and I had the peace to do all that I did."
"The strange thing was, they sent a replacement to take my place as a teacher."
In faith, Tan bought his air ticket and told his students he was leaving. "I told them, 'This Friday is my last Friday in school.' The students were very nice, they did their own farewell for me and all."
That same Friday afternoon, he received word that MOE had approved his studies. "God is always just in time," he exclaims in amazement. He left for the US two days later.
Thrilling as the succession of events was, the one person Tan was looking for at the airport was his father. 
"He knew I was going. My grandma, my mum – they all went to send me off; a lot of my friends, my family, my crying girlfriend."
But his dad did not come. 
"All the other times he let me down, I could accept. But I was thinking, the one time I am leaving Singapore, myself, for the first time in my life, and you wouldn't even come.
"I was very disappointed."
"Sighted or not, I will serve the Lord": Legally blind principal Peter Tan on seeing miracle after miracle
How did principal Peter Tan's faith journey pan out? This is the first of a two-part story. You can read the second part here.
If you have enjoyed reading Salt&Light...
We are an independent, non-profit organisation that relies on the generosity of our readers, such as yourself, to continue serving the kingdom. Every dollar donated goes directly back into our editorial coverage.
Would you consider partnering with us in our kingdom work by supporting us financially, either as a one-off donation, or a recurring pledge?
Support Salt&Light