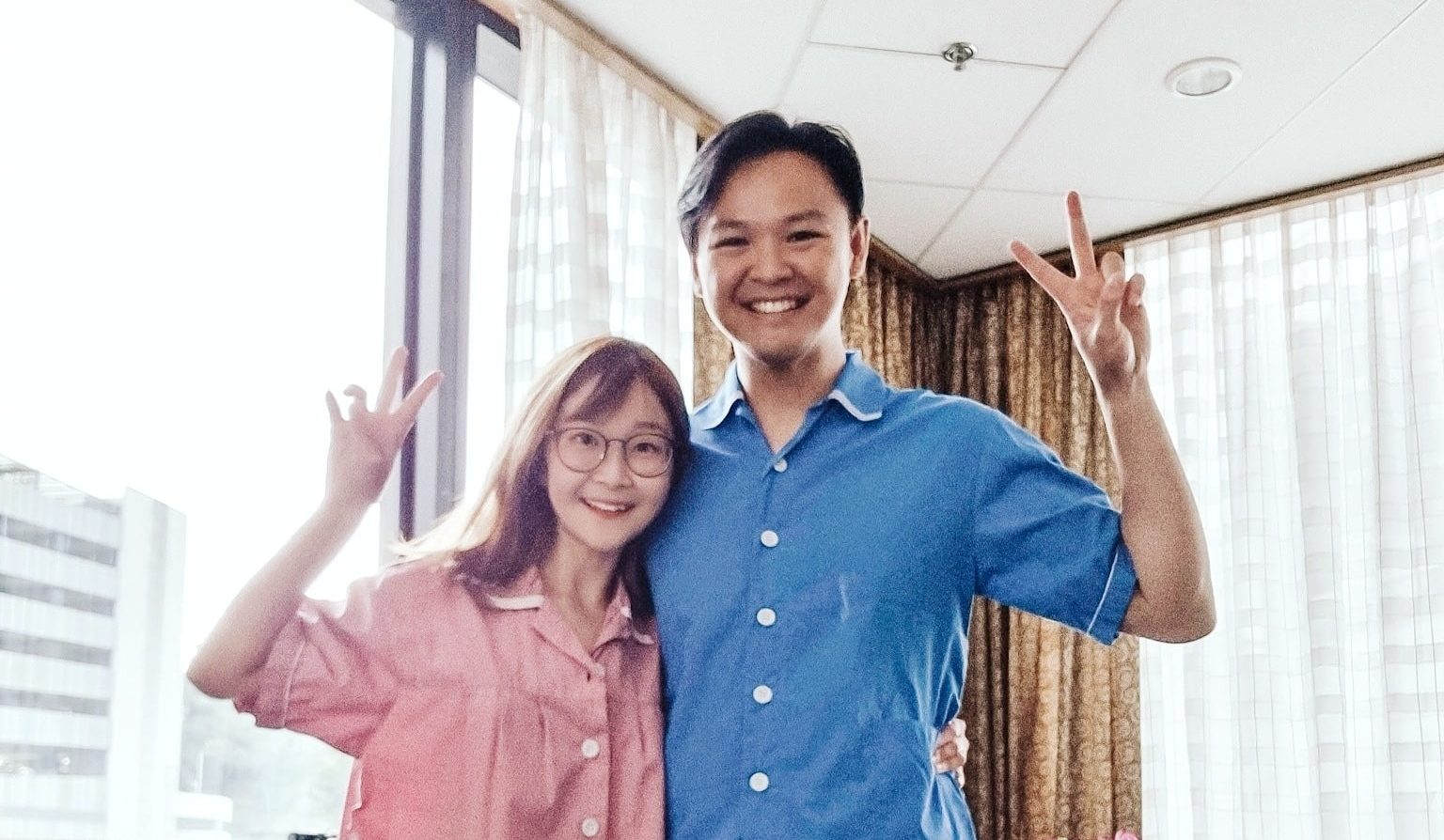 Though things may sometimes seem to be spiralling out of control, Serene Mai (pictured here with husband Kevin) has learnt through her kidney failure ordeal how to be patient in the waiting and how to hope in a God who can be trusted. All photos courtesy of Serene Mai.
It was early-2020 when Serene Mai received the dreaded news that both her kidneys had failed.
Diagnosed with lupus, an autoimmune disease, at just nine years old, her immune system had attacked her kidneys when she was just a teenager, causing scarring that invariably set her on a path toward end-stage kidney disease.
While she knew all along that this day would come, she had not expected it to be so soon. She was just 35 years old.
"I was very devastated," Serene told Salt&Light.
A guardian angel, revealed
She was disappointed with God for not healing her even though she had asked, prayed and believed. It had been tough struggling with the disease for almost 30 years.
Going in and out of hospital for different flare-ups as a child, she remembers wishing hard on one of her birthdays that she would not need to be admitted to hospital that year.
When she returned to school after a period of being away for treatment, her classmates would call her names and ostracise her because of the weight she had gained from the medication she was taking. Her own best friend could not even recognise her.
In secondary school, just as she began to develop crushes on boys, she had to go for treatment that caused her to lose all her hair.
Despite the physical and emotional trauma wrought by lupus, Serene admitted that she always felt that there was a guardian angel watching over her, even though she was not a Christian.
"I realised that things always turned out for good. Like even though I took a different or longer route, I benefited from it. Or I could have died because of a high fever but I didn't. I recognised all the divine interventions in my life," said Serene, now 37.
It was only when Serene was in her 20s, and her friend invited her to church, that "the puzzle pieces fit". She realised that her "guardian angel" was Jesus.
Even before she knew who He was, God was watching over her and taking care of her. But now that her kidneys were failing, where was He?
The struggle to let go and rest 
It did not help that Serene received the diagnosis at an extremely stressful time in her life.
Apart from being burnt out from work, she had to juggle moving houses in the middle of the pandemic and adapting to the new work-from-home arrangements, while easing her daughter into Primary 1 and home-based learning.
Even though she had been feeling like, for a while now, God was telling her to selah – a biblical term that means to pause and reflect – she felt trapped and reluctant to resign from her job, as she needed the income to finance her dialysis and upcoming kidney transplant.
"I was just overwhelmed and I got to a point where I started having anxiety. Plus kidney failure has a lot of health effects like being fatigued and unable to sleep well. Everything just accumulated and my emotions drove me to the brink of my sanity," she recalled.
To cope, she started painting – a hobby she had picked up at a young age. She found it therapeutic and started receiving daily inspiration on what to paint.
On one particular day, she felt led to paint birds. As she did, she heard God saying to her: "Why don't you trust Me to provide for you?"
It was a reference to Matthew 6:26, where Jesus reminded His disciples not to worry about provision; just as He provides for the birds of the air, God would provide for them too.
Struck and convicted by the message, Serene gathered up her courage and tendered her resignation in faith.
Immediately after doing so, a friend saw a picture of her artwork on her Instagram page and asked if she was selling it. Then, artwork requests from strangers started to fill her inbox, one after another.
"At that time my Instagram page had at most five posts. I asked them how they found out about my page and they said they were just randomly browsing," she said in awe.
Just like that, a small business which she called Heartstrings in Colour was born, providing Serene with the rest and income that the Lord knew she needed in that season.
A fulfilled promise
There was more provision to come.
When Serene opted for a kidney transplant, lovingly donated by her husband, Kevin, the estimated cost of the procedure came up to a whopping $100,000.
This was because the blood groups of Serene and Kevin are incompatible for a transplant. Going ahead with the procedure would involve more risks and cost, compared with a transplant from someone of a compatible blood group.
Jobless, without insurance and with a mortgage to pay, Serene could feel the anxiety rising from within her. Her small business, while profitable, was not pulling in enough to cover the costs.
"Didn't you say you would provide for me?" she cried out to God in desperation.
By some miraculous turn of events, she later found out from her insurance agent that, despite her lifelong condition, there was no exclusion for a kidney transplant on her policy.
The couple also successfully managed to opt for a paired kidney exchange transplant, where a donor-recipient pair who are medically incompatible can "swap" their healthy kidney with another pair. This allows recipients to receive a kidney from a donor they are medically compatible with.
This is a rare procedure in Singapore and there have only been five paired kidney exchange transplants here since 2015, according to The Straits Times.
As a result, the cost of the transplant fell drastically. With the help of her insurance, Serene eventually only needed to pay less than $600 out of pocket.
In that moment, still reeling from her tantrum, she felt God gently whisper in her heart: "Here you go, my child."
Waiting on one more miracle 
Serene's faith was to be tested once more.
Just as everything began falling into place, doctors detected right before the scheduled transplant that Kevin may have fatty liver disease, which would make him ineligible for the procedure. A biopsy was ordered to confirm the diagnosis.
"I didn't understand why I had to go through this, but deep inside I knew I could trust Him."
Everything seemed to crumble before Serene's eyes. Not only was her transplant in jeopardy, so was the health of her husband.
"I found it incredibly hard to process," she said. "Everything was going so well, why did this have to happen now?"
Turning to her best friend for comfort, she found herself bawling into the phone as her friend prayed for her and the situation. It was a cry of lament but also, strangely enough, of peace and a sense of renewed faith.
"In that moment, I knew that this was part of some grander plan. I didn't understand why I had to go through this, but deep inside I knew I could trust Him," she said.
"My flesh is impatient and can't deal with imperfections, but I will wait it out. I told God: Lord, I choose to rejoice in You regardless of what happens. You know the plans You have for me, I don't. Show me Your ways. I want to be a testimony for Your glory.
"I am waiting for You to work a miracle."
Her faith was not in vain. After the biopsy, doctors found no problems with Kevin's liver. "I knew that God had pulled through for us yet again," said Serene.
"This crazy journey and living a season of obedience to Christ has shown me truly what walking in faith really feels like," she reflected.
"It is not all rainbows and cotton candy. There are times when I feel so disappointed with God, but that is precisely when we choose to still trust – in between sobs, tears and snot – that God honours our heart."
Experiencing God's goodness in pain
Looking back at the past two years, Serene, who has since recovered from the successful transplant, is quick to say that "the most painful part of my life was the most joyful".
"Not that I wasn't sad or upset. It was still difficult. But there was this joy of the Lord in my heart. I felt so close to God," she explained.
Through this, she experienced firsthand how God truly understands her deepest desires and needs, and bends His knee to hear each cry and request.
Though things may sometimes seem to be spiralling out of control, she learnt how to be patient in the waiting and how to hope in a God who can be trusted.
"I have seen how He is good, despite what I've gone through."
Asked why she can still say that God is good despite the suffering she has had to endure, she confessed: "It's a very difficult question. We are all very limited by our worldly ability to understand. But God's ways are really above our ways.
"I have seen how He is good, despite what I've gone through. Having an illness for close to 30 years, I realise that He really does provide."
It is God's love and comfort in her own trials that now spurs her to use her suffering for good, something she believes she has been called to do.
As the manager of corporate communications at the National Kidney Foundation, she has found her own experience allows her to better understand and empathise with the patients there.
She often shares her own journey with them and this has encouraged them to open up and share their stories too, in the hope of helping others.
Said Serene: "I don't want to let my suffering go to waste. My time on earth is limited. If I've experienced something that can help others, then why not?"
---
MORE STORIES OF GOD'S LIGHT IN THE DARKNESS:
"In our heartbreak, we've found comfort and peace in God": Parents whose son was swept away by waves in Australia
"I thought everything I touched would turn to gold": He was a wildly successful businessman – until he lost everything
"She is a miracle": How God kept His promise to a mother whose baby's skull was abnormal
If you have enjoyed reading Salt&Light...
We are an independent, non-profit organisation that relies on the generosity of our readers, such as yourself, to continue serving the kingdom. Every dollar donated goes directly back into our editorial coverage.
Would you consider partnering with us in our kingdom work by supporting us financially, either as a one-off donation, or a recurring pledge?
Support Salt&Light