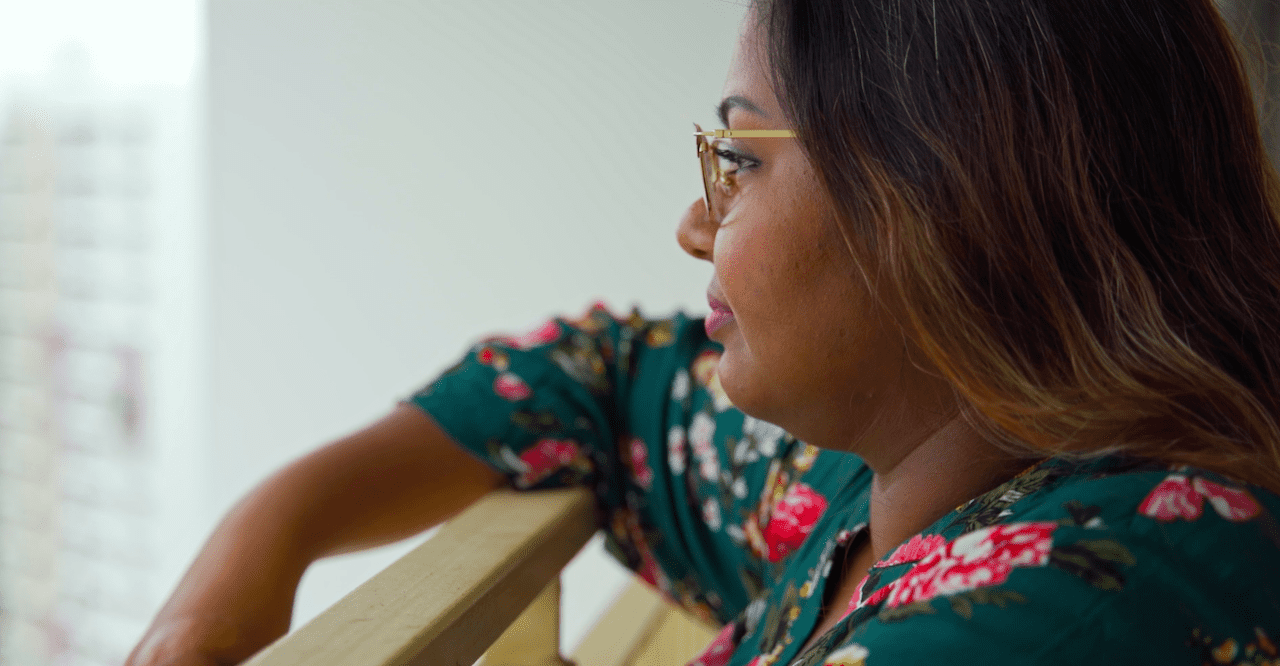 Having grown up in a broken family, Hannah Kasture spent many years searching for love, acceptance and stability in relationships with men who were often abusive. Photo courtesy of HCSA Dayspring.
Having grown up in a broken family, Hannah Kasture spent many years searching for love, acceptance and stability in relationships with men who were often abusive.
For most of her life she wandered around with neither anchor nor happiness – until God brought her back to a painful place and promised to heal and restore her life.
Sitting down with Salt&Light, the single mother of four and student care teacher shared how she finally broke free from the endless cycle of unhealthy relationships and found the love she always craved.
---
I grew up in an unstable and dysfunctional family.
As a child in kindergarten, I remember standing between my parents, crying, as they argued and fought with each other. 
I also witnessed my father physically hurting my mother, and hid behind a chair in fear as police officers handcuffed my father after she made a police report.
When I was six years old, my parents got a divorce. Life as I knew it fell apart.
My mother moved out of the house with my youngest brother – who was an infant at the time – while my father won custody of me and my two other brothers.
Upset about the divorce, my father often vented his anger on us. He would come home drunk at night, wake all of us up and talk aggressively about our mother.
I did not realise it then, but watching my dad drowning in loneliness and depression impacted me a lot. As I grew up, I chose to be with men who were lonely and hurt too, as I felt that I needed to be the band aid for their wounds.
Pregnant and homeless
All the boyfriends I had were physically and emotionally abusive.
I spent many years in and out of relationships with men who would declare their love and commitment to me, only to hit me, cheat on me and make empty promises.
Yet, I would still give everything that I had to each of them, as I was desperate to find in them some form of security and acceptance that I never had growing up.
I became pregnant with my first child at 19. As an unwed mother, I became even more insecure that no one would want me.
When my son was born, I left him with an ex-boyfriend's family, whom I know loved him. I did not want the men I was with to feel burdened by the need to care for a child.
Even though I had family, I felt like an orphan.
As my mum had sold her home, I moved in with one boyfriend after another. 
When my son was four years old, I fell pregnant again. When I broke the news to the father of my unborn child, whom I was living with at the time, he told me to abort the baby. He also became violent when I told him that I wanted to inform his mum about the pregnancy.
I later found out that he was seeing another girl.
Pregnant and with no place to stay, I hopped from temporary shelters to friends' homes, sometimes even having no choice but to spend the night at playgrounds. 
Even though I had family, I felt like an orphan.
Finding comfort
One of the shelters I sought refuge at was under the Singapore Anglican Community Services. I gave birth to my second child – a girl – while living there. It was the best home I had ever stayed in as I had good counsellors and case workers.
Every Friday, a chaplain and his wife would visit me. I looked forward to chatting with them, sharing my story and receiving their prayers. It was a kind of comfort for me.
Another family who was staying in the home also gave me a Bible. As I read through it, I started to believe that there is a God who can save and protect me. 
I read in Psalm 91:
Whoever dwells in the shelter of the Most High
    will rest in the shadow of the Almighty.
I will say of the Lord, "He is my refuge and my fortress,
    my God, in whom I trust."
Even though I did not know much about God, I began talking to Him. Whenever I did, I felt peace inside my heart. And I realised that He hears what I say to Him.
For example, when I applied for a HDB flat, I told God that I was hoping to get a particular unit in a certain block in Punggol.
When I received a queue number, it was quite far down the queue. When my turn came, however, the only place left was the exact unit that I had told God I wanted!
Another time, my boyfriend and I got into a huge argument. He did not come home and ignored me for two to three months.
Even though I did not know much about God, I began talking to Him. Whenever I did, I felt peace inside my heart.
Heartbroken, I sat down on my bed one afternoon and told God: "It's so painful. I can't bear it. I don't want to feel any more of this pain."
Miraculously, when I woke up from my nap that afternoon, I felt like a huge burden on my heart had been lifted. It helped me to move on.
Then, an anonymous Facebook friend I had never met before messaged me to check up on me. When I shared with him my struggles, he connected me with a woman on Facebook, who invited me to visit her church.
We quickly became good friends. I was struck by how genuine she was. She never judged me, even when I shared some of my darkest secrets and mistakes with her.
It was like God had heard how lonely I was, and had sent her to walk life's journey with me.
Betrayal and disappointment
I started to attend church regularly and spent time learning more about God.
When I learnt that He sent Jesus to die on the cross for my sins, I realised that Jesus' love is far greater than what any man can give. He is the only One who can give me true love and security.
I was so heartbroken and disappointed with myself for leaving a God who loves me for this man who only let me down.
Even though I was grateful to God for being so good to me, it was not easy to break off from my bad habits and way of living.
I fell pregnant with my third child, and again with my fourth child, while I was in unhealthy or inappropriate relationships with men.
I knew in my heart that these relationships were not right in God's eyes, but by the time I wanted to "wake up", I found that I was already too far in. Guilty, I stopped going to church.
While I was pregnant with my fourth child, I found out that my boyfriend was cheating on me. It would not be the first time. I confronted him about it, but he kept up his lies.
I was so heartbroken and disappointed with myself for leaving a God who loves me for this man who only let me down. It was devastating to see my life go in the same cycle over and over again.
Kneeling on the ground in desperation, I cried out to God: "I'm so sorry that I betrayed you. It was my mistake."
When my boyfriend betrayed me, what I felt must have been how God had felt when I betrayed Him.
I called my church friend on the phone. Instead of telling me that I deserved what had happened to me, she grieved with me and prayed for me.
Healing in a broken place
Not long after, I received a vision of myself back in the home I had grown up in before my parents got divorced. It was in that home that my whole life had unravelled. 
I was curious about that vision God gave me so I decided to visit the home with one of my friends. We were graciously invited in by the home's owner, who had bought the flat from my father. He remembered me.
As I walked around the house, I was flooded by memories of the divorce and the trauma that I had endured as a young child.
A calendar with part of a Bible verse, Ezekiel 36:11, printed on it caught my attention. It read: "I will make you more prosperous than ever."
Back where all my struggles had begun, God gave me a promise that He would break all the unhealthy cycles and prosper me.
I was taken aback. Back in the very place where my life had changed for the worse and all my struggles had begun, God gave me a promise that He would break all the unhealthy cycles and prosper me.
As I journaled my thoughts following the visit, I felt God helping me to empathise with the mistakes that my parents had made and forgive them for it. Perhaps being a mother also helped me to better understand why they had done some of the things they did.
God also gave me an opportunity to talk to my parents and share with them how God brought me through this healing journey. I knew they felt some guilt, grief and blame too, seeing how their children's lives had turned out.
With God's help, I forgave them and we are now on good terms with one another.
As I reflected on my past, I also felt God leading me to reflect on my own parenting mistakes and seek forgiveness from my children on the things I had done wrong.
Breaking the cycle
I felt like my broken spirit was slowly being healed and restored.
I found comfort and courage in the truth that God has set me free from my past, as well as in my identity as someone who is loved completely by God.
Secure in these truths, I chose to place God, my children and myself over my unhealthy relationship with my boyfriend.
So, on July 7, 2020, I left him. Since that day, I have not turned back. It was not easy to let go, but God helped me through the painful process.
I wanted to show my daughter, who had witnessed him beat me, that she should never tolerate any form of physical abuse from men. I explained to her that it is not acceptable. 
God is breaking this cycle of abuse. It will no longer continue past my generation. 
Even though it was painful, I do not regret what I went through in life. I embrace all of it as I know who I am in Christ today. Today God has completely changed how I see myself, people and life.
I want to help other young women who went through similar path, so I signed up for a befriending course at the Social Services Institute and am now befriending a single mother in my block.
"Ma, I'm very proud of you"
Being a single mother of four is not easy. But God has given me so much wisdom as I rely on Him for everything, from how to run my family to how I discipline my children.
Instead of shouting and screaming at my children as I often did in the past, I run to God first when I am angry and ask Him for self-control when I discipline them.
I'm not a perfect parent. Sometimes I still lose it. But recently, my oldest son told me: "Ma, I'm very proud of you. You've changed a lot." 
I teared and told him: "Thank God for it. It's because of God that Mummy has changed."
I have failed many times in life. Even though God saved me again and again, I have still betrayed Him again and again. I always doubted that God still loves me.
But I take comfort and reassurance in Romans 8:38-39, which says:
For I am convinced that neither death nor life, neither angels nor demons, neither the present nor the future, nor any powers, neither height nor depth, nor anything else in all creation, will be able to separate us from the love of God that is in Christ Jesus our Lord.
To know that nothing can separate me from His love – not even my own failure and betrayal of Him – is so amazing. I cannot live my life without God. 
While praying a few years ago, I had a vision of two doves embracing and holding roses in their mouths, with God's wings covering them. I took it to mean that God will provide for me a man whom He approves of to marry.
I believe that God will fulfil His promise to me, in His time.
For now, I will chose to trust in Him and walk in his ways. The day I surrendered my life to God, He broke my chains, unhealthy patterns and bondages. I used to feel like I was an orphan, but now I know I am a child of God.
---
If you are a single parent in need of help, feel free to reach out to Dayspring Residential Treatment Centre by HCSA Community Services at 6326 2300 or 8787 0230 (WhatsApp/ SMS).
---
RELATED STORIES:
How a victim of childhood abuse found the healing to minister to others in Thailand
"The true therapy that set me free": Letting go of anger against an abusive father
If you have enjoyed reading Salt&Light...
We are an independent, non-profit organisation that relies on the generosity of our readers, such as yourself, to continue serving the kingdom. Every dollar donated goes directly back into our editorial coverage.
Would you consider partnering with us in our kingdom work by supporting us financially, either as a one-off donation, or a recurring pledge?
Support Salt&Light