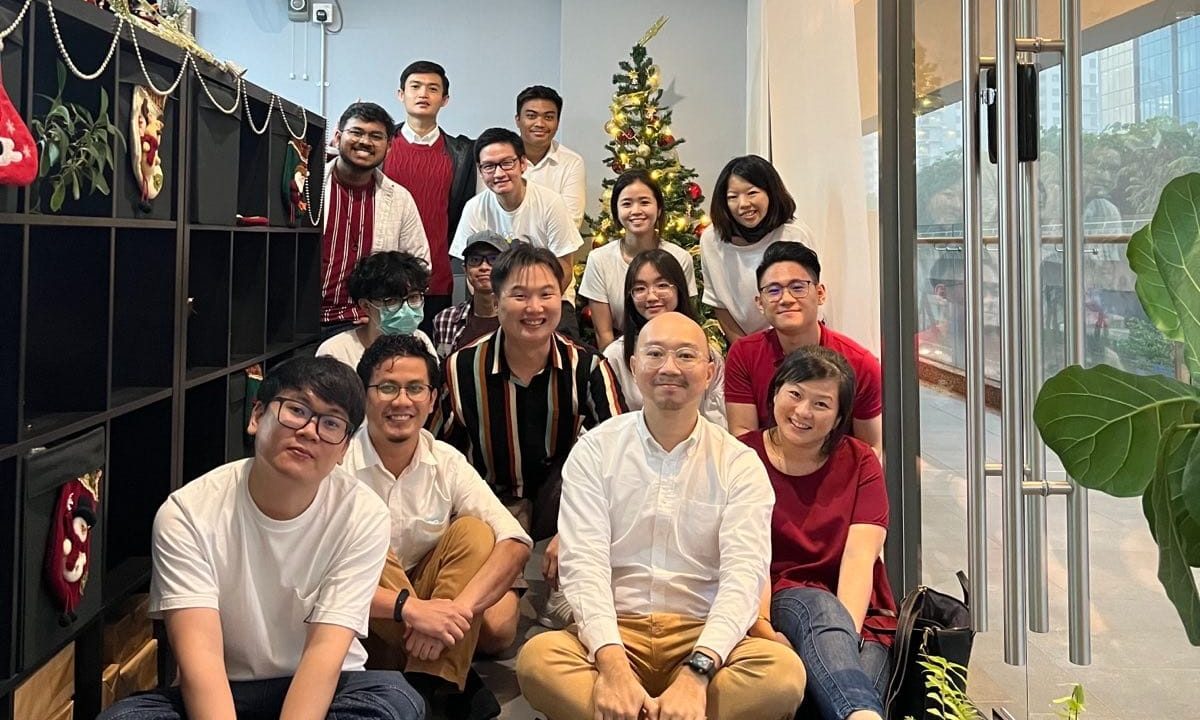 TJ and Janice with the Alphapod team. All photos courtesy of TJ and Janice.
TJ Tee and Janice Tan are seasoned entrepreneurs. As the co-founders of Alphapod, a digital product and services studio based in Malaysia, they first dipped their toes into the crazy world of tech over a decade ago.
"It was 2009. Back then, Apple was just breaking into the market; it was still the Nokia generation. The app and software development field (in Malaysia, at least) was barely developed, so it was an interesting time," TJ, 43, said with a grin.
"God created technology, there's so much we can do to bless and encourage others efficiently with tech."
Since its inception, Alphapod has worked with various brands across multiple industries in web and mobile software development.
One of their biggest and long-time clients is VivoCity, a shopping mall in Singapore.
The company is flourishing today, with a team of 18 and counting.
However, their journey as business owners has not been smooth or easy.
They have been through seasons of incredible loss and unimaginable pain, left with nothing but questions and an empty bank account.
It's hardly the life TJ and Janice had imagined for themselves when they first stepped into business in 2009.
The fall before the climb
A venture into the tech industry seemed like a natural progression for the young couple, who first met in 2006. They were both working for Qinetics, an internet service provider.
"We sat next to each other at a colleague's farewell," Janice, 42, said. "I was really new in the company and didn't know anyone, and TJ was shy. It was only when someone mentioned that TJ was the one in charge of arranging our company's futsal matches that we started talking. I love futsal and football!"
They instantly clicked, and wedding bells rang less than two years later. After getting married, they eventually quit their salaried jobs to open two businesses in 2009.
"Three of us (TJ, Janice, and another partner) started Alphapod with a RM150,000 grant from the Malaysian Digital Economy Corporation. The other business was Ninja Joe, a fast food restaurant serving pork burgers," TJ said.
"I was in confinement with our first child and getting harassed by the ah longs."
Malaysians were quick to appreciate a good burger and Ninja Joe soon became the talk of the town. TJ and Janice roped in a third partner and by 2011, the team had established several outlets in the country.
Then the unthinkable happened. Their partner, who was in charge of operations for all the outlets, cleaned out their business bank account, changed the locks on the shutters and gave Janice's personal mobile number to debt collectors.
"That was the lowest point of our lives. We were up to our necks in debt, and I was in the middle of confinement with our first child, getting harassed with phone calls by the ah longs (debt collectors)," Janice shared.
TJ adds that Ninja Joe was their bread and butter then, as Alphapod was only starting to pick up. So when they lost their Ninja Joe assets, they literally lost everything.
After an intense struggle, the resilient couple decided to try again. They rebuilt Ninja Joe over seven years, with the help of Janice's family members' support. In 2018, they were running six outlets in Malaysia and one in Singapore.
"But we came to a point where the cost wasn't worth it anymore. We weren't making a huge profit, and it was taking a toll on my extended family," Janice said. Instead of spending quality time with her family on weekends, everyone was busy managing an outlet or two.
Finally, in 2019, they decided to completely surrender their hopes and desires to revive Ninja Joe to God.
In hindsight, TJ said, it really had to be God at the wheel because a year later, Covid-19 struck.
"I don't think we'd have been able to weather the pandemic," he acknowledged.
Finding the sweet spot
Alphapod, on the other hand, had been steadily growing. Their first break came in 2010, when iProperty, an online real estate portal, noticed their in-house food-finder app, Wootfood (now defunct) and wanted something similar for their property listings.
"At the start, we had a lot of demand for digital campaigns. But those were short-term projects and we realised that we couldn't really grow in our field," TJ said reflectively. "They were profitable, but the nature of these campaigns meant we couldn't build reusable codes."
"As Christians, we are ambassadors of Christ. So it can be challenging to maintain the testimony, but we do our best."
While money was rolling in, it was only when Alphapod developed DVO (read: devo) in 2013, an app in partnership with a couple of pastors from Australia, that TJ and Janice realised how they could create meaningful products that are still commercially successful.
"DVO is a paid app that basically, helps you to do a daily devotion. The wallpapers and graphics are designed by the Australian pastors who are also creatives," Janice explained.
When DVO launched, the couple were stunned by its unexpected popularity. Over 100,000 installs were recorded within three months of rollout. The growth was purely organic.
"But what really hit home for us were the reviews. Usually, apps just get a short "Great app" but we had people all over the world including non-Christians sharing how impactful DVO had been for them or their loved ones. It was a turning point for us," TJ said.
This newfound vision also brought about change. Alphapod's other co-founder decided to part ways due to differences in direction, but the three have remained friends until today.
Technology is a problem solver
"At Alphapod, we don't call ourselves developers. We're product builders because we believe that technology is a problem-solver," Janice, who holds a Master's in Finance, said firmly.
It's clear that she's the company spokesperson, and it's no wonder since she oversees every department except UIUX/design (TJ) and Tech (Joel).
What sets them apart, they believe, is the integrated consulting that comes with every project they take on. Alphapod's approach is always to understand the business first because as the couple said, they understand what it's like to be entrepreneurs.
"Sometimes, everyone just wants an app. But we have had consultations where after hearing their goals and plans, we would tell them that an app is not what they really need," TJ said.
Their focus, Janice maintained, is not selling. Alphapod does not have a dedicated sales team, and nearly every client has been brought in through referrals or word of mouth.
"Our approach is to help you lay foundations for the future. We don't just build to specifications but we account for the possible trajectory of the business. So our goal is always to build according to current and future needs," she explained.
This is reflected in Alphapod's three company credos:
SERVICE: We got your back
TECH: FAR (future-proof, automated, reusable)
DESIGN: HAPI (human, adaptable, purposeful, informed)
Their approach requires more time, effort and resources. "We're not the cheapest around and we don't win every tender, but the ones we do close tend to stay with us for a long time," TJ said.
"That's what we mean when we say reusable and future-proof, the foundations are there so we only need to update and improve according to their business strategy. There's no need to tear down the entire structure and rebuild from scratch. This translates to savings for the client," she said.
Standout company culture
While service excellence is important, TJ and Janice place great emphasis on their company culture.
Alphapod's core values are humility, honour and gratitude.
"That's it?" I asked, expecting others such as excellence, accountability, and diligence – common values often found in the corporate world.
"That's it," Janice said. As much as possible, they hope to instil a culture that stands out for everyone who joins their team.
"As Christians, we are ambassadors of Christ. So it can be challenging to maintain the testimony, but we do our best. For example, we always say thank you for any job done, even if it's what they're expected to do. That's gratitude. And the way we see business is not really about money; it's carrying the responsibility of stewarding what God has placed in our hands.
"It's about doing our best work so that it's a testimony in itself and also the responsibility of feeding families and nurturing people," she added.
And God has blessed their efforts. Throughout Covid-19, Alphapod also did not have to carry out any retrenchment exercises and there were no reductions in salary.
Although some projects were cancelled, God provided for every need.
Creating real impact
Today, the Alphapod team is blessed to be in a position where they can allocate time and resources to projects of their choosing. God is showing them ways to do what they've wanted to since DVO: Use technology for meaningful impact.
"We count it a blessing every day to be able to simply steward what God has given us."
Some of their more recent projects include a mental health app (Tenang), a financial planning app (Finalyst) and the software for Malaysia's first smart water filter system (Snaptec).
Alphapod is also working with the Early Autism Project (EAP) to digitise its processes and empower less financially-able parents of children with autism to conduct therapy exercises at home.
"Another project I was especially excited about was building our church's app," Janice said enthusiastically. Alphapod built the Kingdomcity app now being used by the network of Kingdomcity churches around the globe.
The couple, who are parents of three children ages 12, 8 and 5, also serve as connect leaders with Kingdomcity KL.
Their hope is that more Malaysian churches and faith-driven organisations will realise the potential of investing in digital services.
"God created technology, there's so much we can do to bless and encourage others efficiently with tech," she said. 
Alphapod is in a good place, but there have also been bumps in the road. With one in-house project that was commercially successful, their client copied their entire app's codes and relaunched it as a new app without informing them.
"It's not always easy, because you can get taken advantage of. But if you reframe your perspective and see that if that one app was helping people and changing lives, and now there are two apps available instead of just one, that hopefully means the impact is also greater," Janice said.
"We count it a blessing every day to be able to simply steward what God has given us," TJ added.
God is their constant
Asked if they had any advice for young Christian entrepreneurs in the tech world, both TJ and Janice's answers are the same: Remember that God is your constant.
According to Janice, their lives are a living testament to God's goodness.
"When has God not come through for us? Tech is such a fast-paced industry, everything is always changing. You could be up here one day and gone the next. God is the only constant. So seek Him, always."
She also added a practical tip: Start serving in your home church as early as you can. Her experience serving in Agape Community Church, Seremban – choir, carolling, heading the dance team – trained her in leadership, people management and other crucial skills when running a business.
"At the end of the day, whether in business or ministry, it's about the alignment of purpose. If we make God our focal point, then nothing can go wrong, as He is constant and He is enough. As long as He is in control, it is well with our soul," TJ said.
"We have reached this place in our business journey where even if we lose Alphapod (and we know it won't last forever), we still have God. And He is enough."
---
RELATED STORIES:
"Good businesses must return something of significance to society": How Dato CC Ngei integrates godly principles into his award-winning company
"We wanted to remind people of God, but didn't imagine it would speak so powerfully": Accessories brand Jacob Rachel
If you have enjoyed reading Salt&Light...
We are an independent, non-profit organisation that relies on the generosity of our readers, such as yourself, to continue serving the kingdom. Every dollar donated goes directly back into our editorial coverage.
Would you consider partnering with us in our kingdom work by supporting us financially, either as a one-off donation, or a recurring pledge?
Support Salt&Light