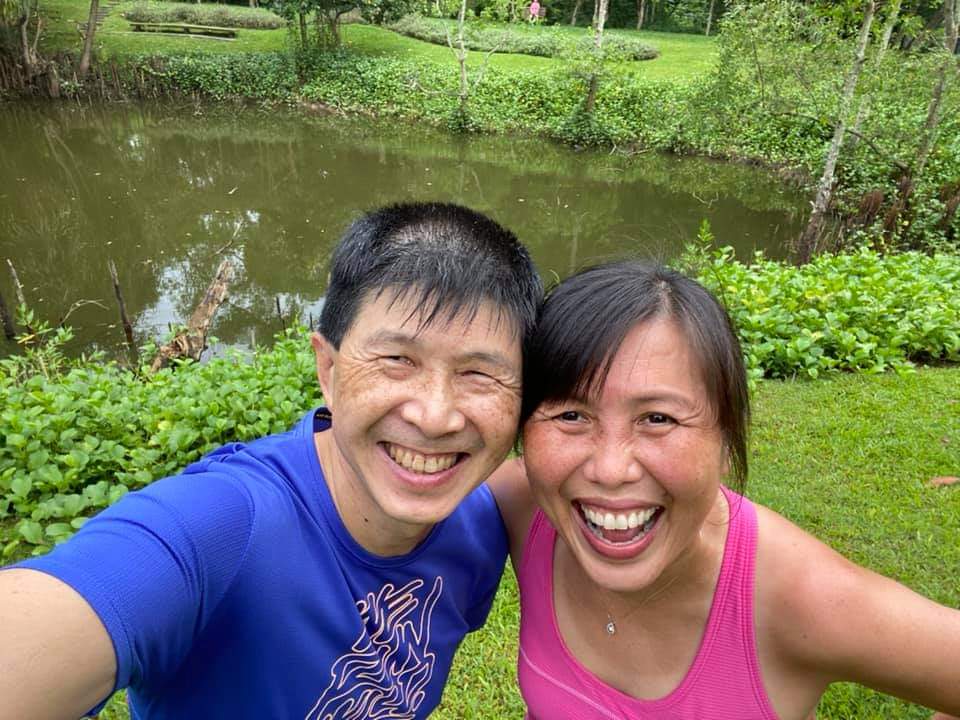 "Marriage is part of our walk with God and He is not a boring god. God is creative and constantly refreshing!" said Dr Tan Poh Kiang, who together with his wife Joan, finds ways keep the marriage fresh and joyful. Photo courtesy of Dr Tan Poh Kiang.
"Marriage is marvellous when done in God's way. It almost seems too good to be true, but it is true," Dr Tan Poh Kiang, 55, said warmly.
After 30 years of marriage, the former president of HCA Hospice Care still makes it a point to call his wife, Ching Lie Joan, every day during his lunch break from his Jalan Bukit Merah clinic.
"Marriage is marvellous when done in God's way. It almost seems too good to be true, but it is true."
"I feel very good when I hear his voice," Joan, 55, told Salt&Light shyly. "I think these are important things to keep up even after getting married." 
In 2020, divorce rates in Singapore increased by 3.8 per cent from the previous year, with the median duration for divorces at 10.4 years of marriage. Couples who were married for five to nine years accounted for the largest share of all divorces at 29%. 
These challenges are not unique to secular couples, notes Reverend Dr William Wan. "We must not be self-deceived. Not all Christian marriages are doing well. 
"It's not as simple as saying a prayer; there's a lot of hard work, trying to understand each other, trying to give each other space," he adds. 
In light of the challenges facing Christian households today, how can couples guard their marriage and retain the blush of first love?
Salt&Light spoke to three couples on strengthening the bond after tying the knot. 
Reverend Dr William Wan, 75, and Ruth celebrated their golden anniversary in 2019. They have three children and four grandchildren. 
Alex Tham, 58, a Rehab Centre Assistant at Kwong Wai Shiu Hospital (Rehab and Senior Day Care), and Shirley, 57, a Senior Desktop Publisher, have been married for 31 years. They have two daughters and a newborn grandson. 
GP Dr Tan Poh Kiang and Joan will be celebrating their 30th anniversary this year. They have two daughters.
Together, these three couples have gleaned from 113 years of marriage! They share wisdom from the highs and lows, twists and turns, of their marriage journey. 
1. Put your spouse first
More than 20 years ago, Dr Tan developed an interest in sailing with a group of friends and took part in competitive events.
During the two years he was actively involved in the sport, Dr Tan and Joan had their first child. 
"She's always been very supportive of my own interests and passions. Early in the marriage, I didn't realise the distance she would go to grant me that loving support," said Dr Tan. 
Every week, Joan would drive Dr Tan to his sailing centre and wait with their daughter as he finished training.  
On one particular weekend, as Dr Tan was with his crew, Joan called to say that their baby had thrown up in the car seat on the way to meeting him. 
As he cleaned the car, he had an epiphany.
"We don't do things together all the time. But choosing how we spend our time is like an opportunity cost; you have to choose carefully."
"I realised I cannot continue doing this. I think it's ridiculous that my wife and daughter had to go through such inconvenience for my pleasure. There must be another way of finding pleasure that doesn't involve her struggling by herself." 
"There was no discussion, I was done with it," he shared. 
In Singapore, where we can lead very busy lives and are spoilt for choice with different social groups and activities, marriage may easily lose priority, noted the couple. 
"This doesn't mean we have to do things together all the time. But it's like an opportunity cost, you have to choose carefully," added Joan. 
They work at the marriage, not just for themselves, but also because it is pleasing to God to model after Jesus' sacrificial relationship with the church. 
2. Never stop being students of the relationship 
To honour the fact that marriage is a calling from God and a lifelong commitment, Dr Tan believes it is important to put sacrificial investment into the marriage, just as how one studies intensely for a degree. 
Reflecting upon his own experiences, he shared: "I think what has worked for us is that we have never stopped being students of our relationship. We do not feel that we have arrived or know all there is to know."
"We are still discovering how to be more patient with each other. I'm still testing her patience," he added in jest. 
Early on in the relationship, Dr Tan set himself a goal of reading one book on marriage each year. When he comes across any interesting extracts, he shares and discusses them with Joan. This helps them to bring new perspectives and find new ways to enhance the connection in their marriage. 
3. Give and forgive, not just give and take
At a church family retreat, Shirley and Alex were introduced to the 5 Love Languages. Since then, they have consciously tried to appreciate each spouse's way of showing love. 
"Alex is not the romantic type, he won't say 'I love you' or give flowers. I gave up already. So I started appreciating what he does do, like when he cooks a meal for the family," said Shirley. 
The family is also learning how to incorporate small gestures such as saying 'thank you' and complimenting each other's cooking. Instead of leaving right after dinner, they make sure to sit at the table to spend quality time and check in on one another. 
"Alex is not the romantic type. So I started appreciating what he does do, like when he cooks a meal for the family."
For Joan, she believes that choice of words and terms of endearment are an important consideration in daily conversations – this can be whatever name the spouse prefers.
Forgiveness and letting go of things are also crucial, said the couples. 
After Dr Wan uses the bathroom in the morning and evening, Ruth will see his toothbrush and toothpaste all over the table.
As someone who is organised by nature, she gets frustrated and has tried many times to correct her husband's actions, but has not succeeded. She is resigned to the fact that some things cannot be changed.
"I just clean up and accept that it's who he is. Otherwise, you just create another big issue or end up quarrelling!" 
4. Don't let anger fester 
"Be angry and do not sin; do not let the sun go down on your anger," Ephesians 4:26. 
Dr Wan and Ruth use this verse as a guiding principle when resolving conflict. While there may be times when it is not possible to do so within the same day, that anger should not last forever, they said.
"We are all sinners. Remember that we have the same goal in life and commitment to the Lord."
Dr Wan said, "If you don't forgive and reset, there are only two ways a couple can move on: Divorce, or live together with anger, resentment and unhappiness, neither of which helps anyone." 
One thing that the couple finds effective is to move to different physical locations if they are too angry to talk, then text the other party when they have cooled down. After the anger subsides, they come back together again. 
Another way is to make allowances for your spouse. Rather than blaming the other party for certain things they each find difficult to change, Dr Wan and Ruth find solutions around it. 
Due to his hectic schedule, Dr Wan values punctuality, but Ruth sometimes forgets to take her watch with her when she is out and may even return home late. 
When they found it hard to ignore, Dr Wan tried to set a realistic buffer time. "Sometimes you have to give an allowance – instead of being at the appointed place in 15 minutes, I'll ask her to be there 30 minutes earlier," he said. 
"It's the reality of life, accepting each other's weaknesses and habits." 
He noted from his experience as a pastor that couples usually quarrel not over major things but over small things repeated over time, which can become irritating. 
The key is to find a solution before issues build up over time, he pointed out. 
"We are all sinners. Remember that we have the same goal in life and commitment to the Lord." 
5. Communicate clearly to avoid conflict
When one party is the silent type while the other is more forthright, it is important to find common ground. 
This is especially so in quarrels when miscommunication can occur, learnt Dr Tan. While he prefers to keep his feelings and thoughts to himself, Joan insists they talk things through until the air is clear. 
"You can't resolve a conflict if you are working based on assumptions that may be tragically wrong."
Over the years, he has grown to appreciate the wisdom behind her approach. 
"It's like a jigsaw puzzle – you can't solve it until you have all the pieces on the table. Likewise, you can't resolve a conflict if you are working based on assumptions that may be tragically wrong," Dr Tan said. 
"And sometimes we were really angry over nothing, it was just a misunderstanding," he added. 
Finances can also be a point of conflict or bring tension into a marriage. 
Recalling an argument that occurred when only one person was in charge of handling the family's finances, Alex said: "One takes care of it and the other spouse relaxes and spends happily. It's not that they don't want to contribute but they aren't aware of what is happening." 
With both Alex and Shirley working to provide for the family, they have learnt that "clear and transparent" communication is key. They now discuss and manage their finances together.
After setting aside the month's expenses, they track their purchases in a spreadsheet and Alex periodically updates Shirley when they have hit their monthly budget or exceeded it, to find a way to cut back on expenses. 
Shirley also trusts in God's wisdom to guide them when purchasing big-ticket items. "Prayer works – I ask for help to discern whether it's important, necessary or something he wants." 
Their children also give their input since they are older now, alerting the family to details they might have overlooked. 
6. Stay physically intimate 
Physical touch in a way that makes your spouse feel treasured should not be overlooked, no matter how long you have been married, noted Dr Tan. 
Expressions of love throughout the day can be a hug, a peck on the cheek, or a kiss.
Beyond that, sexual intimacy is a divine gift for a husband and wife to keep the marriage strong. It is special when shared and experienced between them, and draws the couple closer. 
"After a few years and the gift of children, it is often neglected unless it is a commitment. This is one biblical investment that pays emotional dividends manyfold," said Joan. 
"This is one biblical investment that pays emotional dividends manyfold."
"The husband should give to his wife her conjugal rights, and likewise the wife to her husband. For the wife does not have authority over her own body, but the husband does. Likewise the husband does not have authority over his own body, but the wife does.
"Do not deprive one another, except perhaps by agreement for a limited time, that you may devote yourselves to prayer; but then come together again, so that Satan may not tempt you because of your lack of self-control." (1 Corinthians 7:3-5)
When a couple makes time and effort to enjoy each other physically, the Lord blesses them with three benefits:
A deep sense of satisfaction with each other;
Safety from sexual temptations that lead to adultery;
An abiding security and self-esteem that allows them to thrive in the work we are called to do.
7. Support one other in their strengths and service
While each spouse may have different roles to play inside and outside the home, marriage provides a place of safety and security to go forth and serve others better. 
Dr Tan and Joan are encouraged by Hebrews 10:24 to support one another in their respective endeavours and with the gifts God has provided them. 
From 2014 to 2019, Dr Tan served as president of Singapore's largest home hospice care provider, HCA Hospice Care (HCA), which supports terminally-ill patients at the end of their lives. 
Joan supported his leadership roles and gave up her job in education to spend more time with their children, care for her neighbours and help out at Dr Tan's clinic. 
As a couple, they also seek out "kingdom adventures" together through mission work, visiting church members together or helping the underprivileged.
All these have spurred the other to good works and helped the marriage stay fresh even after decades together. 
"Marriage is part of our walk with God and He is not a boring god. God is creative and constantly refreshing!" said Dr Tan.
---
MORE STORIES ON KEEPING YOUR MARRIAGE STRONG:
"Money was never enough … but life was still meaningful and rich": Couples share how they manage money in little and in plenty
Strategies on conflict resolution that saved my marriage: Pastor Craig Hill
"It's hard work, but it gets more fun": Couples with nearly 75 years of wedded bliss between them share their secrets
She was a university graduate who married a Primary 2 dropout and former gang leader
If you have enjoyed reading Salt&Light...
We are an independent, non-profit organisation that relies on the generosity of our readers, such as yourself, to continue serving the kingdom. Every dollar donated goes directly back into our editorial coverage.
Would you consider partnering with us in our kingdom work by supporting us financially, either as a one-off donation, or a recurring pledge?
Support Salt&Light