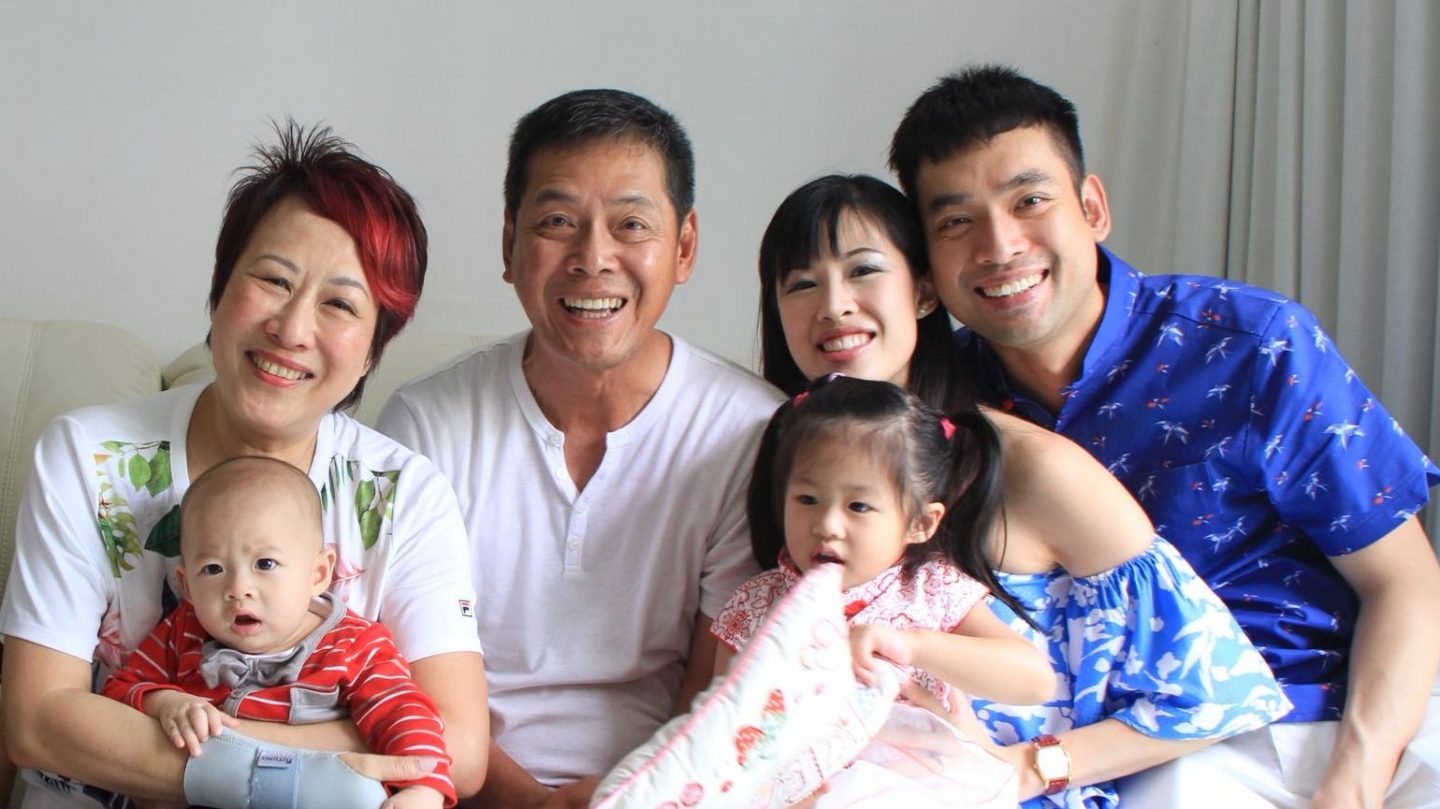 David and Jay Chong with their son, Marc, and his family. Photo courtesy of the Chong family.
Being married once is already a momentous life moment. Imagine being married to the same person twice.
David and Jay Chong, a boisterous couple in their 60s, did just that.
Their unusual story recalls the book Sit, Walk, Stand: The Process of Christian Maturity by Watchman Nee, who says:  
"As Christians, our standard of living can never be 'right or wrong', but the Cross. The principle of the Cross is our principle of conduct … with Him, it is a question of His grace and not of right or wrong."
For the Chongs, this could not be truer.
Since they remarried each other in 1995, they are mindful that their marriage covenant is lived out in the presence of God and on His terms.
Jay speaks for the couple when she says: "We have made mistakes. We always want our rights, we think we know best, but actually, we don't."
Looking at the couple and the graciousness with which they conduct themselves and treat others now, it is obvious that their words have been tested by fire.
Me, my life and I
Grace and graciousness were not always central to their relationship. 
In the beginning, it was the physical attraction that drew David to Jay, who said (only half in jest): "When I first saw her, I dumped all my other girlfriends."
Jay quipped: "I just wanted to have fun."
Having married young – Jay was 21 and David 23 – they seemed to be the perfect couple who had everything going for them. 
David was jovial and charming while Jay was beautiful and ambitious – a "diva", by her own admission. In between their "equally crazy" careers, it was one party after another. They were building separate lives of fun and "success".
But the fun was short-lived.
Their son, Marc, came along. He was a premature baby with many health problems that required frequent hospital stays. They were unprepared to handle the stress of caring for Marc – their marriage suffered. Jay confessed that at that point "I did not know David … I don't think he really knew me either".
An eye for an eye
Then came the devastating day when Jay found out that David had had an affair in their home.  
Wrong was done. Jay retaliated – by man's standards, one wrong begets another. She walked out of the house, promising herself: "I will never forgive him for this. I will do it back to him and let him feel what it is like to be betrayed."
A pause before she continued: "And I did exactly that."
The damage was irreparable.
"It was very strange – I didn't understand that God can speak. But I heard it so deep in me … He said, 'Serve David'."
Jay and David separated. David shared: "When people become angry, that's ugly. I looked at myself in the mirror and I was ugly for what I'd done."
Jay moved out and stayed with her mother while David stayed in their apartment. He said: "It was dark and empty. Just walking and closing the door, there was an echo."
It brought back painful memories for David because of his own experience with his parents' divorce. He did not want their son to experience the pain of separation and divorce.
But he was.
Marc was shuttling between parents, staying with Jay on the weekdays and with David over the weekends. The separation and eventual divorce took its toll on Marc. He couldn't understand what was happening – and he was acting up, expressing the stress externally.
Jay was struggling to cope – not just with Marc, but with everything that was happening. She had been betrayed; but the consequences of her own actions also weighed on her.
As she was walking home one day, the thought hit her: "What am I doing? I had a marriage, a family … now everything is gone."
Shedding pride
Then she remembered God.
She remembered how she had accepted Christ a few years ago when Marc was seriously ill and nearly died. She remembered her desperation and the mercy of God in preserving Marc's life. But she also remembered how "when things were okay, I went back to my old life".
"I received Christ, I was saved. But I didn't understand what a Christian life was."
In her desperation, she turned back to God. "I surrendered, and said, 'God, take me back. If You can take me back, then you have me.'"
It was at that time that an acquaintance invited her to church and she went, knowing that this time, her allegiance to God was not just lip-service.
"God, not everybody can get back a destroyed marriage, but You gave us a second chance."
Once more, in her time of need, Jay found grace and peace from God. In the midst of Marc's behavioural issues, God answered Jay's prayers, bringing peace over the home.
Seeing God's goodness in her life once again and out of gratitude, Jay asked God how she could serve Him.
"It was very strange – I didn't understand that God can speak. But I heard it so deep in me … He said, 'Serve David'."
So, that Sunday when David picked Marc up from church to spend the rest of the day at David's home, Jay asked David if she could follow them home.
Jay clarified: "I would never do that … I had so much pride. But it came so naturally."
The house was filthy. But after David took Marc into the room to spend time together, Jay took her Walkman and put on Christian songs as she started to pack and clean the house. "It was amazing – I cannot describe it. You must know this is not natural for me, I used to be a diva."
To her, it was no longer a question of right or wrong – having received the forgiveness and acceptance of God, it was merely an issue of obeying the clear call from God to "serve David".
And with that willing heart of obedience came the supernatural power that enabled her to obey.
Repentance 
David said: "Jay doesn't do housework. She doesn't mop the floor, she doesn't vacuum, she doesn't clean clothes, let alone iron – she hates ironing! But when she came back to serve, she did all that."
David was a backslidden Christian. He had accepted Christ as a child, but over the years, he lost sight of God and went his own way, building a successful career for himself.
But as Jay continued to serve him by faithfully cleaning his house week after week, he saw God change and restore the life of a woman whom he almost destroyed.
I don't think God separates forgiveness at home, at work, in marriage. Forgiveness has to run across all that we are and do.
David's turning point came when he heard that Marc had received Christ as Lord and Saviour in Sunday school.
"The day I accepted Christ was the day I discovered the love of the Father – I had never experienced a father's love until that day. And now Marc has a Father who will look after him… I was so grateful," he said.
He saw the goodness of God once more – in the life of Jay and Marc. "One day, I came back, knelt and just cried and repented."
David was restored to the Lord, who worked in the lives of the whole family. About six months after David's return to God, David and Jay decided to remarry.
A new beginning
Their first wedding was a simple affair at the Registry of Marriages. This time around, they decided they had to have a church wedding. "We were the oldest in the pre-marital class," laughed David.
At their second wedding, Jay, who was already 38, broke down at the altar when the pastor declared them man and wife. She said: "God, not everybody can get back a destroyed marriage, but You gave us a second chance."
David added: "I saw this brand-new, whole woman … I think she was more beautiful the second time I married her."
Today, 24 years later, David and Jay are enjoying the blessing of the wholeness of family. Their son, Marc, is married and his children bring David and Jay immense joy.
Their marriage is no longer just between each other – the covenant they took at the altar has kept both David and Jay exceptionally watchful of their conduct and mindful that they live in the presence of God.
Living out the cross
Life is not always a honeymoon. Jay says: "We still argue. But I have learnt to say, 'Okay lah, let it go.'
"I used to put myself first … until I realised I am not that great. We all make mistakes, but if we can be kind and forgiving … that is what it takes to keep a marriage."
She attributes her new attitude to the fear of the Lord: "After days of complaining and sobbing, I always come back to the Cross and say, 'I'm so sorry. Father, this covenant is with you, not just with one another.' This time round, I dare not think of divorce, I really dare not.
"If you don't have God as an anchor, it is very difficult to have any relationship whatsoever. Loving God captures everything."
"God, in His grace, allows us to work through our forgiveness for others in life's journey. If God can forgive the both of us, why can't we forgive one another?
"God teaches us through trials to learn forgiveness. Not only applied at home, but also applied in the workplace. I don't think God separates forgiveness at home, at work, in marriage and so forth. Forgiveness has to run across all that we are and do. You cannot use your rational mind to rationalise who's right or wrong: Should I forgive? Why must I forgive? It is spiritual."
David sums it up: "Forgiveness comes from the Lord. Loving God with all your heart, mind and soul – that's what it comes back to. If you don't have that anchor, it is very difficult to have any relationship whatsoever. Loving God captures everything."
As Watchman Nee said:
"Nothing has done greater damage to our Christian testimony than our trying to be right and demanding right of others."
Jay and David's marriage, and the family that they have built together with God, shouts of the goodness of the principle of the cross: To show grace and kindness to one another.
If you have enjoyed reading Salt&Light...
We are an independent, non-profit organisation that relies on the generosity of our readers, such as yourself, to continue serving the kingdom. Every dollar donated goes directly back into our editorial coverage.
Would you consider partnering with us in our kingdom work by supporting us financially, either as a one-off donation, or a recurring pledge?
Support Salt&Light