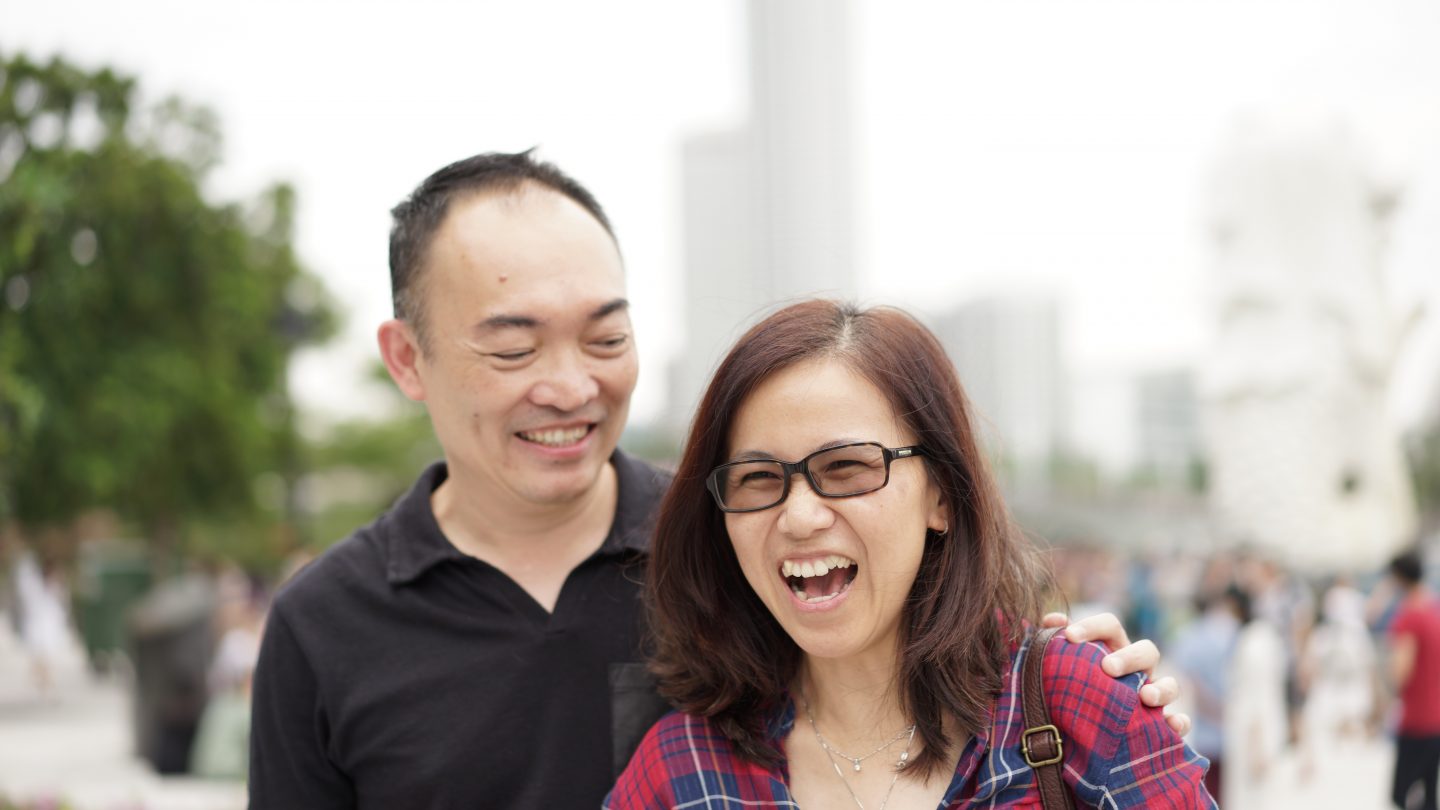 As her health deteriorated, Chew's wife, Bee Bee, made it a point to share openly about God's goodness in her life despite the fact that He had decided not to heal her. All photos courtesy of Jeremy Chew.
When Jeremy Chew's wife passed away from an aggressive form of cervical cancer in August 2018, his world fell into darkness.
They had shared 22 precious years together, complete with two teenaged children and a common passion for the people in an East Asian country, where they spent five years as missionaries.
They had been dreaming about serving the Lord together again — he in Bible teaching and she in counselling — when news of her diagnosis threw a wrench in their plans.
An Old Testament lecturer at the East Asia School of Theology, Chew had been teaching for years about the suffering of characters like Hannah and Job. Yet, it was only in his personal grief that the Biblical stories hit home.
Lamenting: an act of faith
In the past year and a half since his wife's passing, Chew's grief has been raw and real.
One important thing he has learnt from characters in the Old Testament is that crying out to God is a perfectly appropriate response to suffering.
In a personal song he penned in Chinese, titled Miss You, he laments: "I lifted my eyes to the hills, but my help did not come. When will I leave this valley of tears?"
Out of the 150 Psalms, Chew noted that about a third are laments — cries to God that express despair, protest and doubt (Psalm 13:1-2; Psalm 22:1-2; Psalm 88:3-7).
"Theirs is not a faith that leads to dry-eyed stoicism, but to a faith so robust it wrestles with God."
He added that not all of them end on an optimistic note with the psalmist explicitly expressing his faith and hope in God. Sometimes, it just ends as it is — in desperation. 
That is completely all right, Chew said, adding that sometimes there is just nothing positive to say about the situation. But the lament to God is, in and of itself, already a demonstration of faith.
"If I don't believe in God, I wouldn't cry to Him. The fact that I lament to God means I believe He is able to do something about it."
His perspective brings to mind a quote by the theologian DA Carson in his book, How Long, O Lord?: Reflections on Suffering and Evil.
In it, Carson wrote: "There is no attempt in Scripture to whitewash the anguish of God's people when they undergo suffering. They argue with God, they complain to God, they weep before God. Theirs is not a faith that leads to dry-eyed stoicism, but to a faith so robust it wrestles with God."
Clinging on to a faithful God
Having studied and taught the book of Job several times, Chew knew that it would be futile to demand answers from God about why He allowed this to happen.
"God has the answer, it's just not the right time for me to know it. I will find out eventually, if not on this earth then when I go to heaven.
"He has been so real in my life … Why should I stop trusting Him because of this one thing?"
"But not having the answer now shouldn't stop me from continuing to trust in God. He has been so real in my life for all these years and has seen me through so many things. Why should I stop trusting Him because of this one thing?"
So, as he struggled with his grief, he only asked for strength to deal with it.
"I was learning to cling on to who God is. He is someone who holds on to me and walks with me," he said with quiet confidence.
The journey has been far from easy.
Apart from dealing with his own grief, he also had to help his children, who are now 19 and 22, to process theirs. On top of that, he has to complete household chores and put food on the table.
"I couldn't see how I would become better, but I just did what I could then, trusting that one day I would reach there."
Since his wife's diagnosis, Chew has suffered from panic attacks, which stopped him from lecturing for a whole year.
He remembers a time when he could not even bring himself to prepare dinner. But God saw him through even these little tasks.
"I don't know if I was talking to God or myself, but I felt God asking me: Can you put the rice in the cooker? Can you put the salmon in the oven? Can you do this? Can you do that? In the end, there was a meal.
"I felt God was telling me that it takes one step at a time. At the time, I couldn't see how I would become better, but I just did what I could then, trusting that one day I would reach there."
Dying for Christ
Chew fondly remembers his wife, Bee Bee, as one who remained steadfast in her faith throughout her battle with the illness.
Together, they held on to Isaiah 26:3, which promised that God would keep in perfect peace those who trust in Him.
After seven months of chemotherapy and radiotherapy, doctors realised that she was not responding to the treatment and that the cancer had continued to spread.
In the face of the devastating news, Bee Bee began to ponder the question of what it meant to die for Jesus.
"She wanted to testify that God is still worthy of our praise and trust."
Chew said: "She said she always knew what it meant to live for Christ, but what does it mean to die for him?"
She decided that, in her situation, it meant sharing her experience openly with others even when the outlook was not good. "She wanted to testify that God is still worthy of our praise and trust in a situation where He doesn't deliver."
Like a sunflower, her face was always turned toward the sun, Chew said.
"The sunflower droops at night, and it was like that with her after her treatment. But when the sun rose again, she would pick herself up and continue to trust God. Throughout the whole process, she never complained and was always positive.
"When people visited her, she was just like a sunflower — warm and bubbly. That was who she was, even in the last few weeks of her life."
Songs from the heart
As Chew journeyed through this trial, he wrote songs, a cathartic process that helped him to talk about his emotions and become more acquainted with the pain.
With the help of Crea, a ministry of Cru Singapore that works among creatives, and a few contributors, Chew has turned some of his songs into a Mandarin album that he hopes can encourage others who are going through suffering. 
The songs speak not just about the difficult times, but also the good times in which Chew has seen God's goodness. 
In Song in The Night, Chew sings:
Though life's journey is full of difficulties
In Your hands they turn into little blessings
I sing the song You have written on my heart
A song which follows me
Through the nights into the dawn
Widowed by cancer. Struck by cancer six times herself. Yet she says: "God is very near!"
If you have enjoyed reading Salt&Light...
We are an independent, non-profit organisation that relies on the generosity of our readers, such as yourself, to continue serving the kingdom. Every dollar donated goes directly back into our editorial coverage.
Would you consider partnering with us in our kingdom work by supporting us financially, either as a one-off donation, or a recurring pledge?
Support Salt&Light