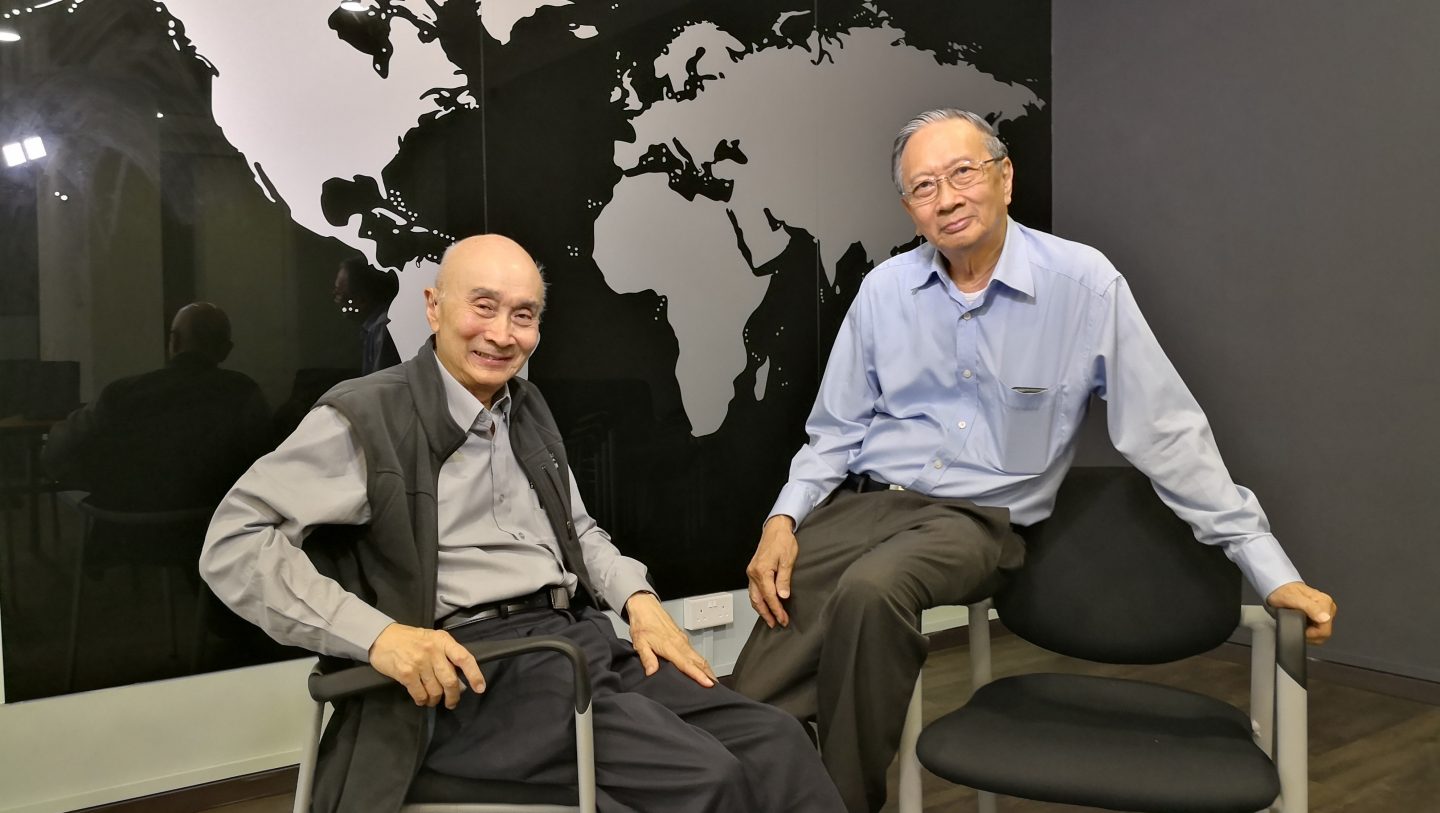 Jim and Ernest Chew today, at 80 and 75. Picture by Glen Goh.
Their spiritual heritage and roots can be traced back to the late 1800s.
Their paternal grandmother, Miss Tan Siok Kim, was reportedly the first convert of the Methodist mission in Malacca. Following that, their paternal great-grandfather also became a believer and went on to open his home for the establishment of the first Methodist School in Malacca. 
Four generations down, we have brothers James (Jim to family and friends) and Ernest Chew, together with their elder siblings, Dr Chew Chin Hin, and sister Tan Ai Lin (Mrs David Tan).
More than a century has slipped by since the first conversion in the family and neither Jim nor Ernest are letting up in their faith journey.
"Although I have been diagnosed with fourth stage lung cancer, I know God is faithful, and I trust Him daily."
Jim is entering his eighth decade and Ernest trails five years behind.
The legacy of faith is not a guarantee. It never has been, judging by the genealogical records in the Scriptures.
In wealth management, it is often said: The first generation makes it, the second generation spends it, and the third generation blows it.
That could easily be paralleled with the preservation of faith – belief totally lost by the time you reach the fourth generation.
However, that is not the case with the Chew family and certainly not under Jim and Ernest's watch.
God has no grandchildren
Says Ernest: "Regeneration is vital, God has no grandchildren. That's a fact to keep in mind.
"You must be born again, so that's what we both discovered. We need to have a personal relationship and record in Christ." 
Jim adds: "The more you grow, the more you realise we are basically clay pots. 2 Corinthians 12 is what I call the theology of weakness, where Paul explains it is when he is weak, then can he explain Christ's strength.
"It's a day by day dependence and there are no shortcuts. Although I have been diagnosed with fourth stage lung cancer, I don't set my mind on that.
"For I know in my life, God has been faithful, so day by day I trust in Him. There's no guarantee I'm going to be okay tomorrow, but I've got to trust in Him daily and do the next thing." 
Passing on passion
Both gentlemen are as resolute as ever about keeping faith, still determined to pass on the passion for Christ, not only to the next generation but the ones after as well.
Their first love for Christ is still fresh and their passion spills beyond their kin to the larger church community.
"Our relationship really began to change and deepen when we were both in the Lord."
Well into retirement, they continue to preach, teach and mentor in their own local churches. You feel their energy and passion as they speak.
"I encourage the younger generation, help them to be the best they can be. I also learn so much listening to them. There's the whole body of Christ to learn from. I love the Church, despite its warts and all, because Christ died for the Church," Jim confides.
Their late father Dr Benjamin Chew set a good foundation for the family and continues to loom large in their conversations and lives.
Dr Chew was an elder statesman of the church in Singapore. He was at the helm of  several para-church organisations, including Youth for Christ and the Evangelical Fellowship of Singapore and was the Chairman of the Singapore Billy Graham Crusade.
A family serves the nation
The Billy Graham Crusade held in Singapore in 1978 was a watershed moment in Singapore's church history that united inter-denominational congregations.
On the Billy Graham Crusade: "It was extremely very special, you know, that we worked as a family." 
For the Chew Family, it was also an event that brought their family together on another level.
Ernest says: "My dad, Dr Benjamin Chew, was the Chairman of the general committee at Singapore's Billy Graham Crusade. Jim was in charge of the counselling committee, raising counsellors and organised training classes in the different churches. I was the Vice-Chairman and was selected because I had earlier chaired an island-wide Campus Crusade's Here's life Singapore, I found it!  initiative.
"That was extremely very special, you know, that we worked as a family."
Not peas in a pod
With so many shared memories and moments, Jim and Ernest must be peas in a pod?
They beg to differ, both vouching that they were not the closest as siblings among the four children.
"Jim was closer to my sister who was two years his senior. Between us there's a big gap of five years," says Ernest.  
"I think I kind of bullied Ernest. When I was a young kid, I used to wrestle him."
"Yes, I would say probably because of age, I was closest to my sister, Ai Lin. Ernest came late and is the youngest of the tribe of Benjamin. Personality-wise we are different obviously and so are our interests," chuckles Jim.
"In our younger days I was very much a sportsman. I was a crazy sportsman so in that sense we are a little bit different. Ernest is a historian – I hated history."
Their professions in life couldn't be more different as well. Jim served as a missionary with The Navigators while Ernest was a professor in History at the National University of Singapore.
"I am kind of a big picture person. Details and dates will frustrate me, but he seems to love them. That's how I see the differences that we have," Jim concludes.
Boys will be boys
"I think I kind of bullied Ernest. When I was a young kid, I used to wrestle him," laughs Jim.  
"As his older brother, I observed Ernest changing. He had received the Lord but now the entrance of the Scriptures gave light." 
Says a benign Ernest: "I was the youngest, I supposed was spoiled. So, you know the older ones sort of look down at this chap, this spoilt brat, and found me annoying. 
"But as we grew up and especially as we found Jesus, then as we got to know Him then we got closer to each other. There was more rapport, so there was no rivalry and squabbling."
One memory that stood out for older brother Jim was also a turning point in the life of the youngest Chew sibling.
"He was about 12 or 13 and he just locked himself up and – I don't know how many times he read through the Scriptures then – but he kept on reading. And here as his older brother, I began to observe his life changing. I mean he had received the Lord, but now the entrance of the Scriptures gave light.
"I was in Vietnam for five months with the Navigators. I was 23 and Ernest 18, and he would write regular letters. I still have some of those."
"We'll always be brothers whatever happens, but our relationship really began to change then, and deepened when we were both in the Lord.
"I'll give you an example. I was in Vietnam for five months of training with the Navigators. I was about 23 and Ernest about 18, and he would write regular letters. I still have some of those.
"In one letter, he shared with me Jeremiah 9:23-24. It spoke to me and he went on to share from Isaiah 40 on the greatness of God.
"And there I was at the Christian training, spending as much as eight hours in the Word and prayer. Then I get these letters that really enriched my life.
"The correspondence was on a far deeper level than a 'How's mom and dad?' We do that too, but we could communicate far deeper."
That deep level of sharing did not stop even as they embarked on separate journeys.
Jim travelled the world for missions and now resides in Wellington, New Zealand.
"Ernest continues to speak into my life through the letters he sends, even right now," says Jim. "He has also been sending all his sermons to me for the last – I don't know how many – years."
The ties that bind
For someone who meets them for the first time, the two brothers could not be more different.
Obvious dissimilarities are found in their physical build – one wears glasses, the other doesn't; one is much fairer than the other.
You might not think they are related if they weren't introduced as brothers.
Their personalities – Jim, with the cheeky grin, is the chattier one and is mostly the first to reply to questions.
Ernest, like the homonym of his name, is more earnest, taking a little longer to weigh his thoughts before sharing with a shy smile.    
Nevertheless, their similarities are inescapable.
"I don't know how many received the Lord, but we had a great time just ministering together for a full hour."
Their love for the Word is evident in the way they both quote chunks of Bible verses throughout the conversation, remembering even the differences found in the various translations.
Their passion for Christ and His Church is also apparent as both share snippets of their lives, revealing active roles in their local churches and beyond.
Above all, both brothers are aligned and do not differ in their thinking. As Jim shares and makes a point, Ernest is almost always nodding his head in agreement and jumps in to complete his brother's thoughts and conversations.
It is almost uncanny.
In one accord
The rapport is borne out by an anecdote Jim shares from the year 1974.
"When Ernest was doing his post-PhD studies in Harvard and I went to visit him, he was sharing at a seminar at Grace Chapel in Lexington on the historical perspective of the ways people made treaties to bring peace.
"We didn't confer but at the end of Ernest's presentation, he said, 'Now my brother will tell you how you can really have peace.'
"And of course, I preached the Gospel and after that a few people came forward. I don't know how many received the Lord – I am not good at statistics – but we had a great time just ministering together for a full hour."
"What binds us? Jesus. Nothing more, nothing less."
Their tremendous sense of camaraderie, without a single moment of contradiction in the entire conversation, baffles and begs the question of how the brothers stay in one accord.
There is a momentary pause and Jim answers: "Jesus. Nothing more, nothing less.
"The heart of the Gospel is about Him and His Kingdom – when that's concerned, we are one. When He is central, the brighter He shines, the closer we get to each other.
"My father's favourite verse, Matthew 6:33, has really gripped us."
If you have enjoyed reading Salt&Light...
We are an independent, non-profit organisation that relies on the generosity of our readers, such as yourself, to continue serving the kingdom. Every dollar donated goes directly back into our editorial coverage.
Would you consider partnering with us in our kingdom work by supporting us financially, either as a one-off donation, or a recurring pledge?
Support Salt&Light