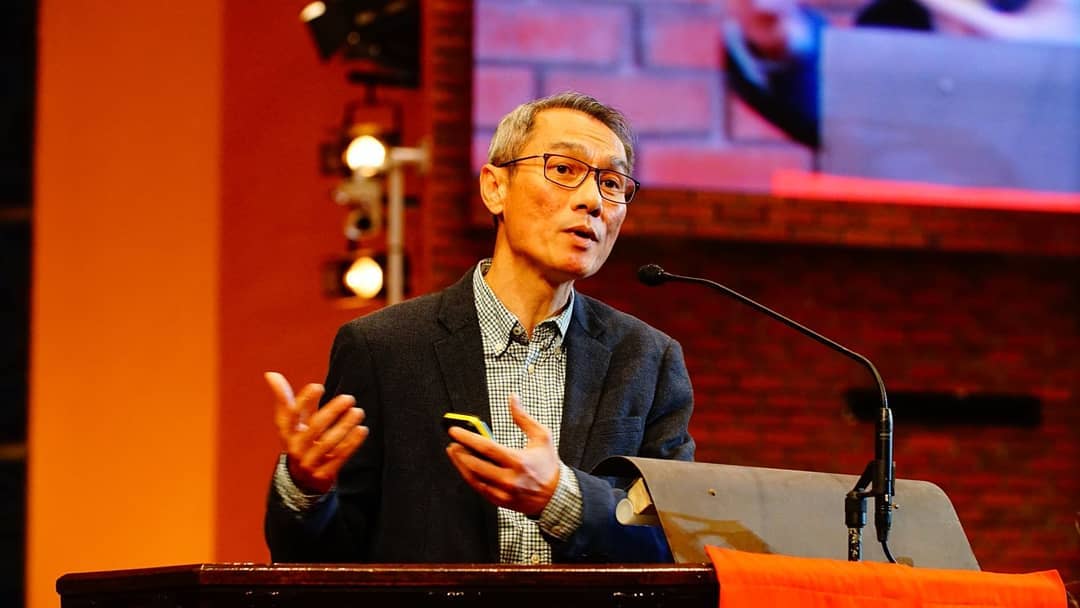 Focus on the Family chairman, Jason Wong, speaking about the need for strong fathers. Photo courtesy of Paya Lebar Methodist Church.
When the hearts of fathers are turned towards God, family unity will be restored, said Focus on the Family board chairman Jason Wong, pointing to Malachi 4:5-6. 
The founder of the Dads for Life Movement and the Yellow Ribbon Project was speaking at this year's Aldersgate Singapore celebration on May 24, 2018, at Paya Lebar Methodist Church. 
Many fathers have turned their attention away from their families, marriage and children because they are distracted by other concerns in their lives, including their career, as well as vices like gambling and extramarital affairs. Even ministry work, when overdone, can impose on family relations. 
In his lecture, Wong said that a father's involvement in his children's lives can have numerous positive impacts, from a higher chance of academic success, to lower rates of substance abuse and greater pro-social behaviour. 
How to be a better dad
Wong said that to improve their parenting skills, dads should attend fatherhood equipping workshops. They need to be aware of their roles as the head of the household and spend time learning to be a better father and committing to this journey.
"We send our children for tuition classes, [so] as parents we also need to send ourselves [for classes]."
As for the notion that men are reluctant to share with others about their lives, Wong said that they actually "can't wait to share their struggles" once they get to know each other.
"You just need one person to open up and the rest will slowly start to open up. And I guess having a safe and authentic community helps."
The father of two mentioned Elijah7000, a Christian movement he launched that aims to strengthen families by reaching out to fathers. A group of dads meet at Kum Yan Methodist Church every Saturday morning at 4.45am to pray for one another. And "crazy things will happen because God will visit", he laughed. 
On men sharing about their lives: "You just need one person to open up and the rest will slowly start to open up."
Make relationships a priority 
Turning back to the Word, Wong said that Genesis 1 shows how fathers can ensure that they have both a successful career and family. 
After God created both male and female, he told them to be "fruitful" and "increase in number" (Genesis 1:28), before calling them to "rule" over the earth. 
"So to me, before we chiong and go into the marketplace, we have to be fruitful, which is to have a healthy parent-child, husband-wife, and God-man relationship.
"Concentrate on these three and everything will be in order. The home will be in order, our work, our career, will all be in order." 
Focus on your relationships and everything else will fall into place. 
A practical tip he gave was to think about the other party first. He recalled a time when he was still working in the civil service, and during a particularly intense period he would return home and sit in front of the television to de-stress. 
"You know men are attracted to boxes – iPod, iPad, computer, refrigerator, television newspapers," he joked. 
"But my wife didn't know I was de-stressing. She thought I was sitting there, not doing anything, not helping with the children, while I didn't want to burden my wife with all my work problems." 
The next day at work, Wong received a long e-mail from his wife about his behaviour at home and the strain it had on her. His first instinct was to reply: "I also had a terrible day", but God distinctly told him: "Don't you dare".
Instead, he texted his wife: "I'm sorry. I will never watch TV again", and though he wanted to retract the answer immediately, he kept to his word. As a result, he found himself spending more time with his family and the relationships flourished. 
There are four phrases one should apply when it comes to their families, Wong concluded: "I am sorry", "please forgive me", "I love you" and "I bless you". 
These are not just words, but a heart attitude, that go a long way to nurturing family bonds.
If you have enjoyed reading Salt&Light...
We are an independent, non-profit organisation that relies on the generosity of our readers, such as yourself, to continue serving the kingdom. Every dollar donated goes directly back into our editorial coverage.
Would you consider partnering with us in our kingdom work by supporting us financially, either as a one-off donation, or a recurring pledge?
Support Salt&Light