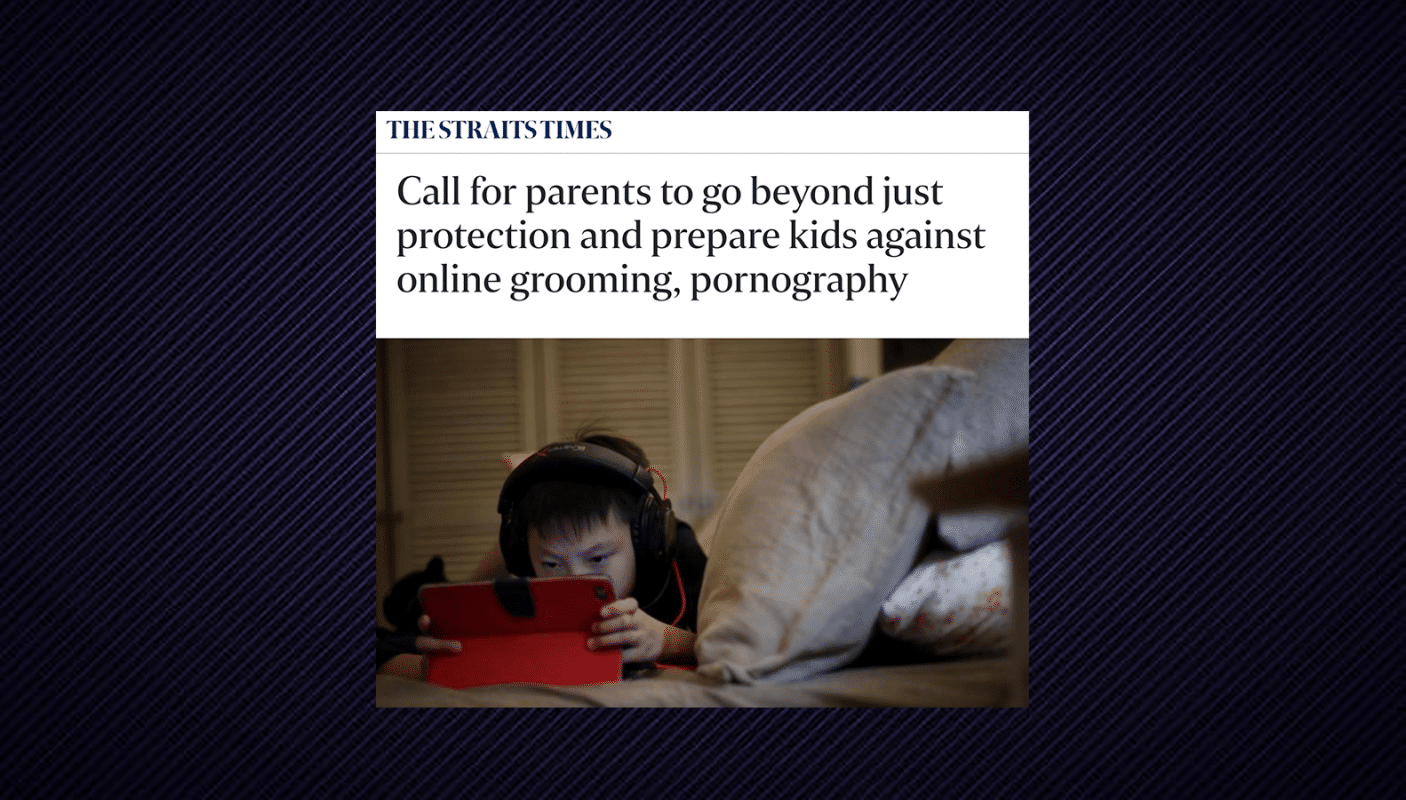 This Feb 9 Straits Times article was edited to reflect IMH CEO Assoc Prof Daniel Fung's views on how parents should help their children navigate the danger of pornography.
Here at Salt&Light, we're usually anti-outrage. But every now and then we see an example of outrage that fills us with … hope.
Earlier today (February 9), a Straits Times article – citing a Feb 8 Sunlight Alliance for Action webinar on parental concerns over online harms – originally misquoted panellist Associate Professor Daniel Fung as saying: "Parents could watch some pornography with their children, for example, to explain what is happening and its harms, he added."
The Singapore newspaper would later edit its article to reflect his views, which were in the context of the dangers of pornography, and which did not call on parents to watch pornography with their children.
His views carry significant weight, given that Assoc Prof Fung is the chief executive of the Institute of Mental Health (as well as a previous guest on our monthly Salt&Light Family Night show on Zoom, and the author of Living With Sexuality Issues).
But before the Straits Times made its edits, there was outrage over the IMH CEO's initial misquoted words: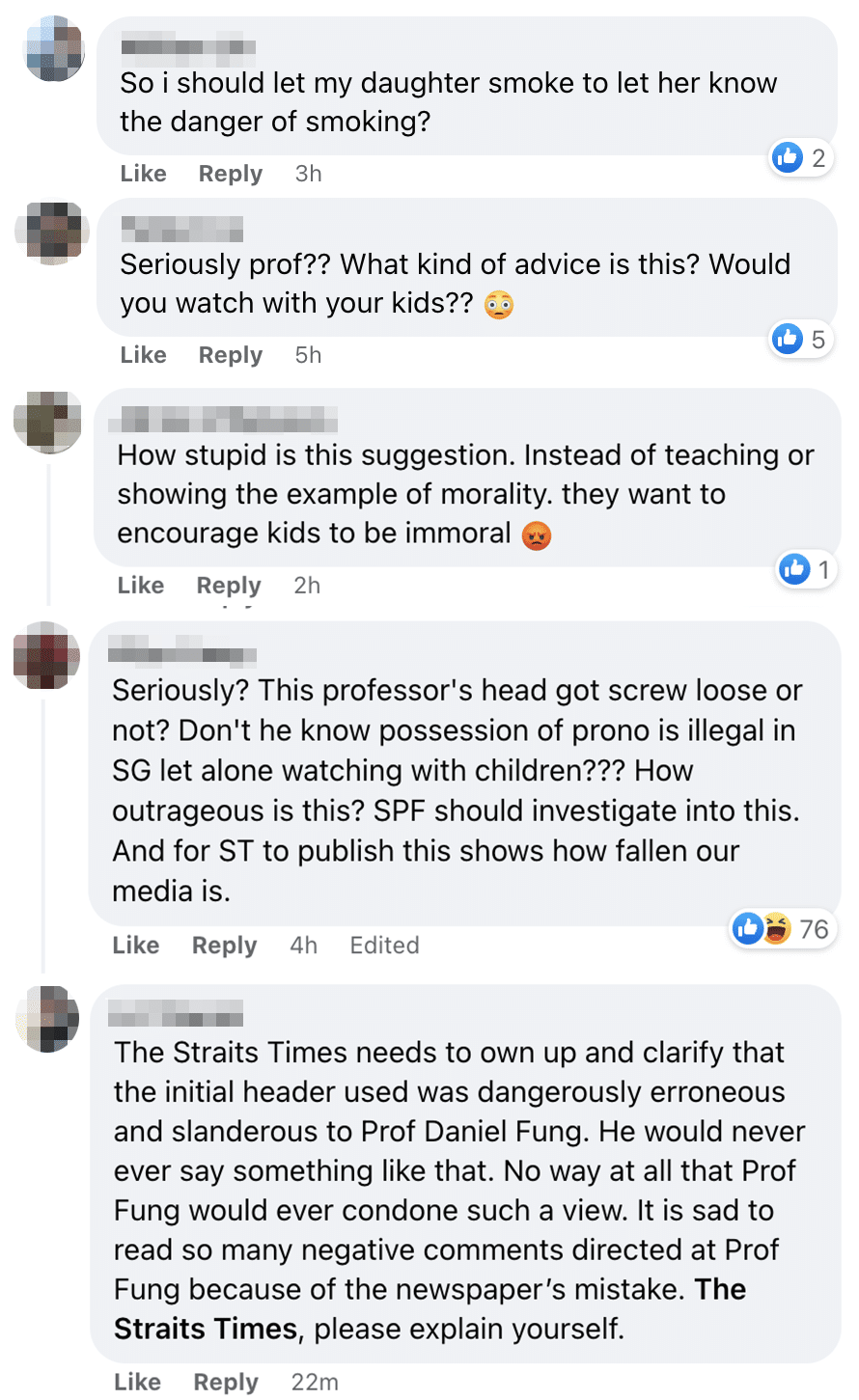 The comments on the Straits Times' Facebook post were universal in their condemnation of the alleged suggestion, mostly arguing that parents should not watch pornography with their children, no matter the rationale.
Ordinarily, there's little that is edifying about such a public witchhunt. However, we choose to take positives out of this response: There is still widespread recognition of the harm that pornography poses to children, and that most people would acknowledge a parent's key role in warning their children about pornography.
In an age where local media are increasingly brazen about pushing the concept of "sex positivity" (examples here, here and here), we think this was a useful exercise to surface the views of the common man.
No one defended the original misquoted position; instead, there was widespread agreement that parents should not under any circumstances expose their children to pornography, let alone watch it with them.
Article updated, hours later
Hours after the article was first posted – by which time hundreds of negative comments had been targeted at the IMH CEO on the Straits Times Facebook page and elsewhere on the Internet – the Straits Times edited the text to instead read:
Noting that it is almost impossible to regulate pornography on the Internet, Prof Fung said parents should help children understand that such content exists and why it is not good to watch it.
Clarifying his remarks on Wednesday, Prof Fung said teenagers, especially, can be quite curious about pornography and gain access to such content.
Instead of treating it as a taboo topic, parents can take the opportunity to discuss with them, explain what pornography is and why it is harmful, he added.
Salt&Light understands this summary better reflected Assoc Prof Fung's original comments during the Feb 8 webinar, where his argument centered on the importance of parents showing their children the dangers of pornography.
The Facebook blurb was also updated to say: "Parents should help children understand that pornography exists and why it is not good to watch it, said Assoc Prof Daniel Fung, the chief executive of IMH." It was not stated that the blurb and article had been edited.
This is a good place to kickstart the conversation about how to deal with the pervasive threat of pornography.
It looms on every smartphone and computer, with children at particular risk – all the more so in this era of Home Based Learning, which requires them to be online more than ever before.
"It is important that our children know that it is natural to have sexual urges, and no human being is immune to it. However, we need to remind them that pornography destroys God's design for marriage and can make a huge mess of their lives and relationships now and in the future," advises Focus on the Family Singapore.
Read these articles for some more insight into helping your child navigate their use of the Internet:
"Don't avoid, guide": Salt&Light Family Night panellists share 7 parenting tips for healthy tech use at home
Why addiction to pornography is so insidious: A counsellor shares the challenges
If you have enjoyed reading Salt&Light...
We are an independent, non-profit organisation that relies on the generosity of our readers, such as yourself, to continue serving the kingdom. Every dollar donated goes directly back into our editorial coverage.
Would you consider partnering with us in our kingdom work by supporting us financially, either as a one-off donation, or a recurring pledge?
Support Salt&Light