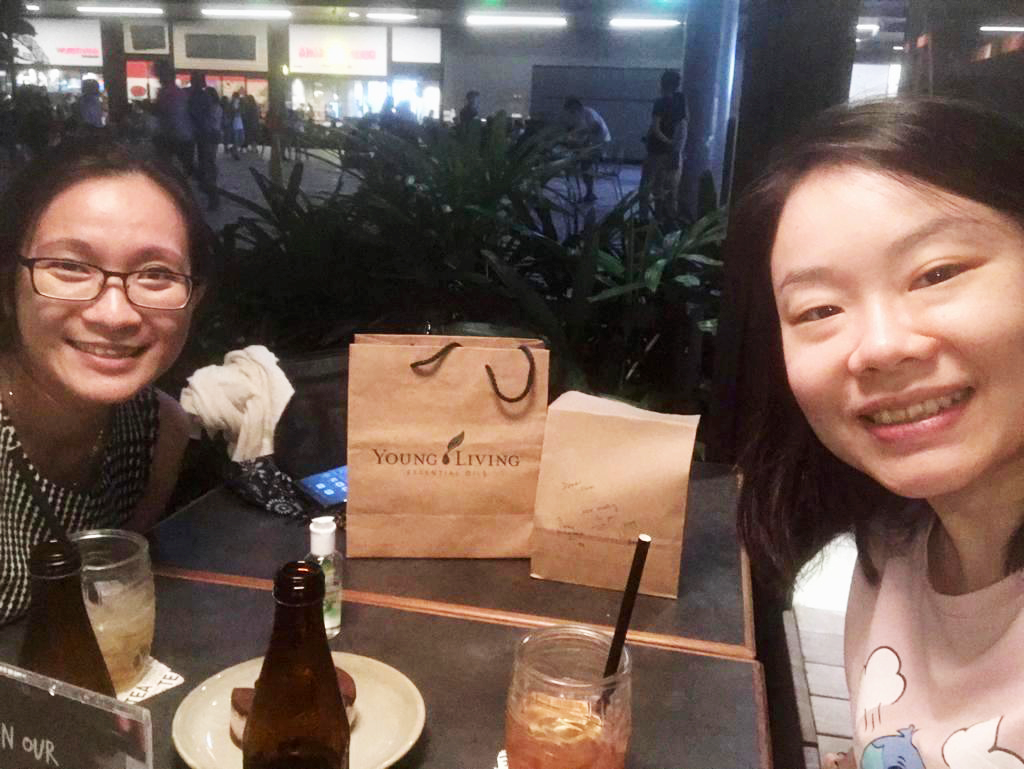 Sharen Lim (right) with her close friend Amy Chin, who offered her support and encouragement when she was going through a stressful period. Photo courtesy of Sharen Lim.
When Dr Sharen Lim, 34, returned to her hometown of Seremban, Malaysia, earlier this February, she never thought it would be the last time she would be seeing her family this year.
Since the borders closed in March due to the Covid-19 pandemic, Dr Lim, who works as a doctor in Singapore, has been waiting for the day she can return home again.
"When I was really overwhelmed, it felt like God was so far from me and had forsaken me."
"Thank God for technology, but I do miss spending time at home with my parents in my hometown and my friends from Malaysia. And my grandma is also quite old already," said Dr Lim, who used to go home once every three months.
Apart from the pain of being away from family, Lim also had to juggle an upcoming specialisation exam, a higher workload at a new posting and weekly night call duties, which included caring for Covid-19 patients.
"There were times when I questioned God why this happened," she said. "When I was really overwhelmed, it felt like God was so far from me and had forsaken me."
Simple friendship
Like Dr Lim, many are facing higher stress levels and poorer mental health due to the pandemic. The news is abuzz with how this massive disruption and uncertainty has put a strain on individuals and relationships.
"We may feel good after each service, but yet inside we are becoming more dried up and disconnected from others."
This growing need, from which Christians are not spared, begs a pressing question: What can the church community do to help?
For Dr Lim, help came in the form of simple friendship.
After she shared her struggles with her cell group and close friends, they rallied around her by sending her their prayers and messages of encouragement. 
Knowing she was busy, her cell group leader even prepared a home-cooked meal and personally delivered it to her workplace. A close childhood friend also surprised her by sending her a handmade card.
"It was exactly during these times (of distress and doubt) that I received those messages of encouragement, prayers and gifts.
"It was almost like God's divine arrangement. That helped me to realise that He cares a lot for me, He's so real and He is truly a good and faithful God."
A community faith
During this stressful and uncertain season, the church community needs to step up to lend support and love to its members, urged Pastor Rick Toh from Yio Chu Kang Chapel.
"Our faith is a community faith, and loving God and loving others are really two sides of the same coin."
There is a need to be more intentional about being deeply involved in one another's lives even as technology draws us further away from each other, he said.
"With services going online, it may seem at first that we have the freedom and the liberty to feed ourselves with good content and good worship experiences from different churches. But actually, we're becoming more and more isolated, and our faith is becoming more and more privatised.
"And that is when we are no longer involved in lives. We may feel good after each service, but yet inside we are becoming more and more dried up and disconnected from others."
We must understand that our faith is a community faith, and that loving God and loving others are really two sides of the same coin, he said.
After saving us into His family, God commands us to love, encourage, exhort and support one another. Thus, there is "no such thing" as an isolated Christian, he stressed.
Loving one another
As stressors grow and people become more isolated, it is crucial for churches to focus on developing strong cell groups, said Ps Rick. In these little communities, members can love and care for one another and offer support in intentional ways.
However, he acknowledged that we may not always be "best buddies" with the people in our cell group due to individual differences.
"I'm now meaningfully disrupted by many personalities and I enjoy it, actually."
It was a sentiment he has struggled with too, he shared.
"The people in my cell group are not like me personality-wise. I'm more of a quiet person but there are people who like to do this, like to do that, things that are really not my interest."
But a quote from the book Life Together in Christ: Experiencing Transformation in Community by Ruth Haley Barton radically changed the way he viewed his cell group.
"One of the dynamics of transforming community is that there is enough 'otherness' in the group that we can actually be challenged to stretch and grow beyond the confines of our own limited view of things and find ways to open to Christ as he is uniquely present in the other … if we don't venture outside our comfort zones, trusting that the stranger God has brought into our lives has something for us, we will never even know what we're missing."
Ps Rick said: "I thought that was profound and very sobering. If I'm not able to receive otherness in a person, then I'll have difficulty receiving Christ because, being holy, He is the true other.
"It made me go to cell group very differently. I'm now meaningfully disrupted by many personalities and I enjoy it, actually. And that really helps us to connect with one another even though we're different."
Being Christ-like friends
Turning his attention to John 15:12-15, where the word "friend" is mentioned thrice, Ps Rick shared three observations on how we can be Christ-like friends.
1. Friends adopt a posture of serving the other
"Greater love has no one than this, that someone lay down his life for his friends." (John 15:13)
Ps Rick said: "A friendship like this is not selfish. It's self-sacrificing. It asks: How can I serve you and help you? How can my presence in your life help you to become a better person in Christ? How can I affirm your worth as a child of God?"
2. Friends are aligned to Christ
"You are my friends if you do what I command you." (John 15:14)
To develop a friendship that is giving, mutual alignment with Christ is important, said Ps Rick. Everything changes when we say: "You are my friend because Jesus is our friend."
As we enjoy an "amazing friendship with Christ", who will never fail us, we will be able to share His abundant love in our earthly friendships and be free from expecting the other person to meet our every need, said Ps Rick.
"We're not trying to get our friend's love flowing into us, but God's love flowing into them through us," he said.
3. Friends share an authentic relationship
"No longer do I call you servants, for the servant does not know what his master is doing; but I have called you friends, for all that I have heard from my Father I have made known to you." (John 15:15)
Jesus invites us into an authentic relationship with Him where He will not hide anything from us.
"Our relationships must reach this point where there is unveiling and revealing. We're naked and unashamed," said Ps Rick.
He added that when he shares openly about his own brokenness – with the knowledge that he's forgiven and secure in Christ – it starts off a domino effect where other people start sharing more deeply too.
"You just need one person to start the ball rolling, to take the risk to step out and be authentic," he said.
Church is relationships
While Covid-19 has thrown many things into disarray, Ps Rick sees it as a "divine disruption" for the Church as it is making us rethink what Church truly means.
"Church is relationships. Church is community."
"As the traditional ways of church life have been removed, it makes us realise that church is the people.
"Church is relationships. Church is community. Church is relational connections. Church is edification. Church is mutual encouragement," he said.
Acknowledging that nurturing relationships is not an easy task, he added: "When we care for others, it will take the dying of the self. It takes away time, energy and our convenience. So we must be intentional."
Samantha Cheng, a psychotherapist and counsellor in private practice, offered some tips on how to journey with a friend.
1. Be alert to their stress levels
While it is normal to experience some degree of stress, some people do not have sufficient time and resources to recover well, said Cheng.
"If the person feels understood, that's already a tremendous support."
A person who is not coping well with their stress may exhibit symptoms that can be physiological (difficulties sleeping and eating, body pains and headaches), mental (losing confidence, feeling hopeless), emotional (feeling anxious, tired, irritable) or relational (more fights with partner or children).
If you notice that a friend is overly stressed, spend some time being present and offering a listening ear, said Cheng. "You must first understand the source of their stress. If the person feels understood, that's already a tremendous support."
2. Don't assume what the person needs
While we may feel eager to help, always ask what kind of help they would like to receive, stressed Cheng.
This allows them to think about the support they need so they are invested in their own recovery. It also ensures that you do not do something that seems intrusive to them, she said.
It will also be helpful to ask what will indicate they are coping better. For example, if they sleep better or if they lose patience with their children less often. Then encourage them to set a reasonable timeline for them to get back on their feet, so that they take ownership of their recovery.
3. Rope in more resources and people
Instead of being their only source of support, help them to expand their pool of resources, said Cheng. The task of helping someone can be huge, but getting more people involved will help.
It is important to know what you can and cannot do for them.
Take turns to help with tasks, especially if the help needed is long-term.
This helps to guard against burning out.
It is important to know what you can and cannot do for them. For example, if they are struggling with a serious mental health issue, acknowledge that you cannot provide the professional help they need.
However, you can still accompany them for their appointment and offer support as they go through therapy, she said.
4. Examine your head and heart
Know your own capacity and whether you are in a good place to journey with someone else, said Cheng, adding that there is a difference between "won't help" and "can't help".
However, if you are unsure of your own motivations, bring it before the Lord and ask if there is any selfishness in your heart.
Once you have committed to caring for this person, check in regularly with yourself to see if you are truly having a heart of hospitality and love toward them.
"You don't need to be perfect, but ask God for that heart."
If you have enjoyed reading Salt&Light...
We are an independent, non-profit organisation that relies on the generosity of our readers, such as yourself, to continue serving the kingdom. Every dollar donated goes directly back into our editorial coverage.
Would you consider partnering with us in our kingdom work by supporting us financially, either as a one-off donation, or a recurring pledge?
Support Salt&Light