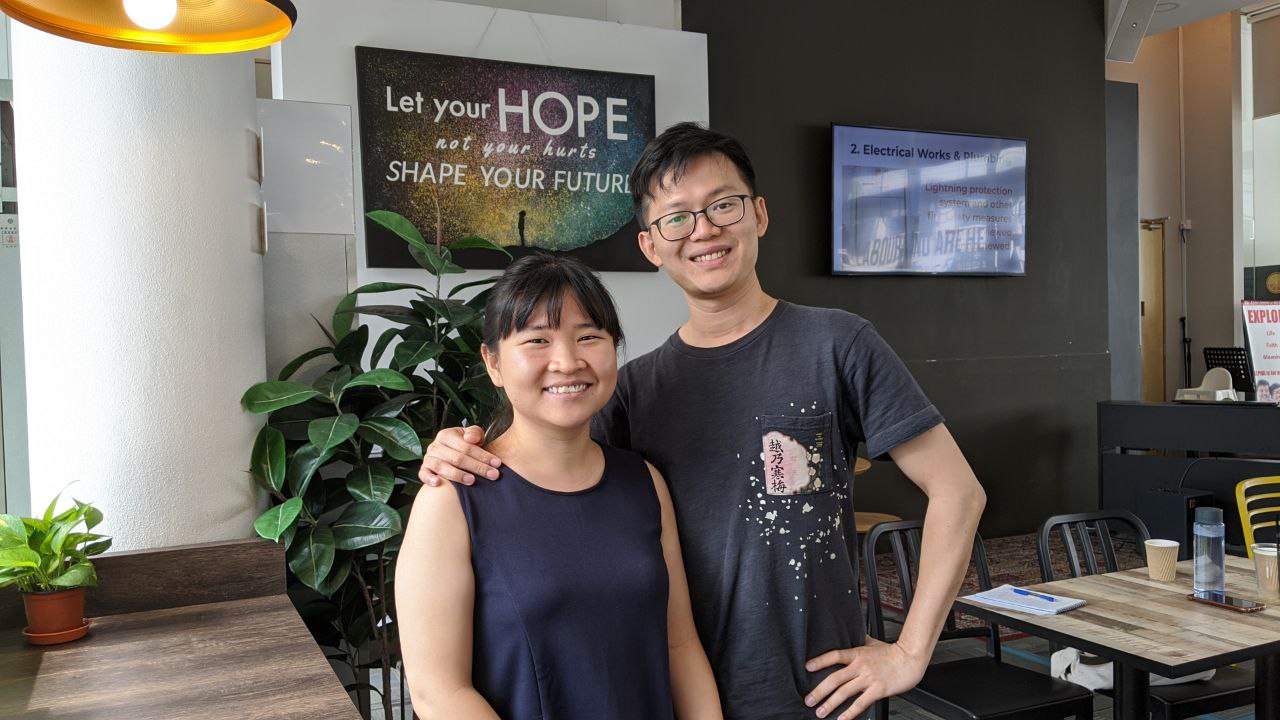 Confessing that he was "self absorbed" in his youth, Abraham Yeo said: "The reason God chose someone like me was to show that it is by grace that we have been saved, through faith, and this is not from myself." Abraham is pictured here with his wife, Cheng Yu. Photo by Gracia Lee.
For someone who was a finalist in the national The Straits Times Singaporean of the Year 2019 award, Abraham Yeo does not think too much of himself.
In fact, the co-founder of Homeless Hearts of Singapore (HHOS), which befriends the destitute, feels bemused that he was singled out for the accolade, given the many others who have done their part to care for these rough sleepers.
"I think it should be called SingaporeanS of the Year," the 38-year-old said of the annual award, rattling off a list of people whom he feels deserve to be celebrated too.
"It's not about me, but about praising our Father. That's the real award and reward."
"It isn't about me. It's about the grace of God. It's about every person who has made a difference and the whole community of Singaporeans," he said.
Even though he did not win the 2019 award, which was clinched by advocate of mental health issues, Angie Chew in results that were announced yesterday (Feb 11), Yeo said he is grateful that God gave him this opportunity to share his testimony publicly and proclaim Christ.
"It's not about them praising me, but about praising our Father. That's the real award and reward," he said.
"It's not about building a tower or a name for ourselves, but building His Church across every nation and generation. Only one Name must be remembered, for only that Name alone is worthy: The Name that is above every Name, the name of Jesus Christ our King!"
Passionate for God's passions
This is a man whose life echoes a deep compassion for the poor.
Since 2014, Yeo has poured his life into loving the homeless, even inviting them to his wedding. Last October, he also quit his job as a software engineer to run HHOS full-time in an unpaid role.
An otherwise easy-going and amiable man, he bursts into intense speeches whenever the topic on loving the less fortunate is raised.
His is a strong conviction that caring for the poor and needy is not just the role of a select few, but the mandate of the whole Church that is clearly stated throughout God's Word.
"God cares about the poor. It's not an optional thing!"
"When people want to know what's the general will of God, go and read the Bible! God cares about the poor. It's not an optional thing!" he stressed.
"It says clearly in 1 John 3:17, 'If anyone sees his brother in need but has no pity on him, how can the love of God be in him?'"
Quoting Isaiah 3:13-15, he added: "God's heart for the poor is intense. If we want to be disciples of Christ, we must also learn how to be intense for what God is passionate about.
"If we are really drawing close to the heartbeat of the Father, we will inevitably end up loving the poor and the needy, and having compassion for them. It has to be, it must be, it will be."
The work of the Holy Spirit
While Yeo's immense passion for the needy is admirable, he readily acknowledges that it is entirely due to the work of the Spirit, who "moves our hearts to have compassion".
Growing up, he confessed that he was rather "self-absorbed" and did not think much about others.
"So, to find myself doing this kind of thing now is totally a miracle. I think one reason why God chose someone like me was to show that it is by grace that we have been saved, through faith, and this is not from myself, but from the grace of God (Ephesians 2: 8-9)."
After graduating from the National University of Singapore with a degree in computing communications and new media, he began earnestly asking God what He wanted him to do with his life.
As he fasted, prayed and read the Bible, God began to open his eyes to the plight of the destitute and His own heart for them.
He vividly remembers an encounter he had one night while having "some very nice porridge" with his cell group at Geylang Lorong 9.
Midway through their meal, an elderly couple came by selling tissue. As Yeo looked at the frail couple, he felt the Holy Spirit speaking in his heart.
The Spirit said: "I love them."
"Lord, help me to see what you see and feel what you feel."
Overcome with great compassion for them, Yeo bought some tissue paper while trying to hold back his tears.
"After that, the porridge didn't taste so good anymore," he recalled.
After that incident, he began to pray: "Lord, what do you want me to do? What is your heart? Help me to see what you see and feel what you feel."
As he drew his ear closer to the heartbeat of the Father, the answer quickly became clear: Have compassion on the needy.
Small steps of obedience
In response, Yeo decided to take "small steps of obedience" by faithfully volunteering with his church in various community projects. 
He also agreed to go to Japan for a mission trip. It was there that God put a special burden on his heart for the homeless.
One night, as he was walking back to his hostel, he saw a poor, elderly man shuffling along slowly, counting coins in his palm. Though Yeo looked at him with compassion, he continued walking by as he was not sure what else to do.
"Suddenly, the Holy Spirit spoke to me: 'Give him the bread.'"
Feeling hungry, he dropped by a convenience store and bought a bun for supper. As he left the shop, he saw that same man just a few metres ahead.
"Suddenly, the Holy Spirit spoke to me, 'Give him the bread.' I was like, huh? I feel paiseh (Hokkien for embarrassed), this guy is a stranger!"
Nevertheless, he obeyed and offered the bun to the man, who thanked him profusely. The encounter warmed his heart.
Still feeling hungry, he returned to the store to buy another bun. As he exited the store again, he saw two shabby-looking men who "smelled like they had not bathed in a few days".
With the bun still in his hand, at the exact moment he walked past them, the Holy Spirit spoke to him again: "Give them your bread too."
This time, Yeo immediately stopped, turned around and offered them his food, to their gratitude.
This encounter with the Spirit left in him a deep compassion for the homeless, and he set off to seek them out back home.
A people to be loved
In Singapore, he trawled through the Internet but could neither find comprehensive statistics on the homeless nor groups doing outreach to them. 
"We didn't know where the homeless were. We just prayed and asked God to lead us to them, and He did."
So in 2014, together with his secondary school friend Mervin, he decided to "start small".
"We were these two jokers who didn't know what to do. We just took food and walked around. We didn't know where the homeless were. We just prayed and asked God to lead us to them, and He did."
Over time, they started a Facebook page and invited more people to come along on their walks.
Today, HHOS is a registered charity comprising a core team of eight people and 30 regular volunteers. Apart from conducting fortnightly night walks and holding festive celebrations, it also collaborates with government and social services agencies to provide the homeless with access to useful resources.
Last July, they also teamed up with Mount Alvernia Hospital to hold a Healthcare Day, where the homeless were given free flu vaccinations, eye checks and basic health screening. They were also treated to free haircuts by Telja Studios.
Yeo and his wife also host dinners every Friday at their home in Punggol for their homeless friends. They named their weekly meetings Abba's House, which seeks to bring back the "lost art of hospitality". 
While the organisation is secular, Yeo said it is based on Christian principles. One such principle is that everyone is worthy of love because they are made in the image of God.
"We shouldn't just see them as the homeless, full stop. They are people who can disciple others, people who can preach the Gospel, people who can teach us," he said.
At the heart of HHOS lies a conviction that "homelessness is not a problem to be solved, but a people to be loved".
"Homelessness starts in the heart," Yeo said, adding that many homeless people feel invisible and isolated. "People don't become homeless because they run out of resources. They become homeless because they run out of relationships."
"Homelessness is not a problem to be solved, but a people to be loved."
But when a person is loved, they can start finding meaning in life again, he added, recalling a gripping encounter he had with an elderly man he knew as Uncle Alan.
Uncle Alan was one of the first few homeless people whom Yeo and his team reached out to, even though half of the time he was "very drunk" and did not engage much with volunteers.
But one night, he pulled Yeo aside. As they sat together on a public bench, Uncle Alan confided in Yeo that his life felt empty and pointless because of his addiction to the bottle.
Prompted by the Holy Spirit, Yeo shared with him the story of The Prodigal Son. By the end of the story, Uncle Alan decided to accept Jesus.
Curious, Yeo asked him what made him come to this decision. He replied: "Because I see how much you guys love me."
"How do you know that we love you?" Yeo asked.
"Because you keep coming back again and again."
It is these stories that keep Yeo going in his ministry, even when the going gets tough. His greatest satisfaction comes from "seeing people come to Christ and their lives turn around".
Calling the homeless home
While he acknowledged that the Church has recently responded "in numbers" to care for those who are broken and in need, he feels that still more can step up in faith.
He believes that churches must do more to encourage its members to roll up their sleeves and get their hands dirty with obeying God's call to love the least and the lost.
Many churches are discipling people to be "very good at running cell groups, attending church, being dutiful and doing proper ministry", he noted.
"What are we doing to bring them in so that His house may be full?"
"But when I ask them to go to the broken, to the least of the least, they say they don't know how. The question to ask then is: What kind of disciples have we been training? They can't even go out to the battlefield. We are only training them to march on the spot."
Urging churches to be more outward-looking, he said: "Don't just do Bible study in air-conditioned rooms. Go out to the street and bring in the poor! How can we feed them, help them find places to stay and reintegrate them back into society? How can we disciple them?"
Quoting Isaiah 61, Yeo said: "God is building His church, and He's calling the homeless home. What are we doing to bring them in so that His house may be full?"
"Many haven't experienced God's love, so let's be on the lookout": Yio Chu Kang Chapel, which opens its doors to the homeless
Ps Andrew Khoo, founder of S'pore's first homeless shelter, has given refuge to over 900
If you have enjoyed reading Salt&Light...
We are an independent, non-profit organisation that relies on the generosity of our readers, such as yourself, to continue serving the kingdom. Every dollar donated goes directly back into our editorial coverage.
Would you consider partnering with us in our kingdom work by supporting us financially, either as a one-off donation, or a recurring pledge?
Support Salt&Light