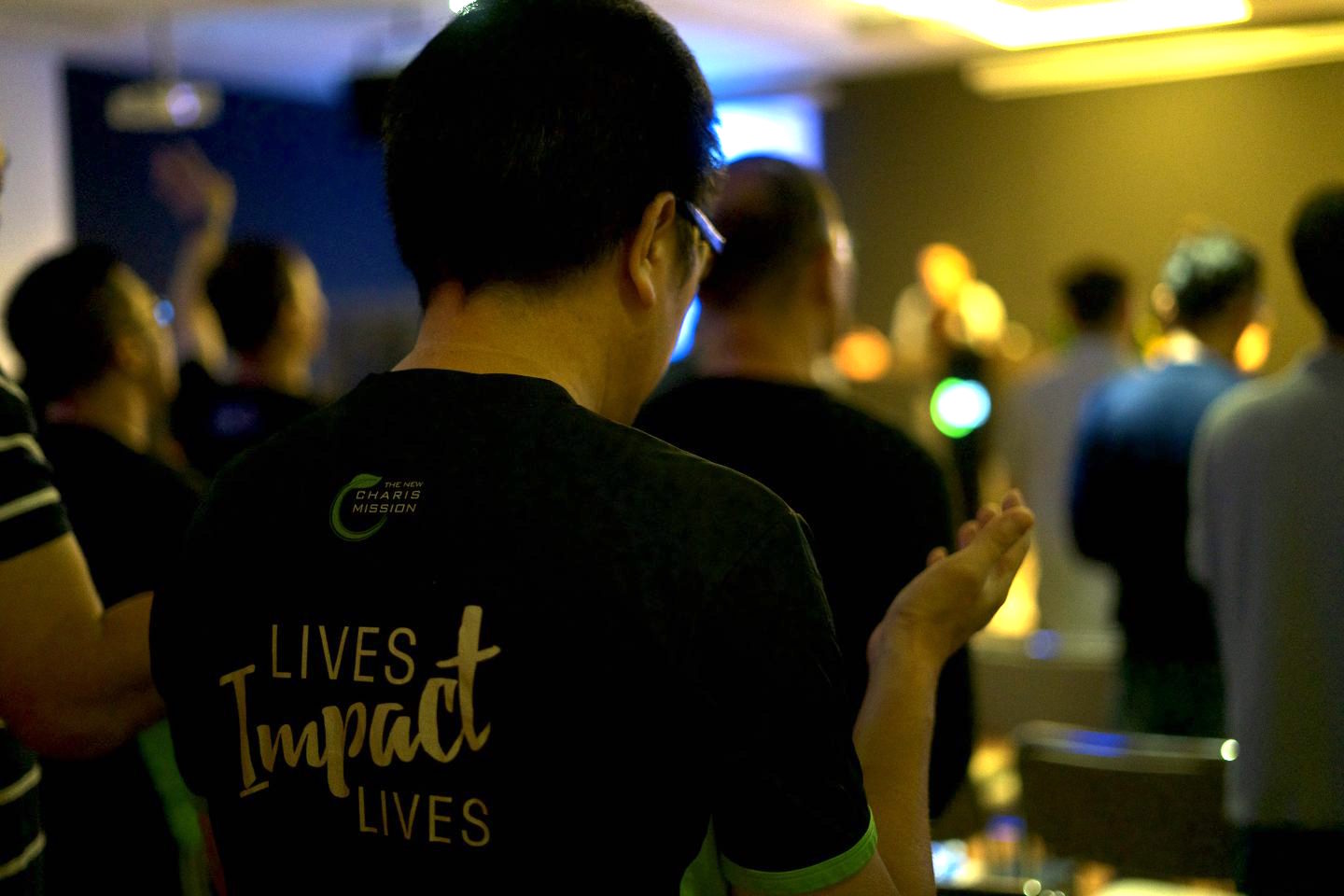 Residents attend a morning worship service three times a week at The New Charis Mission. Photo by Rachel Phua.
Andrew Ho has been in and out of jail and detention centres for a decade. 
The 23-year-old first got into trouble with the law when he was just 12. He started out shoplifting for "cheap thrills".
After the excitement wore off, the teenager moved on to greater heists. He broke into homes, and then began to abuse drugs. Ho was repeatedly sent to the Reformative Training Centre, which houses young offenders. He would never be out for more than nine months before being caught again.
Curiously, Ho says that all this while, he was praying.
Having been brought up in church, it was the normal thing to do if you wanted something, or so he thought. At first, he prayed that would not get caught by the police, or that he would get his drugs at a cheaper price.
It was only in his last year in prison that he finally prayed his life would change. 
When he was sentenced once more when he turned 22, Ho was no longer sent to the youth centre. He was put in prison with the rest of the adults. Some were close to 60 years old.
The youth vividly remembers an 82-year-old who was remanded for drugs. It was a wake up call.
"I'm still 22. I still want a family. I want to make my mother happy again. I want to have a life. I don't want to be like them," Ho recalls what he thought then. 
Once he served his mandatory prison time, Ho enrolled in the voluntary nine to 12 months of residential rehabilitation programme at The New Charis Mission (TNCM), a Christian halfway house set up by Pastor Don Wong. He arrived three months ago. 
"I'm still 22. I still want a family. I want to make my mother happy again. I want to have a life."
Here, Ho goes for the usual counselling sessions, and does an hour of daily quiet time. He also helps out in the community services TNCM is involved in, such as helping to refurbish homes of the elderly poor.
The halfway house makes it compulsory for its residents to take part in charity work as it believes this helps to restore the ex-offenders' dignity. 
New identity, new purpose
Raymond Tan, 39, a programme manager under TNCM's Community Services wing, says the rehabilitative programme aims to instil in its beneficiaries a new identity in Christ (Ephesians 1:3-14). 
The goal is for them to find acceptance in the Word of God and amongst each other (Romans 15:7). 
All the residents are striving to turn over a new leaf, and they are free to be vulnerable in front of everybody, Tan says. There is no condemnation for their past, or even when things go wrong in the present. 
Ho can attest to that. He says he is learning about sincerity, because there is no need to be worried about your pride. 
"Knowing what it means to be secure in one's new identity in Christ is paramount to having a purpose in life."
"I learnt how to apologise here. In the past, even when I apologised, there was always a "but" behind. I was always trying to point the finger at others. Now, I can say sorry and no one would look down on me for that." 
Tan says knowing what it means to be secure in one's new identity in Christ is paramount to having a purpose in life.
The programme manager is also an ex-convict, having been imprisoned for six months for credit card fraud between 2006 and 2007.
Based on his experience, he says people tend to commit crimes because their life feels empty and they are seeking happiness in the way they know best. It does not help that society still nurses a stigma against ex-offenders. 
As Christians, the ex-offenders learn that they are living to please and glorify God, and that the Father loves them. (Many of the residents do not have a father figure in their lives, Tan says). Now, they are unabashed about their past, and are eager to encourage other outcasts. 
As Christians, the ex-offenders learn that they are living to please and glorify God, and that the Father loves them.
Unlike adults, youths are easily influenced by what others say to them, says Tan. If we denounce them from a young age, these labels end up dictating how their lives will pan out. Young children who are told that they are good-for-nothing may live as delinquents.
Andrew himself was susceptible to peer pressure. He gives the example of smoking, which he was not that keen on, but he chose to light up a cigarette in order to "fit in" with his friends. 
"In the past, I was very affected by what people say. I lived to gain people's approval and to maintain an image. So even when I was taking drugs and I was afraid that the police would find out, I could not show that I was scared. I was living in fear every day and I couldn't even be myself. I didn't know who I was anymore."
Giving back
Ho admits he is concerned about what others will think of him when he leaves the halfway house. But he says there will always be individuals who discriminate against the marginalised. 
On the other hand, the public should not judge ex-offenders for their past behaviour and instead befriend them, Tan adds. And if you want a troubled loved one to change, tell them "what's in it for them" if they did instead. 
"They don't need another person to tell them what is right and what is wrong. They know it. Family, parents, uncles, aunties, teachers, principals, sometimes even counsellors, have repeated that to them. What they need is another person to journey with them," says Tan who aims be firmly rooted in the Word. 
Ho says he looks forward to his future after completing his rehabilitation so that he can contribute back to the community that has nurtured him. He wants to help similar ex-offenders and youths-at-risk transform their lives. 
He is also looking forward to spending more time with his mother, who he says "never gave up on him over the past 10 years".
"In the past I only brought sadness and pain to my family. Now I want to bring joy to others."
Ho is also excited about what the future holds. 
"If I had so much fun doing the wrong things in the past, I'm sure that by doing the right things, I can experience true joy (Romans 14:17)." 
If you would like to support The New Charis Mission, take part in their annual Unlabelled Run on June 30 2018. Register here.
If you have enjoyed reading Salt&Light...
We are an independent, non-profit organisation that relies on the generosity of our readers, such as yourself, to continue serving the kingdom. Every dollar donated goes directly back into our editorial coverage.
Would you consider partnering with us in our kingdom work by supporting us financially, either as a one-off donation, or a recurring pledge?
Support Salt&Light