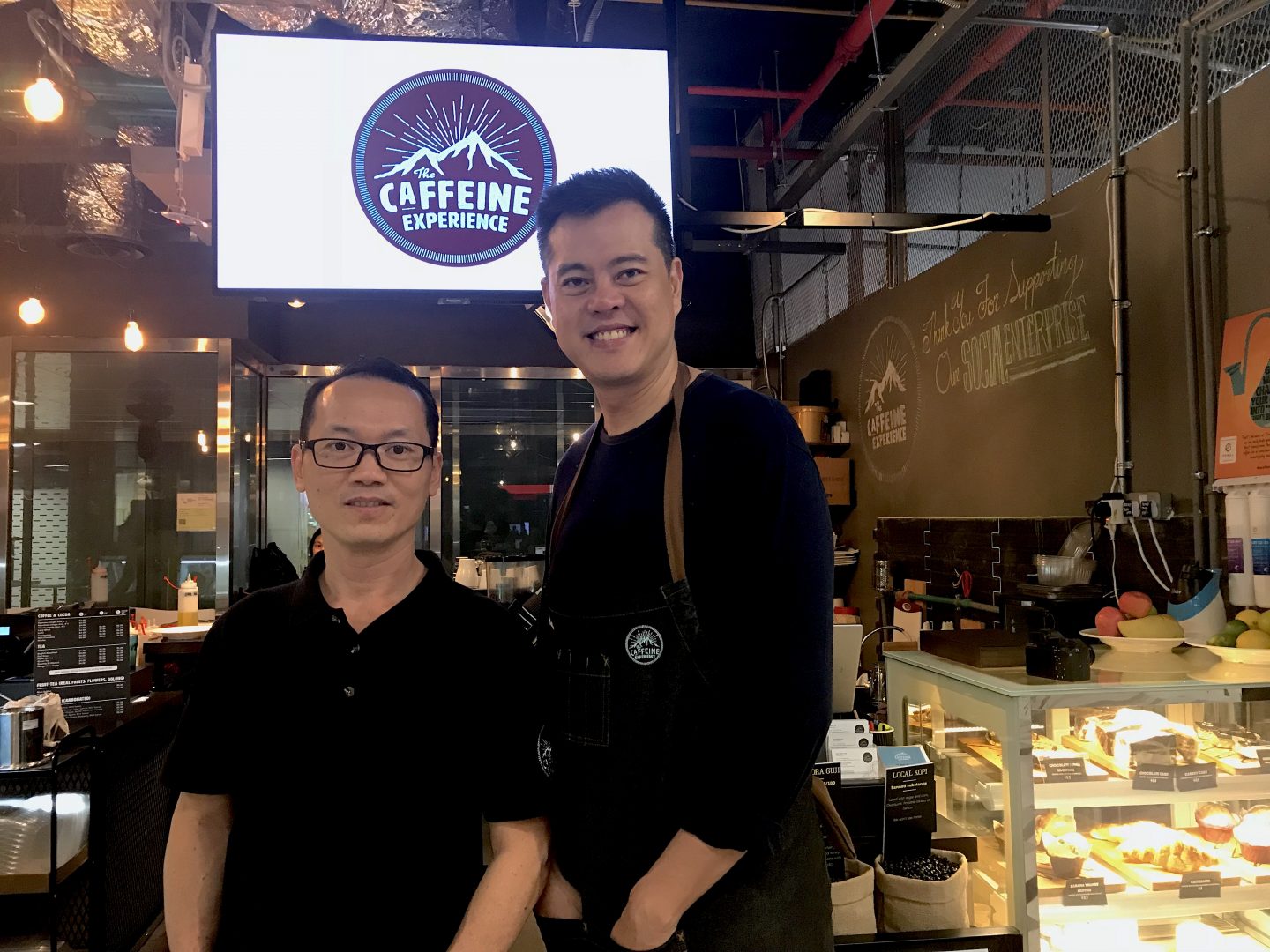 Former prison officer Hillary Lo (left), 49, with Matthew Poh (right), 47, a former drug addict, opened a bistro at Tanjong Pagar that hires ex-offenders. Photo by Rachel Phua.
"God saved me from death and dumped me into prison."
It's an unusual statement to make, but after just five minutes at Matthew Poh's café, his sentence starts to make sense.
Poh chortles behind the coffee counter as he jokes with a fellow barista, Dee, who is at least 40cm shorter than the lanky "only 1.98 metres" man. Dee recently converted to Christianity, he mentions. Another fellow colleague, Bruce, whom Poh met at the halfway house Teen Challenge, makes you feel right home with his boisterous laughter. Robert, the chef from Texas, is quietly rearranging containers at the salad corner and figuring out new recipes for the joint. 
This is The Caffeine Experience, a café at Tanjong Pagar that hires ex-offenders and those with family and friends who have had brushes with the law. Poh himself is a former drug addict and dealer who started popping pills in 1994 after his ex-wife introduced him to Ecstasy.  
He was just beginning to run his interior design firm then. It flourished, and so did his hedonistic lifestyle.
"My business was doing well. I earned millions, and spent it on women and cars," the 47-year-old says.
"My life was a mess, just not in my eyes."
In 2013, after his mum died and his wife left him, Poh doubled down on his drug habits. His company faltered and he went bankrupt. So, he turned to dealing.
A fallout with his partners caused him to leave the syndicate before he was caught. He was still a free man when his friends were served with more than 10 years' jail time. One was even sentenced to death.
Ironically, it was while he was "high" at home that the thought of surrendering to the police came to him. It was October 2015. He took a cab down to the Bedok police station and turned himself in. Poh got just a year's sentence, including four months at a halfway house.
"My life was a mess, just not in my eyes," Poh says of his life before prison. 
But the year sobered him up. A nominal Christian since he was 11, Poh finished the Bible twice behind bars.
"I probably reached out to more people in that eight months than my entire life put together. That's kind of sad," he chuckles self-deprecatingly.
Inside prison, everyone talked about how they were going to change and find a job when they were released. But it wasn't surprising to see cellmates return after less than a week outside the drug rehabilitation centre.
It was inside the centre that Poh met Hillary Lo, a supervising officer.
With his born-again experience, Poh decided that he wanted to do something right for once.
He approached Lo, 49, with a business proposal, hoping that the prison officer would join as a partner. Without hesitation, Lo, who had spent 17 years working in the prisons, said yes. It was an answered prayer, and he trusted Poh, whom he sensed had a savvy nature.  
"One of my dreams was to become an entrepreneur. In prison, it's just 'yes, sir, no sir' all the time. I questioned why I wasn't doing my own thing. That's not the way I wanted to live," Lo said.
The business proposal stated that it was going to be a social enterprise selling coffee, providing employment for ex-offenders, with profits ploughed back into other Christian social businesses.
"I told God to let me do what I do best," says Poh, who attends Full Gospel Assembly. "But this time round, let me build something not just for myself, but for the people around me."
His last day in prison was poignant. Harkening back to Job 1:21, he decided: "Before I leave, I have to put all my possessions –which was just three shirts, three shorts, some bread – into a Toyogo box. And then I step naked into a room, put on some clothes and leave. I can't bring anything out. Nothing.
"It gave me a preview of death. When I die, everything goes into a coffin and the rest of my money is distributed out. So there's no need for me to build anything for myself."
"There's no need for me to build anything for myself."
Tailored towards ex-offenders' needs 
The duo chose to open a food business as it was relatively easy to pick up coffee-making skills. This was especially important for ex-offenders as many had little education. Poh recounted a psychology class in prison, when a fellow inmate asked him: "Brother, how do you spell 'family'?"
"It hit me. If I were to do a business, I could run another interior design firm, but the ex-offenders wouldn't be able to do the job, given the technicalities. I needed something easy to learn."
Lo, a member of the Church of Divine Mercy, adds that in Christianity, serving food is often seen as a form of blessing others. 
The Caffeine Experience is also a platform to teach the staff how to walk with Christ. They open with prayer every day, as well as weekly Bible studies. There are also plans to introduce counselling sessions.
Most importantly, it is inculcating the notion that in all work that Christians do, it is worship to God, says Sean Aw, 39, the cafe's marketing head and another partner. Therefore, there must be the pursuit of excellence.
The café, which also sells salads and pastries, is hopefully the first of at least three establishments. Although "for now, it's just firefighting", Poh chuckles. "If there's something to sweep, sweep it up. If a drain chokes, unclog it."
Learning from Peter
All seems bright and cheery, even raucous, on the outside, but Poh recalls that he wanted to give up at least six times. Getting funding was an issue given his track record; people he originally wanted to hire dropped out or went back to drugs. The space that the café now occupies was supposed to be available in October last year, but delays in paperwork approvals, budgeting and renovation meant they could only commence operations at the end of March. 
An offender who has been incarcerated before can also be a tough nut to crack. Poh says that they are usually insecure due to their fear that they cannot live up to expectations, especially after being isolated from the outside world for years. Any criticism unnerves them and causes them to become defensive and emotional. Small disputes about work sometimes blow up into full-scale argument about each other's character.
Some just walk out and leave any time, Aw says. "They are used to losing everything and yet still find themselves surviving. They can find money if they don't have any, because all they have to do is leave and return to the drug trade."
"I think they see the light in us."
Poh rattles off the different verses that kept him from pulling the plug. Romans 8:28, Matthew 7:77, Numbers 6:24-26, 2 Corinthians 9:8. He calls it his spiritual bank account, so that "when a crisis appears, they will carry you though".
"We are just an instrument of God," Lo adds as he explains how he gathered the faith to quit his job and launch The Caffeine Experience with an ex-convict. It is not about making the right or wrong decision, but trusting that God is always present in every circumstance. 
Poh rattles off different Bible verses that keep him from pulling the plug. He calls it his spiritual bank account.
The duo recall a dream that Poh had, which paralleled Matthew 14:22-33, when Peter walked on water. Poh dreamt that he was walking on water, to the bewilderment of Lo, who was in the dream. 
In the passage, Peter began having doubts as he was walking. He found himself sinking, before Jesus extended his hand to save his disciple. 
It reminded Poh of his own journey. 
"There is ridiculous stuff that I want to do. But as I begin to walk, I realise I start to lose faith.
The next thing you know, I'm sinking. And Jesus is reaching out as he chides me, 'Aiyah, you of little faith'. 
It reminds me that regardless of what the situation is, I just have to have faith, believe and push forward." 
The Caffeine Experience is located at Tanjong Pagar Xchange (Tanjong Pagar MRT station), 120 Maxwell Road #B1-39, 069119.
If you have enjoyed reading Salt&Light...
We are an independent, non-profit organisation that relies on the generosity of our readers, such as yourself, to continue serving the kingdom. Every dollar donated goes directly back into our editorial coverage.
Would you consider partnering with us in our kingdom work by supporting us financially, either as a one-off donation, or a recurring pledge?
Support Salt&Light