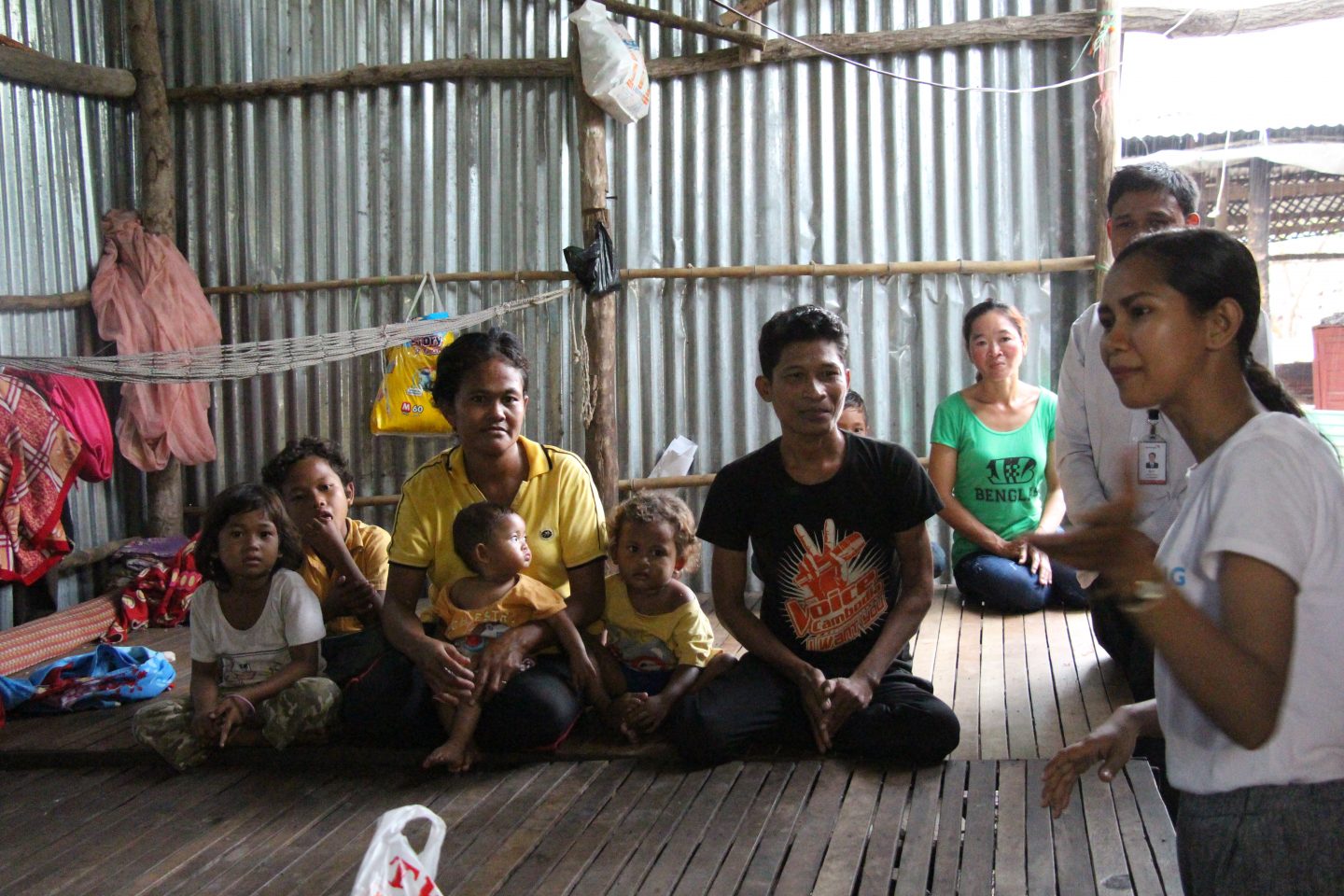 Sreylok (extreme left) with three of her siblings and her parents in their home. All photos courtesy of Soh Weijie.
In January 2018, I travelled to Takeo Province, Cambodia, with nine Singaporeans who were supporting World Vision's child-focussed community development initiatives in the area as child sponsors.
We were headed to Kirivong District, where World Vision had started a 15-year Area Development Programme (ADP) in 2009 to address the community's struggles with malnutrition, the lack of clean water and sanitation, poor educational outcomes, and unstable agrarian livelihoods.
One particularly memorable encounter introduced us to one of the less visible threats to child well-being in Kirivong – domestic abuse – and its connection to economic frustration and familial dysfunction.
We travelled to a commune close to the Vietnamese border to meet a family whose plight had recently come to light.
Sheltering Sreylok 
Amidst an afternoon downpour, our minivan gingerly made its way over narrow village paths towards a cluster of makeshift houses occupied by some of the area's poorest families.
We covered a short distance on foot through rainwater and mud to a row of tall, improvised shelters, and stepped through the cramped entrance of one of these shelters with walls of corrugated metal sheets.
"Sometimes my wife and I went hungry four days a week so that our children could have something to eat."
This was the home of six-year-old Sreylok. Her family welcomed us amiably while seated on a wooden platform used as a shared sleeping space.
The moist dirt of the ground lay exposed beneath our feet.
The undivided living space (no bigger than the living room in a one-room apartment) was used for virtually all of the family's main activities: Sleeping, cooking, eating and washing.
As field workers from World Vision Cambodia began facilitating a dialogue with Sreylok's family, Sreylok's father shared that 10 years ago, a traffic accident had left his left hand permanently damaged.
With no vocational qualifications and only his labour to offer, he became unemployed because of his disability and was unable to provide for his family.
"Sometimes my wife and I went hungry for up to four days a week so that our children could have something to eat," he said. "We had to make our children leave school when we could not afford school materials and uniforms."  
Anxious and demoralised, Sreylok's father lapsed into alcoholism. That was when the beatings began.
Every day, children – His most vulnerable image bearers – are being beaten, demeaned or neglected, often by their very caregivers.
Returning at night in drunken spells, Sreylok's depressed father frequently took his frustration out on his wife violently.
"I was scared when my father beat my mother," said Sreylok who, together with her siblings, was also beaten when their father was particularly disorientated and aggressive.
It was a deeply sad account that moved many in our group to tears.
Sreylok's experiences were a telling illustration of the link between poverty and violence against children, and how the physical abuse of children can be a symptom of underlying stressors tearing at the fabric of a family.
Economic frustration, marital breakdown, substance abuse, mental health challenges, and the inability to recognise that a child may have special developmental needs are among the factors that can result in volatile family environments.
This is why when World Vision's field workers detect and intervene in cases of domestic child abuse, they also diagnose deep-seated social, economic and cultural conditions that have an adverse impact on children.
It takes a world
As Christ's disciples and ambassadors, our hearts should be broken with our Lord's when we learn that every day, children – His most vulnerable image bearers – are being beaten, demeaned or neglected, often by the very caregivers called to regard children as gracious gifts (Psalm 127:3-5) and whom He commands to teach children His ways (Proverbs 22:6, Ephesians 6:4).
The conviction that children have a right to grow up free from fear lies at the heart of World Vision's international campaign, "It Takes A World", which seeks to rally all sections of society to realise the vision of a world where children are safe from abuse, exploitation, torture and other forms of harmful treatment.
The Church in Singapore is a vital partner in this shared effort. It begins with taking responsibility for the protection of children in our own community.
For example, do children feel they can safely confide experiences of abuse within our church environments? Are ministry leaders equipped to recognise the symptoms of child abuse, and provide spiritual counsel to both child victims and those responsible to heal and strengthen their relationships?
Once we have demonstrated a commitment to the best practices for keeping our children safe, we can step out to bring that same ministry of reconciliation to vulnerable communities we are called to serve abroad, helping to restore broken relationships that have led to violence against children in the families we meet, and ensuring that well-intentioned missional endeavours (such as church-funded orphanages and kindergartens) are not themselves inadvertently perpetuating child abuse.
Ministry of restoration
Christians in Singapore can be partners in prayer and be prayerful givers when supporting international ministry efforts that focus on ending violence against children.
The compassion and generosity of World Vision's supporters have helped sustain holistic, long-term community development initiatives which shape a safer world for children by alleviating the financial stressors that can generate volatility and trigger child abuse at home, or lead to children being given over to detrimental predicaments such as child labour and trafficking.
It was therefore encouraging to learn that Sreylok and her family had recently joined World Vision's child sponsorship programme.
When God protects, provides for and cares for those in need, He doesn't stop at meeting their immediate physical needs.
When the family's struggles with food insecurity came to light, World Vision's field workers responded with emergency food aid.
Sreylok and her siblings resumed their education after receiving essential school supplies.
To rebuild a safe home environment, underpinned by love, peace, and restored relationships, Sreylok's father received counselling together with his wife, and the alcohol abuse and domestic violence stopped.
Sreylok's father is looking to engage in livestock rearing and vegetable farming to support his family. His wife works on another farm that grows rice and cassava.
These heartening improvements to the life of Sreylok and her family bear witness, not only to the riches of God's grace, but also to the wisdom with which His grace is enacted in the lives of the most vulnerable.
For when God commissions Himself to protect, provide for, and care for those in need (Philippians 4:19, James 1:17), He doesn't stop at meeting their immediate physical needs.
Rather, His goodness continues touching every other aspect of their lives, including their relationships, to bring about far-reaching renewal.
Such is the ministry of restoration that we are invited to participate in, so that children like Sreylok may live free from fear.
If you would like to be equipped to contribute to the international effort to end violence against children, join World Vision at the Youth For Change Conference on 18-21 December 2018 in Bangkok, Thailand. Sign up at www.worldvision.org.sg/yfcc-saltandlight  to enjoy a special discount. Registration closes on November 18, 2018.