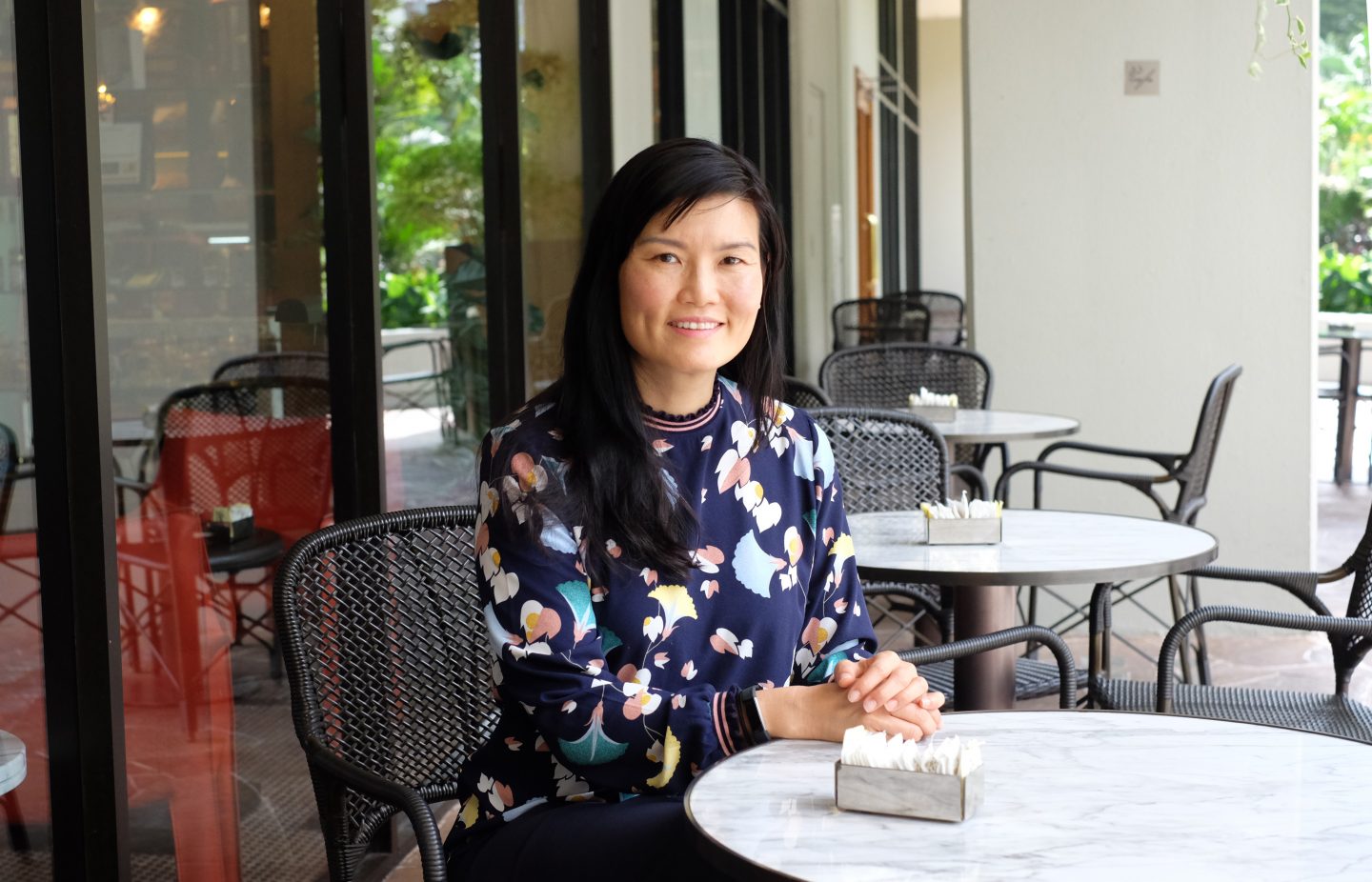 Melissa Kwee has headed of the National Volunteer and Philanthropy Centre (NVPC) since 2014. Picture by Tan Huey Ying
Melissa Kwee is a scion of the Pontiac Land Group family, real estate developers and owners of luxury hotels such as The Capella Singapore, famous for being the location of the historic Trump-Kim Summit in June 2018.
Yet instead of opting for a life of glitz and glamour, Kwee has chosen to give her time and efforts back to the community.
Kwee is the CEO of the National Volunteer and Philanthropy Centre (NVPC), a non-profit organisation promoting a giving culture in Singapore in an effort to build a City of Good.
This is not her first role in community work. Melissa had plunged straight into social entrepreneurship right after university.
The anthropology graduate from Harvard University was awarded the Singapore Youth Award in 2007 and Asean Youth Award 2008 for her leadership and service in that sector.
Salt&Light sat down with Kwee to hear her vision of Singapore as a City of Good.
You have been in philanthropy for more than two decades – where do you get your inspiration? 
Growing up, I saw my maternal grandparents being very engaged in community always, and eventually making the decision to give pretty much all their wealth to the community.
The school I went to also had a real emphasis on raising citizens who are socially conscious, environmentally aware and politically engaged.
The people I meet also inspire me. I try and hold, front and centre, the idea that you can learn something from anyone if you are open and curious.
I'm more of a spontaneous, go-with-the-flow type of person. I just trust that, if you're really asking God to show you His will, and if you want to be in God's will, then you just have to keep moving.
And until doors start closing, or things start falling apart, or when you have the conviction that you are walking down the wrong path, you just keep tuning in.
As a child of God, it is also important for me to be a peacemaker (Matthew 5:9).
Over the years, have you seen Singaporeans become better at giving?
Giving has changed because of demographics and changing life experiences.
There is a strong wave of millennials who are looking for causes to get behind and for ways to make a difference. They see the different problems in society and want to do something about it. Many want to work for companies that do good; others want to start social enterprises.
You also see a demographic shift with the first generation of older adults who are educated, aware and have leisure time, want to be relevant and make a contribution,
We're also more globally connected and people are more aware of big issues like climate change – and people seeking to make a difference with small lifestyle changes.  Small things ultimately add up.  We are also talking more about taboo issues like mental health and social isolation.  It can happen to anyone of us.
When we think of Singaporeans, a giving people does not come to mind. What do you think?
That's why we have to articulate an alternative narrative, to have a different definition of who we are as a people!
Giving is defined, not just as the act of volunteering or the sharing, but who we are. It is also about having a spirit of being other-centred.
So at National Volunteer & Philanthropy Centre, we have a goal to establish the identity of Singaporeans as a giving people, as a giving nation, where goodness is part of who we are.
A "city of good" narrative is where people, organisations, businesses as well as leaders who come together to give their best for others.
How far are we from becoming a City of Good?
In my mind, I use the Kingdom of God as the dynamic – because it is in you, it is coming, it is now. It's beyond time and space but it is accessible to everyone.
The whole point is for each person to discover that gift and talent within. That value within can only be realised in the giving, because things of value isn't realised unless it's given.
We try to help everyone see that it is within their realm to do good. And if it begins in the family, that's a good start. If you can extend that to your neighbour, colleagues or schoolmates, that's terrific.
Many people believe that it's so hard or it requires so much commitment – but it's really just the micro movements and the habits that we cultivate every day.
What do Singaporeans find hardest to give?
Time is always the most difficult to give.
I remember my dean at Harvard said he hoped we'd never become the people from whom it is easier to get $5 from, than five minutes of our time.
"Time is always the most difficult to give."
It's this whole scarcity-of-time perception. Time is a function of prioritie. So the question is: What's your priority?
If you want companies of good, then managements need to support their employees to participate and be citizens of the community, because it will build teams and develop a sense of common cause within the company. 
Purpose drives people, and people drive companies.
What is the hardest part of your job?
I believe that human beings ultimately want to do the right thing. Nobody sets out wanting to be selfish or evil. Everybody wants to do good and be proud of what they do.
But we also operate in a system that tends to be quite win-lose and very harsh on failure. The perception of failure is to receive judgement.
The sense of failing or losing out is such a strong cultural belief that it often causes people to become selfish, territorial, judgmental and self-righteous.  
When people don't put the welfare of others first, when they don't take a step back and see what is the common good but pursue exclusively a narrow private interest, that's ultimately where things fall apart.
So how do you overcome that?
First of all, I believe it starts by having the opposite spirit, and modelling the generosity of spirit.
First of all, I always think we have the choice to love or judge.
In facing selfishness, I believe it starts by having the opposite spirit, and modelling a generosity of spirit.
It is not about cursing the darkness but lighting a light.
For example, 15 Shorts, a collaboration between the National Volunteer & Philanthropy Centre (NVPC) and Blue3Asia, features real people's stories told through short films.
What's strategic? It's the focus on local Singaporeans. That helps to expand our understanding of Singapore's social history.
Otherwise, Singapore's history is either told in an economic sense or political self-determination perspective. It's not told as a people's history.
"It is not about cursing the darkness but lighting a light."
Creatives today are our prophets – they shape the public mindset and cast attention shows what can be achieved through caring and sacrificing for others.
We want to use content to stimulate positive action, so after watching the clips on-line, viewers can also click through to giving.sg, to connect to a cause and make a difference.
People can get dull of hearing the call to give and volunteer – how do you prevent this compassion fatigue?
I think I'm wiser now to discern what programmes are more likely to have impact, and what is just a lot of activity with nice packaging.
For young people especially, and those who are just starting out, you want to encourage them. You want to encourage their sense of purpose and wanting to be a contribution. So, I don't really ever discourage people from wanting to do that.
Sometimes, it's about managing the expectation of how much they are going to achieve and how quickly they will reach their goal. It's also about encouraging them to stay in the game rather than becoming too ambitious, and then become terribly disappointed and falling away.
I always look for people who are willing to learn, and are open-minded.
Where do you envisage Singapore in the next 50 years?
Honestly, I think Singapore is an amazing place. I'm really proud of this miracle nation.
"I think sometimes we don't dream enough."
I think sometimes we don't dream enough. We kill ideas because when we don't know how to do them, we do not spend enough time considering whether it's worth trying. Purpose not just practicality should be used to evaluate ideas.
Pragmatism is actually a gift, being practical helps translate things into a working model but it can become a hindrance when you limited your imagination.
If we lose our ability to dream, we lose our edge in creating a better world.
We're not perfect, but as a city, because of our level of development, investment in infrastructure and the relative stability, I think we have a potential to really accelerate urban social innovation for the benefit of all members of our community.
If you have enjoyed reading Salt&Light...
We are an independent, non-profit organisation that relies on the generosity of our readers, such as yourself, to continue serving the kingdom. Every dollar donated goes directly back into our editorial coverage.
Would you consider partnering with us in our kingdom work by supporting us financially, either as a one-off donation, or a recurring pledge?
Support Salt&Light