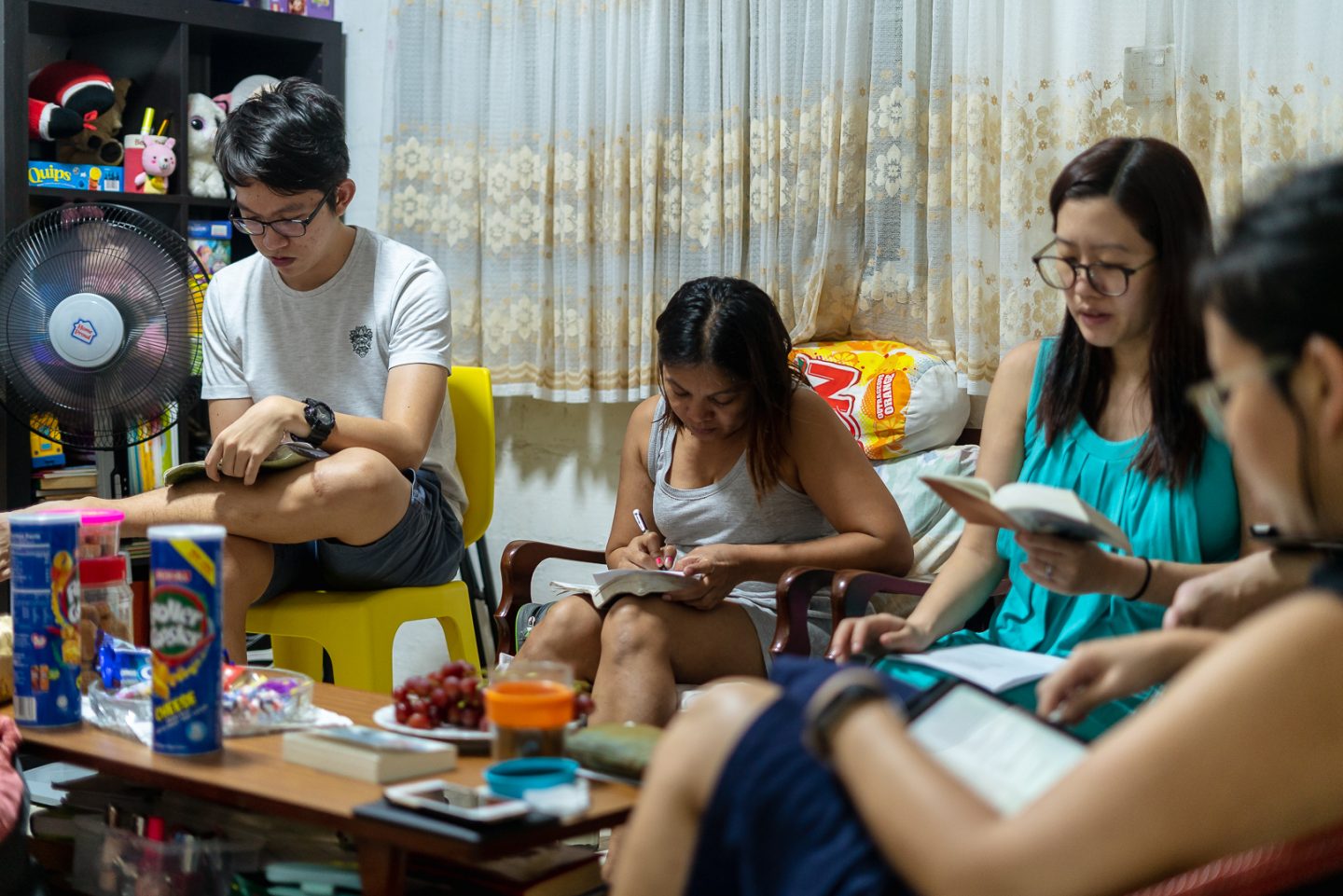 Janet (centre), who is from the Philippines, is one of the many foreigners in Singapore whose spouse is imprisoned. Here, she is in a Bible study with her cell group members at her house on a Friday night. All photos by Rachel Phua.
Loud, military-esque commands spill out into the corridor. Janet* walks towards the door, giving an animated "hello". The yells turn out to be coming from her son, Michael*, who is playing a computer game behind her. Her daughter, Rose*, is on the floor finishing her homework, unperturbed by the noise.
This doesn't seem like a home rocked by the incarceration of a family member. Spirits are high, or at least, tempered.
Dig a little deeper and the placidity unravels, woefully.
Janet is unabashed about her circumstances. She is the wife of a drug offender, who is currently serving his sentence of three years and four months. Meanwhile, the Filipina is single-handedly taking care of their two children, living in a two-room flat in Ghim Moh.
Her latest source of anxiety: It's Michael's PSLE year and she had to find a Chinese tutor for him, since she doesn't have a command of the language.
Money is tight as the preschool assistant teacher raises her family on an income of less than $1,500 a month. Extra help comes in the form of $450 from her home church, Bethany Trinity Presbyterian Church. Prison Fellowship Singapore (PFS) assists with an education bursary of up to $1,250 per year for Michael's education-related expenses. 
As a single mum, a foreign national, and low-income earner, the odds are stacked against her. Plus, there's the emotional stress.
Janet admits she still harbours resentment against her husband, whom she alleges also had an affair. She hasn't seen him since October last year, when they fought because he wasn't willing to acknowledge his wrongdoings, she says.
Yet, Janet hasn't stopped looking for the silver linings in her life. Any bit of grace calls for praise – the financial relief, counselling sessions at her church, the job at a nearby PCF Sparkletots Preschool, which is now thinking of sending her for further studies.
When we last met, she grinned as she told me Michael was so far getting along with his tutor, who helps with his math too.
Who's watching out for the families?
Janet is one of about 100 spouses under PFS' Family Care programme, a ministry that takes about $165,000 to run, according to this year's budget, said Adeline Wong, PFS's Family Care lead.
The charity assists them with their basic necessities, offering groceries, money, and practical support such as referrals to social service agencies, and medical and prison escorts. Staff and volunteers visit each family once a month on average as part of their befriending programme, while finding them churches into which they can integrate.
Foreigners face greater stigma than locals, given the language barrier and lack of family support.
Spouses with children can send their children to Care Club, a weekly children's support group at two of PFS' partner churches, St Paul's Church and True Way Presbyterian Church, where one-on-one tuition classes, enrichment activities and counselling are conducted. At the same time they learn the Christian faith. 
About 20% of Family Care's beneficiaries are foreigners, coming from countries such as China, Thailand and the Philippines.
The Archdiocesan Commission for the Pastoral Care of Migrants & Itinerant People (ACMI) is another organisation which has seen cases of foreign spouses in dire straits.
The ACMI is currently taking care of at least five individuals whose spouses are imprisoned, out of the 60-70 cases they have on hand, said Sylvia Ng FMM, the team head of case management. They also help foreign domestic workers and migrant labourers, among others on various immigration status.
With the help of other agencies and non-profits, beneficiaries are offered case management services, legal aid, and development courses such as English language classes.
Foreign spouses have it hardest
The family members of the imprisoned suffer not just economic hardship, but shame, stigma and loneliness as well, said Wong, as colleagues and classmates look down on them because of their circumstances.
Foreigners, in particular, face greater stigma than locals, given the language barrier, lack of family support, and little governmental assistance given their immigrant status, the organisations' spokespeople both said. 
Foreign spouses whose husbands have been incarcerated are often left on their own to manage the family without their in-laws' backing, and they have to look for a job without the necessary language or qualifications, Ng pointed out.
The financial strain on the family can be overwhelming.
Some have difficulty finding a job due to visit pass issues, and their children may have difficulty obtaining a student's pass to attend school, Wong added.
Would you offer support?
It is imperative that Singaporeans help, Ng said.
These foreigners are contributing to our society and, like any human being, deserve to be treated with dignity. Their children, in particular, need a decent amount of safety and security to grow.
"On top of that, we are Christians," Ng added. "We have a mission to reach out to the those who are poor, suffering and vulnerable (James 1:27)."
Those who want to help don't need to be social work-trained, said Wong. Tasks are simple: Driving them to prison or church, giving their children tuition, visiting their homes, or babysitting the kids so the parents can rest.
Pastor Andrew Ong said the main focus of Bethany Trinity's ministry towards Janet is to "keep her strong in Christ".
These foreigners are contributing to our society and, like any human being, deserve to be treated with dignity.
One way was to encourage her to host her cell group's weekly Bible studies, which she has done for the last two and a half years. That way, she keeps to a routine of reading the Word, and the fellowship allows Michael and Rose to have more adults to relate to.
"With someone like Janet, there are so many cards stacked against her. It's not about whether we can find a solution, but we must continue to keep loving her," Pastor Ong said, quoting 2 Corinthians 5:14-15. "If we live for Jesus, then we won't do what's good for us, but for others (Matthew 25:40)."
Janet is grateful for these acts of kindness. She believes this is how God shows he has never stopped loving her (Jeremiah 31:3), despite her past. The marriage was her way of rebelling against her family after they had squandered the money she sent back, Janet confessed.
Her trials have also taught her to lean closer to God. Janet's days of relying on herself are over; God is the one who delivers (Psalms 50:15), she said. "I can only cling on to Him".
If you have enjoyed reading Salt&Light...
We are an independent, non-profit organisation that relies on the generosity of our readers, such as yourself, to continue serving the kingdom. Every dollar donated goes directly back into our editorial coverage.
Would you consider partnering with us in our kingdom work by supporting us financially, either as a one-off donation, or a recurring pledge?
Support Salt&Light