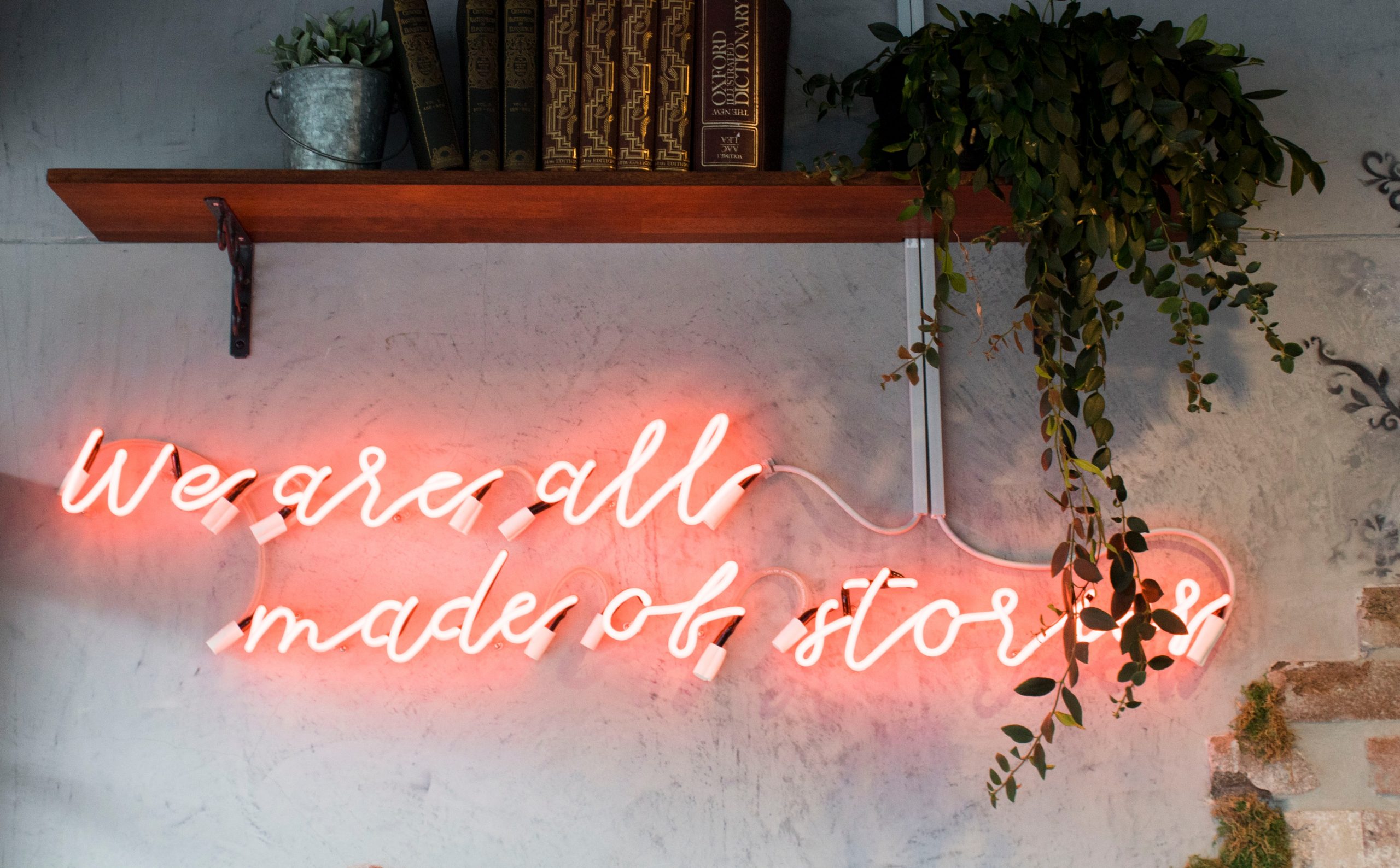 Being aware of the stories of people around us helps us better the trajectory of their lives ... and changes our lives, writes the author, CEO of St Luke's Hospital. This article kicks off a series of stories on aging gracefully, part of the advocacy work of the hospital, which is celebrating its silver jubilee and early roots in serving the elderly. Photo by Social.Cut on Unsplash.
Everybody loves a good story.
As a kid, I used to make up stories with my brother and cousins whenever we played together.
After my daughters came along, I would tell them make-believe stories which would have them pleading for more, even though I wasn't sure how the narratives would unfold.
The rising popularity of reality TV shows and docu-dramas on Netflix and Disney+ is testament that people are drawn to stories real and reel!
So what makes us glued to stories of others? Why do we have an insatiable appetite for them?
It is only through seeing others' lives through their lenses that we can better assist and care.
My guess is that sometimes we covertly wish that our own lives mirror these stories.
At other times, we empathise with the characters in the stories. We get a deep sense of comfort from identifying with the range of emotions they express.
My older daughter, Grace, was inspired by the life story of world-renowned hand surgeon, Dr Paul Wilson Brand (1914 – 2003). Together with his wife, Margaret, who was also a doctor, Dr Brand spent a lifetime working with people affected by leprosy – researching the disease as well as pioneering surgical procedures that improved their quality of life. He also worked tirelessly to destigmatise the disease and help rebuild lives that were destroyed by it.
Dr Brand observed that while his leprous patients might not have felt physical pain, they suffered from broken spirits and deep emotional pain from being ostracised and rejected. Yet, behind each of these broken bodies and spirits, he saw God and His design of the human body — where pain instead of being a curse, could actually be a gift.
Dr Brand's story was Grace's inspiration for wanting to live a life like his in seeking to serve the less fortunate.
Coming back to my point on stories, I find myself confronted with three penetrating questions:
1. Are we aware of the stories of people around us?
Like all healthcare organisations, St Luke's Hospital (SLH) encounters many patients each day.
We make a clinical diagnosis of their health problems as promptly as possible and prescribe medications or physical/cognitive interventions and solutions to bring relief.
However, it takes time and effort to truly understand each patient's story and see things from their point of view – to care enough to identify with what they've been, or are, going through. We need to be intentional in setting aside the time and space for this.
One of our patients, Madam A, has complications from diabetes which affected her legs. She depends on a motorised wheelchair to move around. During one consultation, we asked after her and found that she wasn't eating well. After some probing, we discovered that her wheelchair had broken down and she was unable to venture out to buy food. She had tried to seek help from various sources but to no avail.
It is only through appreciating each person's story – and seeing their lives through their lenses – that we can better assist and care for our patients.
2. Are we involved in the stories of people we encounter?
When we are aware of the stories of people we cross paths with, we can be involved in altering the trajectory of their lives.
Our chaplains, pastoral care counsellors and medical social workers spend extensive time with our patients, listening to the stories to find better ways to help them navigate their challenges.
Upon discovering that Madam A didn't have sufficient funds to fix her wheelchair or buy a new one, we decided to give her our only training motorised wheelchair. We felt that she needed it more.
We also connected her with relevant parties who helped spruce up the vacant rooms in her home so that she could rent them out. With this extra income, she was also able to buy more nutritious food and improve the overall quality of her life.
3. How might we bridge other people's stories with God's story?
As we seek to be more aware of the stories of people around us and consider ways we can be involved in them, it serves us (and them) well to consider how we can connect their narrative with the metanarrative of God's salvation plan.
SLH was birthed in October 1996 as Singapore's first hospital caring for the elderly sick.
Our work has since expanded beyond the elderly to enrich more lives. But the main plot behind the work we've been doing for the last 25 years has remained unchanged. It continues to be based on the salvation story: Of God's love for mankind, and how He sent His Son to be one of us, die and be raised to glory so that we may have eternal life.
God is opening windows of opportunity to help us reframe our life's narrative and that of people around us. 
So even as our patients move into the winter season of their lives when their physical and cognitive faculties are failing, they have the opportunity to find hope and joy in Christ.
Stories are powerful because they tug at the heart and mind. Stories establish meaning for us. Life does not make complete sense until we see the bigger picture and God's hand in all the parts of the story – the main and sub-plots.
And God calls ordinary people like you and me to be an integral part of His story.
Disruptions and sufferings are inevitable parts of life. But if we reference ourselves to the main story, we can better appreciate what God is doing in this imperfect world.
I suspect the Covid pandemic is one such season for many of us. I also believe that during this unsettling period, God is opening windows of opportunity to help us reframe our life's narrative (story) and that of people around us. For this to happen, it is imperative that we have a close relationship with our loving Father and a firm foundation in the omniscient God.
What is your story? Where do you see yourself and those around you in God's story?
"And I am sure of this, that he who began a good work in you will bring it to completion at the day of Jesus Christ." (Philippians 1:6).
---
Check back soon for inspiring stories on graceful aging. It is part of the advocacy for seniors by St Luke's Hospital which celebrates its silver jubilee this year. Find out more or donate to their fundraising efforts at slh.org.sg/gosilver.
RELATED STORIES:
"Every 'version upgrade' was through a trial or challenge": St Luke's Hospital CEO on learning to give control to God
If you have enjoyed reading Salt&Light...
We are an independent, non-profit organisation that relies on the generosity of our readers, such as yourself, to continue serving the kingdom. Every dollar donated goes directly back into our editorial coverage.
Would you consider partnering with us in our kingdom work by supporting us financially, either as a one-off donation, or a recurring pledge?
Support Salt&Light