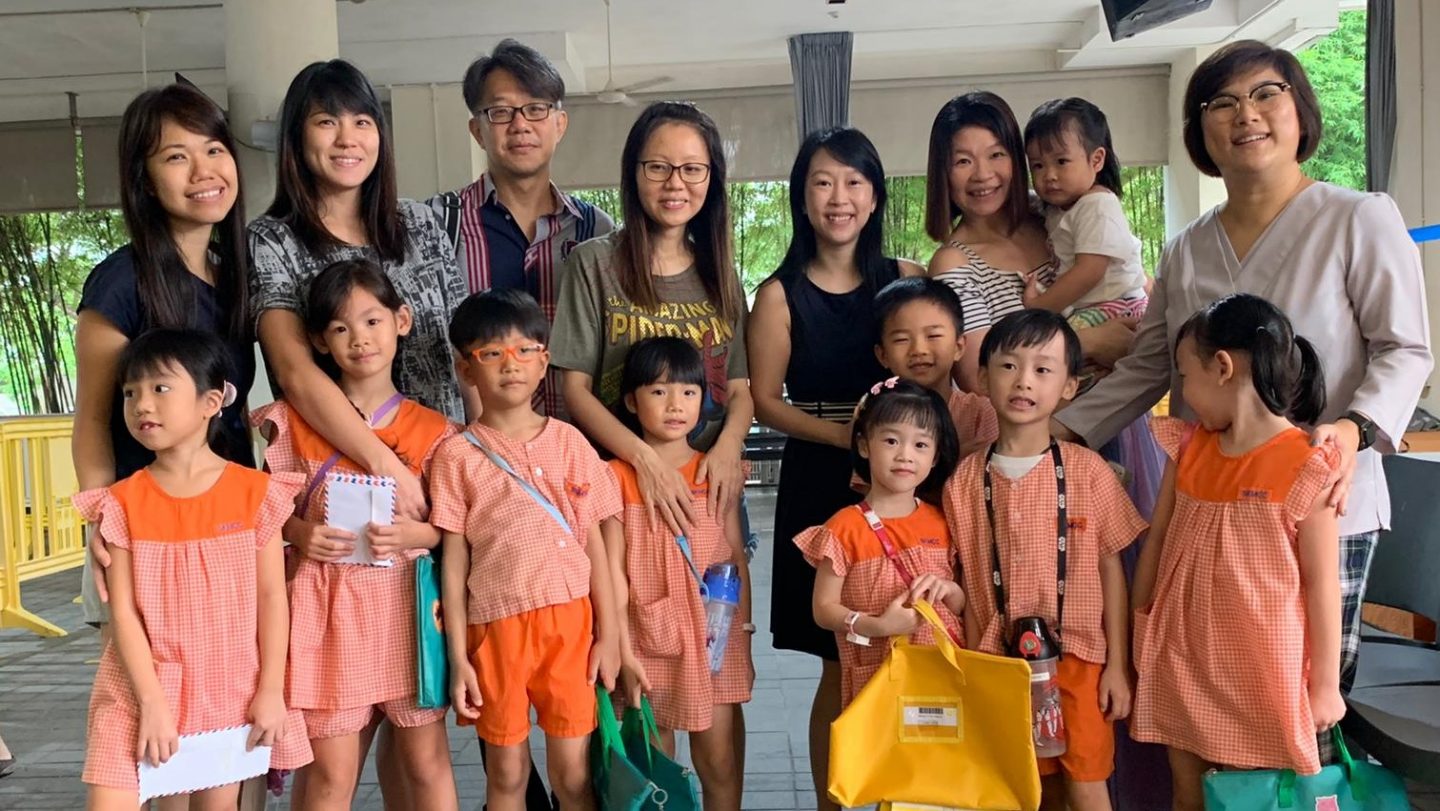 The mothers who rallied around Ronald Low and his family: (l-r) Delphine Eng, Esther Koh, Ronald Low, Ee Ling Palimarmo, Joanne Wong, Ceria Pang and Evon Cheo.
Three year-old Renzo Low insists on sitting on his father's lap, and wants to be part of the conversation. After a while, he asks: "Where is Kor Kor, why is he not home yet?"
This is a new daily routine and a new phase for Ronald Low's family.
Renzo's older brother, Ronzo, just started Primary One several days ago at Anchor Green Primary School. Ronzo is enrolled in the after school student care and will no longer be home in the afternoons.
Little Renzo himself just began nursery classes at Sengkang Methodist Church Children Centre.
For Low, who turns 50 this year, the change in the rhythm of the household is a poignant turning point.
Indeed, turning points have marked their family life in the last couple of years.
It all started with a shake-up that forever changed their lives.  
In November 2017, Low's wife, Huang Lu Yang, then 38, was hit by a bus just seven minutes' walk away from their home.
Death came suddenly and swiftly. In one fell swoop, Low, then 47, lost his wife and his sons their mummy.
He was left to piece together the family's shattered lives and to help his older son, who was about to turn four, to make sense of the tragedy.
Counting blessings
As a single parent, Low felt the heavy responsibility of raising his young children without their mother.
"The first few weeks was really tough. I was not just going through grief. I was also worried and fearful for the children," said Low.
But some of the weight and worry were alleviated when Low found himself receiving help from various quarters: A couple of distant relatives, some strangers, mostly acquaintances. All unexpected.
The mums gave gifts and advice, arranged play dates and even planned the boys' birthday parties.
Right after the tragedy, Low's aunt, who was in her eighties, would check in on him regularly.
"Every day she called me, telling me I needed to eat and what I had to do. It kept me going, and I thank God for her."
A man who attended the same church as Low's aunt (Glory Presbyterian Church) heard about Low's plight and offered financial help to settle the funeral matters.  
Another relative, not closely related, also lent a helping hand. "My distant uncle's wife came to me and gave me a very comforting word, 'Don't worry, we will help you to take care of the kids.'
"Immediately after the accident, she brought the children to her home so that I could manage the funeral. A few weeks later she said I could continue to leave the children at her home, so that I could settle back at work."
For several months the children, together with their helper, stayed in his relative's house in Ang Mo Kio while Low commuted daily to visit.
During that period, older son Ronzo had to enrol in Bethesda (Ang Mo Kio) Kindergarten, which turned out to be "very kind" to the bereaved family.
"I was not just going through grief. I was also worried and fearful for the children." 
"When they heard about my case, they gave me a subsidy and allowed my kid to enrol, no questions asked," Low recalled.
When the children were ready to go home to live as a family unit again, Ronzo had to re-enrol in his former kindergarten which was nearer to their home. But Low's concern was unfounded as Sengkang Methodist Church Children Centre had already kept a place for Ronzo.
"When I told the principal that my helper would not be able to take Ronzo home on time, the answer I got was so good: 'You just need to come back, I will settle the rest.'"
Much to Low's gratitude, the kindergarten even provided a school bus drop-off service for two years without charge.
The biggest surprise yet awaited the Low family when the school term started after the March holidays.
At the kindergarten, the mothers of six of Ronzo's classmates came alongside Low's family to journey with them. They were believers from different churches who banded together to befriend the hapless widower. 
All six mummies and their families lived nearby, some of them just a couple of blocks away.
The mums often dropped by Low's house with gifts, gave advice and tips, arranged play dates, organised outings, and even planned the boys' birthday parties, to the extent of putting up the décor and baking the cake.
"Whatever they bought for their kids, they gave my kids as well." 
"I was so touched by their actions. Whatever they bought for their kids, they gave my kids as well. Up till now, whenever they pass my block, they will get something for the kids. To be frank, I do feel shy about the many gifts." 
After a pause, Low added with tears in his eyes: "The six mummies really helped my family to move on." 
Along the way, Low got to know one of the husbands of the mothers, who bonded with Low over coffee and sports. He introduced Low to his cell group and eventually to Sengkang Methodist Church, where Low and his family worship today.
"The adults from the cell group would teach my son the same way they teach their children. They correct my kids the same way as they correct their kids. It is comforting, it is like having another family. I look forward to Sundays," said Low with a shy smile.
Little mercies
As he shared, Low was meticulous as he recounted every detail of how his friends helped him through the difficult period. As he related each incident, tears continually welled up in his eyes and flowed throughout the conversation.
They were tears of comfort and gratitude.
"If this is not God's arrangement, who else could it be?"
When asked what struck him most about the last two years, Low was quick to reply: "God's timing and God's arrangement of each step; every hurdle that I needed to cross, He prepared the way and brought people to journey alongside me."
From his distant relative taking in his children so as to allow him time to grieve, to bonding with the six mothers, to being introduced to a cell group where he and his children gel easily with the other families, Low said: "If these are not God's arrangements, who else could it be?   
"I can tell you I have never received such love before."
A difficult childhood
Enjoying the intimacy of God's family and the support of a community was an experience Low was unfamiliar with.
Low was brought up by his paternal grandmother.
His mother left him when he was young and he has not seen her since. His father re-married and started another family. Although Low's dad provided pocket money, there were no emotional bonds. His father would only visit Low an hour each month, at his grandma's request.  
"I was also indirectly supported by my uncles. They didn't intend to support me but because they gave an allowance to my grandma, she took money from there to support me. I was always thrown from this uncle to that auntie and when you are thrown around, you feel inferior," Low explained. "I felt like a second class child.
"I kept asking God: If He didn't want me to have a family, why didn't He just make me a complete orphan?"
"When we went out for family dinners, what my cousins had on their plates, I didn't get.
"I kept asking God why didn't He let me have a normal family and, if He didn't want me to have a family, why didn't He just make me a complete orphan? I was stuck between a yes and a no. I had something but I couldn't reach out for it; I had it, but I couldn't see it.
"Because of my unhappy childhood, I delayed my marriage and having children. I got married at 36 and had a child only at 43."
The only positive from his childhood was his grandma's faith. "My grandma was a faithful Christian who attended Wilkie Terrace Christian Assembly. She brought me to Sunday school and that continued until secondary school."
Although Low was distant from God for a while, his heart softened when he had his first child. "The root and foundation (of my faith) were still there. I look back at my own life and I know that, growing up, God's power held me back when I was asked to join the secret society many times but I did not.
"I wanted my children to have the same foundation as I did of following God's way."
The open door
As their children grew up, both Low and his wife started dropping them off at Sunday School in a distant uncle's church, God's Kingdom Bread of Life, and then going off for coffee on their own.
After the tragedy, Low started attending service regularly and was baptised a month later. 
"By not closing the door, I encountered so many people by God's wonderful arrangement."  
"When my grandmother was around, she constantly asked me to get baptised, and I always rejected her with one answer, 'I don't feel it is time yet.' This time the thought struck me: If this is not the time, then when is a good time?"
"After walking such a big round, God brought me back. Till now, when I sing hymns, my tears still come up," reflected Low. "There are many verses special to me.
"Because of my childhood, I didn't like to trouble people and never asked for help. I protected myself, did things alone and could not feel for others.
"After my wife's death, I almost shut my door, but God's Word constantly helped me. In times of need, somebody would send me Bible verses, my aunt would call and the people who were supporting me also reminded me not to close my door.
"I became stronger. The warmth kept coming and that helped me recover from my grief. 
"By not closing the door, I encountered so many people, by God's wonderful arrangement."  
Low told Salt&Light that he no longer questions and blames God for his upbringing "because now I feel the love of God. I have also reflected that probably that was the road that God wanted me to go through to be strong enough to handle the challenges of today. I need to constantly draw strength and wisdom from Him".
Low has forgiven his parents as well and said: "I still pray that one day we can talk together with love."
Three children with fatal genetic disorder, yet David Lang sees God's sovereignty
"No point being a hero outside and a zero at home": Fatherhood champion Jason Wong
If you have enjoyed reading Salt&Light...
We are an independent, non-profit organisation that relies on the generosity of our readers, such as yourself, to continue serving the kingdom. Every dollar donated goes directly back into our editorial coverage.
Would you consider partnering with us in our kingdom work by supporting us financially, either as a one-off donation, or a recurring pledge?
Support Salt&Light