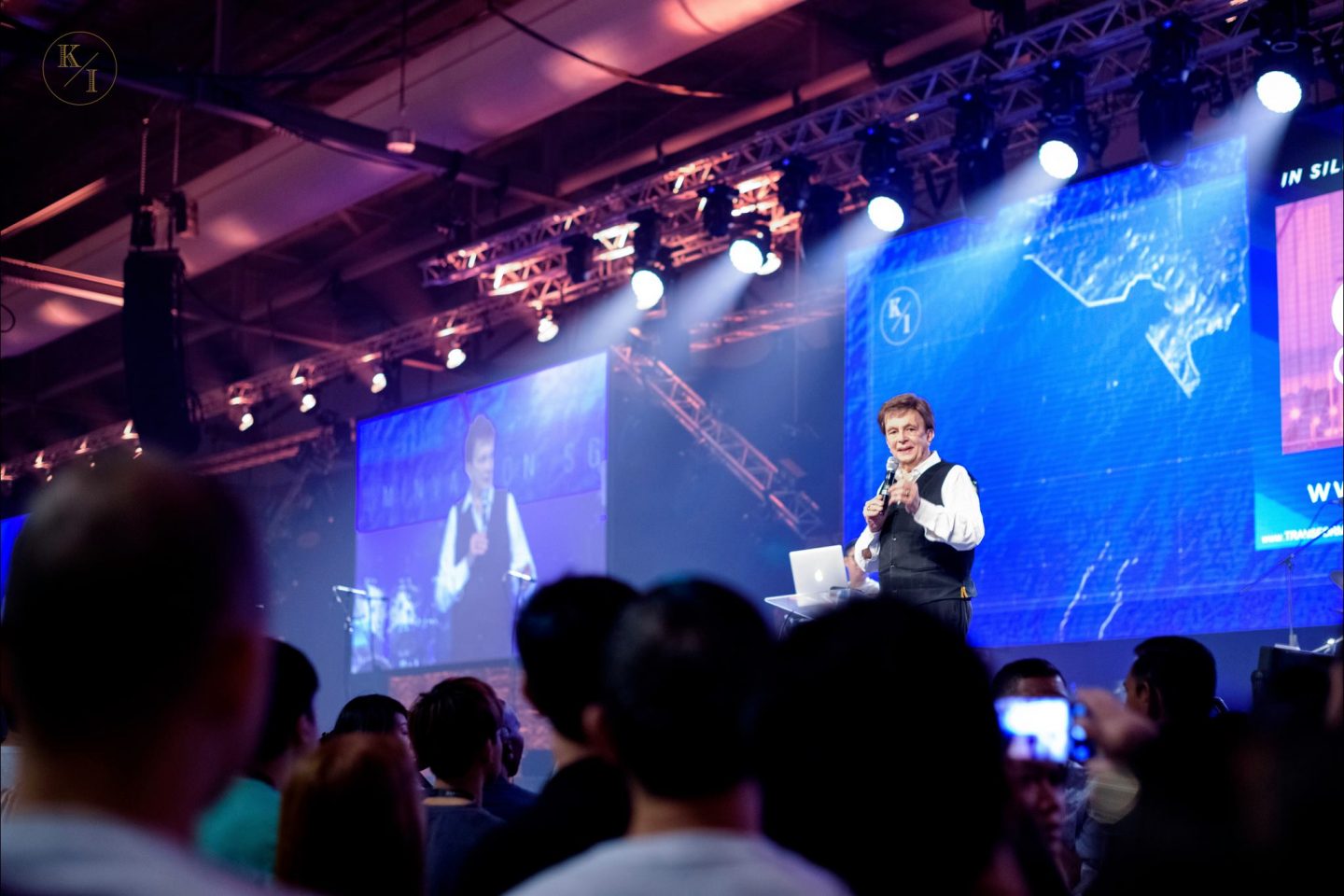 Ed Silvoso, 72, speaking to the audience at the Kingdom Invasion conference in March. Photo from Kingdom Invasion Facebook Page.
Disciple a nation. That was the call made at the recent Kingdom Invasion conference by Harvest Evangelism founder, Ed Silvoso.
His piercing speech went to the core of evangelism in the marketplace. To transform a city, he said, believers must recognise that they do not just "go to church", they "are the church".
"The finish line isn't more people going to church – it is discipling a nation." 
The 72-year-old quoted examples of Christians who led people to God through their work – an ice-cream vendor in Phuket who brought 700 people to Christ by praying over every ice-cream she sold, and a taxi driver who, by anointing his vehicle, cleaned up his city and led a rally where 10,000 new believers were ushered into the Kingdom.
"The finish line isn't more people going to church – it is discipling a nation."
The seemingly grand objective is not lost on marketplace Christians in Singapore. Those whom Salt&Light spoke to are already actively doing their part. They say they believe the key to meeting this goal is, indeed, by connecting with people one-on-one. 
Being a change agent
Camwerks' director and Prison Fellowship Singapore (PFS) volunteer Dan Lim has been on a journey of discipling others for nearly a decade.
The 47-year-old owner of the camera rental company hired former substance abuse offender Desmond Lim, 43, about six months after the latter was released in 2009. Desmond had been attending Antioch Chapel, a PFS partner church and where Dan is a lay pastor. 
But Dan didn't stop there. He later realised the potential as a boss and support group leader to disciple Desmond and the other staff, and nurture in them values such as humility, honesty and stewardship. 
For example, when Desmond first started at Camwerks, there were two instances when he almost got into a fight with clients. Dan explained to him that though the clients may have been at fault, "even if you win this battle, you will lose the war". 
"Ultimately, you lose a client. And all your colleagues will be looking at you."
For Desmond, this was wise counsel that gave him cause to change. He tuned in to his boss' advice, wanting to show that he was a teachable man. At the same time, he was extremely grateful to Dan for providing him with a means towards financial stability and felt an obligation to restrain himself.
"Discipleship isn't just about transferring knowledge. It's about how you act."
This new awareness carried over to the home front. Desmond sensed that God was also shaping him to be a better role model among his family members.
He adjusted his demeanour around his wife of five years, a non-believer whom he hopes will come to Christ one day. Where he used to get hot-headed, he now makes a conscious effort to calm down and figure out solutions to problems instead of yelling at her. They have a two-year-old son, whom he brings to church. 
"Discipleship isn't just about transferring knowledge," adds Dan. "It's about how you act. I tell Desmond to observe what I do. If I'm a different person from how I am at work, then I'm not a disciple." 
Desmond says he is heartened that Dan trusted him from the very beginning, despite his past, and that helped him embrace his responsibilities at work. 
"I was allowed to handle all the cash coming in without any scrutiny. I knew that I wasn't being judged." 
Mentoring and discipling 
Grace Methodist Church's Kelvin Kong believes evangelism is a slow and steady process that requires Christians to invest in personal discipleship.
The 38-year-old started a secular marketplace mentorship organisation called Voices of Asia, which aims to help professionals facing career difficulties and transitions by pairing them with a mentor. 
Kong says that he started Voices of Asia in 2010, after having gone through a tough season seven years before. He was juggling a job that required him to travel often, which meant he wasn't able to be home much for his family and his newborn. 
"I was very blessed because I had leaders who helped me through it. My family also continued to be very supportive.
"And I realised many people don't have that. So that's when I started to have that burden for people going through the same issue."
The workplace is an especially key area to minister in, as it's where people spend half their time.
Kong, who is also a senior vice-president of group learning and development at Lazada Group, hopes that through this sort of support sojourning, he will eventually be able to share how he encountered God. 
"I build strong relationships through the friendships and the mentorship, where I believe the receptivity to receive Christ becomes much greater. In the process, I create interest in hearing my testimony. And depending on their response, I will then invite them to receive Christ."
He points out that the workplace is an especially key area to minister in, as it's a place where people spend half their time.
"That's where the biggest needs are, and the best time to teach them life values."
Living it out 
Cornerstone Community Church's senior pastor Yang Tuck Yoong agrees that "discipling a nation" calls for Christians to form deep and "organic" bonds in the marketplace. 
"How do you win a nation? It's one person at a time," Pastor Yang says, noting that the marketplace is where one can "talk to people and gain their trust".
"It's a place where they will say to me: 'I know you are a Christian. I've seen how you live. Now tell me what do you really believe.'"
Desmond, for one, says he is "very encouraged" by Dan's efforts.
"Dan's very involved in prison ministry, and he's very patient with the ex-convicts, even when they keep calling him for help when they're released," says the Camwerks employee, who was baptised in 2010.
"Why doesn't he spend his spare time with his family? Or make more friends to benefit his business? Instead he uses the time to minister to all these people. 
"It's not easy for him, but because he knows God loves him, he wants to share that love with people and do something for God. His decision changed my heart, and when I saw this, I wanted to do something like that too." 
If you have enjoyed reading Salt&Light...
We are an independent, non-profit organisation that relies on the generosity of our readers, such as yourself, to continue serving the kingdom. Every dollar donated goes directly back into our editorial coverage.
Would you consider partnering with us in our kingdom work by supporting us financially, either as a one-off donation, or a recurring pledge?
Support Salt&Light