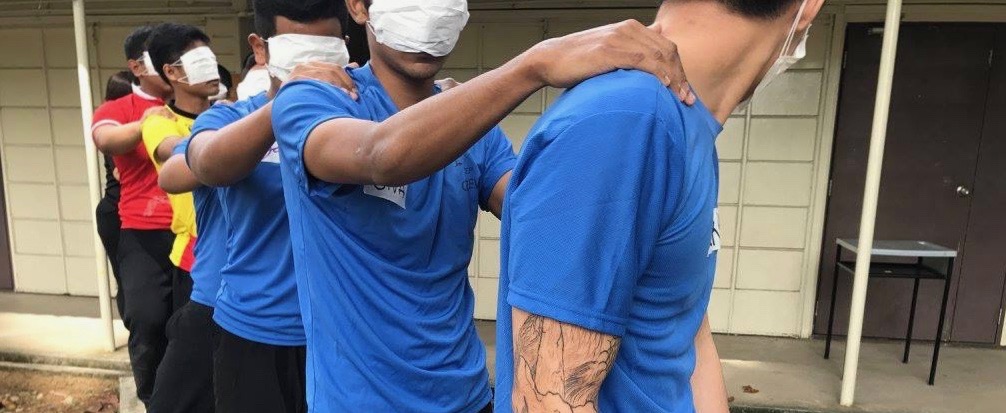 "Ex-offenders don't need sympathy, they need empathy," says Andrew Ong, an Architects of Life mentor who is himself an ex-offender. All photos courtesy of Andrew Ong.
While his peers prepared for the 'O' Level examinations, Andrew Ong was getting ready for a gang fight.
Glue-sniffing, theft, and violence marked his teenage years.
At 17, Andrew was arrested for rioting, sentenced to 30 months in jail and five strokes of the cane.
"My family was going through a rough patch and the gang became my family," Andrew, now 40, says. "I found a sense of belonging, mutual understanding and support. We were there for each other, although we were misguided."
It was only during his term at the now-closed Queenstown Remand Prison that Andrew found the understanding and support he craved, albeit from an unexpected source. Somebody had left a Bible in the cell, he tells Salt&Light in an exclusive interview.
"As a young boy I was like, 'Wow this guy zai man, this Jesus is a solid guy!'"
"I did go to church before, I had people coming up to me to share Christ," he said. "So I knew about Him, but I didn't know Him. Firsthand you read – it's different."
When he encountered Jesus through the Word, Andrew says he was intrigued by "His love, how He spoke out for the down and out, for the marginalised, how wise and witty He was with his answers and rebuttals to the Pharisees".
"As a young boy I was like, 'Wow this guy zai (cool) man, this Jesus is a solid guy'," he recounts with a laugh. "As I read more of His teachings, I saw how much love He has, and how holy He is at the same time. That part is really important – I was convicted of my sin, and I repented."
A Word that burns
Andrew's jail term was reduced following a successful appeal, something he says was only possible with God. Initially, all his cellmates and even the prison officer tried to dissuade him from appealing his sentence. Andrew, too, was on the fence, until he came across Matthew 17:20 in his cell, a verse he says "burned in his heart".
"At that time the High Court judge was notorious for being very stern; appeals that went through him were often tambah (added to)," recalls Andrew. "Whoever appealed and was found wasting his time or unrepentent, he would double the sentence. So my sentence was 30 months and five strokes of the cane; if I had lost my appeal, it might have become 60 months and 10 strokes of the cane. That was his reputation – 90% of his cases would go into tambah. 
"I was fearful – as a 17-year-old boy I was not strong emotionally. So I prayed and God gave the word to go ahead with the appeal."
"That's why the fear factor was so strong. The odds were against me. I was fearful – as a 17-year-old boy I was not strong emotionally. So I prayed and God gave that word to go ahead. I really went by faith and obedience when I followed through with the appeal. I remember that day in court – seeing the High Court Judge face to face, watching my lawyer do the talking, and observing how God orchestrated everything. I felt like I was in the eye of the storm. 
"In the end, the judge acceded to the appeal, we won and the judge even complimented my lawyer for doing a great job! My sentence was reduced drastically – I had already been in prison for four months and I just needed to fulfil another two more months.
"Not only that, I learnt that after he reviewed the case, all my accomplices who were already serving their sentences had their sentences also drastically reduced, even though they didn't appeal. So it felt like I was blessed to be a blessing when I stepped out in faith. A blessing is not only for you but for others as well.
"The whole process was so surreal, like 'what just happened?' It had to be God.
"You cannot do anything at all in prison – use your network or whatever – to make your circumstances more favourable. You really are at the mercy of God's hand. You can only pray and depend on Him to orchestrate things around you."
Andrew eventually returned to school as a private student, graduated with a bachelor's degree in communications management, and launched a career in marketing and communications.
Today, he heads corporate partnerships at a social enterprise, following a four-year work stint in Vietnam.
So transformed is his life that he has even changed his name.
One day as he was reading about Jesus inviting Peter and Andrew to follow Him (Matthew 4:18-19), he felt his spirit stir. "I felt as if Jesus was calling out to me as 'Andrew'," he said.
"The old me (Kelvin Ong) is no more. Now in Christ, I am Andrew with a new mission in life ordained by God and I embrace His call. I'm no longer looking back."
Besides a successful career, Andrew has also built a desire to use his story to help others re-write theirs.
This desire led him to join Architects of Life (AOL), a social enterprise focusing on reaching ex-offenders and at-risk youth, among others.
Since 2014, AOL has reached more than 108 young persons in residential care.
"At that point (in the late 90s), there were only a handful of ex-offenders that came out to share their stories," he said. "When I came out, I spent a lot of time searching for role models. I was always thinking to myself that if I had a mentor to help me I could have at least navigated or had some clarity for the decisions I made."
No shame
For Andrew, ex-offenders don't need sympathy, "they need empathy".
As an AOL mentor, Andrew and his peers speak to and mentor youth-at-risk at various institutions, sharing with them their own stories, "not to glamourise what we did, but so they know that we know what we are talking about".
"Don't lie low and be ashamed of your past. Come out, tell your story, make good your past for the betterment of society."
"Those that come out also have a lot of insecurities, a lot of fears, questions about practical issues," he said. "If we come from the same background we can connect straightaway. We build that rapport, gain their respect and then we can advise and speak into their lives. I think that's very important."
Andrew adds that AOL does not just aim to re-integrate ex-offenders and youth-at-risk into society, but to mentor and encourage them to become "archetypes" of society.
"The meaning of archetype is 'role model' or 'champion', a pattern that you should follow," Andrew says. "That is what we aim to do. We're not interested in you just re-integrating, lying low and being ashamed of your past, hiding your past. Come out, tell your story, make good your past for the betterment of society."
Last November, AOL commemorated its fourth anniversary with a collection of these stories.
Fittingly, the book is called From Stereotypes to Archetypes, and tells the stories of the transformed lives of six ex-offenders – Andrew's included.
Senior Parliamentary Secretary at the Ministry of Social and Family Development Assoc Prof Faishal Ibrahim launched the book together with AOL Founder-Chairman, Mr Glenn Lim.
"Everyone deserves a second chance," Teo Ser Luck, former Minister of State for Trade and Industry/Mayor, North East District, writes in the book. "The examples in this book and their struggles, serve as lessons for many. If only we can embrace failures better, believe in them, this society would be for the better. This book helps us understand their plight and hope to better appreciate the need to give them a second chance." 
"There is more that we can do to change both the stereotypes the community has of ex-offenders, and stereotypes that ex-offenders and youth-at-risks have of themselves," echoed Mr Lim. "It is only with a collective effort from the community, families and individuals that we can effect this change, and we are only a small part of these efforts."
Limitless 
According to recent statistics, 3.4% of the total prison population in Singapore consists of juveniles, minors and other below 21. The number of juvenile arrests have declined overall in recent years – from 1,783 in 2009 to 1,057 in 2016. However, there was a slight increase in 2017, with 1,088 juveniles arrested.
And Andrew believes much more can be done, especially for those at risk of re-offending.
The recidivism rate was 26.5% for the 2014 released cohort. Volunteers such as Andrew, and other volunteers in the Singapore Prison Service (SPS) and the Singapore Corporation of Rehabilitative Enterprises, are intent on efforts to prepare inmates for release and rehabilitate them into society.
"Don't label ex-offenders, don't limit their potential because of their past. The past does not define who they can be."
"The current (youth) landscape is much more complex than before because of the plethora of choices and information out there," he tells Salt&Light. 
"To be honest, there are more failures than success stories. I think aside from AOL reaching out, it is really a platform for ex-offenders to come in to contribute, and I would say in the last two years we managed to sort of assemble more ex-offenders coming together to help them fulfil their purpose, coming together for a common good."
 For 2019, Andrew says he hopes to reach out to and gather ex-offenders together in "a more concerted, more strategic manner".
"We hope to be a community," he said. "There are a lot of stories out there, but everyone's doing their own thing. If we can bring all together through a collaboration, that would have a greater impact."
Ultimately, Andrew says his conviction comes from the power of the Gospel to "redeem and repurpose", citing 2 Corinthians 5:17.
"If anyone is in Christ, he is a new creation. The old has gone and the new is here," he tells Salt&Light. "I hope there'll be more acceptance. I think don't label them, don't limit their potential because of their past. The past does not define who they can be.
 "Who did God choose as apostles, His disciples?" he adds. "Fishermen, tax collectors, the sinners. He didn't choose those who were doing well – so in the same light I think we can show society that these individuals can surprise you with what they can do."
From Stereotype to Archetype retails at $20, with all proceeds going to the Architects of Life social enterprise that aims to foster the human potential of youth-at-risks and ex-offenders through developmental and intervention programs. To purchase a copy, please email [email protected].
Architects of Life has also released a new book, My Sentence to Success, which features 30 short stories from 30 individuals who have undergone rehabilitation. Each book retails at $20. To purchase a copy, click here.
If you have enjoyed reading Salt&Light...
We are an independent, non-profit organisation that relies on the generosity of our readers, such as yourself, to continue serving the kingdom. Every dollar donated goes directly back into our editorial coverage.
Would you consider partnering with us in our kingdom work by supporting us financially, either as a one-off donation, or a recurring pledge?
Support Salt&Light