Church begins on Mondays
Looking for a marketplace group of likeminded Christians? In this Ministers in the Marketplace series, we feature groups that you can get connected with.
by Geraldine Tan // May 11, 2018, 1:22 am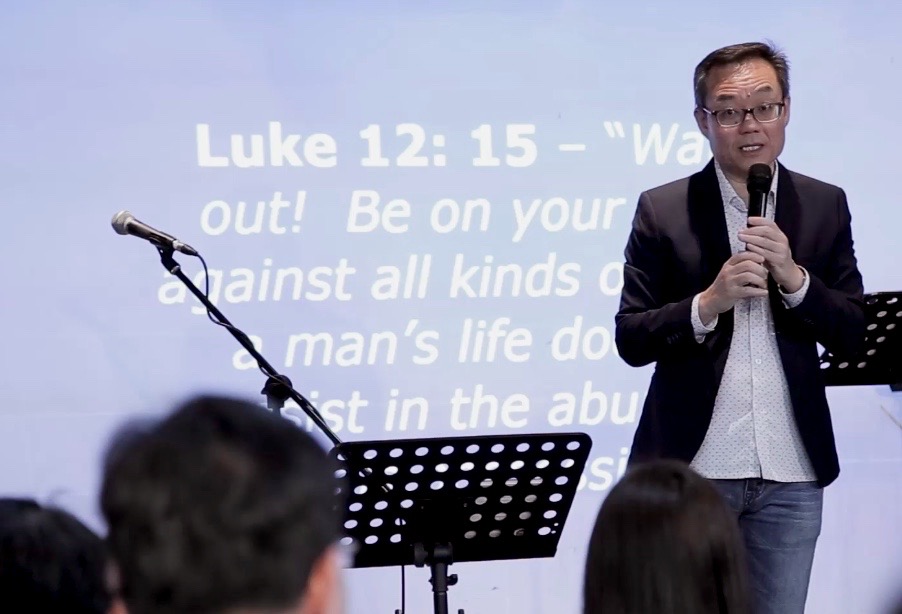 Pastor Benny Ho at a pre-Covid marketplace talk, exhorting the crowd to place their priority on people, not possessions.
Chatter abounded as executives, young and old, gathered during their lunch hour in Raffles Place. Yet it wasn't the food they were here for but the spiritual food by Pastor Benny Ho.
The lunchtime marketplace talk organised by [email protected] was fully subscribed, with organisers closing registration a week before the April 27 event.
The [email protected] group has been meeting faithfully for nearly a decade, birthed out of Pastor Ed Silvoso's proclamation that church begins on Monday, shared Christine Cheah, one of the group's founding members.
It started with just three colleagues from different churches, who wanted to gather to pray and edify one another. As word spread, the group grew and expanded to include friends from other companies. 
"At [email protected], we seek to create the awareness that we need to live out the 'Christ in us', and not be ashamed of the Gospel," said Cheah, adding that in everything the group does, it aims to encompass at least one of the three Es: evangelise, edify and equip.
"We create platforms for people to share their dreams, passions and struggles, so that through the testimonies of others, we can expand their horizons and spur them to be the salt and light for God in the workplace."
City on a hill
The 220-seat auditorium swiftly filled. Soon, a chorus of praise and worship rose – reminiscent of a church service, except this is taking place on a Friday, in the heart of Singapore's business district.
"We hope to instil the concept that God is at work even in the marketplace, not just in church," said Cheah, 47. "Through the programmes that we run, we have seen salvations, lives transformed. We are just a touch point; we do not see ourselves as replacing the church. As such, we would always encourage our friends to be connected to a church community for follow up."
"God is at work even in the marketplace, not just in church."
On a more personal note, Cheah revealed that the marketplace group has added a new dimension to her professional life: "The reason for work is no longer just bringing food to the table, but work is worship."
As Pastor Benny took the stage, he cautioned the crowd, the majority of whom are in the finance industry, that there will never be enough money or possession when greed rules. (Luke 12:15) He exhorted them to place their priority on people, not possessions – a principle that [email protected] embodies and hopes to spread.
"For those who have yet to know Him, we hope they catch a glimpse of Jesus through our connection and engagement," said Cheah, who is also vice-president at a leading insurance company. "For the believers, we pray for an awakening. And we hope that they can start a prayer group back in their own office in due course." 
Transforming a city
The talk drew to a close, with Pastor Benny reminding the crowd that their jobs are a God-given responsibility and a gift, and if they have the right perspectives on wealth, they can transform the nation.
"This talk is helpful for the marketplace because it is like an oasis, where we can drink from the Living Water during our lunchtime," said Angelic Seah, 65, a finance director at a recruitment firm.
Cheryl Han, a 31-year-old bank executive, agreed. "The teaching was a refreshing reminder of why I am in the marketplace and what truly matters.
"These talks are really helpful in punctuating the work week. It is a real blessing to see the faces of my larger spiritual family and fellowship with them in a marketplace context! There's just a heightened sense of unity, as we meet regardless of our church affiliations. That's a precious reminder that we are one Body of Christ."
Their remarks are a testament to the impact that [email protected] has had in the marketplace. Cheah hopes that by sharing the humble beginnings of the group, more believers will rise up to start their own marketplace groups.
"It only takes a spark to get the fire going. It begins with a desire to want to make our lives count. Find two or three like-minded Christians, commit to meet and pray, and then the Lord will direct the next step," said Cheah. 
If you have enjoyed reading Salt&Light...
We are an independent, non-profit organisation that relies on the generosity of our readers, such as yourself, to continue serving the kingdom. Every dollar donated goes directly back into our editorial coverage.
Would you consider partnering with us in our kingdom work by supporting us financially, either as a one-off donation, or a recurring pledge?
Support Salt&Light