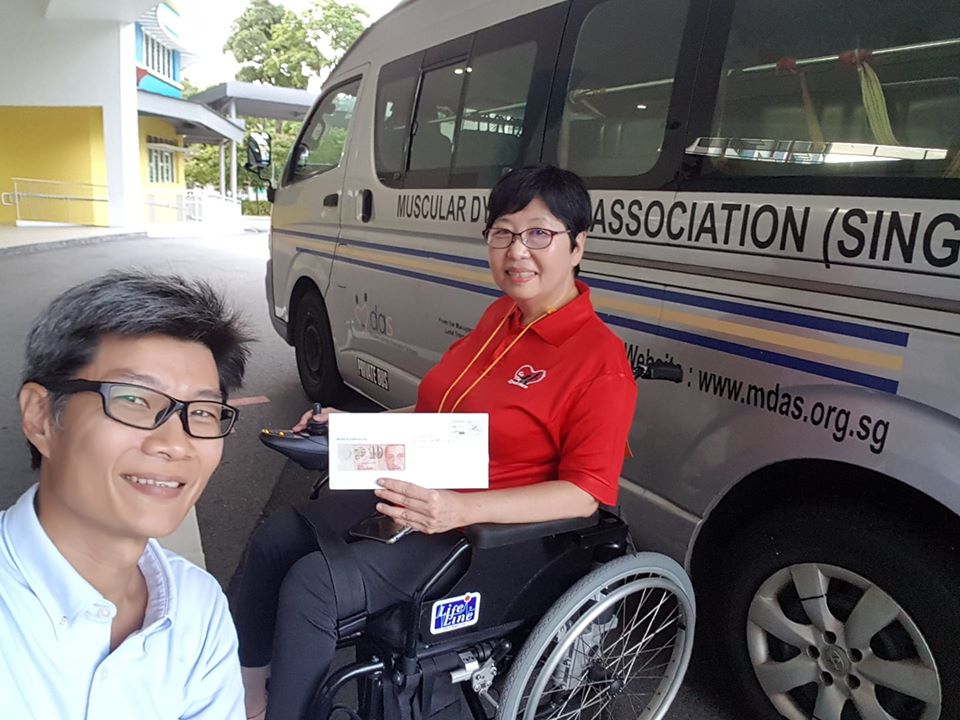 Richard Yeoh with executive director of the Muscular Dystrophy Association Singapore (MDAS) Sherena Loh, who commended him for his gentleness, compassion and patience in transporting wheelchair clients. Here, Yeoh had just presented MDAS with a donation given by his friend. Photo from the Go Forth Facebook page.
When Sherena Loh arrived at the private function she was invited to, she realised that there was a huge obstacle awaiting her – a long flight of stairs.
There was absolutely no way that Loh, 61, who has muscular dystrophy and moves about in a wheelchair, would be able to ascend it on her own.
"He really went the extra mile for me."
Seeing this, Richard Yeoh, the wheelchair transportation provider whom Loh had hired to ferry her to the function, immediately jumped into action.
Together with his wife and a few others, they embarked on a challenging and somewhat dangerous feat, which involved using a plank as a makeshift ramp to push Loh's wheelchair up the stairs.
When she was safely at her destination, Yeoh left, but not before telling her: "I'll be in the area having dinner. At any moment you need help, call me."
At the end of the event, Yeoh returned, rolled up his sleeves and began the task of bringing Loh safely down the stairs. Though the long-drawn challenge ended at 11pm, Yeoh was cheerful and said he was glad to be of service.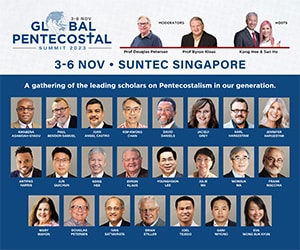 "I was really appreciative," said Loh, who is the executive director of the Muscular Dystrophy Association (Singapore) (MDAS). "He really went the extra mile for me."
Origami angels
Going the extra mile is exactly the ethos of Yeoh's business, Go Forth, which provides transportation for wheelchair users. 
Yeoh, 48, and his wife, Lee Yuet Mei, 49, spend their days on the road, typically ferrying about two to three clients a day, some for their medical appointments and others for recreational activities like concerts or a trip to the beach with family.
But they seek to provide more than just that.
During the journey, the easygoing couple make it a point to make conversation with their clients and learn more about their lives and needs. Yeoh also often gifts them with little origami animals or angels folded by himself.
"I pray that every journey is a connecting point where people hop on and know that this is a familiar uncle and aunty, that this transport is personal," said Yeoh.
Their mission – that "everyone is worth the extra mile" – is reflected in their little acts of patience and attentiveness, which clients deeply appreciate.
In a review on their Facebook page, one client wrote: "They care sincerely about the physical and emotional comfort of wheelchair users and their companions."
Another review read: "Thank you Richard and Mei for your service from the heart!"
Frog in a well
Just under three years ago, Yeoh was living a vastly different life. 
A 26-year veteran at a large petrochemical company, he spent a large bulk of his days on an island off the coast of Singapore dealing with oil movement technology and product quality.
"Lord, I have spent 26 years in this industry. Do you want me to go on? What is Your purpose for me?"
He was like "a frog in a well", his wife said. His life revolved around his work on the island, leaving him with little time or energy to think about anything else.
Helping people with disabilities was most definitely not on his radar, as he neither had a physical disability nor knew anyone close to him who did.
But in 2017, Yeoh began to feel "deep stirrings" in his heart and spirit, fuelled by a growing lack of fulfilment at work.
"Lord, I have spent 26 years in this industry. Do you want me to go on?" he asked. "If You do, what is Your purpose for me in doing so?"
While he yearned to seek the Lord wholeheartedly on this matter, he did not have the time as his work was simply too hectic.
But in God's good timing, Lee, a trained nurse who was then a stay-home mum, received an opportunity to work full-time in a hospital, freeing Yeoh up to take a year-long sabbatical that February. 
"I had to step out in order to step up," said Yeoh, who spent the next year cooking, washing and taking care of his sons, all the while pondering God's next steps for him.
A call 
That same June during a church conference, as Yeoh asked the Lord for direction in his next steps, Acts 3:6 suddenly came to mind: "Silver or gold I do not have. But what I do have I give you: In the name of Jesus Christ of Nazareth, get up and walk!"
Yeoh said: "And very clearly the Lord said, 'Richard, go. Go forth.'"
He was unsure of what that meant but decided to mull over it until he gained more clarity.
"Very clearly the Lord said: 'Richard, go. Go forth.'"
At another Sunday service, he was gripped by the account in Luke 5:18-20 which tells of how some men lowered a crippled man through the roof for Jesus to heal.
There was a common thread about the crippled, Yeoh noticed. "I began to ask: What about the crippled in Singapore? How do they move around?"
A complete novice in the area of mobility for wheelchair-users, he spent the next few months learning more about how these people get around and whether there were any gaps that he could fill.
Filling a gap
From his research he noticed that while the public transportation system has been made more accessible for people with disabilities – 99% of public buses are wheelchair-accessible and more than 80% of MRT stations have at least two barrier free access routes – there are still some limitations.
For example, buses can only accommodate only one wheelchair user at a time, making it inconvenient if there is more than one user who wants to board the bus.
While public transport has been made more accessible for people with disabilities, there are still some limitations.
Along the older MRT lines like the East-West line, which was constructed before accessibility issues were surfaced, the gap between the train and platform is also too large for wheelchairs to go over smoothly.
"The wheels can get stuck, which can be quite dangerous for them because the doors are closing and they need the public to help to lift them into the train," said Yeoh, adding that it is no easy feat for even two strong men to lift a motorised wheelchair. 
Completing the last mile journey may also pose a challenge if they meet with areas that do not have wheelchair-accessible ramps. In such cases, they often have to spend more time and effort figuring out another route, said Yeoh.
It is these challenges that push wheelchair users to pay more and opt for alternative transportation services, said Lee, although they are very independent and "really want to move around on their own". 
Surveying the wheelchair transportation service scene, Yeoh also noticed that while there are several players in the market, many of them only serve specific groups, like the elderly or dialysis patients.
Some charities that provide transport services also require their beneficiaries to go through means-testing to qualify for subsidies, leaving out a "sandwiched group" of users, Yeoh said.
These gaps were further confirmation that there was a place for him in the industry as well as wheelchair users for him to serve. Though many around him expressed some apprehension over his new endeavour, Yeoh continued to have faith in God's leading and provision.
He spent the next few months preparing himself by taking CPR and AED certification courses, obtaining his vocational license, purchasing a van and retrofitting it with a hydraulic lift. In all, he invested about $130,000 to set up the business.
Humble start
By December 2017, Go Forth was up and running. There was only one problem: Yeoh had no clients, and still no practical experience.
"I was thinking, who will guide me? Who will teach me? I said Lord, you have to be in this, if not it will be very difficult."
In faith, he set out one day to the Junction 8 Office Tower, where he knew many social service organisations have their offices.
At the lobby he traced his finger through the directory looking to see which organisation may need his service. The Muscular Dystrophy Association (Singapore), or MDAS, caught his eye.
"Lord, you have to be in this, if not it will be very difficult."
Armed with his freshly printed company flyer and name card, he took the lift up to the sixth level and rang the doorbell, introducing himself as a transport provider for wheelchair users.
He scored a meeting with a senior manager who, though surprised he had no prior experience, graciously offered to use his service to transport two of their beneficiaries and guide him through the process.
"I said, okay! On, on! I'll make it free for you," Yeoh recalled.
Just like that, with a helping hand from MDAS, who provided him with not just clients but also friendship and practical advice, Yeoh's business got off to a humble start.
He gradually learnt the ropes through practice and came to be more familiar with his clients' needs through his conversations with them.
Lee joined her husband full-time in 2019, her nursing skillset an added asset as she can be a medical escort for clients who require a caregiver to accompany them for medical appointments.
Sowing seeds
Looking back at the past three years of his business, Yeoh reflected: "Is it profitable? Not really. Sustainable? Barely. Rewarding? Definitely."
He finds meaning in meeting new people, listening to their joys and difficulties and encouraging them in their lives or in their road to recovery.
"Is it profitable? Not really. Sustainable? Barely. Rewarding? Definitely."
Some regular clients have even turned into friends who, in a truly Singaporean way, buy food for them when they do a trip together.
Recently one of his clients, a 40-year-old stroke patient whom he has been ferrying for the past two years, gave him a wad of surgical masks after overhearing his conversation with her caregiver about his struggle to obtain them.
"I was speechless. This is something I will never forget," Yeoh said.
The current challenge for Go Forth, as well as other wheelchair transportation service providers in the market, Yeoh said, is to ensure an optimal matching of demand and supply.
Yeoh and Lee have befriended and are working with five to six "friendly competitors" to make sure that clients can get a ride more seamlessly without having to call up individual providers one by one to check if they are available. 
A WhatsApp chat group now serves as an informal platform for coordination. For example, if Yeoh receives a request that he cannot meet, he sends it to the group for other transport providers to pick up if they are able.
Only when this issue of utilisation is sorted out can business become more sustainable, he said.
"This is how God has been leading us by slowly sowing seeds. The WhatsApp chat platform is what we have for now, but down the road we don't know if God will raise someone to create a better application or platform."
He hopes that in time to come people with disabilities will have convenient and effective transportation options that allow them to move about as freely as those who are able-bodied.
"That's my vision – that mobility and accessibility can be a normal thing for people with disabilities."
"God gives me enough muscle for today": Sherena Loh, head of the Muscular Dystrophy Association (Singapore)
How do we enable differently abled persons to be full participants in the community of faith?
If you have enjoyed reading Salt&Light...
We are an independent, non-profit organisation that relies on the generosity of our readers, such as yourself, to continue serving the kingdom. Every dollar donated goes directly back into our editorial coverage.
Would you consider partnering with us in our kingdom work by supporting us financially, either as a one-off donation, or a recurring pledge?
Support Salt&Light