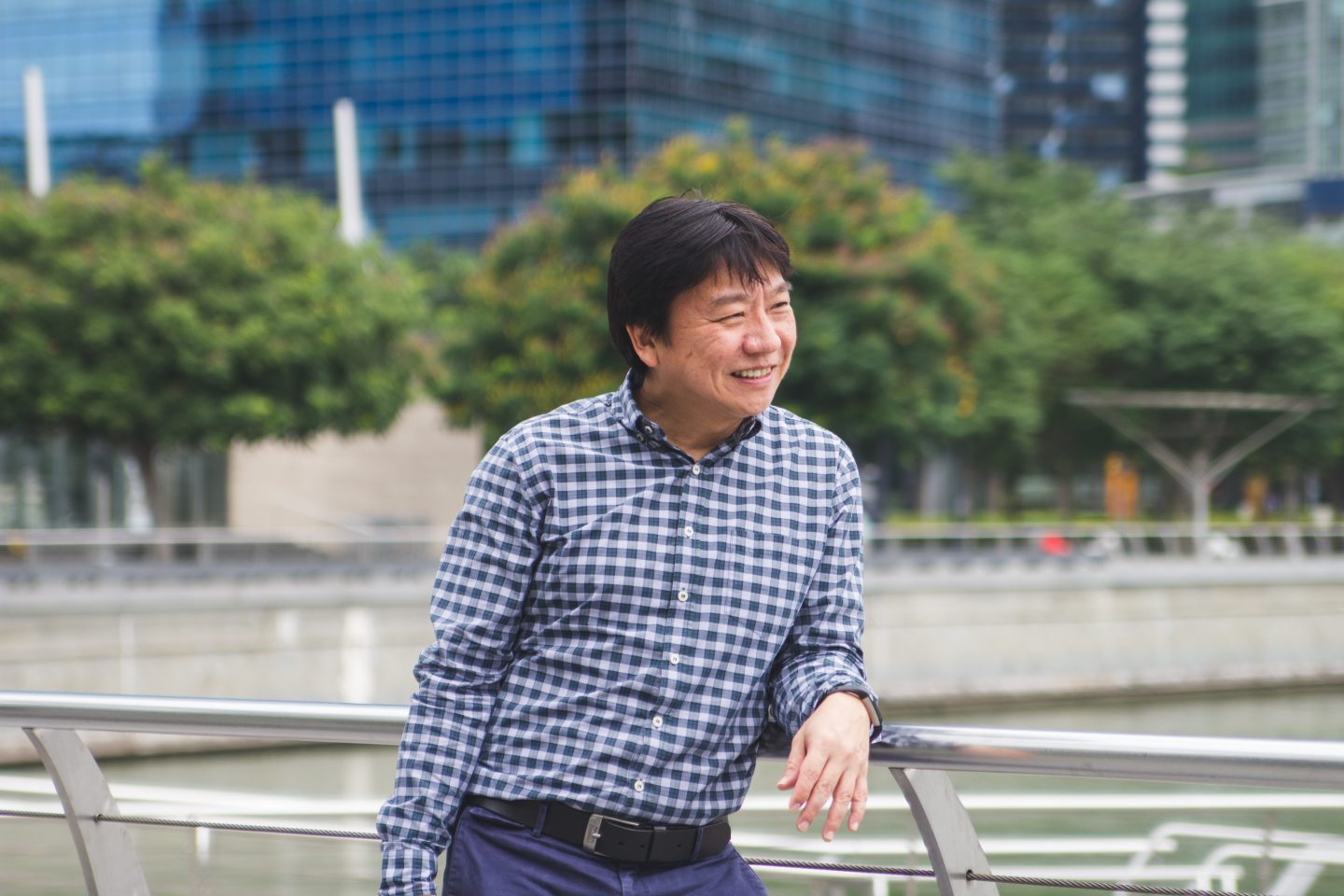 Work is now even more fulfilling as Alpha has given him a chance to share the Good News with his colleagues, says Michael Chiam. Photo courtesy of Alpha Singapore.
Chloe* was planning to take her life as she felt that life had become meaningless. At the invitation of a colleague, she attended an Alpha group near her office. She struggled with the ideas being discussed as she was the only non-Christian in the group, yet she was strangely drawn to the meetings.
Her persistent seeking led her to receive God and accept Jesus Christ as her Lord and Saviour.
Chloe's encounter with God at Alpha in the workplace is what keeps Michael Chiam going. He witnessed first-hand Chloe's transformation and how her countenance was lifted as each session passed.
"There are people in the Central Business District (CBD) that are actually seeking. It is just that there is no avenue, so Alpha in the workplace can play a very good role here," said Chiam, 56.
Reluctant return
Although he works as a vice president in a local bank, he does not attach any KPIs (key performance indicators) to the Alpha sessions that he runs.
"Alpha in the workplace can play a very good role in the CBD."
"Even if there is just one (non-Christian), I would not mind running Alpha," he said, referencing Matthew 18:12-14. 
"Even one person coming to Christ is significant and there is big rejoicing in Heaven! I really praise God for Chloe."
Chloe's initial resistance is something Chiam is keenly familiar with.
His return to the banking industry in 2003 was an unexpected one: "I asked God, 'Why am I back in this district? Why am I back to this old trade that led me away from You?'"
He was a successful investment banker but was abruptly made redundant in 2000. It was then that he reconnected with God and spent the next three years volunteering at the Catholic Spirituality Centre.
God reminded him that people in the CBD area need Him as well.
He purposed in his heart to remind those he worked with that the pursuit of money is not the be all and end all in life (1 Timothy 6:10), that there is something bigger and better to live for – God.
Since attending his first Alpha course in 2005, he has gone on to facilitate about 10 Alpha runs in the marketplace.
Drawn to the light
Chiam recognises the challenges that some may face when trying to invite colleagues and friends to an Alpha course as it may not be easy to broach the topic of religion and our need for God in the marketplace.
"Live a life that shows the reality of the Gospel. When people see that, they will naturally be curious."
His advice: Live a life that shows the reality of the Gospel. 
"When people see that, they will naturally be curious. So create opportunities all the time – in conversations, even during work – to testify of God's goodness. (Psalm 71:15)
"It will stir them and eventually, when I start Alpha, I just ask them, 'Are you curious? Do you want to come?' Most of them accept," shared Chiam.
But he has also encountered hard questions from attendees who have witnessed Christians behaving badly.
How does he address this?
"I share my life: How I was and how I am today and leave the judgement to the seeker. I can't force you to believe. I can introduce the faith to you but I can't tell you that you must accept it. It is your choice," replied Chiam.
"It is all about how we live our lives." (Philippians 1:27)
Beyond the pulpit
For Christians who are keen to start an Alpha course in their office or home, he advises them to "just do it"!
"We tend to think too much, logistically, financially, how are we going to do it," said Chiam. But in his years of conducting Alpha, he has experienced God's providence – God raised up a team to help him, provided financial aid through colleagues and even eased the booking of meeting venues.
"Our faith is not about selling or coercing … we plant the seed and then let the Holy Spirit take control."
The Alpha discussions are designed to allow people to explore the Christian faith.
His next advice: Get proper training with Alpha Singapore.
Having gone through an Alpha course is different from hosting one, he explained. He added that the host's job is to encourage participants to speak and not to hijack and dominate the conversation.
"We should not be preaching," he added.
The Alpha discussions are designed to allow people to explore the Christian faith. He drew parallels with believers of other faiths sharing the tenets of their religion with non-believers. The beliefs may be met with scepticism. 
"We have to respect that. Our faith is not about selling or coercing, it is about leading people to open up their hearts. We plant the seed and then we let the Holy Spirit and God take control. (1 Corinthians 3:6-8)
"The transformations that you see when you run Alpha is beyond any worldly rewards. You can really see how people look at life differently – relationships and almost everything else – when they're touched by God.
"I'm just an instrument, giving people the chance to know who God is. If nobody steps up to give people the chance, then there's no chance. So I would encourage anyone who is thinking of running Alpha, to just do it."
*Name has been changed to protect her identity.
Want to start Alpha in your office or home?
To achieve the dream of having Alpha Everywhere groups within everyone's reach in 2019, the Alpha Singapore team will be holding training sessions across different locations to equip Alpha hosts and helpers with the necessary skills to run Alpha.
The training sessions cover topics such as "The Values of Alpha", "Small Group Facilitation" and "Practicalities".
Dates:
Saturday, January 26, 2019, 9am-1pm, at Church of Our Saviour
Saturday, February 23, 2019, 9am-1pm, at St Andrew's Cathedral
Saturday, March 2, 2019, 9am-1pm, at Bethesda (Bedok-Tampines) Church
Cost: $20/person
Sign up here.
If you have enjoyed reading Salt&Light...
We are an independent, non-profit organisation that relies on the generosity of our readers, such as yourself, to continue serving the kingdom. Every dollar donated goes directly back into our editorial coverage.
Would you consider partnering with us in our kingdom work by supporting us financially, either as a one-off donation, or a recurring pledge?
Support Salt&Light