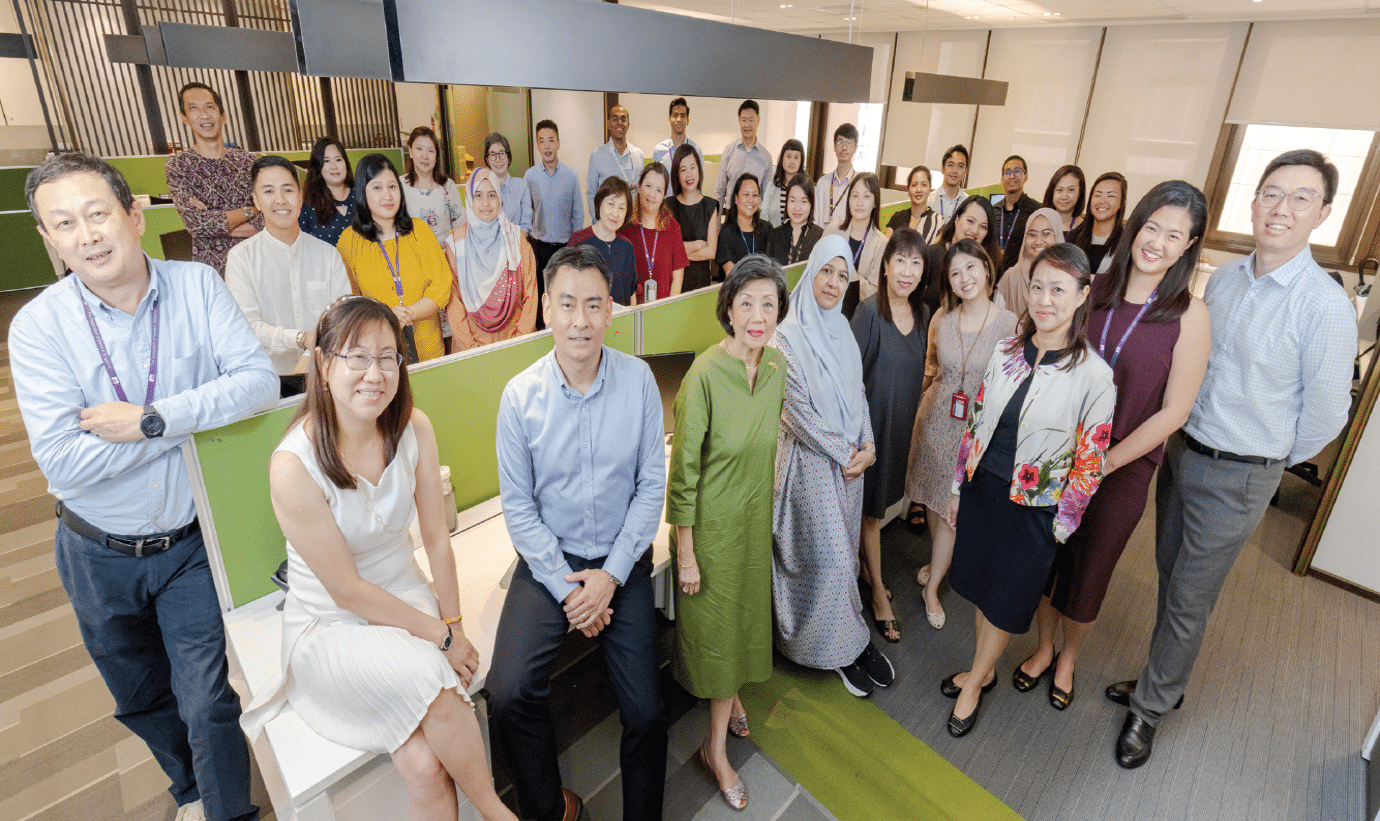 The 40-strong Association of Banks in Singapore team in 2023. Ai Boon (in green), was a self-described office "terror" and "bully" until God got her attention with one spiritual encounter after another. All photos courtesy of Mrs Ong Ai-Boon.
Ong-Ang Ai Boon has been heading the Association of Banks in Singapore (ABS) for the last 40 years. At 77, she is still its director, leading the association to represent the interests of over 150 local and foreign banks in the financial industry, as well as working with regulators to establish a sound banking structure for Singapore.

Her recently launched book, "It's Not Me", chronicles the story of how the hand of God has guided her through the ups and downs of her professional and personal life.
Here is an excerpt from the book on how her faith encounters helped tame and shape the leader that she would become.
---
In 1985, I almost died.
At that time, China was opening up and I was scheduled to accompany then ABS Chairman, Mr Allan Ng (former Deputy Chairman of UOB), on a trip there. He was leading a delegation of 25 representatives from local and foreign banks to foster ties with the Chinese.
Interestingly, two months before the trip, I felt I needed to tell my deputy, Lucy Kwok, to get her passport ready.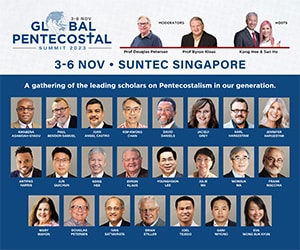 Naturally, she asked why. I didn't know and couldn't explain it either, but I simply repeated my instructions to her to just get her travel documents in order.
Two months before the trip, I felt I needed to tell my deputy, Lucy Kwok, to get her passport ready.
Of all times, my wisdom tooth had to act up just a week before the trip. I knew I'd better get it fixed before I travelled, so I headed to the dentist. He extracted the tooth and prescribed me some antibiotics.
I am all settled then, I thought. But who would have foreseen that I would break out in hives over the next two days?
One evening, I suddenly felt faint while removing my makeup in the bathroom. Immediately, I went to lie down on the bed and asked my older son, Tze Lin, who was in the room, to call his father.
I found myself fast losing consciousness, and my breath getting colder and colder.
Yet, I was still aware of my husband telling the three children and my mother-in-law to get down on their knees to pray for me.
As I listened to him praying to the Lord for me to get well, I realised I was also slipping out of my body through my head.
An unusual vantage point 
I felt myself floating away and I could see from the ceiling in the room a formation of the five of them kneeling by my bedside praying for me as my physical body remained still and straight on the bed.
I couldn't help thinking to myself then: "What a lovely prayer for healing – they were telling the Lord how much I was still needed and loved … It was a prayer worth dying for."
I stopped floating when I reached the corner of the bedroom. I couldn't move further and was stuck up there for a while. Suddenly, I felt myself descending and my breath getting warmer and warmer.
"They were telling the Lord how much I was still needed and loved … It was a prayer worth dying for."
What exactly was happening to me?
I realised that I was re-entering my body again through my head from where I had left. As I fit back into my physical body, it felt just right — just as how a hand fits perfectly into a glove.
I heard my older son Tze Lin say: "Look, Mum is pink again."
Apparently, my face had been ashen grey throughout the ordeal, and they had thought it was the remaining smudges of colour from my eye makeup and mascara.
The next morning, my husband called my office and told Lucy what happened.
"Ai Boon will not be able to go on the China trip," he told her.
Lucy, who then had to go in my place, felt both surprised and amazed. She recalled that I had prophetically prepared her in advance to get her passport ready.
"If I had waited for the doctor instead of praying, Ai Boon would have been brain dead."
She added: "You should have called me as my cousin is a doctor and he could have made his way there to help you."
"If I had waited for the doctor instead of praying, Ai Boon would have been brain dead," my husband replied.
Dr Wong Yik Mun, my family doctor, diagnosed me with anaphylaxis. He explained that I was being suffocated; I was not able to breathe as my airways had been blocked from the swelling arising from my allergic reaction to the sulphur in the antibiotics I had taken.
Dr Wong then administered another medication (an antihistamine) to me. It sent me hyperventilating.
In the end, he could not do anything but advise me to flush out the sulphur from my body naturally by drinking copious amounts of water.
The effects of the allergy were bad. My body was swollen from the top of my head to the soles of my feet. The itch was terrible and I was in constant pain.
In the middle of the night, I was listening to the gospel singer, Jimmy Swaggart, singing when one line from the lyrics — "Stand up and be healed in the name of Jesus" — caught my attention.
Desperate for some relief from my condition, I spontaneously responded to the "command" in the song by jumping out of my bed and standing by it.
As I did that, the same tall shaft of light — which came into me the night I received Christ in 1983 — entered me.
Immediately, I was completely relieved of the pain and itchiness. I was miraculously healed, though my body was still swollen. A couple of days later, the swelling subsided and I was back to my normal self.
The reality of God 
After this experience, God became more and more real to me. I learnt how to depend on Him so that I would not be easily troubled whenever I met with problems in life.
After all, not many people survive such surreal out-of-body experiences.
In my walk with the Lord, there were many other incidents of a supernatural nature which were foundational in building up my faith, in understanding the power of the Word and in increasing my dependency on the Lord.
I know that, even as I face challenges in the office or at home, there is an almighty God and His Word that I can rely on.
My close shave with death also gave me a renewed ability to roll with the punches and adapt to unforeseen circumstances as they came.
The "terror" in the office
When it came to work matters, I was not only pragmatic, but also perfectionistic.
I set high standards for myself, and therefore I also held certain expectations of my staff.
My secretary told me that the accountant had gone to the toilet to cry after our tense conversation.
Whenever they could not do what I thought was relatively manageable, or whenever they did not see things the way I did, I could not understand or empathise with them. Anger and frustration would overtake me quickly.
Once my accountant, Ms Ng Soo Moi, could not explain an issue satisfactorily to me. I felt so exasperated when I could not understand what she was trying to tell me that I began talking in a raised voice.
Shortly after she left my room, my secretary told me that the accountant had gone to the toilet to cry after our tense conversation.
I realised I had gone over the top with my intense emotions and had unintentionally upset her. Immediately, I went to the toilet to look for her to apologise and explain myself.
I told Soo Moi that I wasn't upset with her but was actually frustrated at my own inability to understand her explanation. I realised then that I needed to have the spiritual fruit of self-control and gentleness when dealing with others.
What helped me was venting these emotions in my diary and going to the Lord with them. It helped me to deny my fleshly self on subsequent occasions.
"Do you realise that your behaviour (towards the woman) at the meeting just now was unbecoming? You are a bully."
Over time, my accountant began to understand me better and did not take me too seriously whenever I expressed myself unbecomingly.
Knowing how I am and realising that I am a "work-in-progress" in the Lord, I would urge my staff to pick up from me only what was useful.
Just like how they eat fish — eat the flesh and throw away the bones — I hoped that they would learn from my strengths but ignore my temper.
On another occasion, I apparently spoke so loudly and harshly to a bank representative in a consumer banking committee meeting that Mr Peter Heng, then a representative from United Overseas Bank, called me on the phone straight after the meeting.
"Do you realise that your behaviour (towards the woman) at the meeting just now was unbecoming? You are a bully," Peter told me honestly.
I appreciated his frank comment as I knew he was not being unfairly critical. I didn't realise that I had inadvertently been arrogant and callous.
Feeling bad that I was not as gentle or kind as I wanted to be, I immediately picked up the phone and called her. I told her about the feedback that I had received from Peter and apologised. She appreciated my call and accepted my apology graciously. We became good friends and worked well together after that.
From this incident, I learnt to be more conscious of my remarks and behaviour at subsequent meetings and encounters.
My struggle with reining in my temper and tongue was not only confined to my peers and subordinates.
Obedience to authority
Once I complained to former UOB economist Mr Tan Joo San about my differences in opinion with my bosses. I strongly disagreed with some of the decisions they had been making.
Joo San looked at me calmly, and reminded me that I am a Christian.
He pointed me to Romans 13, which called for believers to submit themselves to the governing authorities as they were instituted by God.
His reference to the Scriptures shook me as I had not realised that His Word has also prescribed obedience to authority, and that this mattered to God.
When I went back to read the Romans passage, the words "therefore he who resists authority has opposed the ordinance of God; and they who have opposed will receive condemnation upon themselves …" convicted me so much that I felt I had been shot between my eyes.
"It's fine, except for the uncontrollable Director." Everyone knew he was referring to me. 
I felt convicted of my argumentative posture and the strong stand that I took on any issue. I repented and agreed to obey His Word.
This was a pivotal occasion that led to a change in my attitude. I became humbler and more respectful towards authority figures, and was able to be more courteous in my dealings with them.
In my earlier days before I received Christ, my notorious reputation for being difficult to work with often preceded me. When I was in Monetary Authority of Singapore (MAS), those in human resources would laugh at me, telling me that no one liked to be transferred to my unit.
Upon joining ABS, I recall a particular council meeting when one of the bankers who had just walked in casually asked the then ABS Chairman how the Association was doing.
"It's fine, except for the uncontrollable Director," came his frank reply. Everyone knew he was referring to me. I had also overheard the remark.
I wasn't upset as I was aware that he was speaking the truth.
Prior to my being convicted by the verses in Romans 13, I just accepted such descriptions of myself with resignation. This nature of mine seemed unchangeable. I had strong views and tended to be domineering unless I was convinced otherwise. It was just me and not many people could take it. I could not change myself even though I really wanted to, not until I had the empowerment of the Holy Spirit and the Word to do it.
Good luck and good riddance
On another occasion, when it was time for the ABS Chairmanship to be rotated from Overseas Union Bank (OUB) to Oversea-Chinese Banking Corporation (OCBC), the outgoing Chairman and then alternate Chairman of OUB, Mr Peter Seah, said matter-of-factly to the incoming Chairman, Mr Wong Nang Jang, and myself: "Good luck to you, Nang Jang, and good riddance to you, Ai Boon."
Again, I was not offended by his comment. Peter was a long-time friend whom I had known since our campus days in the University of Singapore. I knew what he said was a statement of fact and I was determined to work on myself to make a change.
What was the point? I didn't want to be a hypocrite.
"Just you wait, Peter, by the time you are back as Chairman, I will be so transformed that we will become friends," I vowed silently.
That was because the ABS Chairmanship is rotated among representatives from the local banks every two years, and thus the Chairmanship was due to be rotated back to OUB, or potentially Peter, in six years' time. True to my word, when he was rotated back to be the ABS Chairman once again, we had many good conversations together and enjoyed a pleasant working relationship.
I often got myself into various conflicts with others because I suffered no fools. The irony was that God had also once called me a fool.
It happened when I was ranting to Him one day after having an argument with one of my sisters. When I quietened down, He directed my attention to Proverbs 18:2: "Fools have no interest in understanding; they only want to air their own opinions."
Slowly, I began to see the ugly parts of myself and I did not want any of it to remain.
An oak tree, not a tau geh
I hated the fact that when I was under the anointing, such as when I shared at the Monday and Thursday fellowships, I could be very calm, like an angel, with self-control.
But when I headed back to the office and something got me riled up, I could become like a devil and not be as gentle and kind as I expected myself to be by then. I was so disillusioned with myself and my behaviour that I lost patience with God's work in me, because of the seemingly protracted period of my transformation.
The Lord was not looking for an outward behavioural modification, but rather an inner transformation.
Discouraged by my lack of progress, I challenged God. I told Him that if He didn't change me, I wouldn't talk about Him anymore. What was the point? I didn't want to be a hypocrite.
He responded gently and said: "I want an oak tree in you, not tau geh (beansprout)." An oak tree takes a long time to grow, has the strength and hardiness to withstand the storms of life and offers protective shade to those who seek shelter under it. But a tau geh sprouts overnight and has no deep roots or character.
He gave me Isaiah 61:3: "They will be called oaks of righteousness, a planting of the Lord for the display of his splendour."
I realised that God's work in me might take some time — or actually, a lifetime. I needed to be patient with His process of transforming my character so that I would have the deep and extensive root system of an oak tree. The Lord was not looking for an outward behavioural modification, but rather an inner transformation.
---
This book is written by Ong-Ang Ai Boon and Salt&Light Senior Writer, Janice Tai. Proceeds of the book will go to Salt&Light and other Christian ministries. You may purchase a copy of the book at SKS Books at Tan Boon Liat Building, World Scientific or Amazon. 
Gatekeepers Singapore is holding a book launch event on July 24 at Orchard Rendezvous Hotel. For more details and to register your spot, click here. 
---
RELATED STORIES: 
https://saltandlight.sg/leadership/he-thought-he-had-a-messy-cv-but-god-led-him-to-minister-in-the-marketplace-all-over-the-world/
https://saltandlight.sg/work/81-year-old-ceo-and-evangelist-to-300000-strong-crowd/
https://saltandlight.sg/work/this-id-firm-used-their-empty-office-for-prayer-meetings-during-covid-and-saw-god-double-their-finances/
If you have enjoyed reading Salt&Light...
We are an independent, non-profit organisation that relies on the generosity of our readers, such as yourself, to continue serving the kingdom. Every dollar donated goes directly back into our editorial coverage.
Would you consider partnering with us in our kingdom work by supporting us financially, either as a one-off donation, or a recurring pledge?
Support Salt&Light