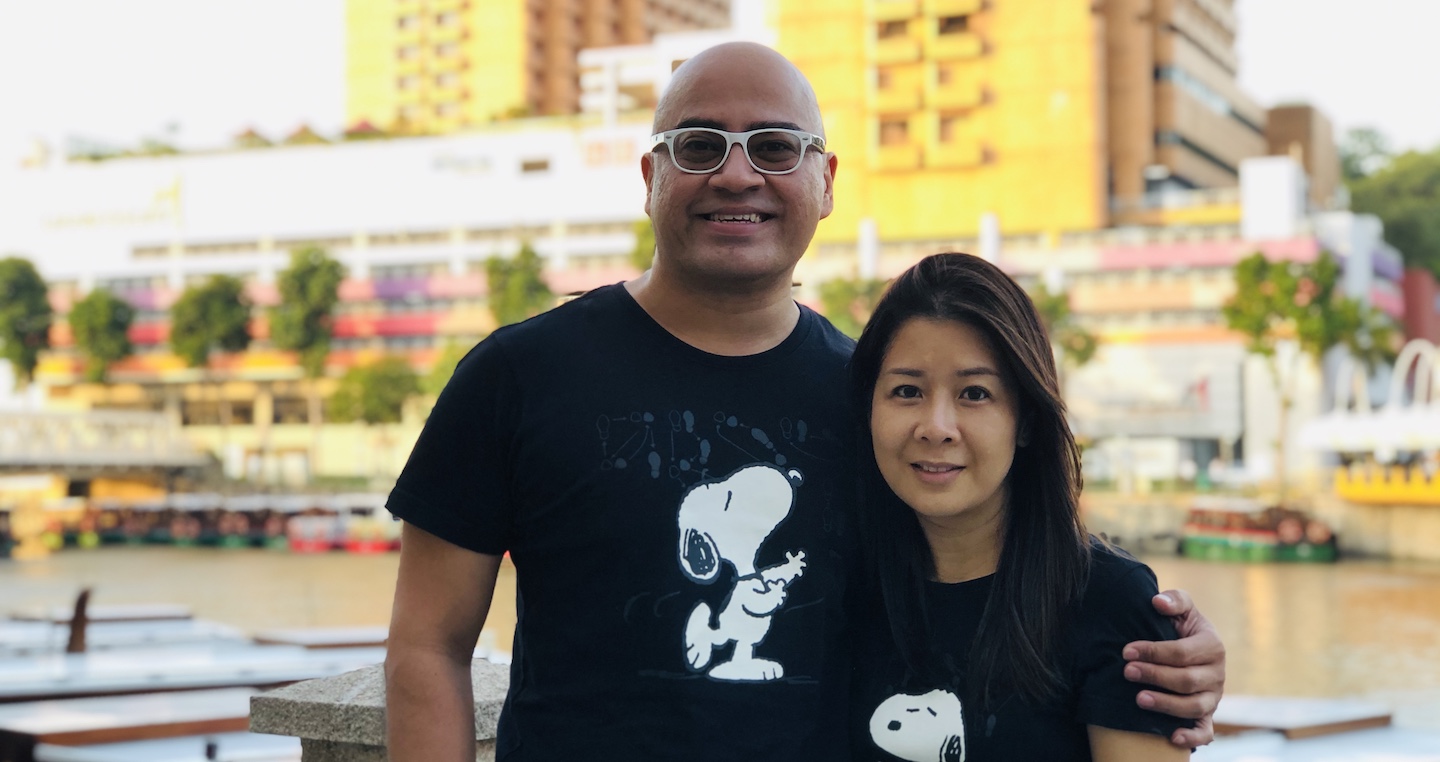 Mario and Shalyn Singh set up Soulrich Foundation to start giving their wealth away early. All photos courtesy of Mario Singh.
On the day that the article of him setting up a charity made the headlines in The Straits Times, the first question that Mario Singh's two young children excitedly asked him was: "Daddy, you're a millionaire?"
To the 44-year-old entrepreneur, that's an irrelevant question. It's not about how much you have or don't have; it's what you do with it that matters.
The CEO and founder of brokerage firm Fullerton Markets is giving his wealth away through Soulrich Foundation, established with his wife and mother last year. They plan to give away $80,000 this year, with the amount raised to $100,000 next year. As of May, they've already disbursed $35,000.
Mario wanted to give in a way that is proactive, scalable and sustainable.
While Elliot and Chantelle, eight and ten years old respectively, are probably still too young to question why their parents are giving away their inheritance, Mario has been trying to instil in them the importance of helping others through their regular delivery of food to the needy.
He also tells the children what investor Warren Buffett famously said: "I'll give my children enough money so that they would feel they could do anything but not so much that they could do nothing."
"If the Lord wills it and we sell the business for $100 million, the bulk of it is obviously going to go to Soulrich Foundation and not to their pockets. So they'd better be prepared for that," Mario added with a hearty laugh.
A foundation that outlives them
Not satisfied with ad hoc donations to charity, which he calls "reactive giving", Mario wanted to give in a way that is proactive, scalable and sustainable. "Reactive giving is like if I have excess, I'll help you," he explained. "It's time to take that step of faith to be more proactive in our initiatives."
He's also keenly aware that, by himself, his funds are limited. He's hoping to tap into his circle of high net worth friends to add to the kitty by another 50%.
"Our lives are limited but the foundation shouldn't be," he added. "I want it to outlive and outgrow us, to carry on the good work."
This was why Mario went about setting up a charity that is a grantmaker with the status of an Institution of a Public Character (IPC). Little did he know that it would end up being an arduous process of eight months.
Soulrich Foundation was finally registered in March.
"I want it to outlive and outgrow us, to carry on the good work."
While the foundation is not allowed to raise funds publicly, private donations are eligible for the 250% tax reduction.
The charity currently supports 11 beneficiaries under three pillars: Well-being (Food from the Heart, The New Charis Mission), family (Focus on the Family, Centre for Fathering) and Christian education (The Bible Society of Singapore, Alpha).
Citing Proverbs 3:27 as his guiding principle for the foundation, Mario let on that he initially wanted to have as many as 10 pillars but his homemaker wife, Shalyn, 52, reined him in so they could focus.
Do what Jesus did
Going beyond just giving money, Mario and his family help soup kitchen Willing Hearts deliver 450 packets of food every Monday and Thursday.
On other days they collect bread from bakeries and restaurants and drop them off at old folks' homes. He and Shalyn were also about to start being mentors to disadvantaged teenagers when Covid-19 put the brakes on all activities.
It was through one of the food delivery trips that he got to know a 98-year-old man living on his own, with a helper for assistance, in a one-room flat. Mario has since gone back to visit a few times, chatting, eating and building up a relationship with him.
"It doesn't really take your heart to give money because it comes out of your abundance," said Mario. "But when you get involved, it really shows you the Lord's heart. If you just give money, how do you change a person's heart, how do you lead them to Jesus?"
From cleaner to trader
The middle child of an Indian father and Chinese mother – and named after the writer of his father's favourite The Godfather series – Mario grew up going to church with his mother and two siblings.
At 16, his father died from a heart attack at home on Christmas eve. Overnight, his mother, a primary school teacher, became the family's sole breadwinner and struggled to raise the children.
"If you just give money, how do you change a person's heart, how do you lead them to Jesus?"
Mario ended up studying chemical engineering in the National University of Singapore. "I studied like crazy but came out with third-class honours. It shattered my mum's dreams," he recalled.
He couldn't find a job. After a three-month stint with a local company that built bio-hazard cabinets, Mario in his late twenties set up a cleaning company that did the housework for young families who did not want a live-in helper.
It was then that a few of his close friends started dabbling in currency trading and Mario thought to himself: "If I want to make big money, I must be in the money business."
Against all rationality
At 32, after a few years of forex trading, Mario started FX1, an academy to teach financial education. "It just boomed probably because it was one of the first of its kind," he recounted.
A major turning point came when he was invited to go on business news channel CNBC to give his market views. His credibility was further boosted when he subsequently appeared on international media more than 40 times.
But three years later, by 2011, the academy was failing. Mario fell out with his business partners and was close to shutting down the business.
"It went against all rationality but the Lord laid it upon my heart that we have to keep the business."
It was also at this time that renowned author Peter Wagner, after a visit to Mario's church then, invited him to attend a four-day retreat for "kingdom traders" at his house in Colorado, US. (The last book that Wagner wrote was The Great Transfer of Wealth: Financial Release for Advancing God's Kingdom.)
"We were down to our last few thousand dollars and Shalyn was pregnant with Elliot then. It was an honest step of faith and I went," said Mario. "I was the only one from Asia and I was the smallest mosquito there."
He returned to Singapore inspired to be a good steward of money, with a renewed conviction that he should keep the business.
"My wife wanted me to shut it, I wanted to pour in our remaining funds. It was one of the biggest fights we ever had," Mario mused. "It went against all rationality but the Lord laid it upon my heart that we have to keep it, so I did. And we turned it around."
Making money
Today the academy has become the training arm of Fullerton Markets, which Mario founded in 2016 and has about 120 employees here and in the region.
The brokerage firm remains his main source of income, but he also gets revenue from speaking engagements as well as businesses he owns in marketing and events, as well as fintech and IT solutions.
No stranger to Christians who view trading as gambling, Mario makes it very clear that they are totally different.
"Money doesn't change who you are; it magnifies who you are."
"Gambling is punting, where you don't know when to get out and you end up getting into huge debts. That's what casinos are," he explained. "At its most basic, trading or investing is about buying low and selling high. Even when asset prices are dropping, you can sell first and buy later, and still make a profit in between. That's the financial market."
To Mario, the parable of the talents in Matthew 25 is about making money – it's about what you do with money and how you generate a good yield, he added.
"Money doesn't change who you are; it magnifies who you are. If you've been giving small amounts, when you get more, you'll give more," said Mario.
"I know that I want to increase the giving to Soulrich Foundation every year. We have resolved upfront that money doesn't play a big part in our lives. We're not soul-tied to money."
If you have enjoyed reading Salt&Light...
We are an independent, non-profit organisation that relies on the generosity of our readers, such as yourself, to continue serving the kingdom. Every dollar donated goes directly back into our editorial coverage.
Would you consider partnering with us in our kingdom work by supporting us financially, either as a one-off donation, or a recurring pledge?
Support Salt&Light