In the business of Hope: The Gospel made relevant
Looking for a marketplace group of like-minded Christians? In this Ministers in the Marketplace series, we feature groups that you can get connected with.
by Geraldine Tan // January 8, 2019, 4:25 pm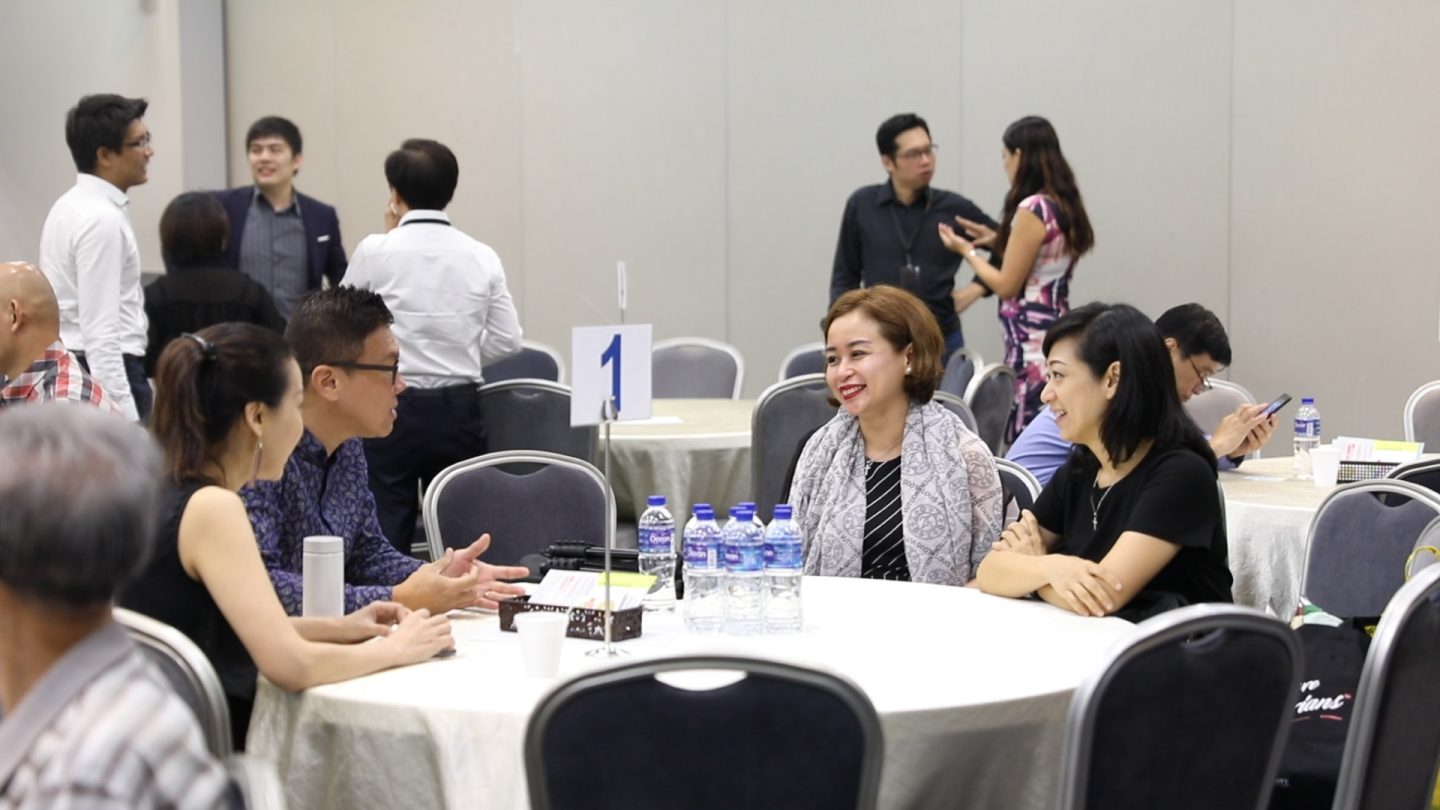 Pastors Jeffrey and Claudia Chong speaking to guests at the recent Hope Business Life Group meeting. All stills from Salt&Light.
Many business owners look good on the outside – they make big bucks, eat at fancy restaurants and drive luxury cars­ – but many could be struggling. Besides the stress of running a business, many could be grappling with issues at home.
"A lot of them have very sad family situations because they have spent their lives building their business. When they look back in the rear-view mirror of their lives, they realise that the family is gone ­– bad marriage, estranged children," observes Jeffrey Chong, senior pastor of Hope Church.
In the words of the church's Rayney Wong: "They really need God."
And that was what prompted Hope Church to begin its Business Life Group meetings in 2015.
The initiative, spearheaded by Pastor Jeffrey and his wife, Pastor Claudia, began in a small room in Textile Centre along Jalan Sultan. They gathered a few business owners and began sharing testimonies.
Soon, they recognised that this could be the perfect platform to reach those who have yet to hear the Gospel. But it was not without pitfalls.
"The truth is that business people are not very interested in church," Pastor Jeffrey, 50, concedes. "They find the church to be irrelevant, so we had to relook at this whole thing."
From 15 to 100
Together with a team of church members, he and Claudia then revised the programme to better meet the needs of those in the business community.
Drilling down, they asked themselves: What topics would be of interest to business owners? Who are the speakers that would draw them? How can the Gospel be presented in a relevant way during the meetings?
An early meeting, headlined by Pastor Benny Ho, Senior Pastor of Faith Community Church in Perth, Australia, drew 15. Now, attendance averages from 80 to 100.
"In every single meeting, except for one, we have always had people say 'yes' to Jesus for the very first time!" says Pastor Jeffrey, sharing also that business owners struggling with family problems have been transformed through the fellowship.
"A lot of them, their spouses are in our church together with them, their children as well. It's very rewarding for me to see these testimonies."
But that would not have been possible without community.
A lifeline
Wong, 60, a lawyer and one of the life group leaders, has invited more than 1,000 people to the meetings – anyone from a friend to a business contact. He has a burden for business owners as his interactions with them revealed that they are often lonely, with no one to turn to for support.
With Hope Business Life Groups, business owners, whether they are Christians or not, can meet in a small group setting and engage in more in-depth conversations.
"We learn a lot from one another, we don't find this type of support outside."
The congenial environment allows pre-believing business owners to find answers to the questions they may have and also help those who receive Christ to be discipled and subsequently invited to the church's Sunday services.
Christian entrepreneurs and second-generation business owners, too, testify to the value of meeting together (Hebrews 10:25).
Jonathan Tay, 31, was wondering how to manage the family business with Christian values. The former civil servant joined a group in 2016 as he was seeking Christian business mentors.
"I've learned business ethics and how to do business with integrity," he says.
"Many of the mentors conduct themselves with great integrity and honour so I've learned heaps from them. Being here keeps me grounded.
"In business, you just hustle. But when I see people who are more successful putting God first (Matthew 6:33), seeing what it looks like to walk down the same path and how God has honoured them because they have honoured God … that is one of the biggest take-homes I've had."
Three years in, Tay, like Wong, now leads a Hope Business Life Group. While it isn't easy juggling business and being a lay leader, he shares: "We learn a lot from one another, we don't find this type of support outside."
Pastor Jeffrey's hope is that "all churches will do this, because there is really a big market out there for Jesus, right?
"Just as business owners are so amped up about increasing market share, so as Christians, we have the real deal. Anything less will be cosmic treason." 
Keen to join Hope Church Singapore Business Life Group meetings? They are held every Wednesday morning. For more information, email [email protected] or call 3157 3900.
If you have enjoyed reading Salt&Light...
We are an independent, non-profit organisation that relies on the generosity of our readers, such as yourself, to continue serving the kingdom. Every dollar donated goes directly back into our editorial coverage.
Would you consider partnering with us in our kingdom work by supporting us financially, either as a one-off donation, or a recurring pledge?
Support Salt&Light