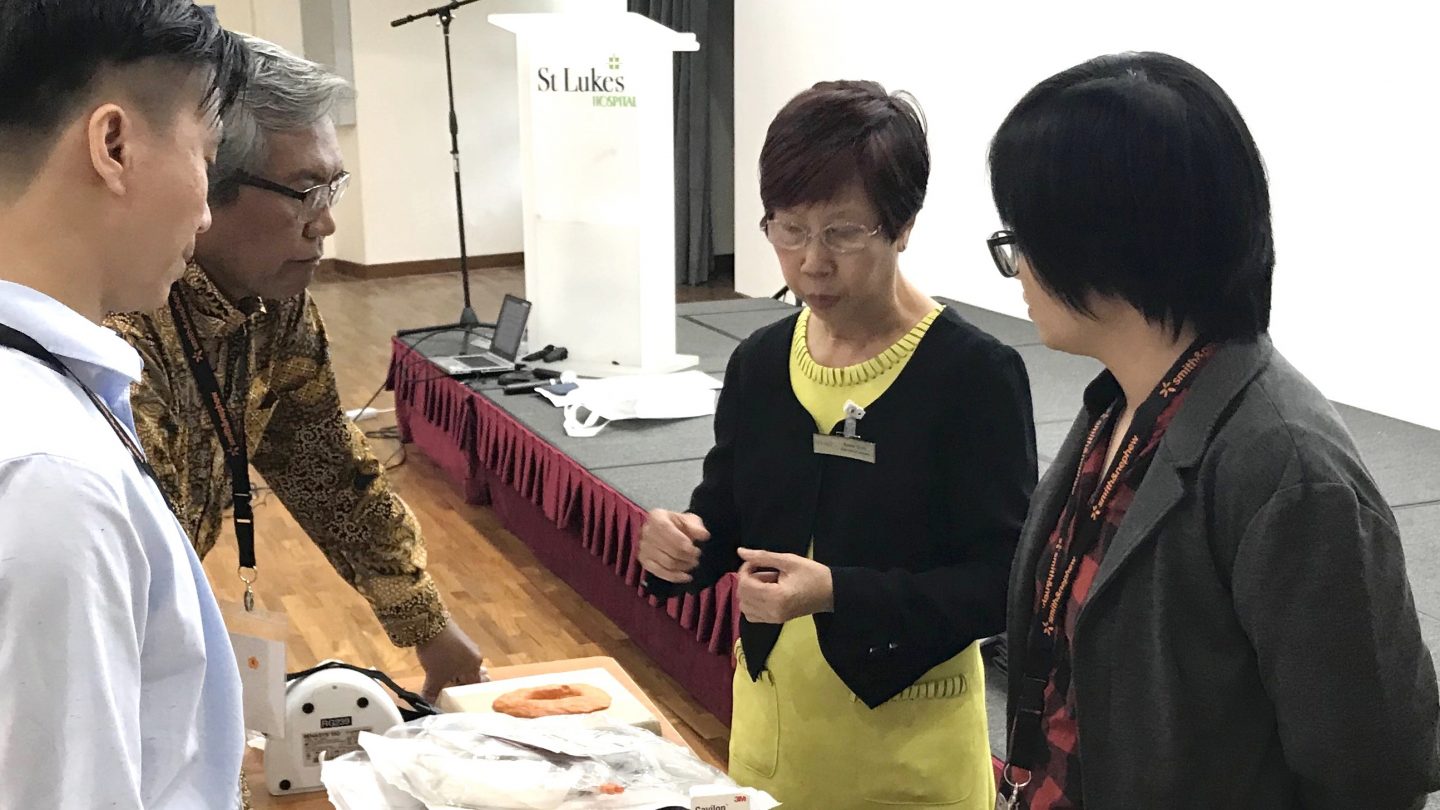 Sister Susie Goh trains other healthcare professionals on effective wound treatment at the Negative Pressure Wound Therapy course. Photo courtesy of St Luke's Hospital.
The experience of dressing a bird's wound in 1998 was the affirmation that Susie Goh needed to continue as Nurse Manager in St Luke's Hospital.
At the time, Goh, 62, was only one year into a job that she had felt called to. But she was facing difficulty at work and her doubts were piling up.
Did St Luke's really need a wound specialist? Was this really the place she was supposed to be?
An absurd sign of affirmation
The bird in question was an eagle with a large gash on its beak – no thanks to its poorly executed escape from Jurong Bird Park.
The encounter felt like a God-given assurance to stay.
But now, having found its way into the ward at St Luke's Hospital, the eagle was flapping around trying to find its way back out.
There was blood splatter all across the ward and the nurses on duty were in an excited flurry.
It might have been the cumulative effects of the stress, or it might just have been an extension of Goh's no-nonsense manner. Whatever it was, Goh decided to approach the eagle and speak to it sternly: "I'm going to dress your wound. You don't fly away!"
It didn't.
They eventually sent it back to the Jurong Bird Park using one of SLH's ambulances.
The encounter felt like a God-given assurance to stay. So, steeling herself, Goh continued to plough through the difficulties she was facing at SLH.
Maggots and painkillers
Wound care had always been an area of nursing that was close to her heart. Going into nursing, Goh had always wanted to do something that would really help people.
Forty-four years ago, as a second-year nursing student, Goh found the specialty that she felt truly mattered.
On internship at the old National Skin Care centre, Goh was sent to do a routine wound cleaning. The patient wasn't too happy to see an inexperienced nurse. But Goh was undeterred.
Goh informed him that the staff nurse was busy and set about unwrapping the dressings that covered a large, raw wound that covered his entire heel. It reeked of infected flesh.
"Miss! Miss! Yesterday was the first day I didn't feel any pain!"
As she wiped away the discharge that had built up through the day, Goh noticed many little black dots in the raw flesh.
Driven by curiosity, Goh took a pair of forceps and pinched one of the larger dots that she saw. As she pulled, Goh realised that the black dot was actually a maggot.
Surprised, but undaunted, Goh got a bowl of hot water and proceeded to pick out every black dot that she could see. It took a while. One maggot after another and Goh soon ended up with a bowl filled with at least a hundred tiny black maggots.
"That day, I couldn't eat!" Goh admitted, laughing. "Today, some maggots are used to treat wounds, but these were not clean maggots!"  
Resuming her story, Goh said she proceeded to bandage the wound, extremely satisfied with how clean it now was. Her staff nurse, however, wasn't pleased at how long the "routine" task had taken and gave the young Goh a scolding.
The next day, as Goh passed the patient's bed, he called out in Hokkien: "Miss! Miss!" Then he told her how, for two weeks in hospital, he had needed painkillers throughout the day and at night.
"But yesterday was the first day I didn't feel any pain!"
She saw that her simple act had made all the difference for this patient. Ms Goh realised how important wound care was – how much pain patients were in, and how she could help relieve that pain. Goh shared that this was the defining moment that set her on the path of becoming a wound care specialist.  
The mission field at home
Over time, Goh made her way through 11 years of nursing in an institutional hospital in Singapore and then found a well-paid role as a staff nurse in a private hospital.
Life was going well. Her husband was an army officer and they enjoyed the comfort of two decent salaries.
But as she started to hear amazing stories of God's love displayed on the mission field through friends in church, a desire developed. Goh wanted to serve on overseas missions.
There was one big hurdle: Goh had a family with two young children and responsibilities to meet.
It was an internal struggle that she wrestled with.
Some time in 1997, one year after SLH opened its doors, Goh visited an ex-colleague who was working there.
As she walked about the wards, she felt a heavy burden for the needs she saw at the new community hospital in operation.
"What if I saw St Luke's as my mission field, not just as a job? That would make all the difference!"
In her spirit, she felt the Lord speak: "You don't need to go overseas, you can do mission work here in Singapore."
"Twenty years ago, we were doing such good work at the big hospitals but nobody really looked at nursing homes," Goh said.
The prevailing mindset amongst the medical community towards community hospitals at that time was: "When we want to retire, then we go there and work."
There was a stigma attached to the non-acute, rehabilitative care provided by community hospitals such as St Luke's.
The pay scales offered under these Voluntary Welfare Organisations (VWOs) also paled greatly in comparison to the institutional and private hospitals.
Even though she struggled with the pay cut that she knew she would have to expect, Goh was mentally prepared.
"I can do mission work in SLH!" Goh realised. "And what if I saw St Luke's as my mission field, not just as a job? That would make all the difference!"
And so she made the jump and joined SLH as a nurse manager in 1997.
The eagle's reminder 
Put in charge of one of the wards, Goh got to work by paying close attention to patients in her care who had wounds. Doing the dressings daily and managing the wounds of more than half the patients in her ward was laborious work.
"But it was very encouraging to see the results in my patients," Goh shared.
Soon, because of the work that Goh and her team of nurses were doing, that ward became known as the unofficial wound centre of SLH. They started receiving many transfer patients who needed to have their wounds managed.
Goh, similarly, started to be called in by doctors to consult on problematic cases.
Still, as much as Goh was answering her call to service, her first year at St Luke's was especially difficult.
Because of the work that Goh and her team of nurses were doing, that ward became known as the unofficial wound centre.
After 11 years in a private hospital where resources were in abundance, Goh needed to adjust to a VWO culture where the same work had to be done with far less resources.
Sister Susie laughed as she recalled: "At the end of the year, I looked at my pay increment and I couldn't believe it!" It was so small that it barely made a difference.
But it was not just a new environment that she was in, the organisation was new as well – St Luke's was only in its second year of operations. It was a teething period for everyone as workflow, systems and even teams were being built from scratch.
It was a time of doubts. And it was also the time when Goh encountered her eagle. 
And so, Goh set herself to the work before her.
The journey has not been all clear seas and blue skies. Goh says: "I have my ups and downs. Sometimes I get so frustrated that I want to resign. But I always ask myself one question: 'Why did God put me here?'"
She admits candidly: "Because I forget! And I have to remind myself by thinking about it. This is my mission field."
The truth of the evergreen tree planted by streams of water in Psalm 1 serves as an anchor to Goh as she strives to live out her calling at SLH.
Her unflinching standards for excellence and success have paid off however.
In 2006, Goh was promoted to the Director of Nursing and, in 2011, Goh became the first nurse from a community hospital to be given the President's Award for Nurses, Singapore's highest accolade for the profession.
A leading voice
But the highlight of Goh's career was in 2016, when SLH set up the St Luke's Community Wound Centre. Goh was appointed its Executive Director.
The wound centre is Goh's dream come true – the fruition of years of dedication to wound care.
As a one-stop resource centre for both doctors and nurses to share knowledge and skills, the wound centre is Goh's dream come true. It was the fruition of her years of dedication and the pursuit of excellence in wound care.
This unyielding woman is now in her 21st year of service at St Luke's and the hospital is recognised within the healthcare industry as the leading voice in wound care in Singapore.
But she is not resting on any laurels.
Constantly on the lookout for ways to improve, Goh says: "Even today I still ask: 'Why are we doing things like that?'"
Her spirit of excellence does not arise out of a mechanical adherence to standards. Rather, it is one that is rooted in earnest and genuine care for the patients under her and her nurses. 
About wound care in St Luke's Hospital
A pioneer in wound care, St Luke's Hospital has a dedicated wound ward, the first among community hospitals, to care for patients with complex wounds and fight the war against limb loss. Reducing infection, amputation and cost increases quality of life for patients. The hospital also trains other healthcare institutions in wound care, with its intermediate wound management course accredited by the European Wound Management Association.