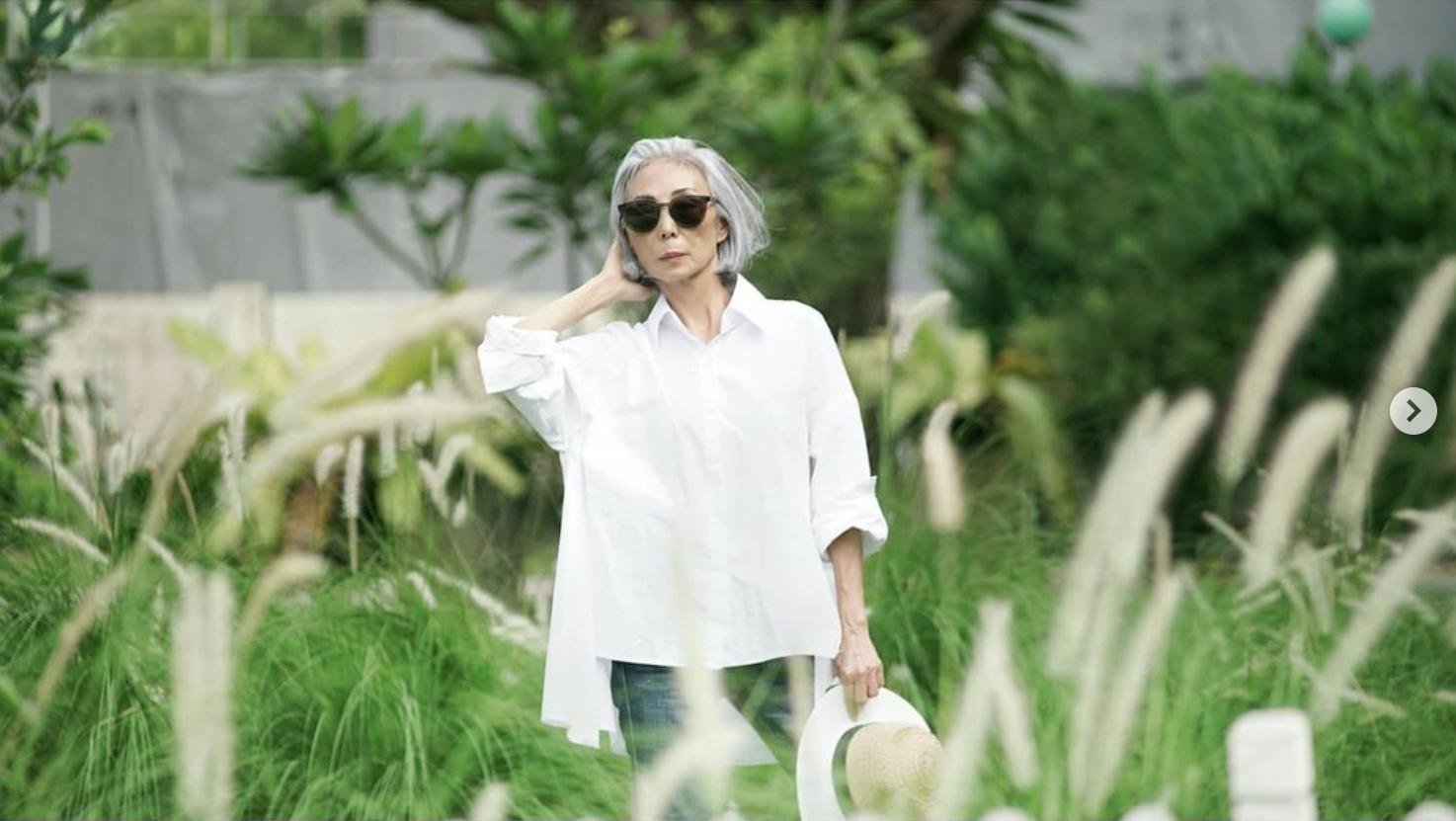 How did Ong Bee Yan – who once thought of herself as "a nothing, a nobody" after years of abuse – transform into a confident, elegant swan in her sixties? Photo by Yan's son Rong Liang Chia, @rongliangchia Instagram. 
When Ong Bee Yan decided to stop dyeing her hair at age 63, little did she expect her silver-blue locks, high cheekbones and lithe figure to catch the eye of clothing brands, photographers and fashion editors.
Nor did the grandmother of two expect to land on the cover of a top fashion magazine.
Camera-shy and having low self-esteem is how Yan described herself in interview after interview that followed, in which she shared that she prays before each modelling assignment.
Unknown to most, under the makeup and glamorous images are cigarette burn marks on her face, often mistaken for pigmentation.
How did someone who once thought of herself as "not beautiful, a nothing, a nobody" transform into a confident, elegant swan in front of the camera?
How did someone who cowered at the sound of an abuser's footsteps become a resourceful serial entrepreneur who most recently started a hip business in cold brew coffee from scratch?
How did someone who once saw no point in speaking become a social media influencer encouraging other seniors to face their fears and move out of their comfort zone?
"It is God," Yan, now 65, told Salt&Light simply.
"God didn't leave me even though I left him."
Smacked by a slipper
Growing up, Yan and a number of cousins were looked after by their grandmother. Yan's parents were hospital attendants; she and her two older siblings could only stay with them on their days off.
Her cousins whom she described as "so, so beautiful" were favoured by various aunties.
"I was never anyone's favourite.
"That made me feel very left out, that I was not loved."
Rubbing salt into her wounded perception of herself was a punishment during her primary school days when she got a red mark – which was rare for her.
"An aunt used a slipper to smack me.
"Why didn't my cousins get the same treatment?" 
Her boldest move
Later on, with someone else in her life, small arguments or being late would land her blue-black marks (which she explained away as clumsiness), humiliation and at least one hospital visit.  
Once jovial and fun-loving, she became very quiet. "You couldn't get a word out of me. Because whatever I said was wrong. So I told myself: What is the point of talking?
"There was a lot of fear to the point I kept to myself and was very timid.
"I had low self-esteem and thought, 'I am not beautiful. I am nothing, a nobody, a shell'. I felt like a caged bird.
"I would go to the toilet, hide in the corner and cry, cry and cry."
"I thought, 'I am not beautiful. I am nothing, a nobody, a shell'. I felt like a caged bird.'"
Yan tears up. Not so much from the memory of the trauma, but an incident when her perpetrator had asked to be driven somewhere. In a tit-for-tat move, she had refused.
"I drove off and I stopped by the service road and cried and cried. I couldn't believe I could be so hard-hearted.
"I broke down saying, 'God, why am I like that?'"
For, even though she had backslidden from the faith over the years, she'd still held fast to the values she had been brought up on – like honesty, doing the right thing, doing unto others what you would want them to do to you. (Matthew 7:12)
After more than 10 years of abuse, "I just walked out without turning back. It was the boldest move I'd made."
But one day after more than 10 years of physical, mental and emotional abuse, "I just walked out without turning back. It was the boldest move I'd made," said Yan.
"'My goodness, what did you just do?'" she recalled asking herself. "That was unbelievable because I'd always lived in fear of this person.
"I never knew I had that strength, honestly.
"I felt like a caged bird that had been set free. It was a wonderful feeling.
"How did I manage to do that? I would have never been able to do it on my own."
Treasure from ashes
Yan would find God's healing when she decided to go back to church. 
She had been inspired by her daughter –  a youth group leader who sang in church and went on a six-month long mission trip.
"I saw her strong faith in God.
"I told myself, 'God has not left me all this while. It's time I go back to church and rekindle my faith with Him and grow in my walk with God."
Through getting to know God's word, Yan was able to forgive the person who had hurt her. And in the process, started to heal.
God would also bring a string of people who would journey with her.
Among the first was Richard Koh, whom she met at a Lindy Hop dance class.
When she was in need, he helped her drag a discarded sofa up a hill and into her rented walk-up flat, and helped her build cupboards out of metal racks.
Today, married for 20 years, they continue the hobby of upcycling and recycling donations and discards, like an old mahjong table they decoupaged with colourful food wrappers. 
"He's been with me through thick and thin," said Yan of Richard, now 59. 
"Due to the years of abuse, I became a very hard person, and angry at the slightest thing. Not trusting at all.
"He won me over with his patience and his thoughtfulness. 
"He helped me find my old self back."
"It took me a long time – almost a decade – to be myself again."
A flow of blessings
Over the years, Yan and Richard have seen God's faithfulness over and over again, even when Richard was retrenched – twice – and when they subsequently started, in 2016, to make artisanal cold brew coffees with flavours such as matcha, masala and oatmilk.
"It showed that you just need to have the faith the size of a mustard seed," said Yan.  
They named their business 1degreeC, and initially sold the coffee at flea markets and fairs.
They also saw how God kept bringing in people with necessary skills to bless and help them.
"We created our own cold brew coffee and cold tea flavours. If you ask me how I managed to come up with these recipes, I would say God was the one helping me all along.
"Not that we are competent in ourselves to claim anything for ourselves but our competence comes from God." (2 Corinthians 3:5)
They also saw how God kept bringing in people with necessary skills to bless and help them. "We are so thankful for them," Yan said, adding that they try to pay back and forward this kindness.
Their website was designed by their daughter who was working in a digital marketing firm. "The boss said, 'We'll do it for free, just give us cold brew coffee in exchange.'"
An acquaintance of their son offered to write about the company for them. Yan has never met her in person.
Later during Covid, out-of-work photographers and videographers offered to shoot their products for free. The corporate video would catch the attention of a news platform with a viral following who would interview Yan and Richard, which in turn would lead to more collaborations. 
"Our journey is God-led. God is the CEO of 1degreeC. We are just his workers," said Yan.
Coffee highs and lows
Then in 2017, God provided a jolt to their business when they least expected it.
Richard told Yan he booked a space costing $1,000 at a coffee festival.
"I had a shock. I said, 'One thousand dollars? Are you kidding me? Who's going to come to see us? We're nobody in the fair with so many big players.'
"It was the smallest booth at the corner of the big expo hall."
Yan got a brainwave to put up the tallest sign she could with an LED light to draw attention to their presence.
Did they really need the sign?
Yan, who was at home brewing, thought Richard was joking when he called on the day of the fair to tell her about a snaking queue that had formed – and that the drinks were almost sold out.
One of their workers had the presence to suggest giving out tasting samples from their remaining stock. If customers liked what they tasted, they could put in their orders for the brew.
Their little business was now firmly on the radar of coffee lovers.
"Covid was another blow. But instead of business going down, it went up." 
For the first three years, Yan and Richard operated out of home. "We thought: If home bakers can operate out of home, so can we, because we were only selling drinks."
Then the couple were told they were operating without a licence.
"I felt like I was a criminal. That I did something bad without realising it."
During their mad scramble to set up a shop, the wife of a cafe owner helped them to design its layout.
They saw government bodies helping them expedite the necessary licences so that they could operate as soon as possible.
"Why would they want to do that? It was really a miracle," said Yan in wonder.
One month after they moved into their new shop at MacPherson Mall, Covid struck.
"It was another blow. But instead of business going down, it went up." 
"I had this feeling that God wanted me to do something to encourage seniors to challenge themselves, face their fears." 
It forced them to think out of the box as to how to scale up their business to meet demand for home deliveries.
In the middle of this year, about five years into the business, Richard, who was doing the deliveries, was hit by severe back problems. 
The couple prayed for God to bring in the right person to help take over operations and scale up their business. He answered – and they saw His perfect timing as well.
Barely a month after selling their majority shares to their new partner, a family member was diagnosed with cancer.
If they had not made the move, Yan would have struggled to juggle the business and care for the relative. Their housekeeper had just left. 
"When they broke the news to me, I felt very sad. But I am at peace knowing that God has plans and I shouldn't be afraid of the outcome," she said of the diagnosis. 
Grey revolutionary
The coffee business would also open doors to Yan's unexpected career as a model.
Yan's silver hair caught the eye of a fellow exhibitor –  a boutique owner – at a fair 1degreeC was participating at. She approached Yan and Richard to model a range of tie-dye clothes. 
Yan – who had always told her family "don't take photos of me" during gatherings – said "Why not?" without hesitation. 
Yan told herself: "You're 63, what is the big deal? Ugly, ugly lor!"
"I'm not famous … I'm just God's child."
She also reasoned: "If someone I don't know well approached me to ask , 'Can you model for me?', this person has so much faith in me. Why should I doubt myself?"
Subsequently she said yes to a photographer who wanted to do test shoots of her, even if she did not know what test shoots were. (They are photo shoots not for publication or payment, but to experiment with ideas or to put together a portfolio of work).
"I grew by learning on the job through optimising opportunities – saying yes to offers to model that came my way."
She however, turned down concepts that were not in line with her faith and refused offers to model revealing clothes and two-piece swimwear. 
These days, with her new commitments, she is more selective about projects she takes on. Half her modelling fees goes to animal rescue charities and Christian missions that she feels led to support.
Before every assignment, she prays.
"I tell God, 'Thank you for giving me this assignment. Please help me to do my best'."
Insta-gran influencer
A year ago, at 64 years young, the grandmother of two started her Instagram account, @grey_evolution. In it, she documents her modelling gigs, her pet causes and slices of time with family.
"I had this feeling that God wanted me to do something to encourage seniors to get out of their comfort zone. To tell them to challenge themselves, face their fears," she said.
"Through this challenge, I feel I am able to plant seeds for God, and let him do the rest." 
Through media interviews she has given, Yan shares about how she keeps fit, how starting a business has helped her be more mentally alert, and how reading the Bible grounds her.
"I am not a missionary, I can't preach, I can't give sermons. This is the only way I can do my part to share God's love.
"God has a purpose in whatever we do," she said. "So I feel it's my job to share the good news through whatever means I can."
Confidence as God's child
When she stopped hiding her age behind hair dye, Yan said:  "It was very empowering to have grey hair. I felt liberated, confident."
Ask her if her fame has brought her confidence, she protests: "I'm not famous. No, no, no, please. No. No.
"I'm just God's child."
"Confidence comes from knowing that I can do much more than I am capable of, with God's help. And Him giving me the opportunity to go out there to challenge myself and face my fears. And to be able to share that with other people.
"I am backed by His power, His strength from behind and around me. That's where I get my confidence from."
---
Ong Bee Yan is one of 25 individuals aged above 65 who appeared in a charity film and free-ebook, Silver Stories, by St Luke's Hospital. It is part of their advocacy for seniors, and celebration of their roots as Singapore's first hospital to serve the elderly.
---
RELATED STORIES:
Giving God our golden years: 7 tips from seniors who lead the way
A Bicentennial look-back at the extraordinary history of the Singapore Church
"God wants you to forgive and restore your family": Esther Tzer Wong
If you have enjoyed reading Salt&Light...
We are an independent, non-profit organisation that relies on the generosity of our readers, such as yourself, to continue serving the kingdom. Every dollar donated goes directly back into our editorial coverage.
Would you consider partnering with us in our kingdom work by supporting us financially, either as a one-off donation, or a recurring pledge?
Support Salt&Light