Day 23: In Christ alone
A LoveSingapore 40.Day prayer and fast devotional, following 2022's theme of To Live Is Christ: A Journey Through the Book of Philippians.
LoveSingapore // July 23, 2022, 12:01 am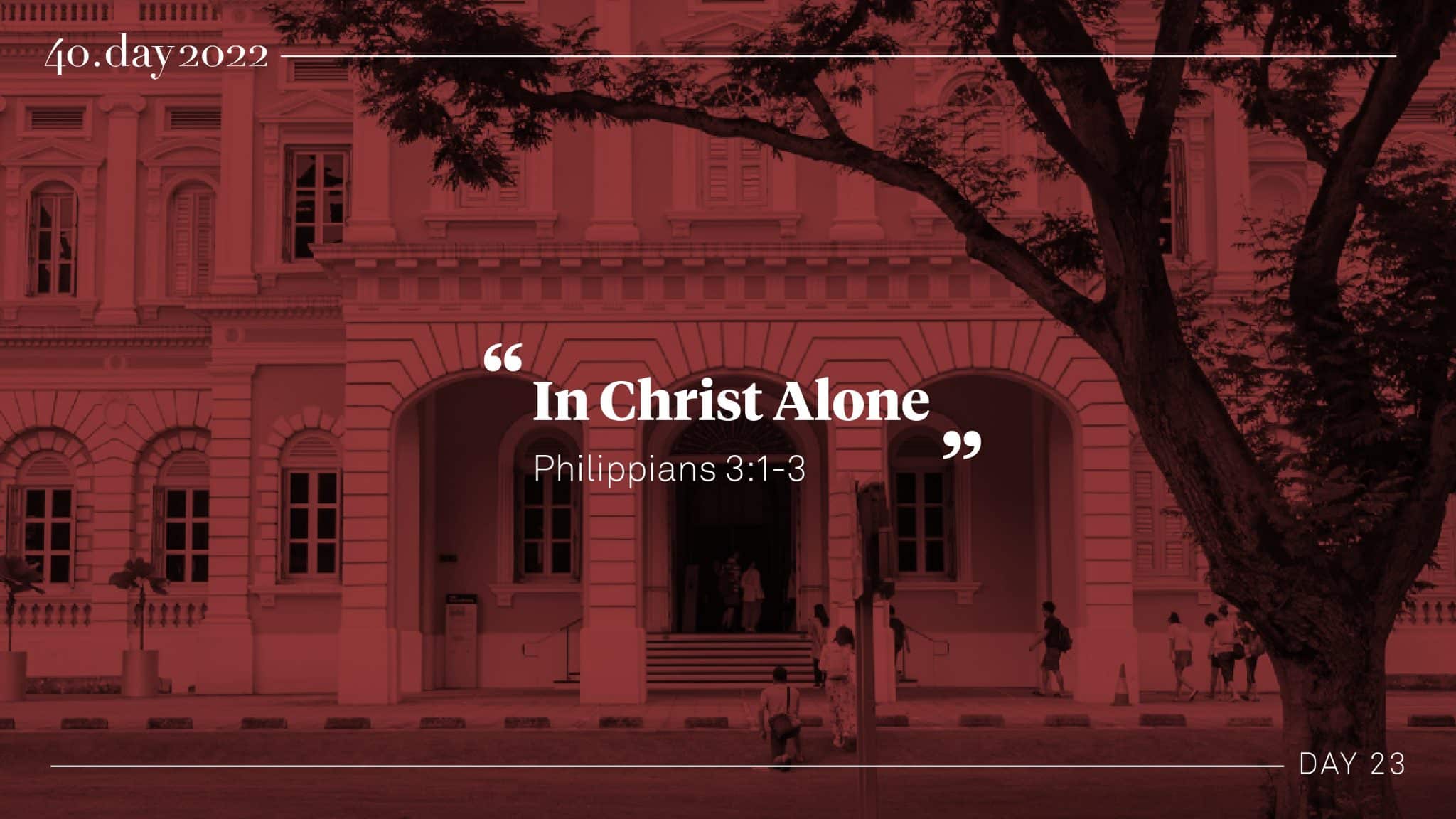 Bible reading for 40.DAY 2022 |  Philippians 3:1—3
---
Who are these dogs? The Judaizers. They dogged Paul's steps for 10 years, pushing circumcision and the Law on his Gentile converts. They look holy on the outside. But inside they're dogs.
They are not the "circumcision", says Paul, but the "mutilation". This is a play on words. "Circumcision" and "mutilation" sound alike in Greek. "Circumcision" means "cutting around". But "mutilation" means "cutting in pieces".
This cutting irony shows how dangerous the Judaizers are. By converting Gentile Christians to Judaism, they mutilate the Gospel.
If not animated by the Spirit, our best efforts fall short and fall flat.
"We are the circumcision," declares Paul. The external identity markers of Judaism no longer count (Galatians 6:15). The distinctive qualities of New Covenant worship are: Serving by the Spirit. Boasting in Christ alone. And putting no confidence in the flesh (Philippians 3:3).
Let us, therefore:
Serve God by the Spirit. We do well to make the best use of the resources, tools, and skill sets that God has put at our disposal. However, if these are not animated by the Spirit, our best efforts fall short and fall flat. This is as true in public preaching, teaching, and worship as it is in personal witnessing, discipling, and counselling.
Glory in Christ alone. Not in our denominational distinctives, worship style, vision statement, or church brand. The Church Jesus builds needs no brand. Except one. The Cross. God forbid that we should boast in anything "but the Cross of our Lord Jesus Christ" (Galatians 6:14). "Forbid it, Lord, that I should boast, save in the death of Christ my God!" (Isaac Watts).
The Church Jesus builds needs no brand. Except one. The Cross.
Put no confidence in the flesh. The watershed revelation that turned the first-century Jesus Movement into a global faith for all peoples down to this very day: Gentiles need not become Jews to be complete in Christ (Acts 15). A Jew is one inwardly, and circumcision is a matter of the heart, by the Spirit, not by the letter (Romans 2:29). The flesh can only produce flesh. The Spirit alone produces life (John 3:6).
Many Christians are attracted to Jewish forms of worship today. There is nothing wrong with worshipping God in Jewish ways. Paul did so when among Jews.
But it is wrong to impose this on non-Jewish believers. Jewish worship forms do not make us more spiritual than other Christians. This is a new variant of the old form of Judaizing that Paul rejected in his letter to the Galatians.
We are complete in Christ. We are circumcised with a circumcision made without hands, by putting off the body of the flesh (Colossians 2:11). Stripping off the flesh may not be as exciting as a Shabbat meal. But it's more spiritual and more rewarding. Shalom.
Pray Now
1 Hear the word of the Lord: Not by might, nor by power, but by My Spirit (Zechariah 4:6). Our new life in Christ begins and continues in the power of the Holy Spirit (Galatians 3:3). Ask God to protect us from bewitchment by human attempts to add non-essentials to the Gospel. In our zeal to revitalise church post-pandemic, let us resist every temptation to pivot on human efforts that are not born of the Spirit.
Our new life in Christ begins and continues in the power of the Holy Spirit.
2 In efficient Singapore, it's too easy for exceptionally gifted churches to become presumptuous, pragmatic, and controlling. As a result, we fail to give Christ His rightful place. We lose our cutting edge in the Spirit. Take time to repent and be renewed. Ponder and pray:     
Dear God, we acknowledge you as the Giver of all good gifts. You've blessed us with competent leaders, abundant resources, diverse skill sets, a wealth of experience, a proven track record, and a rich institutional heritage. In identification with Your Church, we confess our repeated folly in loving these gifts more than we love You. We repent for elevating these gifts above You. For relying on them more than we rely on You. For pursuing Your gifts more than we pursue Your heart.
Lord, we repent for putting our confidence in human credentials and competence, human intellect and human traditions, religious policies and protocol. For perpetuating rituals without revelation, piety without power, faith without fire, systems void of the Spirit. For deferring to the vote of man instead of the voice of Your Spirit. For pushing ahead without Your leading. For perpetually running on empty. For quenching Your Spirit. For hindering Your visitation in manifest presence and power. Forgive us, Lord.
We repent of our pride and vain glory. We exalt church name and church distinctives above Christ. We brag about star preachers, church size, worship style, and state-of-the-art audio-visuals. Lord, in Your mercy, forgive us and reset us. Far be it from [us] to boast except in the Cross of our Lord Jesus Christ (Galatians 6:14). Let the one who boasts, boast in the Lord (2 Corinthians 10:17).
3 Glory in Christ alone! In this 50th anniversary of the ACS Clock Tower revival, pray for a divine visitation. Ask God to stir within us an insatiable hunger for Christ. An intense thirst to be continually filled with his Spirit. A deep longing to be constantly harnessed, directed, and empowered by the Spirit as a way of life, personally and corporately. Spirit of the Living God, fall afresh on us! Fill us with all the fulness of Christ (Ephesians 4:12-13). Yesterday's top-up won't do for today. Lord, refill and refresh us today and every day for the next 50 years. In Jesus' Name. Amen.
---
Follow Salt&Light on Telegram, Facebook or Instagram for more of LoveSingapore's daily devotions until August 8, 2022.
If you have enjoyed reading Salt&Light...
We are an independent, non-profit organisation that relies on the generosity of our readers, such as yourself, to continue serving the kingdom. Every dollar donated goes directly back into our editorial coverage.
Would you consider partnering with us in our kingdom work by supporting us financially, either as a one-off donation, or a recurring pledge?
Support Salt&Light