Day 28: Hold your position
A LoveSingapore 40.Day prayer and fast devotional, following 2022's theme of To Live Is Christ: A Journey Through the Book of Philippians.
LoveSingapore // July 28, 2022, 12:01 am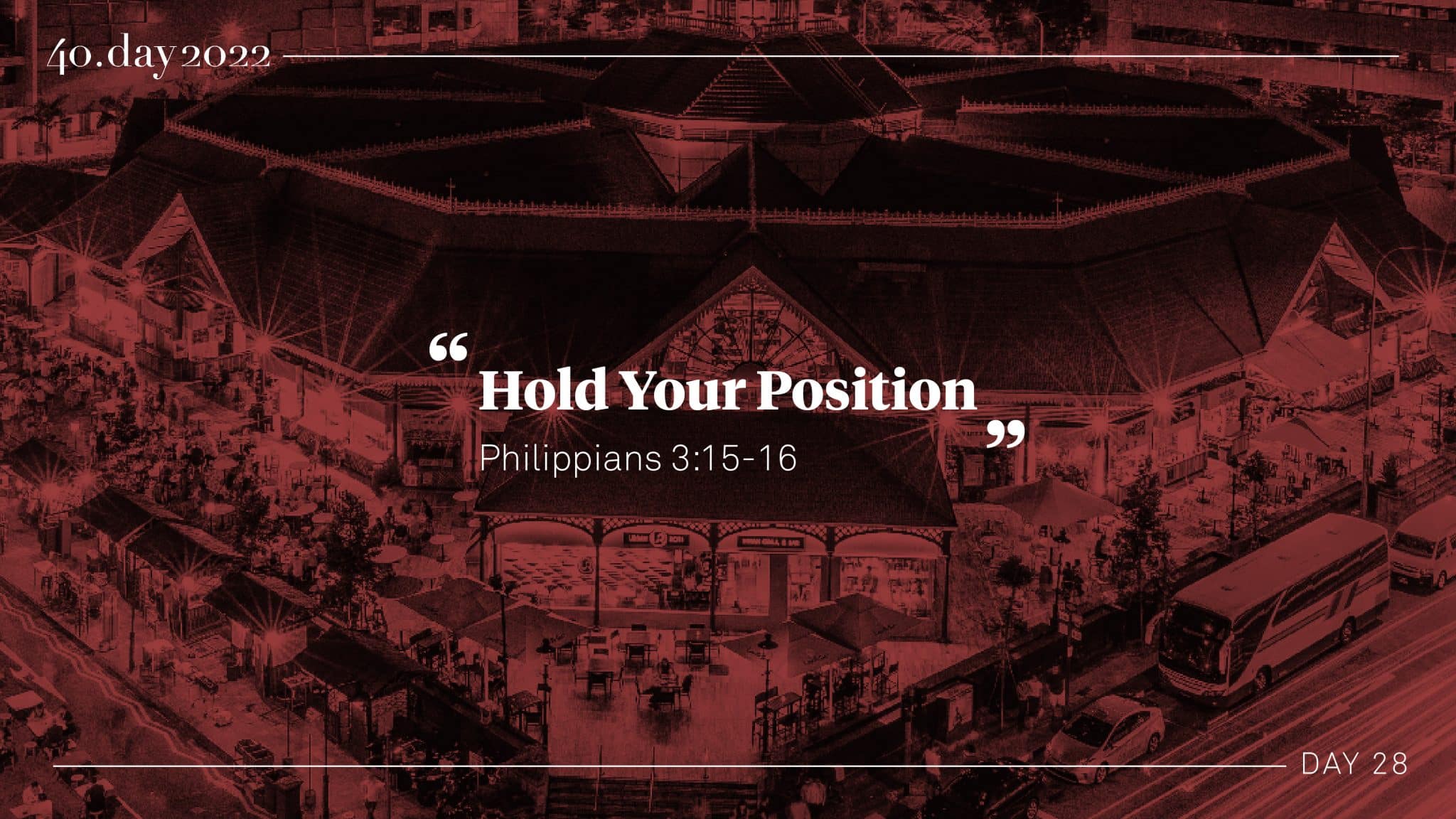 Bible reading for 40.DAY 2022 |  Philippians 3:15—16
---
Paul has just described his Olympian response to the upward call of God in Christ Jesus. Now, like a preacher making an altar call, he invites the entire congregation to follow his example.
First, he pitches to the gung-ho who are ready to leap across the chasm with him. Let those of us who are mature be thus minded. This points back to Paul's own example of self-denial and single-minded pursuit of the heavenly prize (Philippians 3:8-14).
"Mind this," says Paul (in Greek). In other words, don't just think about it. Put it into practice. Live it out. Lead the charge. Set the pace for the whole church.
Second, Paul appeals to the not-so-gung-ho – the "otherwise-minded". He realises that not all his sheep are ready to cross Niagara Falls on a tightrope with him. Perhaps none of them are. At least not yet.
Paul doesn't goad sheep from behind like a goatherd. He beckons them from upfront like a wise and gentle shepherd.
Even if they can't resonate with all he has written, he doesn't lower the standard. He gives them time to grow, trusting that God will speak to them directly (Philippians 3:15b).
Here is a tenderness in Paul that we may have overlooked. He draws the circle large enough to embrace the whole church. Not so tight as to shut any out. Blessed are the sheep who are so loved and so led by such a shepherd as this. 
Third, Paul makes an inclusive appeal to everyone, including himself, to march to the same drum: "Let us hold true to what we have attained" (Philippians 3:16).
Hold your position in the fray. Don't give an inch to the enemy.
"Hold true" is a military term. It means to "draw up in a line", or "march in rank". In other words, hold your position in the fray. Don't give an inch to the enemy. Bring your character and conduct into alignment with the standard set by Christ.
If Paul in his wretched chains, not only holds his place in the race, but steadfastly presses on toward the goal, what excuse do we have for dragging our feet, though they be unfettered?
You need not be a Navy SEAL or a Top Gun Maverick. But you can do your part.
Hold your position. Keep faith with your home church. Don't rip up the wineskin just because you don't see eye to eye with the leadership on everything.
Mind the things that matter most. Don't give up the Quest until you gain the Prize. To live is Christ.
Pray Now
1 Hold true to the call. To live is Christ. Nothing less than true discipleship. Nothing less than a life of self-denial, a single-minded pursuit to know Christ, and be like Christ. The immature will resist this call as radical, fanatical, or extreme. The mature will embrace it as the only reasonable and right response to the One who gave His life for them on the Cross (William MacDonald, adapted). Which are you? Pray your heart out. May we the Church in Antioch of Asia choose to grow up so that nations will be drawn to Christ in us.
2 Hold true to the standard. As we pivot our churches for post-pandemic restoration, may we all live out discipleship in community, set the pace, and lead without fear:
Always upholding the standard of true discipleship as modelled by Jesus and Paul.
Never showing partiality to those who are gung-ho and like-minded with us. But motivating all to stay abreast and bring onboard many more: What you have heard from me in the presence of many witnesses entrust to faithful men, who will be able to teach others also (2 Timothy 2:2).
Never forgetting slow learners, lame sheep, and weary souls who lag behind due to physical, mental, or emotional challenges.
Never lowering the bar to please everyone, including opinionated heavyweights or big givers.
Never wavering regardless who drags feet, sows discord, drops out, or pulls in the opposite direction.
Never writing off the casual consumers who are half-hearted and double-minded. Or the strong-willed complainers who are stubborn, independent, and unteachable.
Always being winsome and inclusive, ministering with the patience of Job, the meekness of Moses, the magnanimity of Paul, and the compassion of Christ, who will not crush the weakest reed or put out a flickering candle (Isaiah 42:3).
Always stewarding our gifts and roles with gentleness. "Nothing is so strong as gentleness. Nothing is so gentle as real strength" (Ralph Sockman). The Lord's servant must not be quarrelsome but kind to everyone, able to teach, patiently enduring evil, correcting his opponents with gentleness. God may perhaps grant them repentance leading to a knowledge of the truth (2 Timothy 2:24-25). Always remembering that "whatever influence we have is not ours by right but on divine loan, to use for His great purposes in the world – with gentleness" (David Mathis).
Today, choose to live for Christ. Repent. Refuse to walk away.
3 Hold your position. Where are you in Paul's "altar call"? Among the gung-ho and like-minded? Or with the not-so-gung-ho and otherwise-minded? Wherever you are, whoever you are, take heart. You need not be left behind. The choice is yours. Will you determine in your heart never to give up the Quest? Will you hold your place in the race? Today, choose to live for Christ. Repent. Refuse to walk away. Never put your personal opinion above God's command to walk and work together in community. Return to covenant relationship in Christ. Fix your eyes on Jesus. Love your home church. Love your leaders. Stay with the flock. Choose life-on-life discipleship in community. Pray with all your heart. To live is Christ.
---
Follow Salt&Light on Telegram, Facebook or Instagram for more of LoveSingapore's daily devotions until August 8, 2022.
If you have enjoyed reading Salt&Light...
We are an independent, non-profit organisation that relies on the generosity of our readers, such as yourself, to continue serving the kingdom. Every dollar donated goes directly back into our editorial coverage.
Would you consider partnering with us in our kingdom work by supporting us financially, either as a one-off donation, or a recurring pledge?
Support Salt&Light