Day 7: Pastor's update
A LoveSingapore 40.Day prayer and fast devotional, following 2022's theme of To Live Is Christ: A Journey Through the Book of Philippians.
LoveSingapore // July 7, 2022, 12:01 am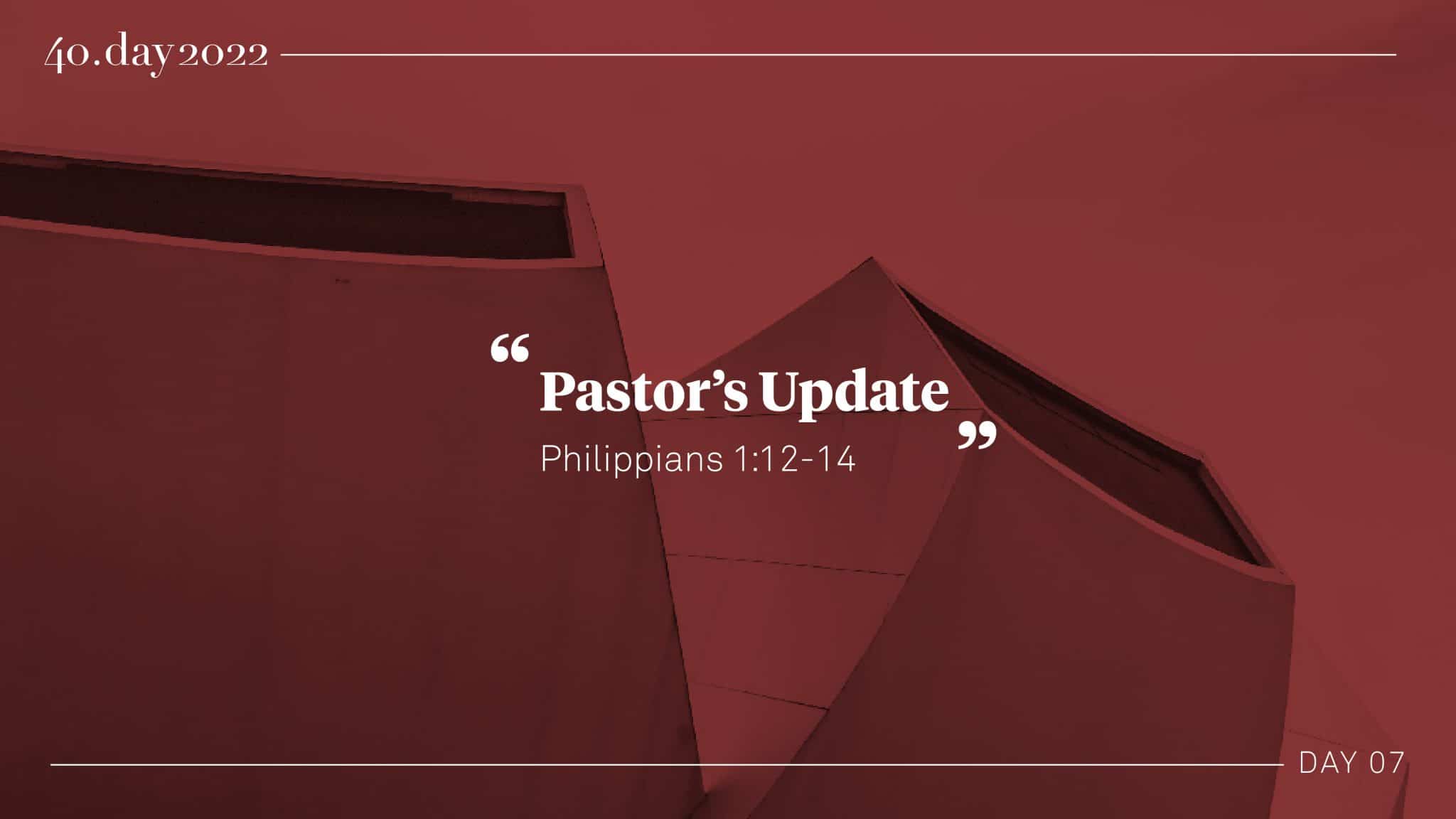 Bible reading for 40.DAY 2022 |  Philippians 1:12–14
---
So what happened to Paul? To make a long story short, after his third missionary journey, he was arrested in Jerusalem and falsely accused by the Sanhedrin or Supreme Court of Israel. When a plot to kill him was exposed, he was sent to Caesarea.
There his case was heard, first by Felix the governor of Judea. Then by Felix's successor, Festus. And finally by King Herod. All three found Paul innocent. But they detained him anyway, either to please the Jews or to get a bribe from Paul.
Being a Roman citizen, Paul invoked his right of appeal to the Roman Emperor, who at that time was Nero, also known as "Caesar", his official title. And now, as Caesar's prisoner, he awaits trial.
How then has all this "served to advance the Gospel?" In two ways:
First, the entire Praetorian Guard and "all the rest" have learned that Paul's imprisonment is for Christ (Philippians 1:13).
The Praetorian Guard was the most powerful military unit in the Roman Empire. So powerful, in fact, that even the emperors pandered to them. How then did this elite Imperial Guard hear that Paul's imprisonment is for Christ? Providentially.
Prisoners like Paul, when sent to Caesar, were put in custody of the Praetorian Guard. On his arrival, therefore, Paul was likely handed over to the Captain of the Guard, Sextus Afranius Burras, who had been Nero's chief advisor for more than 10 years.
Fired up by Paul's courage, they throw caution to the wind and preach the Gospel without fear.
So then, God's "chosen witness to kings" is chained to Caesar's bodyguards in four-hour shifts – a captive audience! Paul was never one to waste an opportunity. He did not let this one slip through his fingers.
Secondly, Paul's high-profile example had a galvanising effect on the Christians in Rome who had probably been keeping a low profile and playing it safe.
But now, fired up by Paul's courage, they throw caution to the wind and preach the Gospel without fear (Philippians 1:14).
The wind blows where it wills. For many years Paul had been longing, praying, and planning to preach the Gospel in Rome (Romans 1:9-15, 15:23-24). He would not have chosen these circumstances.
But God did. And Paul rejoiced. No one knew better than Paul that "God works all things together for good for those who love Him and are called according to His purpose" (Romans 8:28).
Pray Now
1 Be optimistic. Charles Swindoll puts it well: "We are all faced with a series of great opportunities brilliantly disguised as impossible situations." What are the impossible situations besetting you now? Feeling waylaid by the consequences of someone's bad decisions? Relational conflicts? Family meltdowns? Workplace fiasco? Sudden health crisis?
It's human to feel undone when things go wrong. Turn to God. Defy the impulse to cry, "Why me?" If we love God and are enslaved to Christ for His purpose, we don't ask "Why me" (read July 1 again). Instead we ask, "Why not me?" Get it right: "God works all things together for good for those who love Him and are called according to His purpose" (Romans 8:28).
I will make the most of every opportunity to boast about God for all to hear.
Pray it right: Dear God, I can't control what happens to me, but I can control the way I respond. I don't have to know everything but I choose to trust You and accept Your wisdom in and through it all. For You are my Heavenly Father. "You are too wise to make a mistake, too powerful to fail, and You love me too much to hurt me" (David Coote). You know best and You always have my best interest at heart. You are working out all things for my greatest good, for the Gospel good, and for the common good. You will turn all my troubles into testimonies for Your glory! Therefore, I refuse to whine and wallow in self-pity. I choose to get well. I choose to get up, get dressed, and get going. I will make the most of every opportunity to boast about You for all to hear.
2 Be confident in the Lord. "Sometimes the worst things that happen to us turn out to be the very best. Since God is sovereign, there's really never cause for despair" (Charles Colson). Consider Singapore's expulsion from Malaysia 57 years ago. Acknowledge God's sovereign hand. Rejoice that today, we are a sovereign nation with our own core values and governing principles. Everyone has a place, with equal opportunity, regardless of race, language, or religion. Everyone has the right to profess, practise, and propagate his or her faith (Singapore Constitution | Article 15). Rejoice that what has happened to us has served to advance the Gospel in Singapore and beyond. "Majulah," Antioch for Asia!
3 Be emboldened to do more. How has Covid-19 served to advance the Gospel in our city? You may be pleasantly surprised. We're seeing a greater-than-ever interest in reaching guest workers who represent major unreached people groups in Asia. Thank God that more than a hundred churches are collaborating to love our guest workers, care for them, and disciple them. Thank God that, for the first time in our history, there is now a Christian Service exclusively for them every Sunday in five different locations across Singapore. Thank God, they are tasting the authentic love of God the Father in deeply personal ways. Many have decided to follow Jesus, as a result. Believe for many more to follow suit. To God be all glory!
---
Follow Salt&Light on Telegram, Facebook or Instagram for more of LoveSingapore's daily devotions until August 8, 2022.
If you have enjoyed reading Salt&Light...
We are an independent, non-profit organisation that relies on the generosity of our readers, such as yourself, to continue serving the kingdom. Every dollar donated goes directly back into our editorial coverage.
Would you consider partnering with us in our kingdom work by supporting us financially, either as a one-off donation, or a recurring pledge?
Support Salt&Light