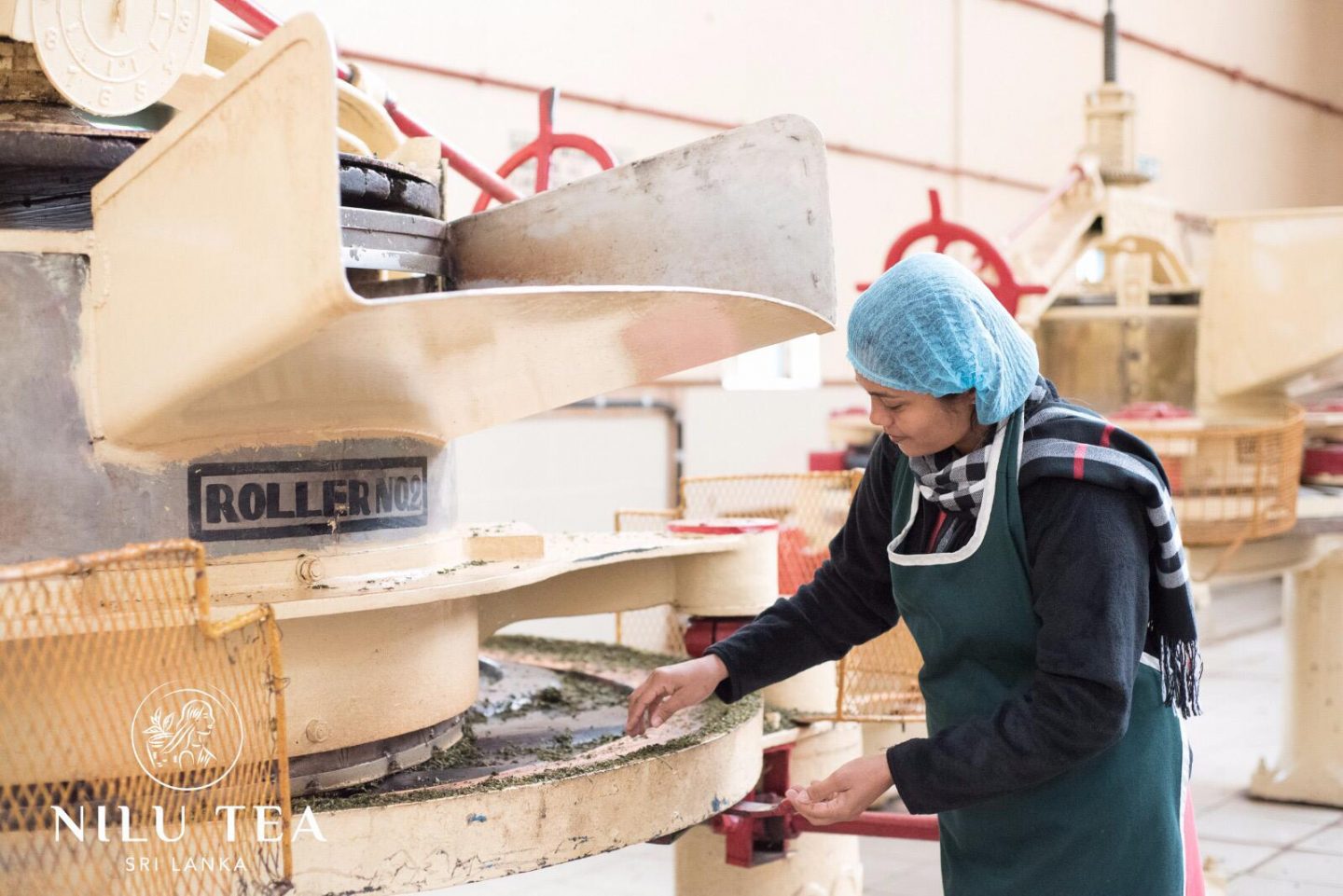 Former domestic worker Nilushika Silva Jayaweera decided to create her own brand of tea after taking an entrepreneurship course in Singapore. Seek God first, she encourages others – Matthew 6:33 has stuck with her since she became a Christian at 17. Photo courtesy of Nilushika Silva Jayaweera.
Nilushika Silva Jayaweera's first memories were of fighting.
Her mum and dad bickered almost every day, turning petty issues like finding a stone in a pot of rice into arguments about their finances and disillusionment with each other.
For a year and half as a teenager, Nilushika saw her mum fight for her life till she succumbed to cancer in 1993.
Two years later, she fought in vain to return to school when she was sent to an orphanage after her father and third brother died in a drowning accident. The nuns told her she couldn't go back to school, as she had already been two years behind her peers, having quite school to look after her younger siblings after her mum died.
Nilushika left the orphanage at 18, while her younger siblings stayed behind. She went to stay with her aunt and uncle, who had been too poor to raise their nephews and nieces. But now, of age, Nilushika could find work and support the family in exchange for board. Having little formal education, she found a job as a garment factory worker, earning US$100 a month.
Her dream as a child was to be a banker, someone with money and recognition from society. It seemed like the "best job" at that time, she says. Now, she just wanted enough "to live a better life".
She clung to the job for three years, but the family needed more. Now 21, the young woman from Negombo submitted an application to be a domestic helper in Dubai. But somehow, the call back came from an agency number in Singapore. 
Coming to Singapore 
Her pay increased, but so did the pressure. It was like being marooned on a strange island.
"I didn't know when I could move, when I could speak," she says of being a worker living in a stranger's home. 
She lost count of the number of plates she broke at her first employer's home. The clangs left her petrified, thinking each time: "Is my employer going to cut my salary?"
"I didn't know when I could move, when I could speak."
But as she carried on with the job, her worries were allayed. The family never docked her pay and, thankfully, her other employers were just as kind, she says.
She always had the opportunity to go to church, either Mass with her initial employers, or Protestant services when she got Sundays off subsequently. After a few years in Singapore, she joined her church's worship team. Singing and praising God with them became the highlight of each week or month.
Nilushika eased into life in Singapore. She worked, she regularly led worship, she faithfully sent money to her family every month.
What's next, she asked herself. She had heard of other helpers going to school on their days off, and thought of doing the same.
Initially, she wanted to be a nurse. Her employer was kind enough to support her and paid the fees for a first-aid course. But, because she was taking care of a small child at the same time, Nilushika couldn't continue studying after finishing the introductory course.
In 2010, Nilushika was struck by a personal crisis. Back in Sri Lanka for a holiday, she paid a visit to her siblings, including her younger brother. By then, he was married, and she saw how happy he and his wife was, in some way because she sacrificed her future for his and the rest of their siblings.
Suddenly, she felt broken, as if her life was going nowhere. For a year after she returned to Singapore, she felt depressed, Nilushika says.
"If there's something for me here, Lord show me."
Her employer, noticing she had fallen into despair, told her "you must do something" about her situation, and signed her up for classes at Aidha, a charity that aims to improve financial literacy levels among foreign domestic workers.
Nilushika wasn't keen at the beginning, but thought that at least the computer classes would be useful. As she attended the classes, she prayed dutifully: "If there's something for me here, Lord show me."
Midway, her interest in the classes was piqued. She signed up for three of Aidha's modules, which ranged from money management to entrepreneurship.
Altogether, they took a year and half to complete. Nilushika looked forward most to graduation at the end of the second and third modules, as each came with a graduation ceremony – she had never held an education certificate before she joined Aidha, and what's more, one printed in English.
At first, the classes just taught her how to be a "better employee", Nilushika says, as she learnt how to better manage her money and the cash her employer gave her for household expenses.
But when she studied entrepreneurship, it was hope that she found. "It gave me a future to look forward to," she says.
Dreaming again
After Nilushika finished the courses in mid-2011, she began to think about opening a sewing centre, spa or beauty salon in Sri Lanka.
But her employer, who noted that she often brought bags of tea from Sri Lanka back to Singapore, suggested she set up an online business. When Nilushika started it the same year, her employer helped her design her first online shop's webpage, naturalproductsbynilu. It sold products from Sri Lanka.
Nilushika ran this side project while still working as a helper in Singapore with the help of her husband in Sri Lanka, whom she married in 2012.
Over time, she thought of creating her own brand of tea. By having her name on the boxes and tags, she could inspire other women to be independent and dare to dream in a culture that discourages mothers from working.
To do so, she would have to return to Sri Lanka permanently to expand the business (her marriage was another impetus to go back).
She had to find a plantation that would work with a greenhorn, distributors that would stock a new product, and new marketing strategies.
In November 2016, after 15 years in Singapore, she left to embark on her new career, and launched Nilu Tea a year and a half later in May 2018. In Singapore, her range of six types of teas are sold on Redmart, Air Amber and at Food for Thought outlets. 
When she studied entrepreneurship, it was hope she found.
According to Nilu Tea's website, the company only works with ethical tea plantations that have strict hygiene conditions, food safety standards and good employee welfare. It also channels 10% of the profits to Emerging Hope Lanka, a non-profit Nilushika set up in 2016 that primarily supports low-income women in Sri Lanka to set up micro-businesses and aims at improving women's financial literacy.
Nilushika declined to reveal her current profit, but says that they have sold about 3,500 boxes of tea since Nilu Tea launched.
From becoming a domestic helper in Singapore to a budding entrepreneur in her own country, Nilushika, now 39, hopes her story will encourage other women to follow their dreams, no matter what setbacks they have faced.
All of these women have a bright future the Lord has destined for them (Jeremiah 29:11), she believes.
"God never wants anything bad for his children. Everything happens with a purpose and there is always a lesson to learn," she says. She has frequently shared about her life on public speaking platforms such as the TED Talks.
At the same time, seek God first, she says. Matthew 6:33 has stuck with her throughout her life since she became a Christian at 17.
Be prayerful and humble, because God is the One in control – it is this promise laid out in the verse that has helped her to emerge from the valleys stronger.
"Whatever the law states, we must do better": Employers who cook for their sick helpers and pay for husband's airfare because "love begets love"