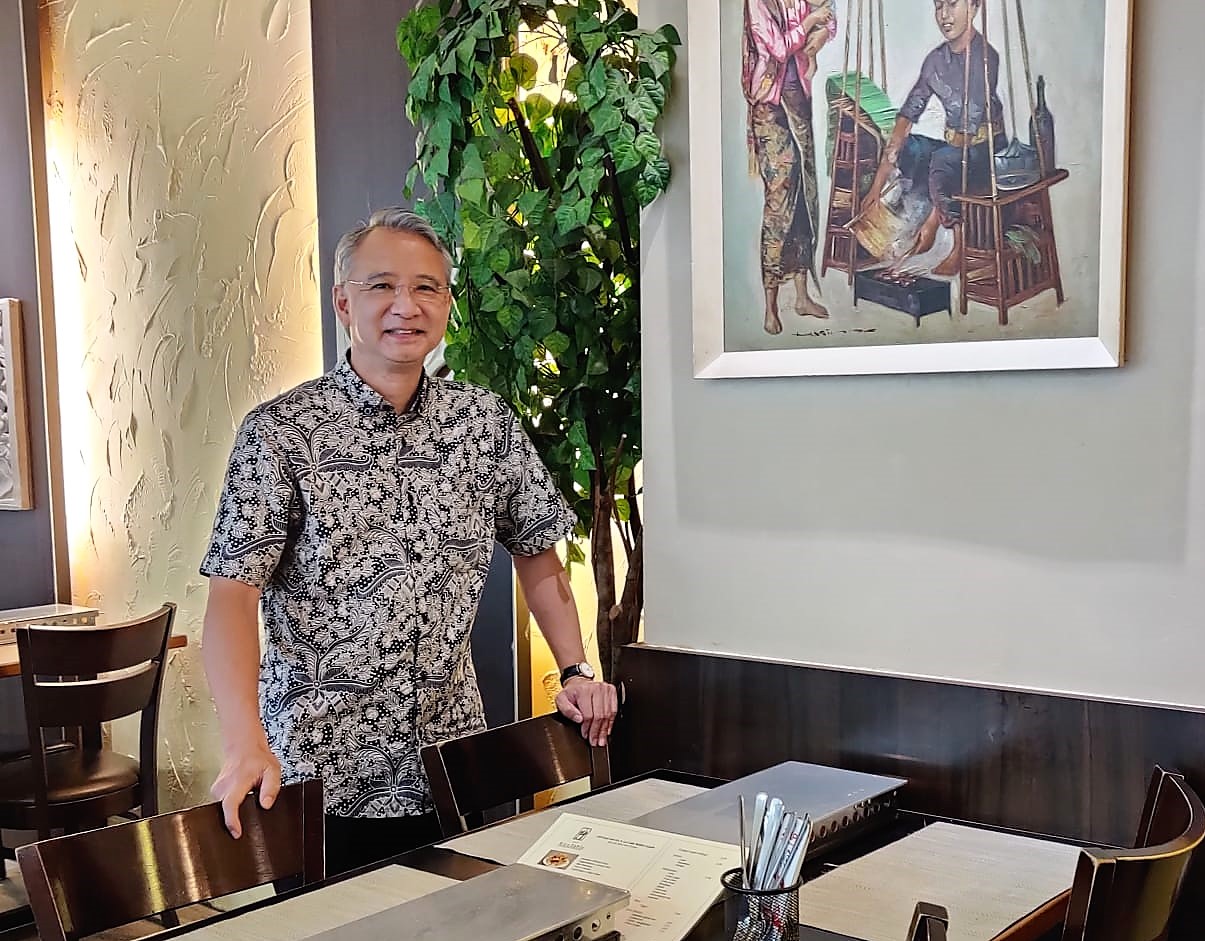 In a brief stopover in Singapore en route to Indonesia to attend a wedding, Kevin Sih ended up meeting his future wife, relocating to the country, starting The Rice Table, and renewing his faith. All photos courtesy of Kevin Sih.
Nestled in a quiet corner of Orchard Road is a little restaurant familiar to many in search of hearty Asian fare.
For over 20 years, The Rice Table has served up authentic Indonesian cuisine rijsttafel, or rice table, style.
What many may not know, though, is that behind this Indonesian restaurant is a gentle, genial soul.
Kevin Sih, 56, is the man who gave Singapore a chance to sample nasi padang (rice with a variety of dishes) the way Dutch colonial masters did when they returned to the Netherlands. 
Come for a feast of 15 to 20 different dishes laid out on rechauds or food warmers and Sih will be weaving amongst the tables, topping up water, ladling scoops of rice or refilling the dishes because The Rice Table is an a la carte buffet restaurant.
This is Sih's style of leadership. "I'm a hands-on boss. I learnt it from my parents. They were very hands-on," he told Salt&Light.
Love in Singapore
Sih's Indonesian father and Singaporean mother, who both studied in Europe, owned an Indonesian restaurant in Amsterdam from 1976 right up till 2001 when they retired. As a child, Sih helped out in the family business.
"I was 12 when they had the restaurant. I was the bartender because the bar area was very small and I was small enough to fit in comfortably!" 
The family of Catholics did not mind exposing their only child to the bar at such a tender age because they were sure he would not enjoy the taste of alcohol. They were right.
"I tried everything when I was there. I hated everything I tasted. The only thing I liked was coffee."
"I was the bartender because the bar area was very small and I was small enough to fit in comfortably!" 
Sih, who majored in Economics at a US university, would have taken over the restaurant because he was "too lazy to look for my own job".
But love came into the picture.
In 1994, he was travelling to Indonesia, his family's hometown, to attend a wedding. During a short stop in Singapore, his cousin set him up on a blind date. That was how he met Angie, to whom he would eventually marry.
"We met in her office where she was working in PR (public relations). We have a lot of similar interests – musicals, cooking.
"She does all the cooking at home. Her cooking is probably better than restaurant standard. She makes her own char siu (roast pork). Her other specialties are shepherd's pie and ikan bilis (anchovies) fried rice."
Because of her, Sih relocated to Singapore.
A wife of faith
Since he was familiar with the restaurant business, Sih decided to start his own restaurant instead of finding a job in Singapore. After all, he already had his own restaurant just a few blocks from his parents' restaurant in Amsterdam.
"I have always believed that God was trying to draw me closer to Him."
But the course of Sih's career was not the only thing Angie changed. She changed his journey with God as well. Until he met her, he had been, in his own words, not very devout.
Growing up in Holland, Sih had gone to church because his parents went.
When the family moved to the US for his education, he continued the practice because his parents were with him.
"When they left to return to Holland, I didn't really go to church anymore. But I have always believed that God was trying to draw me closer to Him."
Asked why he believed that, Sih said that it was inexplicable that he had returned to Holland after his studies in the US since staying on was the more natural thing for overseas students to do. 
But, because he returned home, he also returned to attending church with his parents.
"But there was still a gap between me and God."
Coming to Singapore helped change that in many ways.
"To practise your faith in Singapore is more accepted. In Holland, if you say you are going to church, people will think it is quite odd."  
His wife is very serious about her faith. Her devotion had a huge influence on Sih.
"She's the Catholic force of our family. God found me a wife to help me draw closer to Him."
Hands-on boss
Setting up The Rice Table came quite easily for the veteran restauranteur. But Sih attributes the creation of the menu to "the hand of God".
He had advertised for a cook to join the team. Among the applicants was a Chinese man who came but did not stay for the interview.
"I was busy talking to someone else. He couldn't wait for me to finish with the other guy. He left first.
"But when I saw him, I felt that this was the one I should hire."
Because of that prompting, Sih arranged for another interview. The man was hired on the spot and has been The Rice Table's head chef ever since.
"We had our own recipes but they were tailored to European palates, more sweet and less spicy. He gave the dishes a bit of a twist and, through trial and error, came up with the menu."
Classics like satay (barbecued meats on a skewer) and a fruit salad of apples and oranges were brought in from Holland. Others like the grilled chicken were creations made specially for Singapore.
Sih's modest staff of three permanent employees has been with him almost right from the start. Though he jokes that it is because they have no other place to go, watching Sih at work, it is clear that much of the reason for their loyalty lies in his style of management.
He calls himself a "terrible boss" only because he is not bossy. "They run the show."
Instead, he is easy-going and has pitched in from the beginning. He has worked in the kitchen and knows how to cook everything on the menu.
In small ways, he tries to bring Christian values to his business.
"So, if the chef is sick, I can cook and keep the business going. I enjoy the backend work more than the front-end job.
"I used to be quite shy and didn't like to deal with people that much. I've changed. I enjoy meeting the customers more now."
Sih is not one to speak loudly or carry a big stick. If something needs to be done, he is the first to do it. When his staff see him hard at work, they naturally follow suit. This is his form of quiet leadership.
In small ways, he tries to bring Christian values to his business. The Rice Table observes the Sunday rest. It is closed for Sunday dinners even though weekends are the most lucrative times.
"This is so that believers can still attend church services in the evenings."
A God over crises
Sih firmly believes that The Rice Table is God's business. "We couldn't have run this business without God's help. The F&B scene is very competitive."
Yet, his restaurant has survived many crises. Not long after it opened in October 1997, the Asian financial crisis rocked the region. But business was not hard hit because it was new and, more importantly, reasonably priced.
"At the time, we were comparing prices with other restaurants in the area and we tried to be priced slightly lower than them. We didn't even know it would help us this way."
Then, SARS hit Singapore and devastated many businesses in the early 2000s. Again, The Rice Table was spared.
"We had opened another outlet in Cuppage and, because it was new, there was a lot of publicity and TV exposure."
Then came Covid-19.
"We couldn't have run this business without God's help."
"Even before the lockdown, we saw business going down when the churches closed in mid-February. We thought it might go on for a very long time and, if it continues, we may not survive. So, we thought of closing down."
Then came the lockdown. To stay afloat, Sih kept only his long-time full-time staff and resorted to deliveries and takeaways. Even as business fell 40%, Sih saw God's leading.
Just as he was planning to sign up with the usual food delivery companies, he came across Dabao 2020, a community initiative on Facebook that offered hawkers and food outlets a free platform to promote their business and take orders online.
"I thought: Maybe I won't need to sign up with the delivery companies which levied a charge.
"I had no one to do my deliveries but someone saw my posts on Facebook that garnered a lot of replies and offered to deliver for me. From there, we met other delivery people. I didn't have to go look for delivery people.
"These things are the hand of God."
Even so, business was floundering. Sih wanted to break his lease and give up the restaurant. But his bookkeeper told him to hang on, believing that the Government would step in to help.
Economic measures did kick in.
Since Phase 3, when eight are allowed to dine out together, business has almost returned to normal for The Rice Table.
The Rice Table, which once had three outlets, is now down to the original restaurant. Though Sih has devoted his all to it for decades, he is open to letting the business go eventually.
His chef, at 67, is getting on in years and would retire some day. None of his three children aged 19 to 25 is interested in taking over the business.
But Sih is not worried. He knows that the God that has brought the business thus far will know what to do with it when the time comes.
---
IF YOU LIKED THIS STORY, READ:
Uncertain outlook? "God will fulfil His part as our business Partner," says restauranteur Paul Ooi