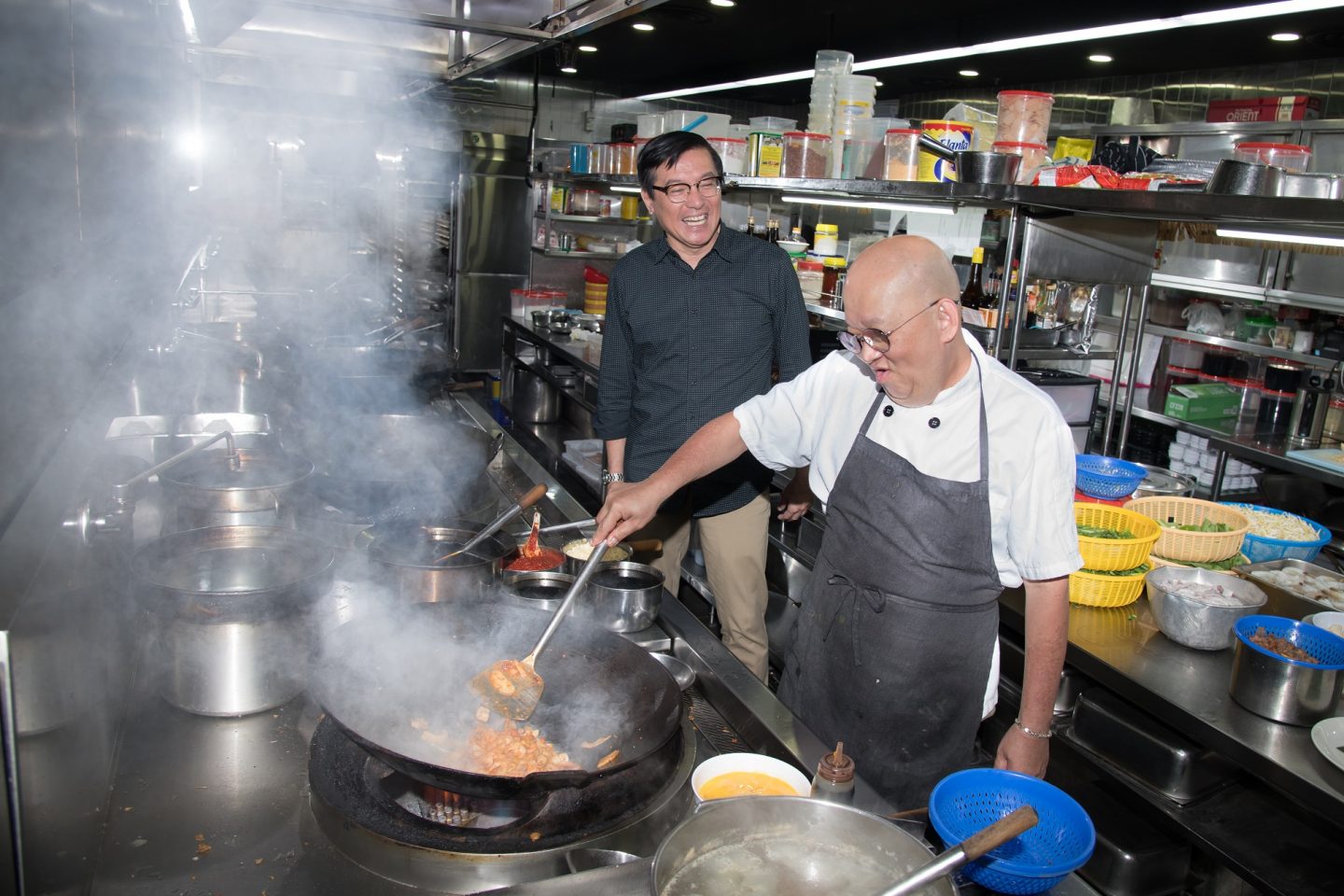 "Alvin Goh is our master-chef. He can cook all the different types of Penang food and make the desserts and pastry as well," says Paul Ooi. Photo by Glen Goh.
Walking into Penang Place with Paul Ooi is like stepping into his family home.
It is a little more than an hour to the lunch-time opening as he leads the way into his establishment at Suntec City.
He stops often to greet his staff, even taking time to introduce them to this Salt&Light writer – in very much the same way you would, when you bring friends home to visit.
"It was a scary time. My family prayed a lot."
Nicely groomed and dressed in khaki twilled cotton slacks, 64-year-old Ooi looks every inch the modern successful restauranteur you would come across in glossy magazines.
Affable, well-spoken, he has the stature of someone who has been a businessman all his life, but no, the aura of calm comes from having lived out his faith through tough times.
At 47 years of age and in the prime of his career, Ooi was laid off. 
The year was 2002. He had been working in the human resource (HR) department of a Fortune 500 global technology firm for 21 years and had an array of responsibilities. In employee services, for instance, his duties included running the company's cafeterias for a staff of 10,000.
"It was a scary time," he recalls. "I was a sole breadwinner and we had six children. The youngest was only seven and the oldest, 16.
"My family prayed a lot, because we believe God loves an answered prayer."
Little did Ooi expect that God would germinate the seed of a forgotten dream he'd had in his youth – but not before a season of anxious waiting lasting 11 months.
While the Singapore economy was grappling with the effects of the SARS (Severe Acute Respiratory Syndrome) outbreak in 2003, Ooi was weighing the risk of what he knew God was asking him to do in faith.
"While we knew God wanted us to start a business, we did not know what exactly – just that it would be food-related."
"I am a Penang Peranakan," he describes. "My grandmothers on both sides wore sarong kebayas. I used to watch my mother and grandmothers cook and dreamt of starting my own restaurant."
Some years even before his retrenchment, God had spoken to Ooi from Ezekiel 37:14 "about having my 'own land' ".
God also spoke to his wife, Hannah, separately, and subsequently gave her Psalm 37:34. "Again, it was about our 'land'. We understood the 'land' to be a business we will have one day," Ooi says.
"While we knew God wanted us to start a business, we did not know what exactly – just that it would be food-related."
Without a job, all he had was a steely faith, which was birthed from a commitment to God he had made more than three decades before.
A Christian from 12 years of age, Ooi fell away during his tertiary studies in London. When he came back to the Lord as a young adult, he was resolute: "I made a vow to God that I will obey Him no matter what it costs.
"It was a total surrender and commitment. My life and faith really took off from there."
Food for thought
At the tail-end of the SARS epidemic, Ooi stumbled upon a restaurant chain looking for someone to take over its rented premises at the International Business Park in Jurong East. The owner had spent three-quarters of a million dollars fitting out the facility, but was ready to give it all up.
"It was a functioning restaurant, a beautiful place. When I phoned the restaurant owner, he said he wanted to sell lock, stock and barrel – everything.
"I offered him $30,000 for the takeover fee, an amount Hannah felt the Lord told her. He said yes – on the spot, over the phone! We were shocked!"
Investing another $30,000 for running expenses, Ooi and Hannah, an economics graduate, started their business.
The opening of the first Penang Place in August 2003 marked the beginning of a second career for Ooi, a hospitality graduate.
"Penang food is a unique selling point. When the food is authentic and of good quality, Singaporeans would travel to get good food, so they all came. But the real competitive advantage we have is the Lord, because God really blessed us."
Once, an Englishman who worked in the business park walked in on a public holiday. "When he saw the packed restaurant, he asked, 'What type of marketing do you do? The place used to be a desert!'
"When he said that," Ooi smiles, "I remembered Isaiah 43:19."
When the International Business Park was being re-developed, Penang Place moved to Fusionopolis. At that location, the restaurant thrived for six years before having to move again because of another building improvement plan.
The initial notice from the landlord prompted Ooi to begin his search for alternative space for his burgeoning business. After more than a year, however, he still could not find a suitable location and had to close the restaurant temporarily.
His staff waited with him. Special arrangements were made for them to clear their annual leave, but they remained on the payroll. Ooi insists: "We try to take care of our staff well. 
"Besides, God must care for them more than we care for them."
Honouring God
With nowhere to go, Ooi and his family were faced with yet another "scary situation". But by this time, the positive attitude was in-built and they continued to practise their all-too-familiar knee drill: P-R-A-Y!
"Financially, we don't have a lot of money," Ooi shares. "We don't charge a lot and it's really a volume business.
"Sometimes, circumstances also reveal the will of God. It's never a 100% perfectly laid out plan because faith is also spelt 'R-I-S-K'."
"Hannah and I did consider retirement. By then it had also become harder to run a business. I know, no matter how smart you are in business, if the tide goes against you, it can be very tough.
"We had a responsibility to the 30 permanent staff. Many were with us from the start and have families to support. 
"We felt it is the will of God to carry on." 
Three months passed before there came a knock on their doors. Suntec City had a space of 10,000 square feet to let. It was a fully-fitted restaurant with fine furnishing, but the two restaurants before did not last more than two years each. 
That last bit of information did not augur well. "My project manager said to me, 'Paul you're very brave to take on this big space which nobody wants.'
"Yes, it was scary but we had nowhere to go.
"Sometimes, circumstances also reveal the will of God. It's never a 100% perfectly laid out plan because faith is also spelt 'R-I-S-K'. That's my experience."
And so, Penang Place moved to Suntec City, where on the same level there were 10 other eateries, all vying for customer appetites.
Nevertheless, Ooi raised his buffet prices by only a dollar even though his rent had doubled. God prospered the business, increasing sales by 50%, compared to its previous location.
This, in the face of industry statistics that predict the failure of 40% of new food-and-beverage businesses within the first five years of operation; one in three F&B outlets is also reported as being replaced every year.
That is not Penang Place's story. It is now a $4.5-million business that includes a catering arm. "The competition is intense but sales in the first two months of this year went up by 22%, compared to a year earlier.
"We started with a capital outlay of $60,000. God has multiplied it many, many folds. This is what God can do."
Jesus, the senior partner
Ooi shares that the recipe for his success came by divine revelation: "In my eighth year in business, I had a dream. Jesus told me: 'I am your business partner. You do your part and I will do Mine.'
"My part is to optimise what I have in my hands, just like Moses did (Exodus 4). I try to do the humanly possible and trust God to do the rest.
"Compared to God, we are nothing. Therefore, I follow the Lord and ask of Him, including business strategies."
"He is the master strategist (Isaiah 55:8). Compared to God, we are nothing. Therefore, I follow the Lord and ask of Him, including business strategies.
"When we came to the mall, I asked the Lord what to do. He referred me to Peter Drucker's books. Drucker says to focus on marketing and innovation," Ooi expounds.
"We try to figure out our new customers at the mall and learn what they value. We made changes; we must give them what they want." 
Ooi is also mindful that his is a business built firstly on Kingdom values and constantly strives to align his decisions with Scripture. To advance the Gospel and its works, he has set up a foundation to which half of the restaurant's profits after tax go.
The money is used to help the poor and needy, and in areas where the Gospel is preached (Deuteronomy 15:11).
Additionally, Penang Place has a 1-for-1 buffet treat for full-time career pastors and missionaries. "Right from the start, we honour God by honoring His servants."
"This restaurant is a marketplace ministry, we want to show others what Kingdom life is like," he says.
"For our customers, we try to give them the best quality dining experience – authentic, quality food at fair, affordable prices. We pay our vendors on time."
With his staff, Ooi practises profit-sharing, because "they are the ones who make it possible. We work hard together."
"We try to represent the Lord, who is the senior partner, the real employer.
"We treat others the way we like to be treated ourselves. It's the golden rule (Matthew 7:12)."
If you have enjoyed reading Salt&Light...
We are an independent, non-profit organisation that relies on the generosity of our readers, such as yourself, to continue serving the kingdom. Every dollar donated goes directly back into our editorial coverage.
Would you consider partnering with us in our kingdom work by supporting us financially, either as a one-off donation, or a recurring pledge?
Support Salt&Light