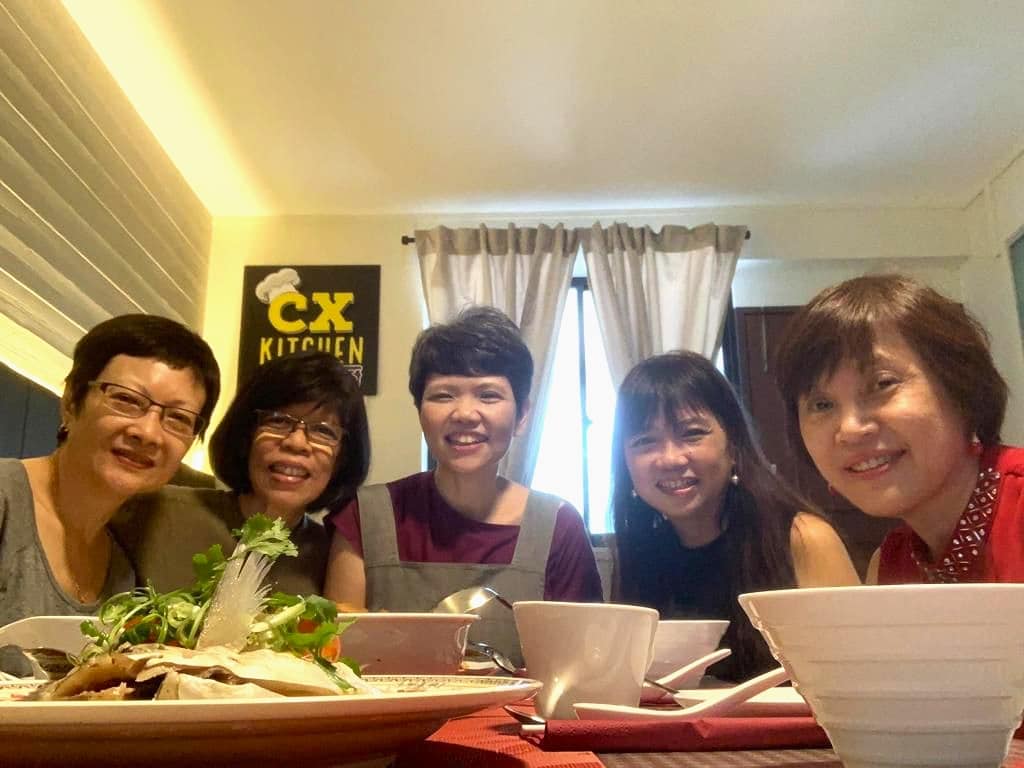 Private dining CX Kitchen started out as a way for Pastor Li Cuixian (centre) to be at home to care for her elderly parents, but it has since become her mission field. All photos courtesy of Ps Li Cuixian.
 Three years ago, life for Pastor Li Cuixian changed.
Her father, then already 80 years old, had to undergo surgery because of spinal stenosis, a condition in which the spaces within the spine become narrowed.
"He had cramps whenever he walked. They discovered that his spine had collapsed."
"I felt the need to be home more."
At the time, he was the sole caregiver of her mother who was 78 years old and suffering from dementia. Her mother was also bedridden, having had a stroke some years before.
"After the surgery, my dad couldn't take care of her anymore," said the 48-year-old.
The caregiving of her parents fell to Ps Cuixian, as she was the only one among her siblings not married with children.
"We didn't have a helper then. I had to work and take care of her. It became a bit of a challenge.
"So, I felt the need to be home more. That was how the prayer to work from home came about."
Ps Cuixian decided the only way forward was to leave her job at Grace Assembly of God.
"I didn't think I could remain as a pastor if I could not work on weekends." 
The next step was to find work that would allow her to be home as much as possible.
Family tradition 
One day, Ps Cuixian was watching television when she chanced upon a programme about a home cook who started private dining in his home.
"I was intrigued. I didn't know such a thing was possible in Singapore."
"I wanted to do something extra. Cooking for the staff became my commitment."
That same weekend, an article appeared in the newspaper that featured four private dining chefs.
"It had everything – what they sold, how much they charged, what the were doing before they became private chefs. I got more curious."
The idea of starting a private dining business began to take root.
Cooking had always been a big part of Ps Cuixian's life. Her parents had been hawkers who'd sold economy rice till they retired in their 50s.
Although her mother never passed her any recipes, Ps Cuixian had a good understanding of running an F&B business from years of helping out at the hawker stall.
As a pastor, she began cooking for the staff before their prayer meetings.
"I wanted to serve outside of my job. I'm a pastor. So, I cannot consider my working hours a form of service.
"I wanted to do something extra. Cooking for the staff became my commitment. I made sure I did it on my own time. I didn't use my work hours."
Although it was simple home-cooked fare – "I cooked one vegetable dish and one meat dish" – it did mean making dinner for some 20 people.
But for someone who used to help her parents serve hundreds of meals a day, "it was okay to me".
On one occasion, she even cooked for 70 people to celebrate the birthday of a church staff member.
"People would tell me that my food is good. My mother never taught me anything and I never really cooked at her stall. But I suppose there was 耳濡目染 (learning through observation)."
The food business is also "in my blood", she said. Her mother's side of the family is in the bakery business while her father's siblings are hawkers. Some sell laksa (rice noodles in a coconut broth) while others sell fishball noodles.
"I just felt that God was leading."
Even as Ps Cuixian mulled over the idea of following family tradition, doors opened.
A week after learning about private dining in Singapore, her neighbour passed away. The flat next door suddenly became available. Ps Cuixian decided to buy the unit to start her own private dining business.
"I just felt that God was leading the way because that would allow me to work from home and I didn't need to look for a job that would let me be home.
"My neighbour's children were also more than eager to sell the flat to me because we had been neighbours for more than 40 years."
Meanwhile, her Senior Pastor persuaded her to remain employed in the church on a part-time basis. "There were some things in the church that he still needed me to look into."
So, as 2020 started, Ps Cuixian embarked on her new career as pastor and private chef.
Custom-made cuisine
Open from Friday to Sunday, CX Kitchen saw steady business from the start.
"By virtue of my job, I have a lot of Facebook friends. I shared about CX Kitchen on my account and other people also helped me to share.
"I like to serve my guest things they have not tried before."
"So, I had at least one or two bookings a week."
But two months into the business, Covid swept through the world, causing many F&B businesses to buckle. CX Kitchen had to refuse all bookings during the Circuit Breaker and pivot to take-outs instead.
Ps Cuixian relied on selling kueh (cakes), mining ideas from her Teochew background to offer radish, pumpkin and yam cakes for sale. Also available is kueh talam. Those in Singapore call the pandan custard with a layer of steamed glutinous rice kueh salat.
"My Indonesian mum calls it kueh talam, which is what it is called in Indonesia," she explained.
Because start-up costs were kept low, Ps Cuixian was able to weather the challenging period. Her takeout business has become her fallback whenever there are restrictions on dining in.
To help set CX Kitchen apart, Ps Cuixian decided not to limit herself to a single type of cuisine. Instead, she caters to the gastronomic preferences of her diners.
"I will ask if they want Asian or Western, their favourite protein or the protein they want to avoid, for example some don't eat lamb.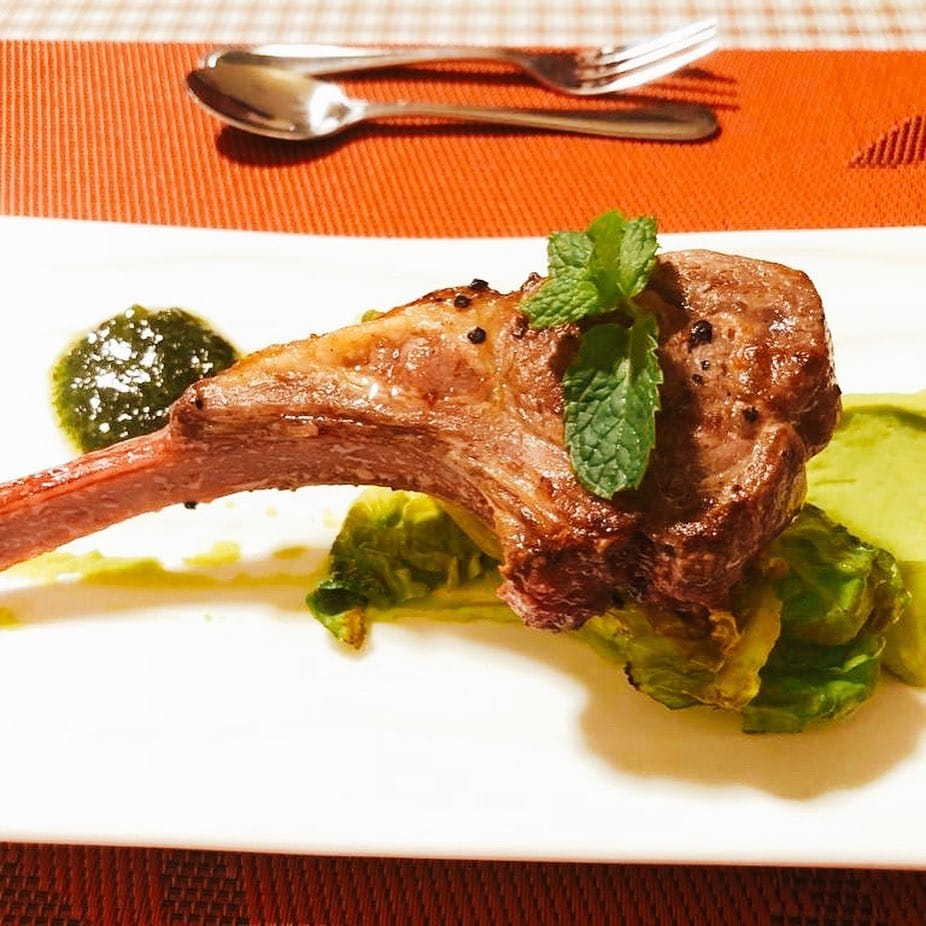 "Then, I focus on making the types of cuisine they have opted for."
She once had a former colleague make a lunch booking for three. Remembering that the person loved noodles, she made sure noodles featured in the main course.
Having a customised menu also means that customers need not worry about getting the same dishes should they make a return visit.
"I don't like to repeat dishes. I like to serve my guest things they have not tried before.
"I have cancer patients who dine with me. I try to cook dishes suitable for them."
"I will take note of what they have been served and if they come again, they will definitely not get the same food. That's my specialty."
Because of her desire to explore different cuisines, she has tried her hand at making many things from kimchi (Korean pickled cabbage) to mala (spicy and numbing Sichuan peppercorn seasoning) chilli, bread including sourdough and even ice-cream.
Ps Cuixian also caters to special diets.
"I have cancer patients (who dine with me). I try to cook dishes suitable for them."
Recently, she had a diner who had intestinal issues. Ps Cuixian took extra care to create a menu that would be good for the gut.
She included carrots in the pumpkin soup because of its fibre. Yoghurt, which strengthens the digestive tract because of the probiotic cultures it contains, was added to the soup instead of cream. To aid digestion, she even mashed some of the broccoli that accompanied the fish in the main course. Such is her attention to detail and care for the customers.
A pastor at heart
But care for those who come through CX Kitchen's doors goes beyond tailoring menus to meet tastes and needs. Ps Cuixian attends to the diners in other ways.
"I try to be very sensitive to how the Lord is leading me. Once, there was a Christian client who regularly suffered toe cramps. So, I prayed for her healing."
To others, she lends an empathetic ear and provides encouragement.
"When the elderly come, I ask them about the things they are doing, how they have been keeping well and active.
"I can speak into their lives according to the issues they raise."
"To those seeking a change in career, I offer biblical wisdom.
"When teachers come, I talk about how teaching is not an easy profession and tell them that they are touchpoints for the students whose lives they are building up."
When the opportunity arises – and it often does – Ps Cuixian shares how God led her to the private dining business.
"This is where I do my ministry, too. You can't get rid of the pastor in me. Like in a church, I still sense what the Holy Spirit is saying and do accordingly.
"I want to minister to people not just from my own congregation. I see this as a ministry opportunity."
This Chinese New Year, Ps Cuixian's home will once again be her sanctuary to share about the God she serves, even as she serves up a six-course meal.
CX Kitchen is open for booking with a Chinese menu that features strong Teochew influences that include steamed Chinese pomfret and orh nee (yam paste) for dessert.
A safe space
Private dining aside, Ps Cuixian also conducts cooking classes for foreign domestic workers. This is another area of ministry for her.
"Employers send them so they can learn how to cook local cuisine. After they cook, they sit and have lunch and we chit-chat.
"If I can speak into their lives according to the issues they raise, I do so. If they allow me to, I say a prayer for them."
Over the four-week course, bonds are formed. The helpers who started out as strangers forge friendships.
"When they first come, you can see that they are uncomfortable. They feel weird sitting down and having lunch together.
"Over time, they talk more and they talk amongst themselves. It warms my heart to know that they feel this is a safe place."
"I want to seize every opportunity to help them to grow."
On one occasion, one of the helpers confided that no matter how much she earned, she did not seem to save enough.
"She would go home and find that she was back to square one. So, she would come back to Singapore to work again."
In that particular class, there happened to be a financial advisor, a member of Ps Cuixian's church who had wanted to learn to cook for his wife. He ended up counselling the helper and teaching her how to save.
"I want to seize every opportunity to help them to grow, help them to become better off."
Two years in, CX Kitchen is "profitable by my standards", said Ps Cuixian.
"It may not be enough for a person used to a huge income but it is enough for me." 
More than a chance to work from home so that she can care for her parents, the private dining endeavour has expanded Ps Cuixian's church, allowing her to pastor beyond church walls.
---
RELATED STORIES:
From S$100,000 debt to private dining chef: The story of the hidden inspiration behind KeeHive
"If we don't exercise faith, we will never learn it": Ironman Chef Heman Tan on his riches to rags story
If you have enjoyed reading Salt&Light...
We are an independent, non-profit organisation that relies on the generosity of our readers, such as yourself, to continue serving the kingdom. Every dollar donated goes directly back into our editorial coverage.
Would you consider partnering with us in our kingdom work by supporting us financially, either as a one-off donation, or a recurring pledge?
Support Salt&Light