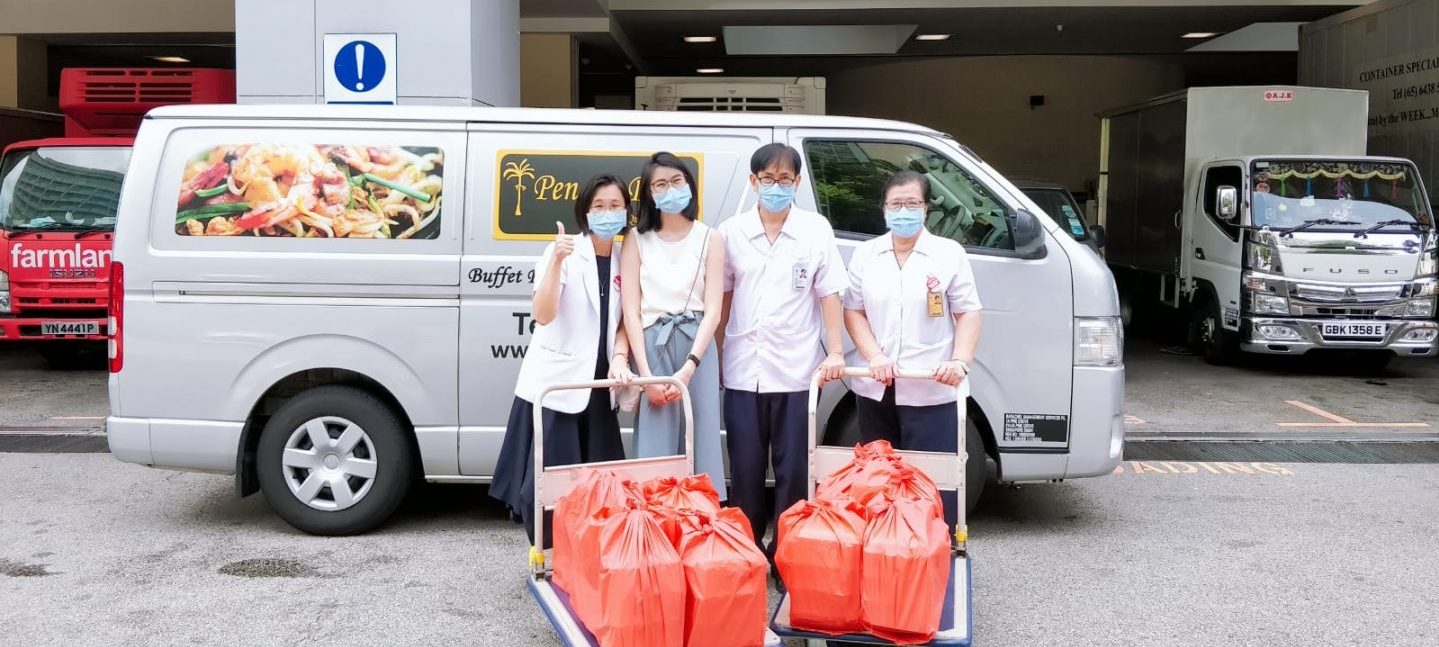 Despite "bleeding money" since February, Penang Place is still committed to preparing food and delivering them to healthcare workers for free. Pictured here are staff members from the National Centre for Infectious Diseases collecting their lunch. Photo courtesy of Paul Ooi.
Circuit Breaker stay-home measures have been described as a "death sentence" for the local F&B industry, where profit margins are slim to begin with.
Yet as F&B owners face losses of up to hundreds of thousands, some are going against business sense to follow their instinct to feed and care for others in this time of loss and uncertainty – be it their own employees or the larger community.
Here are four who are driven to keep giving.
Feeding the elderly
Business at The Peranakan, a restaurant at Orchard Road, has dropped by 80% since the government implemented stricter measures to curb the spread of the coronavirus, said owner Raymond Khoo.
Even though his 12 staff members have agreed to take pay cuts so nobody has to be laid off, it is still "almost impossible to make ends meet", he said.
Khoo added that he has yet to receive any rent rebates, but his losses are so great that he would still not be able to breakeven even if his rent is waived completely.
While it makes more business sense to cut back on as much costs as possible, Khoo is instead extending even more help to the elderly in Lengkok Bahru, whom he has been reaching out to every Saturday for the past nine years.
Under the initiative, which he calls The Saturday Movement, Khoo typically provides lunch for these elderly who live in one-room flats and gives them bread and fruits to last them the week.
"During times like these, people are more in need. Why should we take a step back?"
During these lunches, the elderly often mingle and chat with each other, which staves off the isolation that many of them feel.
But with the social distancing measures, these gatherings and food distributions have since stopped. "I can already foresee depression taking over their lives," Khoo said.
"They already feel so lonely as they can't gather as one happy Saturday family. The senior's activity centre is also closed and there's really no one to talk to. I don't want them to be forgotten."
He has stepped up his commitment to provide them with two meals a week, up from one meal a week, by providing them with food vouchers.
He pays two nearby coffee shop stalls in advance for the vouchers, which the elderly can use during the week to redeem free meals.
He is also doing the same for the former Sungei Road flea market hawkers, whom he has been helping since they were evicted in mid-2017.
Even though there has been "a little bit of an uproar" among those close to him about why he is still keeping this up despite making losses, he is firm in his commitment to those he has been helping.
"Profit or loss, whatever, I'm just trusting the Lord and having a child-like faith."
"During times like these, people are more in need. Why should we take a step back? I think we should step up and step forward to support wherever we can," he said.
He has also started an "Adopt-A-Bento" programme, which allows the public to donate $5 for a bento set and $2 for a cup of bubble tea, which will go to feeding the frontline workers in healthcare. 
"Of course it's a very poor margin for us. If you want to calculate costs … of course lose money lah," he said with a laugh. "But it's not always about margins."
In all, he is providing about 1,500 meals this week to the elderly and healthcare workers. He expects to give out more than 2,000 next week.
He is digging into his own savings to keep up the work he is doing and hopes that, by keeping busy, his staff will remain motivated in what they do. 
"I'm just trusting the Lord to pave the way. Profit or loss, whatever, I'm just trusting the Lord and having a child-like faith."
Caring for teachers
Over at Kara Café & Dessert Bar, which is along Bukit Timah Road, owner Lee Li Ping is staying committed to her eight full-time employees, assuring them that they will be taken care of for at least the next half of the year, even if the situation gets worse.
Though her profit has dropped by more than 50% and the revenue she gets from the event space above her café has disappeared completely, she has not laid any of them off and is still paying them their full salaries.
"We have employees from the Philippines, China, Vietnam, Korea. They're all away from their families. We say that our mission is to create a safe space for people and now we want to stay true to that commitment," she told Salt&Light.
At the moment her team is focussing on improving their online delivery system, which she thanks God she had already got up and running before the pandemic hit.
"We say that our mission is to create a safe space for people and now we want to stay true to that commitment."
Apart from retaining her employees, she has also partnered with her frozen yoghurt supplier, Sugalight, to provide free frozen yoghurt to school teachers, whom she identified as a group that has been working really hard this season.
"Teachers are taking the heat. They have to manage parents' anxieties, manage the students' morales and after the Circuit Breaker they also have had to shift to home-based learning, which is a lot of work," she said.
She added she had initially wanted to do something for healthcare workers but found that many people were already serving them. As she looked for other gaps, she realised that there was one right at her doorstep: the Bukit Timah school belt. 
Teachers can get a free cup of frozen yoghurt by flashing their staff pass in-store or when they order a meal to be delivered, said Lee. 
"His abundance also includes people … and the love and support we are able to give and receive."
During this season she is learning what it means to give and sow generously even in times of lack, she said.
"It's really a lesson on trusting in His provision and trusting in His generosity to us. If I were to respond in fear of lack or just look at it from a very natural, practical point of view, it doesn't do any good for the community at large or for ourselves.
"Yeah, we may survive, but there's no way we can thrive. I think only God has the ability to enable us to thrive in this kind of season."
But what does thriving look like?
In God's Kingdom, she said, abundance does not merely entail finances. "His abundance also includes people, the connections we make and the love and support we are able to give and receive.
"That's something I feel very, very blessed by. It does take a time of crisis to see how much God has surrounded us with people who really want us to do well. I see that as abundance."
Blessing neighbours
At Lowercase in LaSalle and The Book Café at Martin Road, which are co-owned by Shirley Soh, revenue has fallen by up to 97% and Soh is well aware that this may very well mark the end of the road for the business.
Nevertheless, the owners of the café have still decided to run an initiative called "Bless Another", which provides a free meal to a resident of Selegie House – a housing block estate next to LaSalle – for every family meal ordered.
Lowercase began looking out for the Selegie House residents, most of whom are elderly, last year after doing a series of prayer walks around the estate.
Sensing that God wanted them to bless the community in their backyard, they held a Christmas party for residents and saw the potential to build relationships with them after hearing their stories.
They were planning a Chinese New Year gathering earlier this year too, but it was cancelled due to the coronavirus, said Soh. Undeterred by the restrictions, they decided to come up with this initiative to "make sure these friends of ours continued to feel seen and supported".
"Even though business may be bad, we know it is better to give than to receive, even in a storm like this."
"In times of crisis, we always need symbols of hope," said Soh, adding that she was inspired by others who have rallied together to support different charities and organisations.
"Even though business may be bad in this time, we know it is better to give than to receive – even in the midst of a storm like this. And we believe in God's faithfulness and blessing to help us weather this storm, and have hope for fruit to be born out of this season."
To help with the negative cashflow situation, both cafés' 20 staff members volunteered to reduce their work hours and pay for the next few weeks, even though their employers had offered to keep them fully employed this month, she said.
Since 2003, The Book Café has also been faithfully holding Alpha courses twice year, which is run by Soh's husband, Timothy Wong.
Even though the business is hanging by a thread, Wong is putting his faith in the Lord.
He said: "We have a choice: Do we just cut losses and pull the plug? Or do we press into Him? To me, it's really a test of faith, not seeing, not fully understanding where the money is going to come from. But we just trust God and press in by faith. We're believing that God will make a way when there seems to be no other way."
Wong, who is the director of Group Research at DBS, is also seeing this as an opportunity to do some thorough house-cleaning. Staff members are taking this time to clean every nook and cranny of the physical premises.
"We're believing that God will make a way when there seems to be no other way."
Not only that, but they are also doing some deep cleaning of their business, reflecting on how they can do better in the areas such as staff management, standard operating procedures and food, he said.
"We are saying: God, show us what is the right way to do business. Show us any way in our business that is not pleasing to You and we will remove it.
"If You want to resurrect it out of this COVID period, let it be in a new form that can be a true Kingdom F&B business."
Come what may, they are holding the business with an open hand and allowing God to take it away if He so chooses.
Wong said: "We have to be willing to say that if it is Your will, and if our café has had a great run, then may your Kingdom come and may Your will be done. That's the lesson Jesus taught us, right?"
Looking out for healthcare workers
At Penang Place in Suntec City, owner Paul Ooi believes that God is in "total control". This gives him the courage and strength to continue looking out for others even though the business has already lost hundreds of thousands of their hard-earned savings, he said.
They have already sponsored 300 packets of their signature Penang char kway teow to healthcare workers in Singapore General Hospital and the National Centre for Infectious Diseases, and will continue to do so in the coming weeks in collaboration with individual donors and churches.
"We must demonstrate to our staff that God loves and cares for them."
"We are grateful to our dedicated frontline medical staff who are risking themselves to save our lives. In a way, ensuring they are cared for is saving our own lives. Moreover, as we sow love, we shall also reap love from God and man," he said.
He has also committed to retain all of his 35 staff members and will continue to pay their full salaries, though his business has been "bleeding money" since February, with sales for March falling by more than 70% compared to last year.
"God is my business partner and He undertakes to pay them," he said.
"We treat people the way we would like to be treated ourselves. We must demonstrate to our staff that God loves and cares for them. We can always make back the money."
While he is a businessman, Ooi said he is first and foremost a Christian before any other roles he plays: "Penang Place exists for the glory of God. My life changed dramatically when I promised God that I would obey Him, no matter what the cost."
Obeying Him in this situation means demonstrating God's values to his employees, customers and business vendors. "God's biggest concern is always for the people He created in His Image, and for whom His Son died.
"We are to help the poor and needy, and to proclaim the good news of the Kingdom.
"God has already told me to hang on … So, I obey and do all I can on my part to keep the business going."
"We always have to come to the death of a vision. Then God appears on the scene and resurrects (our path) the way He wants."
Like the other trials he and his family have had to endure, Ooi said that the ending is "predictable".
"We always have to come to the death of a vision. Then God appears on the scene and resurrects it the way He wants."
In this time of uncertainty and difficulty, God has instructed him not to be afraid, he added.
"In Psalm 56:3-4, King David said that when he was scared, he would turn to the Lord. As a human, I do get scared naturally but I must trust God that He is in total control and it will all work out for my good.
"I choose to believe Him and I choose to be strong and courageous."
If you have enjoyed reading Salt&Light...
We are an independent, non-profit organisation that relies on the generosity of our readers, such as yourself, to continue serving the kingdom. Every dollar donated goes directly back into our editorial coverage.
Would you consider partnering with us in our kingdom work by supporting us financially, either as a one-off donation, or a recurring pledge?
Support Salt&Light