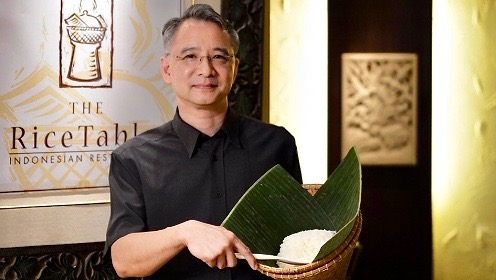 When the shutters came down on The Rice Table on May 15, owner Kevin Sih decided that their closing should bless others. He gave the restaurant's foodstuff, furniture and crockery to the Willing Hearts soup kitchen, where he now also volunteers. Photo from www.ricetable.com.sg.
When The Rice Table – the only restaurant in Singapore to serve Indonesian cuisine rijsttafel style – decided to serve its last meal on May 15, they made a single announcement on their Facebook page. It was a quiet exit but one that did not go unnoticed.
Long-time customers wrote to share happy memories of dining at the restaurant for the past 23 years with their families, friends and colleagues.
"They didn't just come for the food. Somehow, we had become a part of their lives."
"Your cosy, family-owned and run restaurant has indeed provided us with many fond memories over the years."
"My orthopaedic colleagues and I will definitely miss the place a lot! I have been eating at your restaurant for probably 10-20 years, and my juniors have always enjoyed the food there tremendously when I bring them out for team lunch."
"The only reason for me to step into International Building for many years is to visit your restaurant to savour your authentic Dutch rijsttafel."
Many remembered the warmth of the place and the personal touch for which Sih is known.
"I still remember visiting the restaurant with my colleagues during SARS. One of the staff thanked us for not cancelling our reservation."
"We have always enjoyed dining at The Rice Table, especially the warmth that all your staff radiates."
Said owner Kevin Sih, 56, of the many comments: "It was surprising to me that so many people had this emotional attachment to The Rice Table. I was touched.
"They didn't just come for the food. Somehow, we had become a part of their lives. It was quite meaningful to me."
As he had taken care of his staff while they were working for him, Sih looked out for them till the end.
"We run this restaurant as a team. Our chef is retiring and the other two staff found jobs. When we closed, a lot of F&B people asked what would happen to them and offered them jobs."
The toll of the past year
Though the lease on the Orchard Road restaurant only ends in June, Sih, 56, decided to call it a day when Singapore went into Phase 2 (Heightened Alert).
"We had been thinking about it for quite a while," said Sih of the decision he made with his wife Angelina.
When Covid-19 hit last year and the Government declared a Circuit Breaker, The Rice Table, like every F&B business, was affected.
In an interview with Salt&Light in March, Sih shared that coming across Hawkers United Dabao 2020 at that time gave his restaurant a free platform to promote its delivery and takeout services.
Together with various government grants and support schemes for F&B businesses, The Rice Table was able to carry on despite a 40% drop in business.
But it was not an easy survival.
The Rice Table ran on a buffet-style concept where up to 20 dishes were served at once with ready refills available for any of the dishes. The concept could not be fully adapted to takeouts and deliveries.
"If you dine in, you can charge $20 for lunch, $30 for dinner. You add drinks to it, it helps boost sales.   
"But with takeaway, you can't charge that much. So, the volume of sales has to go up to make up for it. Logistically, it's also tougher."
While fine at first, takeout and delivery orders tapered off during the tail end of the Circuit Breaker, he said.
Even when the country allowed dining in again in June 2020, the number of customers per table was capped at five.
"When you restrict to five, in our case, our seating capacity is reduced to 60%."
"It was harder for me because this had been my life for 20-plus years."
It was only when Phase 3 kicked in and eight were allowed to dine together that some measure of normalcy was restored to The Rice Table.
So, when community infections rose again this year and the Government announced another round of "no dine-ins", the couple decided not to continue with the hardship and heartache of keeping the business going.
"Our chef is also advancing in years. He is 67. If we renewed our lease, he would have to work another two years. Then, he would be 69."
"We figured we had done this long enough. We had achieved what we wanted to achieve."
Sih admitted that his wife was more certain about giving up the business than he.
"She was very clear from the time they announced (Heightened Alert) that there would be no more dine-ins in May. She knew this was it.
"For me, it took a bit longer. It was harder for me because this had been my life for 20-plus years."
Still blessing others
In the few weeks that have followed the closure, Sih has been putting his skills in the kitchen to another use. He volunteers at soup kitchen Willing Hearts which daily distributes 9,500 meals to 40 locations island wide.
"Cleaning and cutting, not cooking."
Friends with Willing Hearts founder Tony Tay's son, Sih decided that The Rice Table's closing should be a blessing to someone else.
"When we closed, we had a lot of food stuff left over. I called them and said, 'Maybe you can use it.'
Sih decided that The Rice Table's closing should be a blessing to someone else.
"They asked, 'What are you doing with your tables and chairs?' We gave those to them as well. They took all our crockery and cutlery, too."
The Sihs are exploring other volunteer work. "We specifically said we wouldn't do something commercial anymore."  
Volunteer work aside, Sih is enjoying his hobby – model car building – and devoting more time to his parents who are in their 80s.
"I do miss working and keeping busy, interacting with my staff and customers. It would have been nice to have gone on for another two years. We would have been 25.
"But at least we closed it on our own terms."
Glorifying God in the what-next
In contemplating what to do next, Sih decided to go for a personal retreat to seek God in the matter. It was not just about giving up the only career he had ever known. It was also about moving into the unknown.
"What would happen when we closed The Rice Table? What would we do? What can we do with our lives to glorify God?"
During the retreat, he reflected on the calling of Peter and the other disciples (Luke 5:1-11).
"The only way is to close the restaurant and follow Jesus, see what He wants me to do next."
"In the Gospel narrative, the fishermen had come back without catching a thing. Then, Jesus told them to cast their nets and they caught more than they had ever done before. And then, they realised that He is the Messiah and they followed Him.
"I was thinking: These guys were fisherman. Why didn't they ask Jesus to stay with them so they could catch a lot of fish instead?
"I was contemplating. If Jesus came to the restaurant, He might ask, 'If your restaurant is full every day, are you going to be happy?'
"I thought about it. All the work itself is nice but running your own business also has problems. Maybe I want to be free of these problems and the only way is to close the restaurant and follow Jesus, see what He wants me to do next.
"These things are the hand of God."
---
RELATED STORIES:
Love brought The Rice Table to Singapore, God sustained it even through crises
"God calls us to be steadfast and faithful. We can trust Him": F&B pivots as "no dine-in" Covid-19 regulation is announced