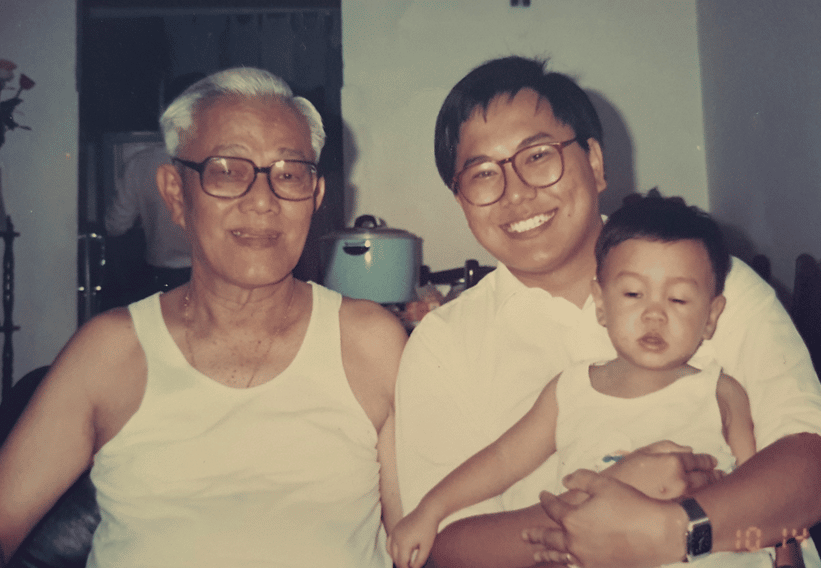 Bernard Lim (centre) with his oldest son, Isaac, and his father, Joseph, a former policeman who left an unusual will when he passed on. All photos courtesy of Bernard Lim.
Right before Bernard Lim's father passed away at the age of 79 from multiple medical complications in 2008, he made out a will. A policeman most of his life, the elder Mr Lim did not have much. But what little he had, he divided it well.
"He didn't see his financial legacy as something limited to his family."
Said Bernard, 59: "He left something for my mum, small sums for my elder brother, elder sister and me, a very small sum for the four grandchildren and some for three charities.
"The way he thought about his legacy was very interesting. He didn't see his financial legacy as something limited to his family."
The devout Roman Catholic was living out Proverbs 13:22, leaving an inheritance not just for his children but for his children's children.
But he did more than leave behind his money. He left behind a love letter as well.
"He was an ex-ACS boy who couldn't finish his education because of the war. But he was very poetic. When he was dating my mum, he would write to her all the time. Unfortunately, she was Chinese educated and couldn't read English."
In his two-page letter, Bernard's father documented his spiritual journey, his love journey, how he felt about each of his children and what he would like them to do after he was gone.
It forever confirmed for Bernard the importance of leaving a legacy for the next generation that went beyond wealth.
"He wanted us to meet together and to look after our mum, and not to send her to an old folk's home. He left behind an amazing legacy."
Years later when his mother was stricken with pancreatic cancer and was given mere months to live, Bernard and his siblings remembered their father's words.
"It wasn't legally binding but it was morally binding. So, for nine months, we took care of our mother at home. It was so beautiful that he loved his wife so much that he thought through the nuances."
For Bernard who has carved out a decades-long career in estate planning, what his father did was "an expression of what I learnt spiritually and did professionally". It forever confirmed for him the importance of leaving a legacy for the next generation that went beyond wealth.
That is why this year's N5 conference, which Bernard is co-organising, is all about leaving a meaningful legacy behind, with its theme: Arise and Build for Generations to Come.
Into its second year, the largest kingdom-focussed conference in Asia on personal finance (October 28-29) will see over 20 speakers from four counties – Singapore, Malaysia, Indonesia, Philippines – coming together to share their wisdom and experience.
Dogged by a number
It had not been Bernard's intention to make the N5 conference an annual event.
"I said, 'Only if the Lord wants it to be'," he told Salt&Light.
Then, just months after the inaugural N5 conference, Bernard heard God ask if he was ready for "your next assignment".
"What I had to do for the coming conference was not about my generation but the generation of my grandchildren."
The very same week, someone gave Bernard a silver coin inscribed with a picture of Mt Ararat in Armenia on one side, and Noah's ark and a dove on the other.
"I felt the Lord talking to me about Noah. I asked, 'Are you saying there is going to be a flood, a big crisis looming?' Then, I sensed it was about a global financial flood.
"So, that was at the back of my mind – the assignment, a big crisis. But what did it mean? I didn't know. So, I laid it aside."
Next, Bernard had a dream in which God showed him three people, each representing a different sector: Marketplace, missions and the institutional church. But he was still not sure what it all meant and how it was linked to his next assignment.
Months passed and, on his wedding anniversary this April, Bernard awoke from a nap to see that it was 4.44pm. When he went out, he saw a car at the carpark with a licence plate that read "444". After dinner, he was at a supermarket buying cashew nuts. When he weighed the nuts to pay for them, the weight was 44.4g.
"I said to God, 'Lord, are you telling me something? I don't know what this means.'"
"Arise and build because we need to build the walls and restore for many generations."
At the time, Bernard was looking into the books of Haggai, Zechariah, Ezra and Nehemiah as part of his studies at a Bible school. When he read the chronology of events, he saw that the year Nehemiah went back to Jerusalem to build the wall was 444BC.
Bernard realised that he had been tasked to rebuild as well. "God usually speaks to me in dreams or numbers. That gave me the go-ahead for the next N5 Conference."  
What "sealed it" for him was his participation in Protect Singapore, a movement calling for the safeguarding of marriage in the country.
As he sought to explain his stand to his own children, he came across the story of King Hezekiah in 2 Kings 20:16-21 in which the prophet Isaiah gave the king a prophecy that the Babylonians would conquer Judah and his own descendants would be carried away into captivity.
"I realised that what I had to do for the coming conference was not about me or about my generation but the generation of my grandchildren," said Bernard.
The conviction that the theme of the conference should be about the next generation deepened.
"Arise and build because we need to build the walls and restore for many generations."
Four C's, three wealths
After the first N5 Conference, Bernard set up a Facebook page. Some 1,000 joined, with most saying that they wanted to be better stewards of money.
With that and the conviction that the theme had to be about the next generation, Bernard decided that the next N5 Conference would move from stewardship of personal accountability to stewardship for Kingdom purposes.
For this kind of stewardship to happen, there needs to be a move from the blessing model to the building model. In the blessing model, wealth is thought to be given to bless the recipient. In the building model, wealth is to be given away to build the Kingdom.
"It is important that the legacy should never be restricted to the family."
So, in shaping the content of the conference, Bernard considered four C's.
The first was Context. He knew it would be about stewardship, and with the coin's reference to Noah and the turmoil of his days as well as the need to protect marriages and families in Singapore, Bernard also knew that stewardship had to be set in the context of increasingly difficult times.
"We live in tumultuous times – inflation, war in the Ukraine affecting oil prices, supply chain disruptions. In that kind of environment, there is fear.
"When you live by fear, there is no faith. So, when God asks you to do something, you cannot. To challenge the fear, the message has to be faith-driven."
The Convergence of church, marketplace and missions was the next consideration, a result of the dream in which he saw three people each representing one sector.
"The concept is about unity and how to work together to rebuild the walls of Jerusalem.
"When we go into the market place, we should have Kingdom thinking. For example, supporting missions: That man is going into missions; we would never. But can we partner him and say, 'Let's do this together?'"
The third consideration is Christ who is the central message even as the talk is about wealth and finances.
"Is crypto sin? Is NFT sin?"
Finally, Bernard decided that the content of stewardship should centre around old wealth, emerging wealth and new wealth, and how to make them all sustainable.
Old wealth is about passing wealth from one generation to the next.
"It is important that the legacy should never be restricted to the family. You have to think Kingdom or you will have the problem of prosperity without purpose."
Emerging wealth is about people in the marketplace and in business.
"We want them to take a look at why they exist in the first place. Is it purely to make money or is there a purpose behind it? We want to help the body of Christ rethink their corporate life."
New wealth is about the digital economy.
"NFTs, crypto, blockchain, digital currency, decentralised finance – our generation doesn't know about it but our children are in it. Is crypto sin? Is NFT sin? Do we have people coming alongside those who make a lot of fast money to say, 'Don't let this go to your head?'"
Hope for the next generation
Over 1,500 are expected to take part in the conference. More than 20 speakers from four countries will be present. In the invitation of speakers, Bernard saw divine intervention as well. 
"See work as an assignment to be a blessing and that blessing is not personal but corporate." 
When Bernard realised that most of the speakers of the conference were men, he prayed about inviting a woman speaker.
Then, he chanced upon an online video about a woman in the tourism business which went bust during the Covid pandemic. She was so broke that she had to line up for food at a soup kitchen. Yet, God spoke to her to help those worse off than herself.
Bernard reached out to the woman to be one of the N5 Conference 2022 speakers. She agreed.
Asked for his hopes for the conference, Bernard said: "By His grace, I hope there will be a renewing of the mind of believers of what stewardship of money really means, not move by fear but by faith even if it is counter-intuitive.
"Next I hope for, not just biblical principles on money management, but with a Kingdom focus on financially resourcing the Gospel.
"Not just work for financial blessing but to see work as an assignment to be a blessing and that blessing is not personal but corporate, to build and finance the work of the Kingdom.
"Finally, not short-, medium- or long-term financial gains, but generational legacies."
---
You can sign up for N5 Conference 2022 here.
---
RELATED STORIES:
"Snowballing debt triggering dark side of humanity in Squid Game is real": N5 conference founder Bernard Lim
As stewards, how do we invest well in an age of "no apparent reason"?
"We are to be faithful with, not just 10%, but 100%": A challenge to rethink biblical giving
If you have enjoyed reading Salt&Light...
We are an independent, non-profit organisation that relies on the generosity of our readers, such as yourself, to continue serving the kingdom. Every dollar donated goes directly back into our editorial coverage.
Would you consider partnering with us in our kingdom work by supporting us financially, either as a one-off donation, or a recurring pledge?
Support Salt&Light