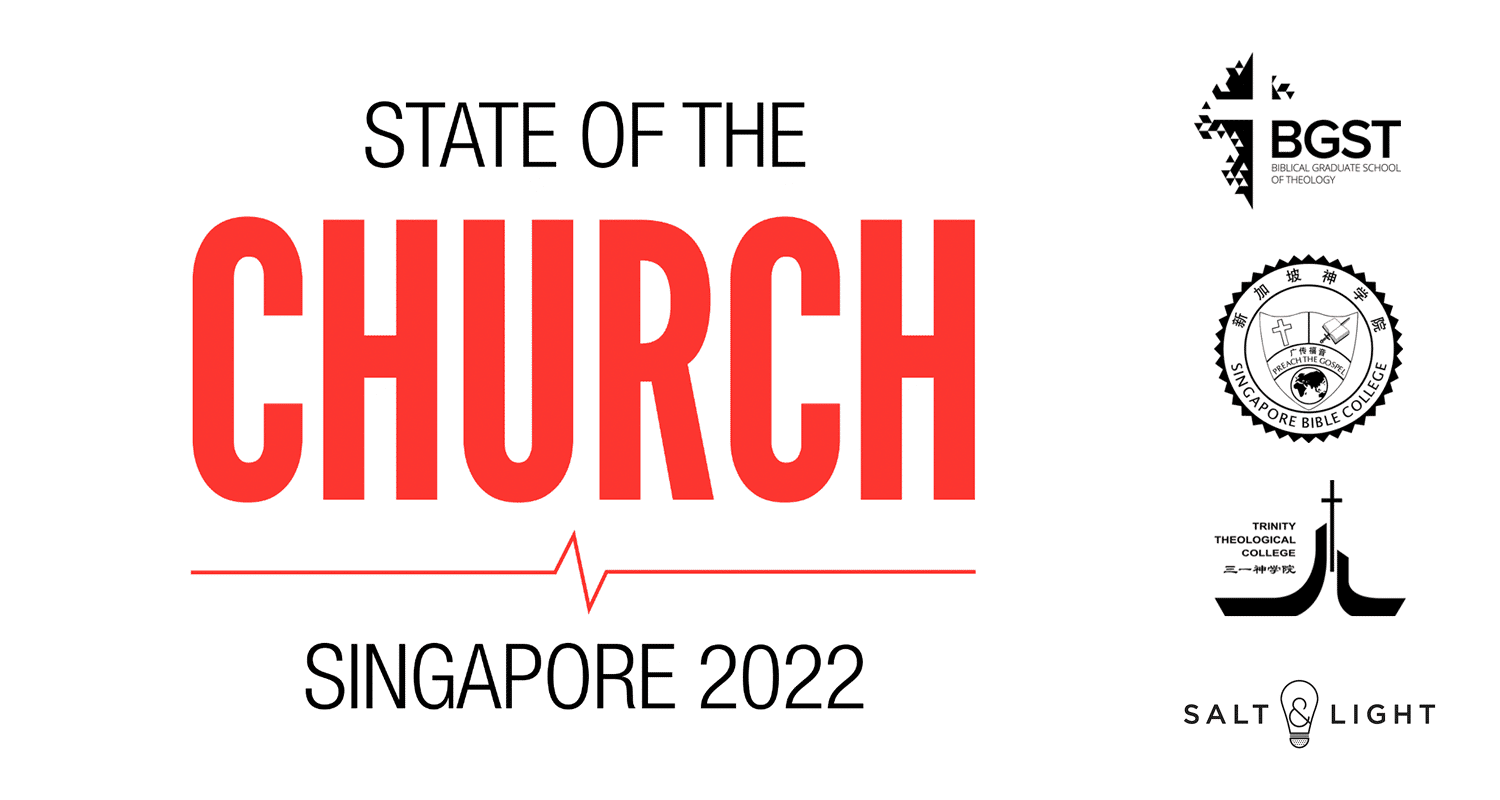 The first-of-its-kind study found that only 72% of attendees were returning for onsite worship services post-pandemic. Screenshots from the State of the Church in Singapore 2022 report.
The large majority of churches are still continuing to live-stream their worship services, which might explain why almost 3 in 10 attendees have not returned to church for in-person worship services compared to before the pandemic, according to findings from the State of the Church in Singapore 2022 study, which were published on Thursday, October 13, 2022.
The survey of senior pastors or equivalent in Singapore churches found that, even though the majority of churches have resumed their physical activities, only 72% of regular attendees in churches have returned onsite.
The first-ever quantitative and current study of the Church conducted in Singapore is a collaborative effort between three local Bible schools – Biblical Graduate School of Theology, Singapore Bible College and Trinity Theological College – and Salt&Light.
Between July and August 2022, researchers received direct responses from 144 Senior Pastors or equivalent, representing churches totalling 105,000 attendees – close to a third of the number of Protestants in Singapore.
"The demographic breakdowns of the study closely match the demographic breakdowns of Christians in Singapore according to the 2020 Census, so the study is probably a realistic reflection of the size and state of the Church in Singapore," said Edric Sng, Editor of Salt&Light.
The research team said they hope to conduct more of such studies on a regular basis so that they can continue to observe trends and trajectories of the Church in Singapore.
For this particular study, participants were asked questions ranging from onsite/online attendance to new strategies and post-pandemic reflections.
Here are the findings on the numerical strength of Singapore churches post-pandemic. (More findings will be discussed on Salt&Light in the coming weeks.)
Finding #1: About 8 in 10 churches have resumed 75% of all their onsite activities
At the time of the survey, 39% of respondents said they (55 churches) had resumed all or almost all of their onsite activities, while another 42% (59 churches) reported that they had resumed three-quarters of their onsite activities.
This means that about 80% of churches had resumed the majority of their in-person activities.
On the other hand, only 20% (27 churches) had resumed half or less of their physical activities. 
Finding #2: About 2 in 3 churches have seen a decrease in the number of attendees
Compared to pre-pandemic times, the number of attendees has decreased for two-thirds of churches, with about 4 in 10 (59 churches) reporting a "substantial decrease" in the number of their weekly attendees.
The report estimates that churches are seeing an average of 72% of their attendees returning for in-person worship gatherings, compared to pre-pandemic times. 
Only 14 churches (10%) reported an increase in attendee numbers. These churches tended to be relatively small, with pre-pandemic congregation sizes of fewer than 250 attendees.
The report lists several possible reasons for the general fall in the number of attendees post-pandemic:
a) The continued availability of online services
The ease of accessing online services may have led attendees to continue worshipping from home instead of coming back onsite.
More than 100 churches reported that they are still live-streaming their services, while only 22 churches have stopped doing so.
However, the study did not find a significant difference in the change in onsite attendance between churches that ceased live-streaming and churches that continued, suggesting that this may not be a significant factor.
b) Large churches were not able to accommodate their pre-pandemic congregations
Due to the safe-distancing measures and capacity limits implemented during the pandemic, many large churches of more than 2,000 attendees were not physically able to have all of their attendees return onsite.
Many of these churches reported a substantial decrease in onsite attendance. Researchers of the study estimated that these large churches saw only 61% of their attendees returning for onsite worship post-pandemic, which is lower than the average of 72% for all churches.
However, the report notes that this does not adequately explain the full picture as some large churches were able to maintain their pre-pandemic numbers.
c) Elderly attendees could not return onsite as quickly
The study notes that churches with a higher proportion of elderly tended to have a reduction in onsite attendees. "Due to their vulnerability in the pandemic, they may have felt compelled to worship from home."
Finding #3: Very large churches had more attendees switching to other churches
The most significant reason for the decrease in onsite attendees, however, was found to be substantial movement of people between churches. About 45% of senior pastors (65 churches) reported a net outflow of attendees to other churches.
Specifically, participants reported an aggregate of 12,428 of their regular attendees – roughly about 12% of the total number of attendees accounted for by the churches – who had gone on to regularly visit another church's service onsite.
The bulk of this movement may be attributed to very large churches, which accounted for 9,010 (73%) of all outflow.
Researchers assessed that in very large churches, 17 in 100 attendees moved to other churches. In comparison, only 7 in 100 attendees from the remaining churches have started worshipping regularly in another church.
The study also finds that age played a part in this outflow. "Generally young adults moved to churches that had a high proportion of young adults. This correlation was not significant for all other age groups."
---
RELATED STORIES:
First-ever State of the Church in Singapore study to be conducted by Bible schools and Salt&Light
If you have enjoyed reading Salt&Light...
We are an independent, non-profit organisation that relies on the generosity of our readers, such as yourself, to continue serving the kingdom. Every dollar donated goes directly back into our editorial coverage.
Would you consider partnering with us in our kingdom work by supporting us financially, either as a one-off donation, or a recurring pledge?
Support Salt&Light