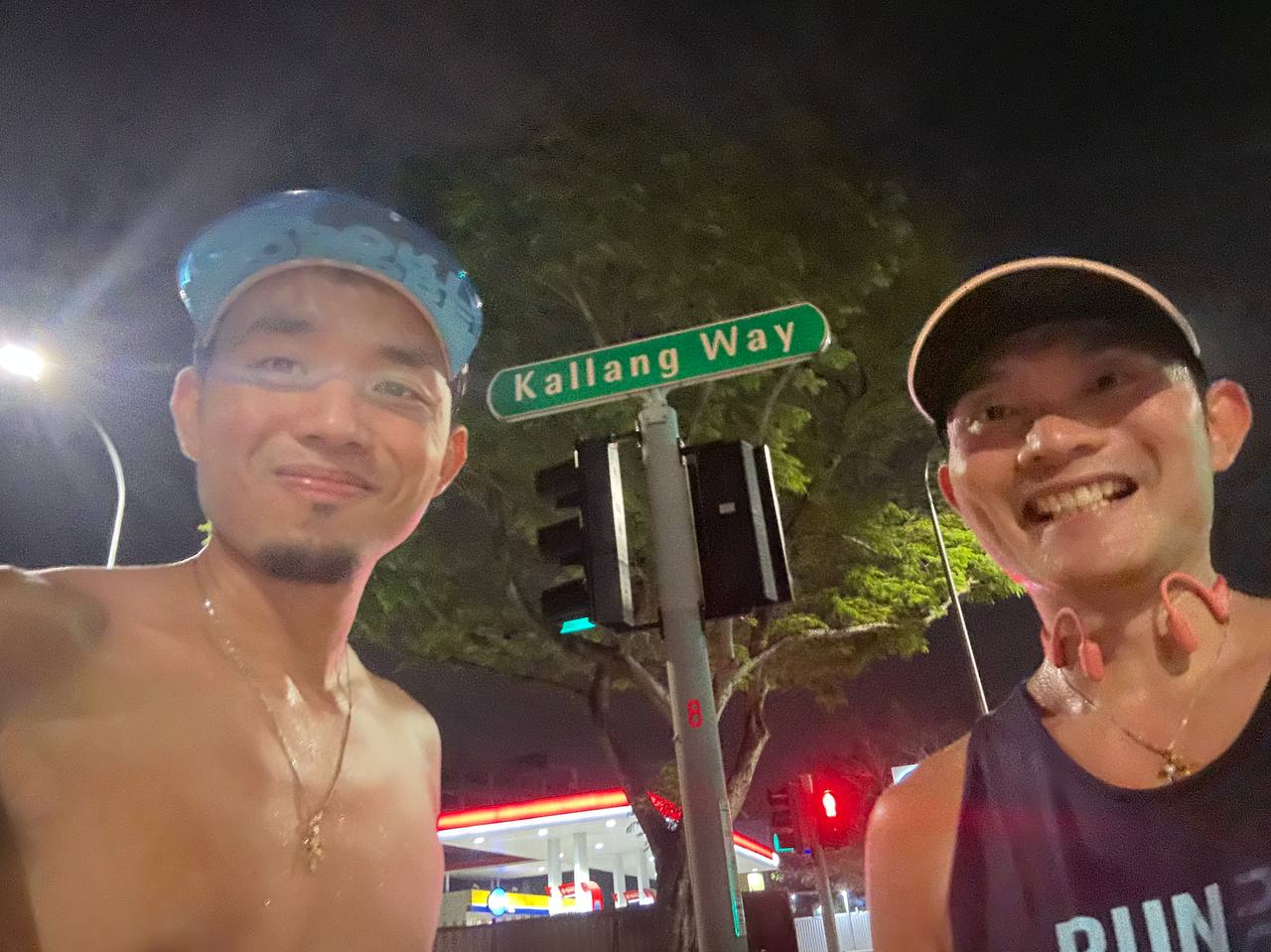 Friends since their university days in Perth, Daryl Sung and Wan Wei Chuen both enjoy running and praying, and decided to do a charity run to raise funds for Focus on the Family Singapore. All photos courtesy of Wan Wei Chuen and Daryl Sung.
Wan Wei Chuen runs almost every day, clocking some 11km each time. It is a habit he picked up in junior college and developed in earnest while he was in university in Perth.
"During meal times, I would head out for a run instead," said the 44-year-old father of four.
Wei Chuen does not just run. He talks to God while he runs.
But Wei Chuen does not just run. He talks to God while he runs. He calls it his prayer-run or chat-run.
"I don't speak out loud. I process it in my mind, in my heart. I listen to Him, seek Him for expansion on things that He has revealed to me and talk to Him on what I see on the run.
"Sometimes, He impresses on me the name of a person and I pray for that person."
On January 13, Wei Chuen turned his decades-long practice into an effort for good.
Together with three other fathers and their families, Wei Chuen embarked on a 100km run to raise funds for Focus on the Family Singapore.
Dubbed Crazy 4 Families because four fathers passionate about families were involved, the aim was to raise S$10,000 in the month of January.
The irony is that Wei Chuen has not always been a runner. In fact, he hated running.
A pastor's tears  
In school, Wei Chuen swam and played water polo.
"I hated running. I seldom used my legs. Even when I swam, I just used my upper body strength. My legs were just to kick off and for balance."
Then again, Wei Chuen had not always had a relationship with God either.
"She didn't really know me that well, yet she prayed with such passion, as if she was my mother."
He was in junior college when his friends who were Christians persuaded him to join a Bible study group. A youth pastor, who has since passed away, would travel from the East to the West where his school was just to conduct those sessions.
"What touched me was that this lady would travel all the way. And most of the time, she would be half way to the school before we would tell her, 'Let's just cancel Bible study.'
"Never once did she get angry, never once did she give up."
When Wei Chuen failed his 'A' level exams and wondered what his next steps would be, this youth pastor prayed with him.
"While she was praying, I could hear her sobbing. She was crying while praying for me. She didn't really know me that well, yet she prayed with such passion, as if she was my mother.
"At the moment, I said I wanted to know this God she was trying to share with me. That was when I decided that, yes, I would follow Jesus."
Running for a cause
In university, Wei Chuen's faith grew and he began to "learn more about my relationship with God".
"God had dropped two words into my heart – Kingdom runner."
"God strangely led me out on slow jogs at night and that's how I slowly developed. He helped me to discover this space that I could have with Him and that was how I slowly grew.
"I'm just so amazed. This is an area that I can surely give God the credit. He used my weakness for His glory."
It was also in Perth that Wei Chuen met Daryl Sung, 42, one of the four fathers who was involved in the charity run.
Daryl was also into prayer-running.
"I feel like when you go running, you can connect with God. I feel like I am in another dimension; no distractions, no devices. I am closest to God then."
As early as 2010, Daryl had wanted to do something big with prayer-running.
"God had dropped two words into my heart – Kingdom runner. I saw a vision of a mass running event like a marathon.
"The difference was that all the people were children of God. I knew He wanted me to do something with those two words."
Nothing quite took off till he and Wei Chuen talked about doing something about a cause they both felt strongly about – families.
Fathers for families
Daryl, who has two daughters aged 10 and seven, has always believed in the importance of family.
"I didn't grow up with a very perfect family. My parents separated when I was five or six. Mum raised me and my older brother as a single mum.
"When I got married and was learning about doing family with my own family, this topic became more and more real to me.
"I always feel like you understand God the Father better when you are a father yourself. My greatest blessing as a father has been to be able to stand in God's shoes and know the joy He has in raising me just as I feel the joy when I raise my kids."
Wei Chuen feels the same.
"Since having a family, I've experienced God's love in different dimensions. From the moment I said my marriage vows to when I had my children, I experienced God's love as an intentional Father."  
This has inspired both men to champion families.
"We wanted to do something that would see families come together with other families to do things for families," said Daryl.
Daryl and his family, his wife and two daughters, have been doing charity work for a few years, raising money for Focus on the Family Singapore. During the pandemic, they sold cookies. The next year, they strung beads together. The family raised S$10,000 each time.
As the men talked about their love of prayer-running, the idea arose of turning it into something that could support families.
Through pain and exhaustion
On Day 1 when the crowdfunding campaign kicked-off with the run, their target sum of S$10,000 was reached. Now they are hoping for as much as donors are willing to give.
The run was no easy feat.
It took them 17 hours, from Friday afternoon to Saturday morning non-stop, to complete the course. The other two fathers, along with some other participants, ran part of the distance. Wei Chuen and Daryl ran the full 100km.
Said Wei Chuen: "At the 25km mark, my sandal snapped. I had to run barefoot. Then, 10km to the next destination, I hit my left big toe on the pavement and started bleeding. But we still continued to run."
In a show of solidarity, Daryl took off his footwear and ran barefoot with Wei Chuen.
Explained Daryl: "If I wore my shoes, and stood beside him and comforted him, it would be very different from if I took off my shoes and said to him, 'Let's do it together.'"
"When we raise our kids, we should start with how our child is supposed to be." 
That act of camaraderie also taught Daryl something.
"God has been using the acronym FAMILY to speak to me about family. When I asked Him what this moment was about, He said that this was what the 'A' in FAMILY was: Adjustment.
"There is so much adjustment and adapting in family life. Throughout marriage, transiting from one kid to another, change in work. We need to adjust to our spouse's and kids' level, to understand what they are doing through their season.
Though seasoned runners, it was the first time either had run 100km at one stretch.
Said Wei Chuen: "At the 50km, 60km, 70km mark, I did think about giving up. I had a legitimate reason. My toe was bleeding.
"But what came to my mind was commitment, the commitment we made to our donors. If we have committed to something then we give up, it would affect others. Just like in a family, if I decided to give up on certain things, it would affect my children, my wife. This made me push on."
Daryl experienced the same low.
"At the 50km mark, it was bad. I was very, very tired. My eyes couldn't even open. When you run so far, it's a very mental thing.
"The thought that really kept me going was: In a family, do we give up? If I throw in the towel now, then maybe I may throw in the towel when family life gets too tough."
It reinforced what God had told him about FAMILY before then. 'F' was about fixing his eyes on the finishing line.
That is what both men are striving to do as they raise their families in a godly manner and encourage others to do the same.
Said Daryl: "Start with the end in mind.
"When we raise our kids, we should start with how our child is supposed to be. That is how God works as well. He started the book of Genesis knowing how it will end."
---
To support families by donating to Crazy 4 Families, click here.
---
RELATED STORIES:
"God can redeem your fatherhood even if you have thrown it away": Salt&Light Family Night
Three friends and their one faith: 20 years of brotherhood and still going strong
7 dads share spoken, and unspoken, lessons they learnt from their fathers
I learnt how to be a dad from my father, my spiritual fathers and my heavenly Father
If you have enjoyed reading Salt&Light...
We are an independent, non-profit organisation that relies on the generosity of our readers, such as yourself, to continue serving the kingdom. Every dollar donated goes directly back into our editorial coverage.
Would you consider partnering with us in our kingdom work by supporting us financially, either as a one-off donation, or a recurring pledge?
Support Salt&Light