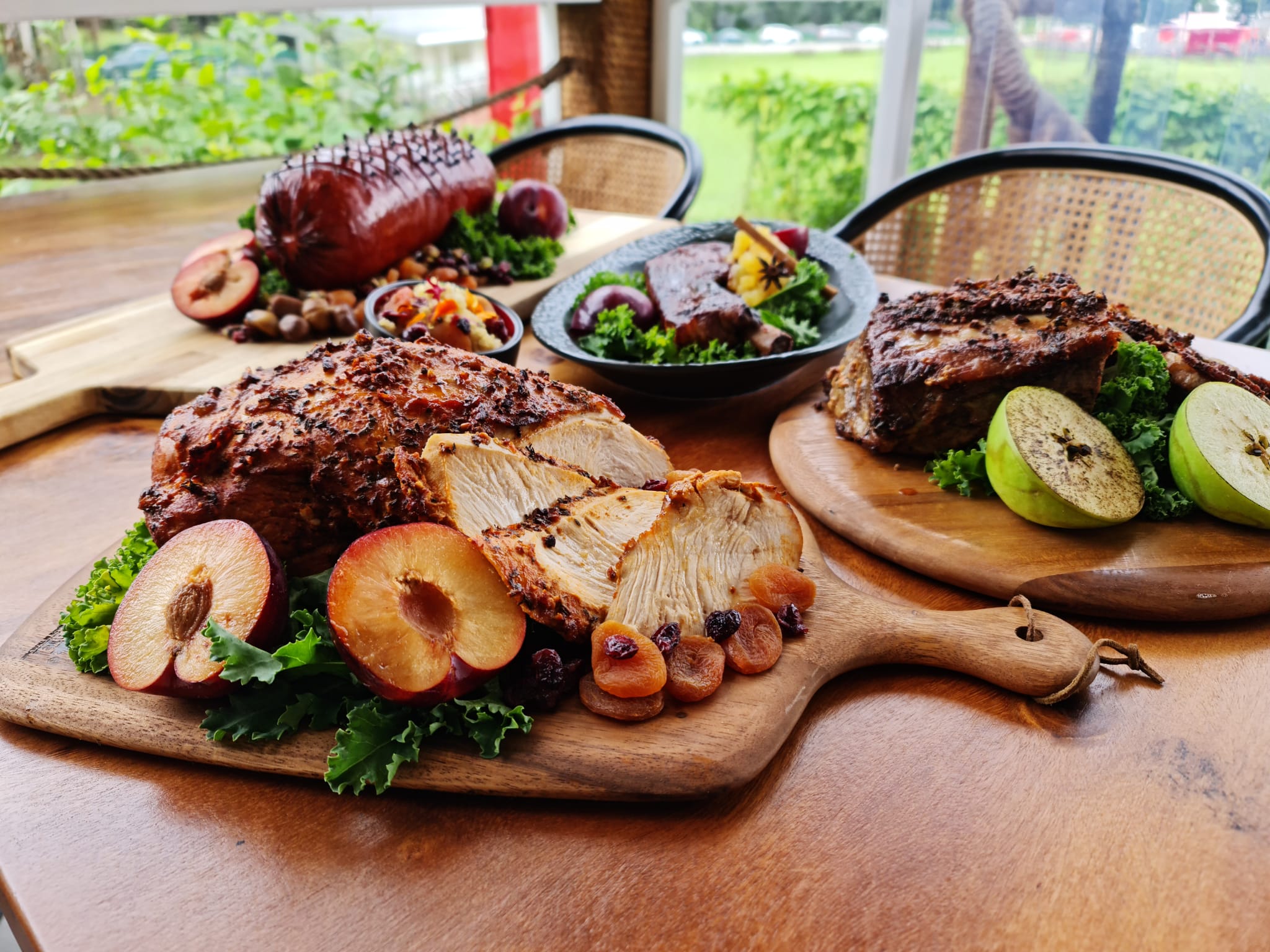 The Christmas spread by Chef Heman of Moonbow. Chef Heman's culinary creations are built around childhood memories and an appreciation of God's grace in his life. Photo courtesy of Moonbow.
Few holidays celebrate love the way Christmas does. After all, the greatest Love of all was made flesh at Christmas so that all could see the invisible God and His love in visible actions.
As you plan your menu this Christmastime, how about filling your table with food from those who have experienced that love and seek to share it with their customers and community.
1. Turkey and trimmings with a touch of nostalgia: Chef Heman at Moonbow
Much is known about businessman and celebrity chef Heman Tan's ability to endure.
"Every Christmas, we share how God has looked after us and give thanks."
This is the man who competes in Iron Man races, one of the most punishing forms of triathlons (which is why he goes by the moniker Iron Man Chef).
This is the man who endured failure when he lost his first restaurant and life savings during the severe acute respiratory syndrome (SARS) outbreak.  
This is the man who endured yet another major setback when Covid-19 swept through the world, and he was forced to close down three of his four restaurants.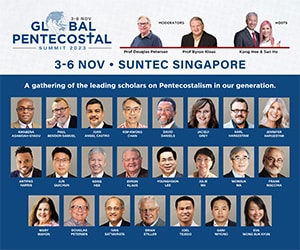 But this is also a man who remembers.
Asked how he spends his Christmases, the chef, who now fronts fine dining restaurant Moonbow which features modern European cuisine with an Asian influence, shares a family tradition.
"Every Christmas Day before I go to work, my wife and three children go to their Christmas stockings and take out the prayer list they had put in the year before.
Last year, God answered a long-prayed-for item on Chef Heman's list: His father became a Christian.
"We read our requests from last year, share how God has looked after us and give thanks."
Then, they put a new list into the stocking with prayer requests for the next year to be read together in the Christmas to come.
"Christmas is a time for my family to gather in prayer and we usually share how God has been there for us. But we tend to forget what He has done.
"So, I came up with the idea to write our prayer requests down so we can look at them later and see how God has answered our prayers. Even if He hasn't, we put our requests back by faith to wait for the next year."
Last year, God answered a long-prayed-for item on Chef Heman's list. His father, who suffers from dementia, became a Christian.
Says the 52-year-old: "I was so nervous when I talked to him about God. He was very weak but when he nodded his head to accept Jesus, I quickly called my pastor to come down and baptise him."
"When I think of Christmas, I think of opeh leaf."
Chef Heman also remembers the frontline workers. In November, he gave out 200 western meals to healthcare workers at Tan Tock Seng Hospital.
This desire to remember is evident in his Moonbow menu which features an opeh leaf Christmas series. (Opeh is the inner sheath of the bark of the betel nut tree.) 
"During Christmas when I was young, when I asked my mum for some special food, she would buy us hor fun (rice noodles) wrapped in opeh leaf.
"My brother and I would be so happy when we ate it. That was our Christmas. So, when I think of Christmas, I think of opeh leaf."
Chef Heman's opeh leaf series for takeaway includes Pork Belly Fricassee in Opeh Leaf, Turkey Roulade in Opeh Leaf or Turkey Risotto in Opeh Leaf.
"The dishes are wrapped in opeh leaf so that when you heat it up, the whole dish will have the smell of the opeh leaf.
"That is the Asian touch."
His dine-in Christmas menu is decidedly European. Roasted quail and Earl Grey smoked king salmon take centrestage instead of a turkey.
Click here for your Christmas takeaway, and here for the Christmas dine-in menu.
"If we don't exercise faith, we will never learn it": Ironman Chef Heman Tan on his riches to rags story
2. Designer meal by a chef who followed God's design: KeeHive Private Dining
Even as the number of diners ebbed and flowed with changing Covid safety measures and F&B operations bowed under the weight of uncertainty, Bernard Kee, 52, stepped into the restaurant business with KeeHive Private Dining. In July 2021, he opened up his home on Kelulut Hill for private dining.
Just four months before, Chef Bernard had been "laid off without notice" from his corporate job of four-and-a-half years.
"The private dining business is our mission field."
"As I left the office for the last time, God assured me by leading me into a shoe repair shop that same day to show me a clear sign.
"The sign on the counter of this old shoe repair shop read, 'God will provide'."
A month later in April, God made good His promise by leading Chef Bernard to start a private home dining business.
The self-taught chef fell back on his love of cooking – he has been cooking since he was nine – and his experience from years of travel because of his work in the Southeast Asian hospitality and fine-dining industry.
KeeHive Private Dining happens right at the family's pergola nestled in Chef Bernard's garden where, as his website promises, "the birds chirp, the orchids bloom, the butterflies flit".
"We serve mainly lunch, preserving time in the evening for family devotions," said Chef Bernard.
But more than omakase menus served with warmth, diners get to hear Chef Bernard "testifying to God's grace and blessings in our life".
He shares unstintingly of how God led him out of debt and the lessons he learnt when his private dining business had to switch to delivery in September and October when dining-in numbers were restricted to two.
"It's our mission field."
This festive season (December 22, 2021, to January 2, 2022), KeeHive is offering a Yuletide Festive Dining menu.
The five-course meal includes choices such as artisanal breads, prawn bisque flambé with cognac or brandy, a cheese board and baked portobello mushroom, among other things for the two starters.
The mains feature a choice of Chef Bernard's signature dish of crackling belly of free-range pork, charred grilled tomahawk, Boston lobster, King Salmon, slow-cooked Iberio pork rack or saffron seafood tagliatelle.
For dessert, diners can go Italian with a classic tiramisu made with Arabica coffee and premium dark rum or panna cotta, or choose the festive Christmas poached pear with raspberries, red wine and spices.
Every four dinner diners and more will receive a complimentary bottle of boutique Bonnaire Tradition Brut Champagne worth S$120.
Click here for reservations.
3. Honey-baked ham that helps change lives: Breakthrough Missions
For Benjamin Tan, 48, Christmas is a time of toil and sweat. Every one of his Christmases since 2007 has been spent labouring by the ovens of Breakthrough Missions to bake hundreds of honey-baked hams.
"Christmas is so meaningful to me because I celebrate how Jesus came down to earth for me so I can have eternal hope." 
He is the man in charge of the kitchen at the drug rehabilitation halfway house for men. The Christmas ham has been his project since the Gospel-based ministry included it in their Christmas offerings.
But he has no complaints because, until he signed up for Breakthrough Missions' three-year rehabilitation programme in 2004, his Christmases had been spent in a drug-fuelled haze.
"I may be busy now," he says in Mandarin. "But I am very fulfilled.
"Christmas is so meaningful to me because I celebrate how Jesus came down to earth for me so I can have eternal hope and meaning in this life."
As a non-profit organisation which does not charge for its rehabilitation programmes, Breakthrough Mission funds its efforts through their Christmas ham, as well as regular services like car washing, book binding and embossing, framing, landscaping and foot reflexology. They also run a café, gift store, furniture shop and plant nursery.
Call 9233-9812 to order your Christmas ham.
4. Christollens that share Christ: Bakery Brera
"My bakery is my little mission field," says Thrina Low, 56.
"I've always wanted to be in missions. But, do you know, I've never even been on a single mission trip?
"I am a steward of this mission field – the business. So, I have to do it very well."
"But I believe God answered my prayer by giving me this bakery."
Her boutique artisanal bakery, Bakery Brera (named for a cosy district in Milan), in the heartland of the Holland Road area is where Thrina shares her faith.
Each customer who comes by for her crispy-on-the-outside-yet-buttery-and-light-on-the-inside cruffins, loaves (pillowy brioche buns, crusty baguettes and sourdough bread) and fresh bakes (there is a baking schedule so you can get your treats hot out of the oven) is shown her special brand of warmth and concern.
She strikes up conversations and often offers a prayer to those who are open to them.
Her staff and student interns are, likewise, beneficiaries of her listening ear and gentle brand of Gospel-sharing.
"The kids talk to me about their families. Some of them have problems at home. We talk about God's love."
The neighbourhood within which Bakery Brera sits, a mix of HDB flats, condominiums and landed property, is her place of outreach as well.
"I'm not a baker but I am very good at eating."
Recently, she set up a recycling shelf outside her bakery, stocked with pre-loved items – kitchenware, bags and bric-a-brac – and invited people to take what they needed and to add their own stash. ("It's all for FREE, if you need it, it's yours," she wrote in the Bakery Brera Instagram post.)
This is the kind of communal spirit she fosters.
The bakery's Instagram account (it has over 34,000 followers) provides yet more fertile ground for her to sow God's love and His Word.
Her posts are faith-affirming. She shares her reflection on the need to be thankful ("The power of thanks can be a key to true happiness."), the purpose of pain ("God wants us to learn from every experience of our lives.") and her support of various courses from breast cancer awareness to people with special needs.
"My bakery goes beyond the four walls.
"God has favoured me a lot, a lot. To me, I am a steward of this mission field – the business. So, I have to do it very well."
This Christmas, Bakery Brera offers an assortment of sweet treats.
The Christollen is a German bread studded with nuts and candied fruit, and flavoured with spices as well as a splash of alcohol before being covered in a snowy coat of powered sugar. The cake-like bread was so popular last year that, this year, the bakery has upsized it from 250g to a generous 450g.
With a new Austrian master baker on her team, there is an improved version of the pecan tart (a more buttery crust, a lot more pecans and cream from a secret recipe), a Christmas staple, on this year's Christmas list.
"This is our new head baker's specialty. When he joined us and I tasted his pecan pie, I told him, 'I want more'.
"I'm not a baker but I am very good at eating. I know what people will find nice and what they will not."
For online orders, click here.
"We may serve bread, but we want to share the true Bread of Life": Thrina Low of Bakery Brera
5. Cupcakes that tell God's Gift: Ten Butter Fingers
Edible art has been given new meaning under the deft hands of home baker Jenny Lie, 45, of the famed online bakery Ten Butter Fingers.
This Christmas, Ten Butter Fingers has a Christmas edition of their Encouragement Cupcake Series. Six Valrhona chocolate raspberry cupcakes are each topped with a scene from the Christmas story that tell of the birth of Jesus. Reflection notes are included "for those longing for a deeper meaning of Christmas".
Explained Jenny about her decision to put the Christmas story on her cupcakes: "There's sometimes a disconnect in how we celebrate or perceive wonderful gifts.
"God started to speak to me in my walks through Nature."
"Our usual idea of Christmas is that the hall is decked with tinsels, bells and presents galore under a big Christmas tree. But there was no fireworks celebration at the birth of Jesus.
"Interestingly, the greatest gift of Christmas cannot be placed under a tree. This silent gift only came to fruition some 30 years later on the tree of calvary."
Jenny, who is corporate trainer and coach by day and baker by night, has had a year of "many start-stop-change-go, with many jobs being cancelled".
Feeling the need to bring encouragement through her bakes, she launched the Encouragement Cupcake Series with verses that are reminders that "God is still in control in these anxious times".
Jenny has also been encouraging people through her Instagram account. She has been going on nature walks every Monday "as an attempt to rebalance life".
"God started to speak to me in my walks through nature. I never imagined the reflections and lessons I learnt in nature's classroom, which I share on my IG stories, would inspire others." 
You can order Ten Butter Fingers' bakes here.
Touching lives with her creations: The icing on the cake for popular Instagram baker
6. Cookies with a cause: The Hiding Place
Many a Christmas passed in a haze for Caleb Tan.
"My Christmas used to be spent in night clubs, pubs or at home taking drugs, getting drunk," says the 47-year-old manager of the kitchen at The Hiding Place (THP).
But ask him for his most memorable Christmas, and he is quick to tell you it was the one that took place 11 years ago.
A drug addict who had been in and out of prison, a drug dealer who had led a life of crime, and a fugitive who was once on the run from the law, Caleb was then fresh out of prison and new to THP. He fell into a machine that was churning and cooking pineapples in preparation for making THP's famous pineapple tarts for Chinese New Year.
It was early December and just eight days after he had gotten baptised.  
"My T-shirt got caught in the rotating part of the machine and I got dragged into the machine."
Caleb suffered five broken ribs, a collapsed lung and burns on the lower half of his body. He had to spend over three months in the hospital.
"Christmas is very meaningful to me. It's the time we thank God for what He has done for us."
"But that Christmas, Pastor Philip, the co-founder of The Hiding Place, brought me back to spend Christmas with them. I was in a wheelchair.
"When I reached The Hiding Place, everybody showed me concern. It was like a big family."
To a man who, by then, had no family because his parents were long dead, that was a clear demonstration of what it meant for God's love to come down to earth.
Since then, he has spent every Christmas showing the residents of THP what God's family and love mean.
"Every Christmas, we have a party where we invite the families of the residents. It's the best time to sit down and talk to them, show them how their sons or husbands are doing.
"Christmas is very meaningful to me. It's the time we thank God for what He has done for us. We have a family with us."
This festive season, THP is offering cookies – pistachio, almond and sugee – as well as Chinese New Year goodies (pineapple tarts, prawn rolls and love letters) well ahead of the celebrations.
The sale of these festive favourites is one way that the halfway house funds its work for drug addicts who desire recovery.
Click here to order.
"For 30 years I asked for help. Now I can help someone else": The story behind The Helping Hand's pineapple tarts
7. Gelato from His goodness: Celine's Gelato Cart
Celine's Gelato Cart is like the Little Engine That Could. It may be tiny and have faced uphill tasks, but it has soldiered on.
Celine Ho, 27, had started her gelato pushcart business catering to events while she was still an air stewardess with Singapore Airlines.
"Rain or shine, God is there to look out for our business."
In March last year, she quit her job to run her gelato business full-time only to encounter the Circuit Breaker.
With events cancelled, she had to move her business online. Deliveries became her focus. Then the Circuit Breaker ended, and that source of business slowed to a trickle. Again, she had to pivot.
So, with dining in rules still in constant flux, Celine opened a gelato store last August.
"God has been so good to me, constantly looking after me. Rain or shine, God is there to look out for our business," she told Salt&Light. "The fact that we are able to survive during this Covid period. We are very blessed."
This Christmas, Celine has come up with two flavours to complete the festive meal.
"Red wine sorbet was developed because red wine is always lovely to pair with all the meat we eat during Christmas whether we are feasting on beef or turkey.
"Chai latte gelato has spices that remind me of gingerbread."
Go to the Celine's Gelato Cart Facebook page to order.
8. Panettone with a purpose: YPH Papua
Every Christmas, panettone takes pride of place at the dining tables of homes in Europe and the Americas.
This Christmas, if you want a taste of the Italian sweet bread which originated in Milan, you can have one that will not just enrich your table but the life of a child in need.
Order a panettone from Yayasan Pendidikan Harapan Papua, a non-profit organisation that provides holistic education in Papua, and the proceeds from the loaf go to support the education of a child in interior Papua for a month. The loaves are available in a single 500g loaf or a box of two 250g loaves. 
YPH Papua provides education for eight villages in Papua, an area that is still categorised as underdeveloped and without proper education and healthcare facilities.
To order, WhatsApp +62-811-979-5700.
If you have enjoyed reading Salt&Light...
We are an independent, non-profit organisation that relies on the generosity of our readers, such as yourself, to continue serving the kingdom. Every dollar donated goes directly back into our editorial coverage.
Would you consider partnering with us in our kingdom work by supporting us financially, either as a one-off donation, or a recurring pledge?
Support Salt&Light