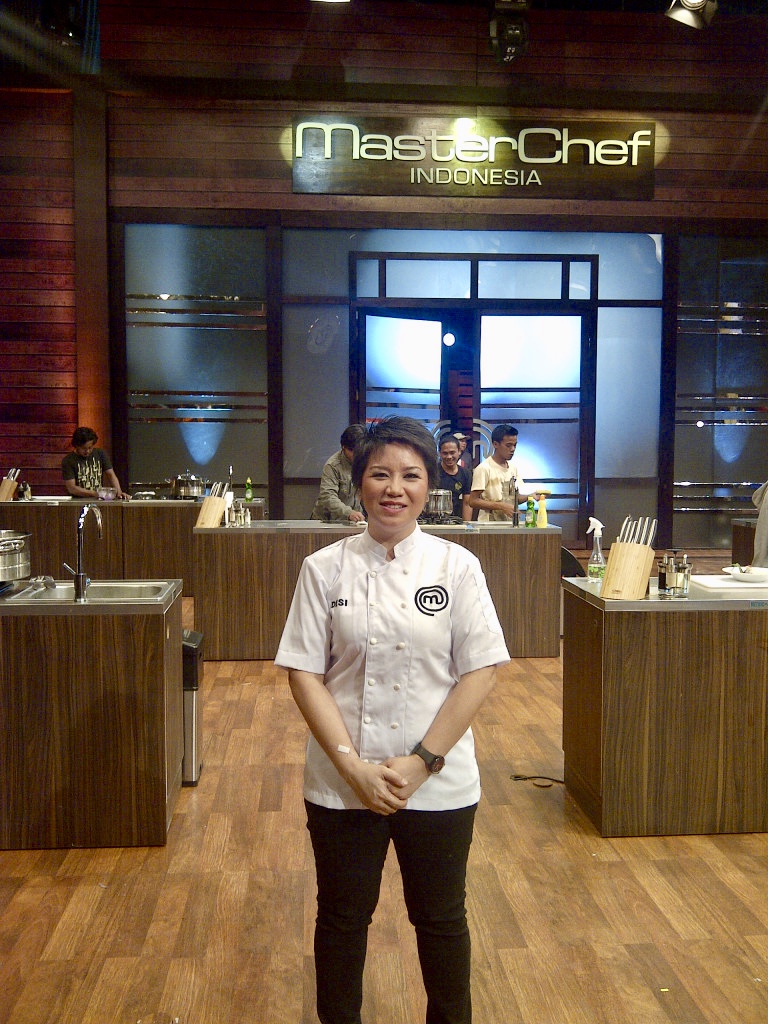 Contestants started calling Desi "mum" after they saw how she carried herself with integrity during the competition, and how she helped guide them. All photos courtesy of Desi Trisnawati.
Reality TV can be harsh, often shining the spotlight on the worst of human nature – the bad, idle, vengeful and selfish. 
Despite knowing this, hotel director Desi Trisnawati decided to put her cooking chops to the test, signing up as a contestant for Season 2 of MasterChef Indonesia, a competitive cooking reality show featuring amateur home cooks.
It wasn't a decision that was taken lightly.
She had three young children to care for – they were then just 7, 8 and 11 – and a family business to run. Going on the show would separate her from them for five months, with no contact at all in the first month.
But after much prayer together with her husband, Mail Chen, they decided to go ahead.
"I was surprised because I had always thought that I was not going to win," revealed Desi, now 45, who beat thousands of contestants to take the trophy.
Hailing from Bangka, a small town off the east of Sumatra, the odds were stacked against her.
A suitcase full of recipes
With just over 300,000 people residing in her hometown, it is nowhere close to being as vibrant as Jakarta. This meant that Desi had limited knowledge about produce from other parts of Indonesia.
To prepare herself, she began practising the MasterChef timed challenges at home. She likened it to a soldier undergoing military training.
"If I go into a war without preparation, I'm dead. I didn't know whether I was going to be chosen … but I imagined myself as if I was in the competition already," she shared.
She took copious notes during her time of preparation, detailing the things she could do with different ingredients in the time limits that she had to work with.
She eventually made it to West Jakarta, where the competition would be filmed, with a suitcase full of recipes.
"Because I came from a small town, my knowledge about food was very limited. Knowing that, I filled the gap with other knowledge." 
That knowledge went on to serve her well, clocking in multiple wins in the first 10 episodes.
It became too predictable, which made for bad TV.
Turning the competition on its head
Worried the show's ratings will decline, the producers met with the contestants and challenged them to step up their game.
During this time, God dropped two words into her heart: "Position yourself."
"When you build people up, you will be built up as well."
Puzzled, Desi asked God what that meant. He replied: "If you are a producer, what kind of TV show do you want to see? As a contestant, what do you want? If you are a friend, what do you want?"
At once, she understood what God was telling her to do.
After the producers left, she spoke to her competitors and told them plainly: "The success or failure of the show depends on you and me. How do you want to be remembered?"
She then recalled what her spiritual mentor, Samiton Pangellah, told her before she joined the competition: "When you build people up, you will be built up as well."
Suddenly, it all clicked.
"I can see what's lacking in you and me. Can you improve in this area? Can you help me improve in that area?" she asked her competitors.
Instead of making use of their weaknesses to her advantage, she acted on her mentor's advice and helped them to improve their skills in the kitchen. (Romans 14:19)
"Honestly, I was a bit worried. If they improved, I may get eliminated. It wasn't easy but I just clung onto God's word," recalled Desi.
In spite of all that, there were some who did not play fair and even spread rumours about her.
Playing fair
"I was a bit shocked … there were a lot of people who wanted to win in any way they could," she said.
Every time something unpleasant happened, she recalled her favourite verse from Proverbs 4:23 (NIV): "Above all else, guard your heart, for everything you do flows from it."
As Desi meditated on the verse, she realised that emotions are powerful and, if left unchecked, could destroy a person.
But soon, the long hours of filming – they sometimes pulled 20-hour days – added to the pressure and her emotions began to get the better of her.
She began to buy into the rumours swirling around her. One of them, which she later discovered to be untrue, was that she was slated to be eliminated because the judges never liked her.
Then in the top seven, she thought: "This isn't fair. Why am I trying so hard to serve as an example?
"The Cross wasn't fair either, but it won."
"'My purpose is not to win; it is to leave a legacy for my children. Winning or losing doesn't matter but if I'm going to lose in an unfair way, I'd better leave now."
She contemplated quitting by deliberately presenting bad dishes during the competition's elimination stage. Her husband and cell group members tried to dissuade her to no avail.
But the words of her mentor woke her up.
"Desi, the Cross wasn't fair either," he reminded her. "But it won."
Force for good
She realised that the issue was not about fairness but obedience. She decided to grit her teeth and do her best, regardless of the situation.
"I thought I was never going to win because I believed that rumour to be true." She even congratulated the runner-up ahead of the results, convinced he was going to take the top spot.
When the judges announced live on October 28, 2012, that she was the winner, she was shocked.
"Thank God! Not because I won, but because He showed me that the negative thoughts in my mind, which I thought were true, were not reality. I was seeing only one side of the story," said Desi.
As she looked back on her MasterChef journey, she recounted how it has helped her faith to grow and how her decision to honour God through her words and deeds has brought blessings.
"For me, the marketplace is another sphere of influence (John 4:35), which is why some people call me a food evangelist!"
"Doing the right thing is the easiest way to show our faith," she said, sharing that even the judges noticed her faith. Her Christian witness also opened doors for her to pray with other contestants of different faiths.
Today, Desi continues to use her fame and influence for God. She runs cooking classes and is also a food consultant who mentors others like stay-home mums who run small food businesses and restaurants.
"For me, the marketplace is another sphere of influence (John 4:35), which is why some people call me a food evangelist!" she said with a laugh.
"God continues to open doors for me to meet people from different religions because of my profession. So any chance for me to share Kingdom values, I share them!"
If you have enjoyed reading Salt&Light...
We are an independent, non-profit organisation that relies on the generosity of our readers, such as yourself, to continue serving the kingdom. Every dollar donated goes directly back into our editorial coverage.
Would you consider partnering with us in our kingdom work by supporting us financially, either as a one-off donation, or a recurring pledge?
Support Salt&Light