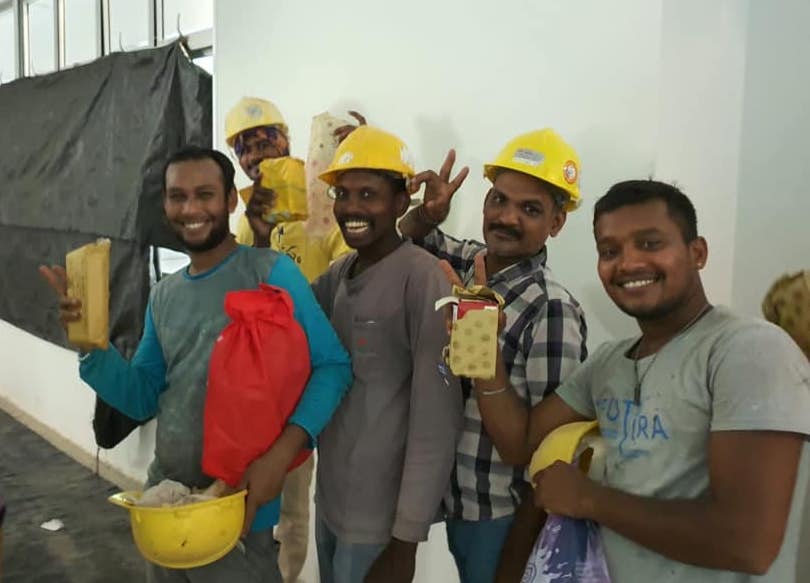 It's Raining Raincoats invites us to show our appreciation to migrant workers with donations of toilettries, towels and backpacks during Christmas. Photo from It's Raining Raincoat's Facebook page.
If you haven't gotten down to doing your Christmas shopping yet, you're probably not alone.
As you scramble to squeeze in some last-minute shopping, here's a thought: Why not support local social enterprises that are committed to doing good? This way, you'll be giving back to the community as you put a smile on your loved one's face.
You'd be surprised by the variety of social enterprises here in Singapore — from fashion brands and bakeries that feed hungry children around the world, to toy shops and notebook stores that employ the disadvantaged.
This Christmas, let there be something for everyone, especially the less fortunate in our midst.
For the practical Singaporean
As Singaporeans, most of us are practical people who prefer receiving gifts that we can use daily, over presents that sit in our cupboard for the rest of the year.
Consider these beautiful pouches, bags and even oven mittens from The Sowing Room, which employs abused women, or super-practical "pursebooks" — notebooks that double up as purses — by mori, which hires work-from-home mothers in the Philippines.
Grab some stationary or colourful homeware made from recycled newspaper at the The Eco-Statement, which sources these products from low-income women in Sri Lanka, or hop over to Enabling Village's The Art Faculty for cups, snack boxes and shirts designed by people with autism.
Alternatively, you can drop by The Social Space at Kreta Ayer Road or Marina One to browse a gamut of socially-conscious products, from fibre cups and slippers made from old tires to bamboo sunglasses and handwoven clutches from Sarawak.
For the fashionista friend
In seeking to connect small-producing communities around the world to the global market, Our Bare Hands curates products such as bags handwoven by a Colombian indigenous tribe, woven slides handcrafted in India and eye-catching earrings by a Myanmar-based designer who works with people with health problems. 
The scarfs from Hagar, a non-government organisation that fights human trafficking in Singapore, are more than just well-designed apparel; behind each design is a personal story by victims of trafficking. Consider taking your giving a step further as you browse through their gift catalogue which allows you to donate to their cause.
Over at hello flowers!, 30% of the sales from their earrings, bracelets and pretty embroidery hoops will fund a programme that trains disadvantaged ladies to become crafters, while Kejj plays their part in the environment by offering a $1.50 discount if you return an A4 or A5 poster packaging. What a steal, considering the beautifully-crafted jewellery, calligraphy prints and Christmas cards they offer.
For the little ones
Few things beat seeing the face of children light up when they unwrap their presents and see something they love.
At TeddyThotz, which will be having several pop-ups in town and Toa Payoh this month, look out for quirky stuffed toys, crotchet animals and traditional patchwork blankets made by people such as the elderly, single mums and indie designers.
There are fun designs galore at E&S Blessing, which sells kids' outfits, bibs, rattles and even bilingual children's books. They donate 1% to HCSA Dayspring SPIN, a programme that caters to single parents in Singapore. If you're looking for more children's books for babies and toddlers, head over to Tiny Seeds Bookshop. 
Consider helping the folks at AnotherSole meet their annual goal of raising $1 million for hungry children in less developed countries by buying a pair of shoes from them.
For the party host
Whether you're hosting a Christmas party, or thinking of bringing a dish to a gathering, these shops have got you covered.
Bliss Catering, which provides employment and training opportunities for people from marginalised groups like those with special needs, offers six Christmas buffet menus for party crowds upward of 15 people. 
To satisfy those with a sweet tooth, get your fill of tarts, cakes, muffins and brownies from Flour Power or Crunchy Teeth, both of which hire and train people with special needs.
For those who are more health-conscious, fear not. These healthy, nutty snacks from Box Green come in convenient Christmas gift boxes that you can give as a present or share at a gathering.
Alternatively, indulge in cakes with less sugar at Ugly Cake Shop, which boasts high-quality ingredients and does not use artificial colouring flavours, fondant or gum paste. An added bonus: Part of their profits go to helping to feed undernourished children in Timor-Leste. 
For the less fortunate
As we gather with friends and family, let us not forget the less fortunate in our midst whom the Lord exhorts us to care for (Deuteronomy 15:11; Hebrews 13:16).
Help It's Raining Raincoats reach out to each of the 750,000 migrant workers here by purchasing gifts such as towels, headphones, toiletries and backpacks, and dropping them off at one of the 40 drop off points across the island. Hurry, because collection ends on December 16! 
Alternatively, sponsor a migrant worker's English education at SDI Academy, or gift your domestic helper with financial and language skills by signing her up for a course at Aidha.
Donate cash to other charities such as Homeless Hearts of Singapore and New Hope Community Services, which seek to befriend and support the homeless, or help fund the rehabilitation of derelict homes by giving to Habitat for Humanity. 
Hop over to Guide Dogs Singapore to support the visually disabled, or contribute food provisions to organisations like Willing Hearts and Singapore Christian Home, which feed and support low-income families.
If your friend and loved one has a heart for the less fortunate, you can even make a donation in their name over at World Vision's Christmas gift catalogue, which allows your donation to buy a gamut of things from chickens to medicine to soccer balls for needy communities around the world.
For the unreached
In this festive season of giving and receiving gifts, it is easy to forget that the greatest and most meaningful gift you can ever give to someone is the knowledge of Jesus Christ.
Support missionaries' work all around the world by donating to organisations such as Operation Mobilisation Singapore, which has a heart for the least reached, or Youth With A Mission, which trains and equips believers to fulfil the Great Commission. 
Help to bring the Good News to Asia and the Middle East by giving to Interserve International, or support persecuted Christians around the world by donating to Open Doors International.
May we also be intentional about sharing the message of Christmas to family members, friends, colleagues and neighbours who have yet to know the Gospel.
Have a blessed and meaningful Christmas!