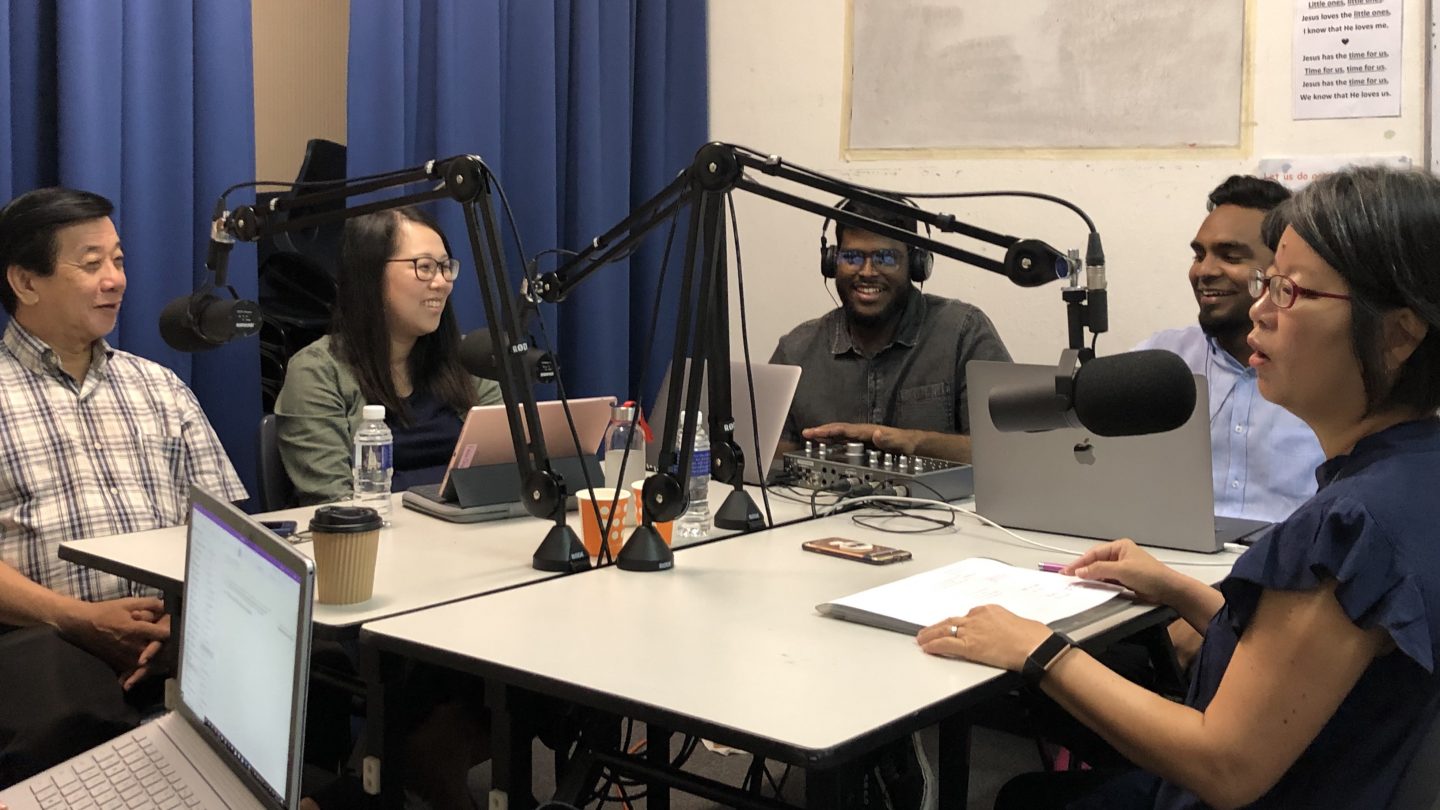 The Cathedral Podcast is Singapore's first dedicated Christian podcast. An initiative by St Andrew's Cathedral, it hopes to equip Christians with the ability to apply their faith to every area of their lives. The Cathedral Podcast host Rev Jenni Ho-Huan (right) is pictured speaking to guests. Photo by Geraldine Tan.
How does our faith intersect with science, culture and even politics?
This common question prompted Reverend Canon Terry Wong, the vicar of St Andrew's Cathedral (SAC), to start The Cathedral Podcast, Singapore's first regular Christian podcast.
Although this is part of SAC's Christian education programme, he believes it benefits the wider church body.
Available on Spotify, iTunes and the cathedral website, SAC hopes that the podcasts can help Christians' faith be congruent with the challenges they face in their daily lives.
"Christian education should cover everything in life because God is a creator, He is Lord of everything. It is not just about the Bible or theology, it should cover areas such as humanities, science, politics … everything that is going on in the world today," said Rev Canon Wong, 55, referencing Psalm 24:1.
"We tend not to think about how God is related or even relevant to the stuff of everyday life."
The podcast, which began airing in March this year, explores a wide range of topics, not shying away from sensitive ones such as what it means to be a Christian and a citizen of the state at the same time.
"We believe that there is space for the shaping of understanding and of conviction on many life issues for Christians," explained Reverend Jenni Ho-Huan, the host of the podcast.
"What Christians tend to do is to separate faith and compartmentalise our lives," noted Jillian Lee, 40, who is part of the production team behind the podcast.
Another team member, 44-year-old Lee Pei, added: "We are good at the Christian things ­like worship and prayer, which are very important, but we tend to not see the intrinsic value of faith in the other parts of life like our studies and our work. We tend not to think about how God is related or even relevant in the stuff of everyday life."
Beyond church walls
While church sermons offer Bible application principles, the pulpit may not be the ideal platform to discuss or address the more complex issues that believers may be confronted with, said Rev Canon Wong.
"There are many things you can't communicate through a sermon or through a church newsletter article. But a podcast allows us to use an interview format to highlight personal stories or bring attention to issues affecting our society today," he said.
"The Church is not an ostrich with its head buried in the sand, ignorant of what is going on in the world."
"So, a podcast is a wonderful channel for learning, to get people talking and thinking, and to let people know that the Church is not an ostrich with its head buried in the sand, ignorant of what is going on in the world."
He added that he hoped that the podcasts would strengthen the faith of believers, so that when crises hit, their faith would stand firm.
For this reason, the team behind the podcasts does not shy away from tough topics.
"Sometimes, the issues covered may be somewhat philosophical yet real, issues such as: 'How do I pray when I'm sick? Does God want to heal me?'" said Rev Ho-Huan.
While there are already many Christian podcasts available, they do not cater to the local population or address Singaporean believers' concerns.
"We feel that the Church in Singapore is maturing to the point that we have already raised generations of thinkers, as well as practitioners. And it's good for us to create a platform for more, so that we also grow in the sense of national confidence as a Church in Singapore," explains Rev Ho-Huan. "The purpose of the podcast is to cultivate thinking Christians, to encourage a reflective faith."
The team behind the Cathedral Podcast hopes the programmes will help lay helpful worldview foundations.
"We hope to help listeners to respond to issues in a more considered manner because they have thought through the implications and the assumptions, and what the Bible has to say about them," says Jillian.
On the go
Given the hectic pace of life in Singapore, Rev Canon Wong believes that podcasts are an ideal medium for busy commuters and drivers.
"I'm an avid listener of some very good Christian podcasts. Because I spend up to one to two hours a day on the road, listening to podcasts gives me an opportunity to focus on certain issues and learn something. I always gain something that is very precious and it is a part of my spiritual and intellectual growth," shared the vicar.
Although the Cathedral Podcast only began 10 months ago, it has garnered a steady stream of nearly 1,500 listeners. Some have written in to share how the podcasts have helped them in their faith journey, said Rev Ho-Huan.
Rev Canon Wong added: "We hope that what we do in the cathedral will also be a blessing to other churches and the wider public. One of the visions of the cathedral is to be a voice in the city."