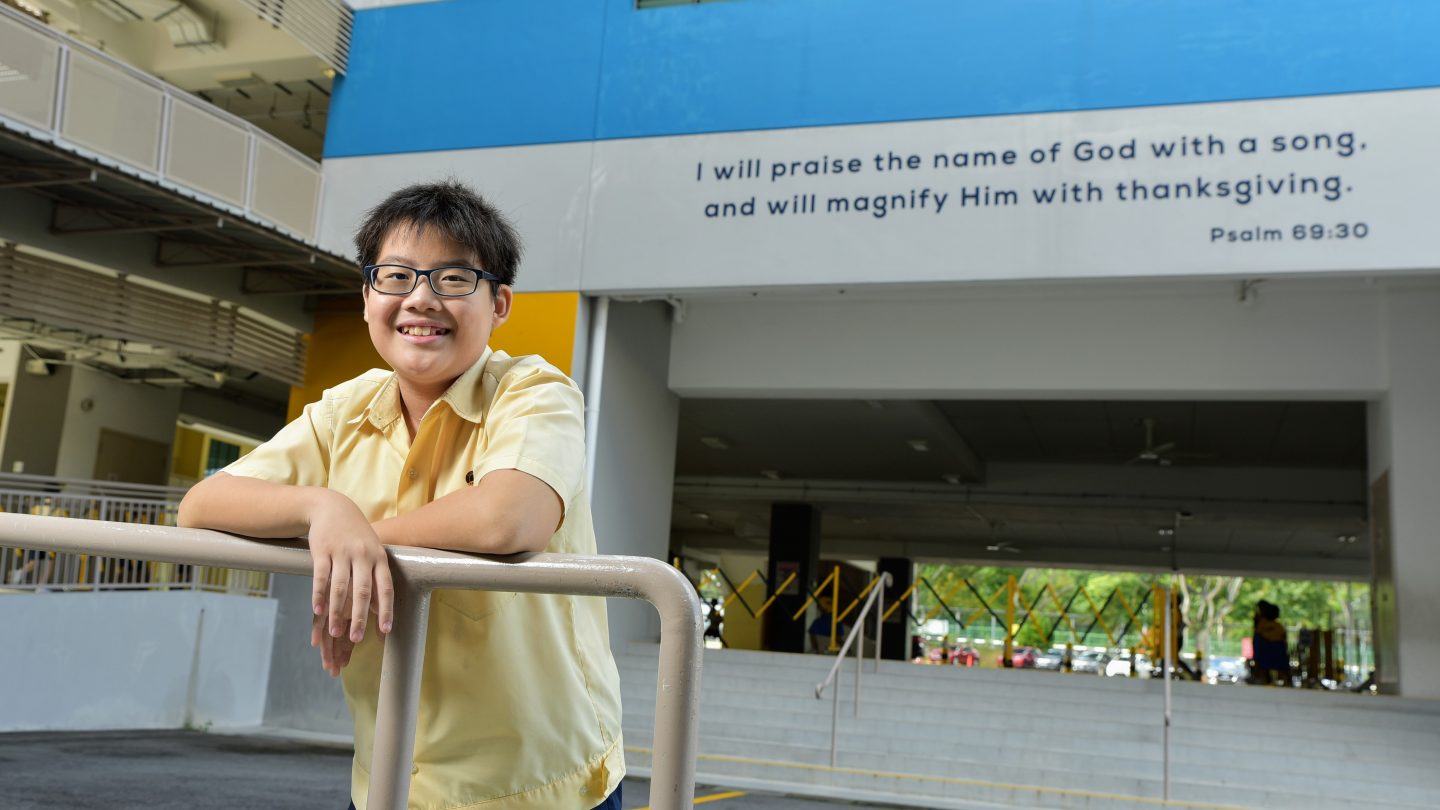 "My mum, my sister and I look at the COVID-19 news on gov.sg every night and we pray Psalms 91," says Jacob Neo, who wrote a song to raise spirits in this COVID-19 season. Photo by Glen Goh.
Jacob Neo has a gift of song. Literally.
The 12-year-old composed "Singapore, Unite as One" as part of a gift that his school, Fairfield Methodist (Primary), presented to National University Hospital (NUH) today (February 27) to cheer on the medical fraternity and Singaporeans in the fight against COVID-19.
"I was thinking about the people who are sick and, although the current situation is kind of dark, the song is hopeful that Singaporeans can press on and stand up to face it together," said the young songwriter. 
Neo's song struck a chord with NUH staff, who said they were heartened by the knowledge that "the community is behind us". 
"As the words of Jacob's song go … united we stand. We will take these words to heart as we fight this virus," said Professor Quek Swee Chye, chairman of the NUH Medical Board.
The school also presented NUH with about 500 cards that the Primary 2 and 3 students had designed to cheer the hospital staff on.
It was a community affair and parents were also involved in contributing to hampers for the NUH staff.
Associate Professor  Eugene Liu, CEO of NUH, said: "We're very touched by all the good wishes, cards and gifts from the students, staff and parent volunteers from Fairfield. The support of Fairfield Methodist School for our healthcare workers means a lot to us."
Psalm 91
Jacob, the young composer, has no musical background.
But this did not deter the Primary 6 student from raising his hand when his music teacher asked who would like to write a song.
"I am not sure if I did a good job, because I have no experience!" he said with a grin.
"I am not sure if I did a good job, because I have no experience!"
All he knew about music came from a six-month songwriting module at school where students were taught the foundations of musical composition and were allowed to "dabble and explore" on digital music software, GarageBand.
The inspiration for his song, however, arose from his empathy for the affected patients.
"Two years ago, my mum fell sick and was hospitalised. She had a blood clot near her heart and almost had a stroke," said Jacob.
"My mum wasn't always the healthiest, but it was never that bad before. It was really scary. So, I can really empathise with how the patients and their families are feeling right now."
That experience left an indelible mark.  
"I always treasure my mum a lot. I don't have a dad, so whenever I go through hard times or anything, it is always my mum helping me," he said.
His parents are divorced.
"Until recently, my mum never sent me to tuition except for Chinese classes. She doesn't send me to classes because she wants to tutor me herself."
Having his mum laid up in hospital in 2018 weighed on Jacob.
"To be honest, I was losing a bit of faith," he confessed.
"Losing faith may make us lose the battle."
"Although I still believed in God, I was very young then and I thought: My mum prays every night. She reads God's word and lives a life of faith. Why did God let her go through such an experience? 
"In the end, with my sister's encouragement, I managed to keep the faith. My sister is three years older, and it was just me and her. We prayed for my mum and read the Bible every night.   
"God pulled my mum through. She's good and fine now and just needs to take a little medication.
"Every night my mum, sister and I look at gov.sg for the latest COVID-19 news, and we also pray Psalms 91:1-16 because it says that He will bring us through everything."
The 12-year-old, who turned down the gifted programme because of "friends and badminton" at Fairfield, added: "In the New and Old Testaments, people made so many mistakes, but God still didn't give up on us and believed in us.
"No matter what happens, we cannot lose faith. Losing faith may make us lose the battle."
"You are in our prayers": Kit Chan, Gurmit Singh, join in battle against COVID-19
If you have enjoyed reading Salt&Light...
We are an independent, non-profit organisation that relies on the generosity of our readers, such as yourself, to continue serving the kingdom. Every dollar donated goes directly back into our editorial coverage.
Would you consider partnering with us in our kingdom work by supporting us financially, either as a one-off donation, or a recurring pledge?
Support Salt&Light